The perfect morning routine is within reach with this super flexible morning routine checklist.
If you've found your way to this article, I'm guessing you're in need of some morning routine inspiration.
Maybe you're looking to improve your life by becoming more of a morning person, or want to get out of your "skip breakfast and sprint to catch the bus" morning routine you currently have going.
But do you want a bet?
I bet you already know what you're supposed to do in your morning routine and daily routines more generally.
The real problem is not planning out your own morning routine, but feeling overwhelmed, not knowing where to start, and worrying about being able to keep up the habit over time.
Enter the Morning Routine Checklist (for adults).
Benefits of a Morning Routine Checklist (AKA Why You Need a Morning Routine)
If you've never used a routine checklist before, you may be skeptical…
How effective is using a checklist for a morning routine? What's the benefit of having a checklist for something so seemingly simple?
A routine checklist is effective because it takes the thinking out of your morning.
In this case, it makes a great morning routine almost automatic.
When you have a morning routine that's easy to follow, there's less need for morning motivation (which, let's be honest, can often be in short supply).
Once you have a great morning routine established, you'll find your morning habits are easier to manage, and reduce stress associated with getting going each day.
This article will give you a checklist of morning routine ideas and ways to adapt them.
Of course, it includes ways to incorporate journaling into your morning, because journaling is one of those perfect morning activities!
I'll also spill the tea on my morning routine and how I adapt it to different days so you can keep up your morning routine habit.
7 Things to Put on Your Morning Routine Checklist (That You Can Adapt to Your Own Needs)
Set Out Everything the Night Before
Ideally, your morning routine starts before the morning. Strange, I know. Although getting everything ready the night before is not technically part of a 'morning routine,' it's a good idea to add to your checklist.
Preparing the night before can include setting out your workout clothes, pre-making your breakfast (veggie shakes and overnight oats are my favorites), or setting up a glass of water to ensure you drink water first thing the next morning.
Using your evening routine for a bit of pre-morning prep creates a calm, organized, and peaceful beginning to your day, especially if you have a busy day ahead.
Having a great evening routine to prepare for the next morning is also a key aspect of the Billionaire Morning Routine!
10-Minutes of Exercise
When I say 'exercise,' I often think it means a hardcore workout or running as the sun rises.
That's not me. I wish it were, but it just isn't.
If that resonates, stick to moving your body for ten minutes, whether it's walking, stretching, or gentle yoga.
If you can't face ten minutes or don't have time, then just start with one minute of movement instead, and enjoy what a difference it makes to get your body moving.
Meditate
I know, I know.
Whenever you look up things to do in the morning, meditation is always there.
But it's there for a good reason, I swear.
It improves focus, helps you release thoughts and emotions, reduces tension in the body, and acts as an anti-depressant by releasing serotonin (the happy hormone). Nice to start your day on a positive note, right?
Meditation is traditionally done after movement (usually yoga) because exercise releases built-up energy, providing a calm space for your body and mind.
If lots of thoughts and ideas pop up during meditation, keep your journal beside you and jot them down, so they don't have to weigh your mind down.
You could also use this time to say or read some positive affirmations or positive self image quotes out loud.
Brain Dump Your Thoughts
There's a lot of debate around how many thoughts human beings have a day.
Some sources say 6,000, while others claim 60-80,000 pass through your brain in 24-hours.
Either way, it's a lot.
Many of your thoughts disappear, never to be found again, but lots are repeatedly recycled…
'I don't have enough money. I need to go to the gym. I still haven't listed that stuffed raccoon on eBay.'
You think it, and it disappears, only to continually resurface throughout the day.
When you get your thoughts down onto paper, you give them a space to live that isn't your brain.
You will either see them clearly and let them go, or recognize thoughts that need your attention.
For instance, if you've repeatedly mentioned you need to book a doctor's appointment- book it!
Whether you call it a brain dump or morning pages, either way it's a great morning journaling habit to get into!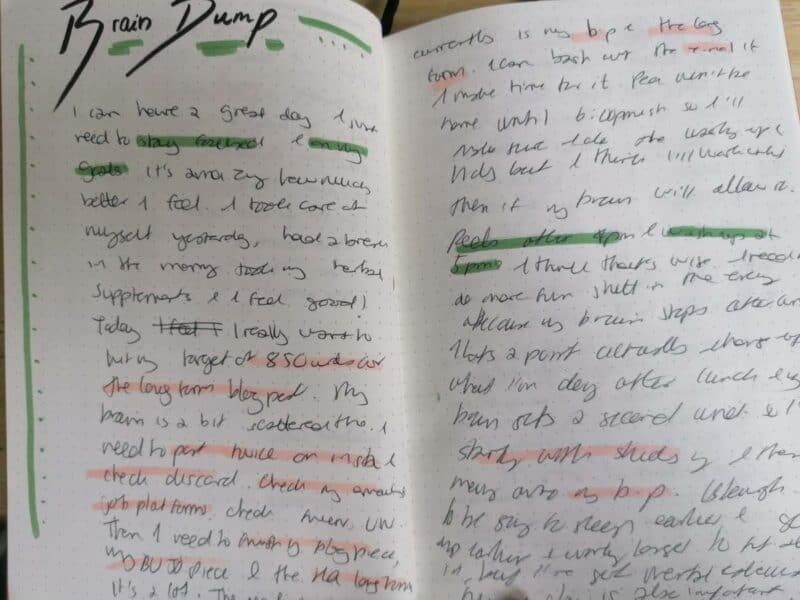 Plan Your Day According to Your Brain Dump
Regular advice is to plan your day.
However, people tend to skip this step. Why? Because just like a morning routine, planning your day and to do list can feel overwhelming.
If you try to plan your day before brain dumping, it will look like your thoughts- scattered and unfocused. You need to finish the proposal for a project, but your mind also jumps to the fact that you haven't called your mom in three weeks.
Use your brain dumping session to create your daily plan. Take a few minutes to read back through it, highlight any reoccurring thoughts, ideas, or to-do's, and sort out what you need to do today.
Some people like to use a priority matrix, others plan by the hour, and some list their top three most important tasks and focus on those. Don't forget to track your "dones" for some added satisfaction!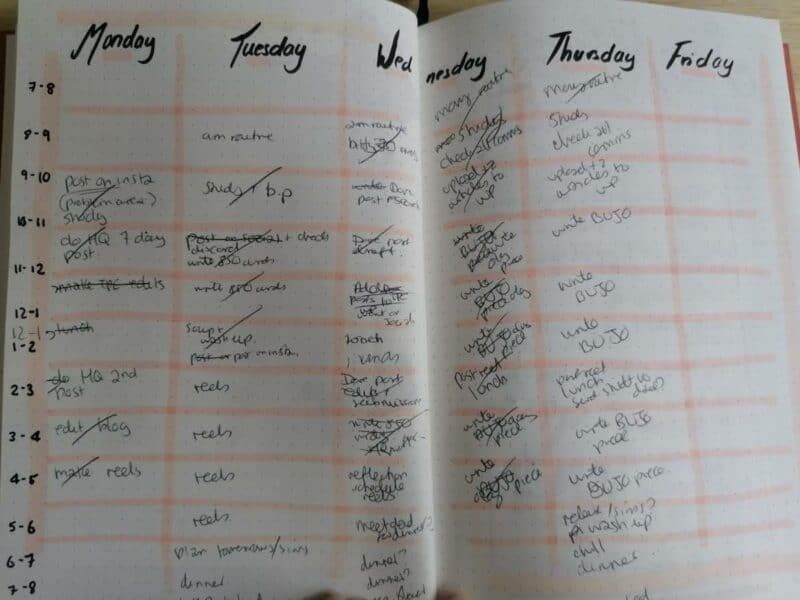 Learn Something New
Learning something new each day gives you a sense of personal growth and helps you feel accomplished.
What better time to do it than in the morning? Your brain will be fresh and ready to take on new information.
Read a self-development book, practice your hand lettering, penmanship, doodling, or watercolor skills, look into a hobby or an interest, watch a Ted Talk, or listen to a podcast.
The possibilities are endless, so choose something that you find interesting.
Do One Thing You Enjoy
There's often a list of things you have to do to join the 'morning routine elites.' You drag yourself through exercise. You force yourself to sit still and meditate, and you drink lemon water because you should.
Whatever happened to getting up in the morning because you love living life?
While these things are all good for you, you must ensure you have something in your morning routine checklist that you enjoy.
To me, a great morning routine means it has some joy in it, as well as making life easier and less stressful.
Is it that carefully brewed coffee? Enjoying the hygge feeling of walking around a quiet house before the sun comes up and? Listening to a funny podcast?
I love reading my tarot cards and journaling about the readings. It's something fun and spiritual, and I'm mindful of the insights it's given me for the rest of the day.
Jot down a list of small enjoyable activities and have it on hand. For example, looking through family photos, reading a magazine, or making an art spread in your journal. Switch it up once in a while! You don't have to stick to the same activity every day.
My Own Morning Routine Checklist for Adults
Now you've got a morning routine checklist, I thought I'd share my morning routine so you can see it in action with a realistic time frame.
Set out a cup of water and exercise clothes the night before (5-mins).
As soon as I wake up, I turn left and go directly to the bathroom. I drink my water and brush my teeth with an electric toothbrush. I then use a copper tongue scraper to remove any toxins built up overnight.
These are some of my keystone habits, in that I do this without evening thinking about it: muscle memory in action!
Drinking water gives me a bit of an energy boost first thing, and my dental hygiene routine makes me feel a bit fresher and start the day on the right foot.
Physical Activity or Exercise (10-minutes)
I place my workout clothes directly outside the bathroom the night before.
When I've finished brushing my teeth, the first thing I see is my gym wear, making it easy to change and spend time exercising to start the day.
I put ten minutes of exercise on Youtube, so someone else will direct me, and I don't have to think too much.
I switch between yoga, weights, and ab workouts depending on my energy levels and mental well-being that day. For instance, yoga is the best choice if I'm feeling jittery and anxious.
Meditate (10-minutes)
Once thing I know about myself is I won't do meditation unless I get it out of the way early on in my routine.
I fidget and find myself lost in thought. When that happens, I know meditation is even more important to do.
I light incense, settle on a cushion and do a body scan to relax any tension.
Sit in front of my Near-Infrared Light (NIR) (10-minutes)
I'm trying to grow my hair, get clearer skin and reduce anxiety and depression. NIR light is perfect because it optimizes your brain and body functions for overall health. Sometimes I use it for ten minutes and other times for three minutes, depending on how much time I have.
While I use the NIR light, I also do one minute of affirmations and visualization. Then I read one page of a book. I'm currently reading Think and Grow Rich by Napoleon Hill because my goals revolve around earning a six-figure salary.
Spending time on these activities while in front of the NIR light is called habit stacking. You either execute habits simultaneously or start the next habit immediately after completing the first one. Read Atomic Habits by James Clear if you want to learn more.
Journal (5-minutes)
I open my journal and brain dump everything onto the page for five minutes. Sometimes I read my tarot cards beforehand and journal about them. Otherwise, I write about my feelings or what I've got to do. It's also a perfect time to use a gratitude journal. You can follow gratitude prompts, join a gratitude challenge, or simply write different things you're grateful for to start the day in a good mood, or schedule my day.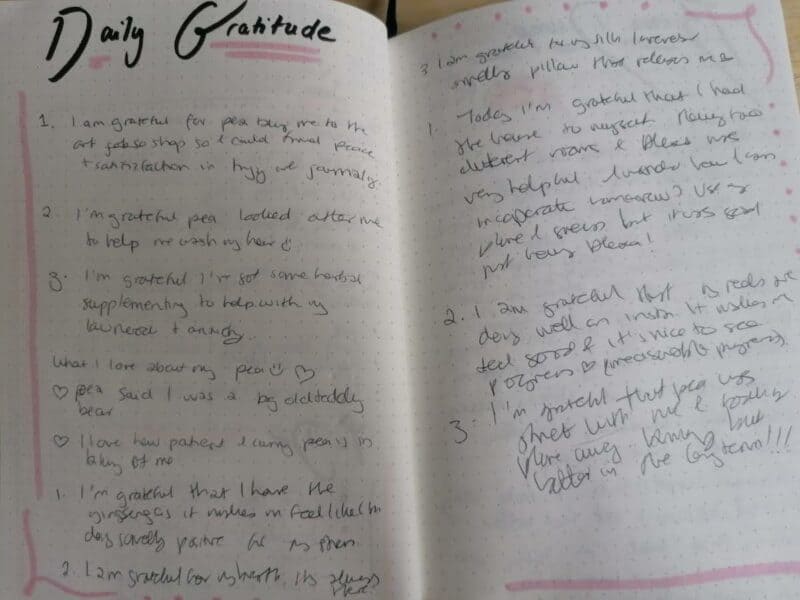 'Eat That Frog.' (15-minutes)
I'm completing a Master's degree at the moment, and I dislike studying because I find it overwhelming. So as soon as I've finished journaling, I open my laptop and spend fifteen minutes working on my dissertation.
It's a technique known as Eat That Frog by Brian Tracey. You do the thing you're least looking forward to first. That might be a particular work task, sending an email, or doing something that gets put on the back burner, like paying bills or writing your memoir.
You don't have to complete the task. Just spend ten-fifteen minutes working towards it.
Morning Routine Checklist for Adults as a Journal Spread
My total morning routine checklist time is 55 minutes.
If I'm running late or feel overwhelmed that morning, I shorten everything to one minute or cut a few steps out.
I have it created as a journal spread here, but you could also set it up as a habit tracker.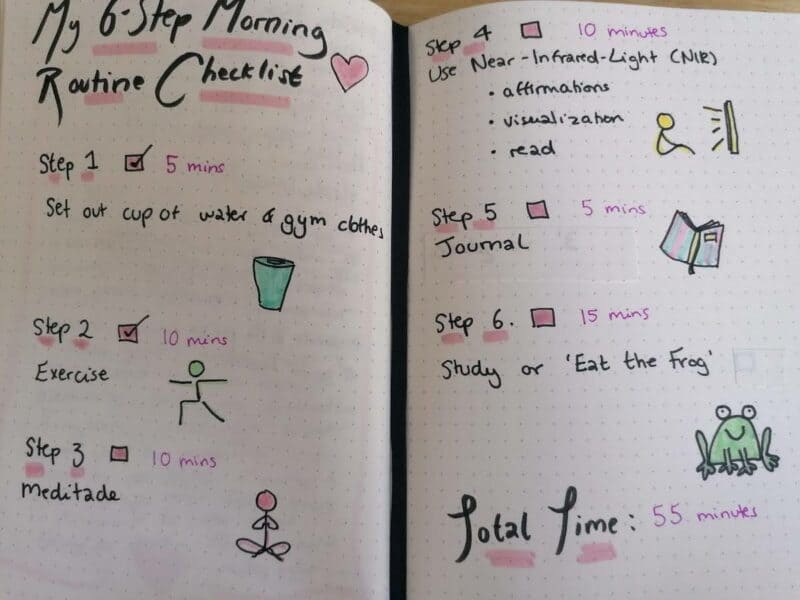 Creating Your Ideal Morning Routine Checklist
There are many other morning routine ideas you can add to your checklist. It might be taking a cold shower, writing your book, preparing a healthy breakfast, or walking the dog.
Do whatever suits you, and don't stress too much if you keep stopping and starting. Finding what you like is the hardest part. However, you'll have a personalized, ultimate morning routine checklist to begin your day once you do.
Summary
I hope you enjoyed seeing my morning routine checklist, and are inspired to create your own routine checklist spread in your journal.
FAQs
What is a Morning Routine Checklist?
A morning routine checklist is a list of activities you do every morning as part of your morning routine. By using a checklist, you can automate parts of your routine, turning them into keystone habits that you don't have to think about, and ensuring you build in time for the healthy habits and productivity hacks that are important to you.
What is the Ideal Morning Routine?
The ideal morning routine varies for different people, but there are some activities generally seen to be an important part of an ideal morning routine. These include preparing for the day ahead the night before, taking care of your body (drinking water, brushing your teeth, exercising, and meditating); and planning for the day.