Everyone loves a good TO-DO list, but have you ever heard of a DONE list? Why the heck would anyone write down things they've already done? Read on, friend! The DONE list might become your new favorite Bullet Journal trick.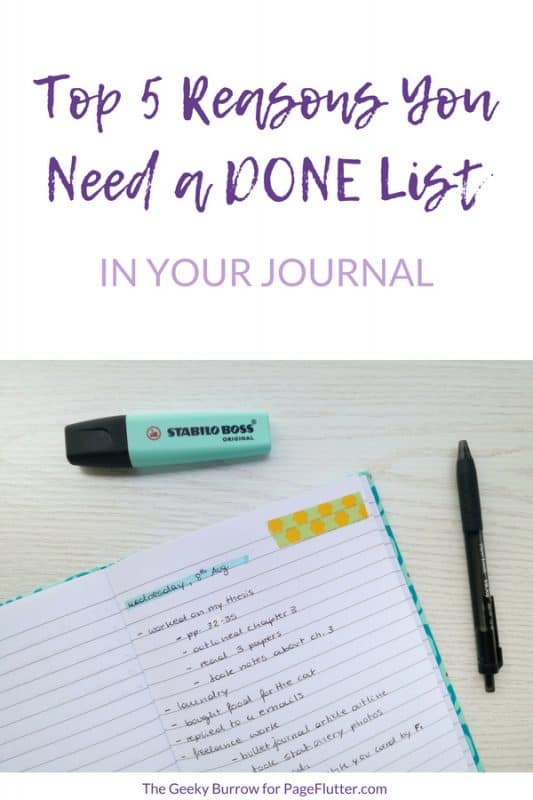 Top 5 Reasons You Need a DONE List in Your Journal
If you are anything like me, you feel that keeping a Bullet Journal increases your productivity a lot. Before discovering the beautiful world of Bullet Journaling, how often did you plan your days the night prior or write a daily to-do list? The best part of this planning method, in my opinion, is that it fits your life no matter how many changes you're going through because it's incredibly flexible and easily customisable. That, my friend, is how I discovered the power of a DONE list.
Still working out the basics of Bullet Journaling? Here's how I use my Bullet Journal to increase productivity!
If you've seen me on Page Flutter before, or if you follow my blog The Geeky Burrow, you probably know I'm a university student. Lately, I've been spending most of my days at my desk studying or writing my thesis, and it can get pretty boring.
Working from a single task (i.e. my thesis) all day can be hard. You don't realize how much you've worked, and by the end of the day, you'll feel like you haven't done enough. So, one evening, a couple of months ago, I started outlining all the things I managed to get done during the day. Surprisingly, the list was better than I expected! Needless to say, I immediately felt better. This instant feeling of accomplishment made me rethink the way I was using my daily pages in my journal. So, I did some research and I discovered that DONE lists were actually a thing.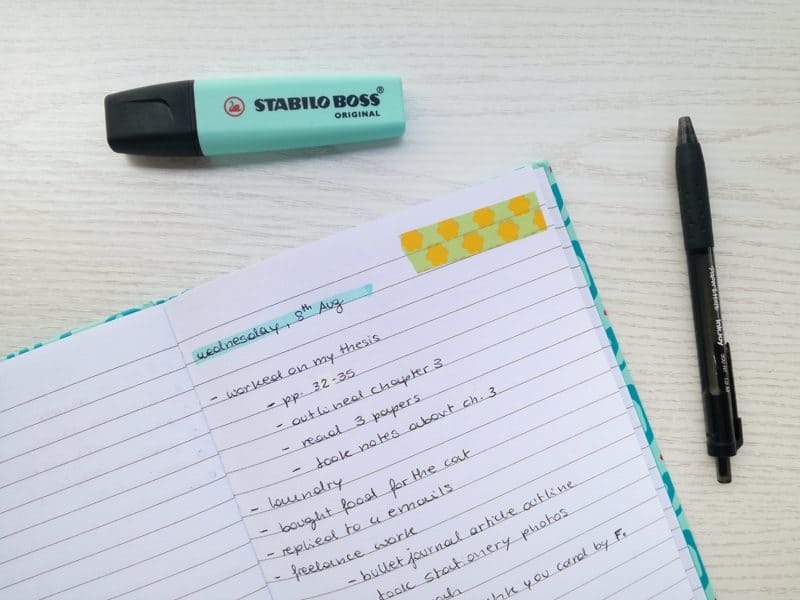 What is a DONE list?
The answer is pretty simple: It's a list of what you've accomplished during the day. Plain and simple. You can keep a simple DONE list, or you can use different symbols to sort tasks into different areas of your life, just to easily reference them later. It's up to you! No matter how you keep a DONE list, it's worth trying it out.
Here are my top five reasons why you should write a DONE list.
And speaking of lists, don't forget to check out Page Flutter's UN-DO list!
1. It makes you feel accomplished
This is probably the most important thing, in my opinion. So often, the days fly by and you feel like the only thing you did was buying groceries. In truth, you managed to do much more, like folding laundry, replying to emails, meditate, exercise, and so on. Unfortunately, most of the time, your brain will remember only a few of the things you did (or focus on the things you didn't do), making you feel less productive. Having a list of everything you actually got done is incredibly powerful!
2. To-do lists can be overwhelming
I don't know about you, but when my to-do list gets longer and longer, I often feel scared and overwhelmed. I love having daily pages in my Bullet Journal to outline every single task for the day, but, in the end, a partially (or completed) list of checked boxes doesn't show the big picture. What if, instead, you wrote down your tasks in another list once you finish them? It would be like a reverse brain dump!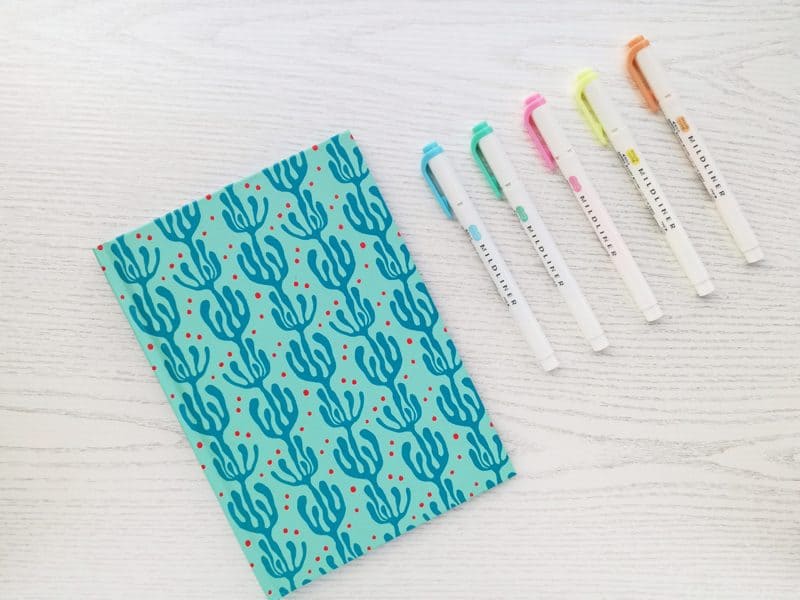 3. It helps you find more things to be grateful for
Establishing a gratitude practice is very important, but it isn't always easy to integrate it into your daily routine. Having a DONE list makes it easier to be grateful for the progress you've made. Also, it doesn't have to be strictly for accomplished tasks. You could also record the things you've experienced during your day, like having a coffee with friends, calling your mom, texting with your BFF for half an hour about your TV show, you name it. This really highlights the journal aspect of Bullet Journaling!
4. It makes you establish a routine
And since we're on the topic of gratitude habits,  you've probably thought about other habits in your life. Keeping a DONE list will help you form healthy habits that boost your mood, health, or productivity. For example, I'm not very good at writing gratitude lists. I always end up writing the same things over and over again (like "my family", "my cat", "the beautiful sunset", etc.)! But with a DONE list, I have a big picture of my days, which allows me to appreciate the little things in my life.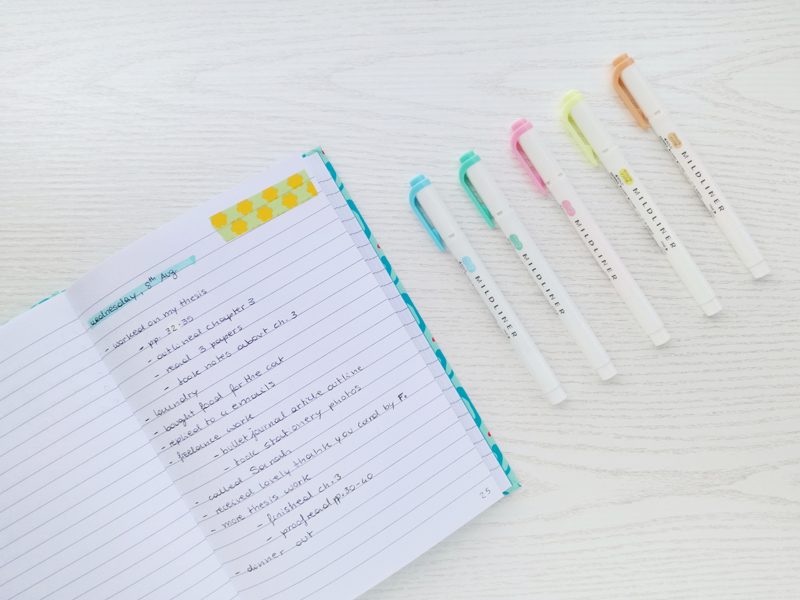 5. It's a form of memory keeping
Before I started keeping a DONE list, I never used to reread my daily entries. Or if I did, I skipped over the tasks and looked at my notes. That only gives part of the picture.
Now, I actually look forward to rereading it at the end of every week! My DONE list allows me to see how the week went, which day was most productive, identify areas to improve, and so on. Plus, as the months (and years) pass, it will be entertaining to revisit my DONE lists! They give a glimpse life at any given time, where I went, who I met, what I accomplished, etc.
And on that note…It's time to add one more blog post to my DONE list!
Have you ever thought about keeping a DONE list? Are you going to give it a try? Let us know and leave a comment down below!