Are you someone who is wanting to take control of their life and be overall more productive? Keeping organized and on track with habit trackers is a fantastic way to do just that…once you figure out which habits to track.
There's no right or wrong way to write a journal, but many avid journalers have found amazing success in living a more productive life through habit tracking.
What Kind of Habits To Track in Your Bullet Journal®, Journal or Planner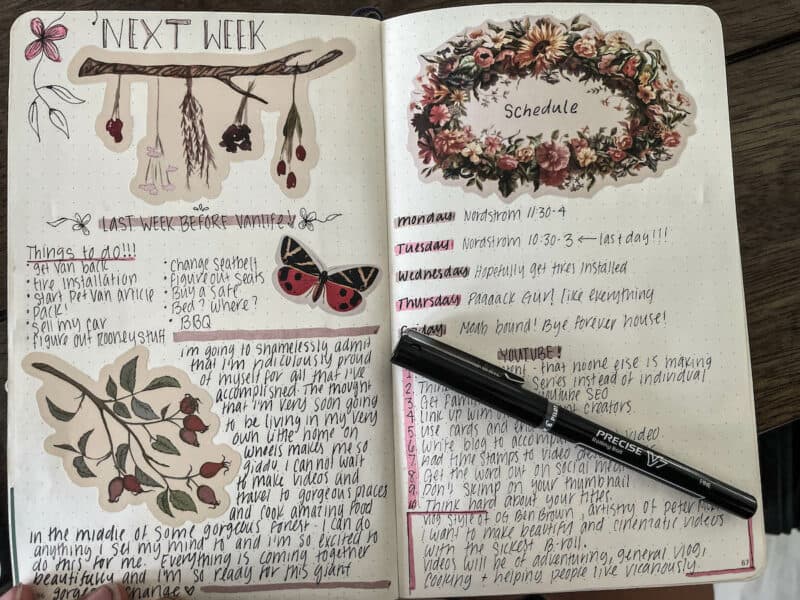 To start your habit tracking journey—think of all the areas in your life you'd like to improve upon.
Do you stay up too late and find yourself exhausted most days? Try tracking your sleeping habits to break your bad habits, or at least build better habits!
Maybe you'd like to spend more time being mindful, or doing yoga, practicing gratitude or spending time with your dog or loved ones.
The possibilities of using a habit tracker are endless, and truly will always be unique to you!
Keep Your Habit Tracker Ideas SMART
While you can track pretty much anything, just be sure to keep these habits attainable.
To keep habits attainable and achievable—consider the principles of SMART goals. By taking the time to plan your goals, you are increasing your chances of succeeding. SMART goals are simple.
Follow the acronym to ensure all of your goals are:
Specific: Know the who, what, when, where and why of your goals.
Measurable: Instead of saying, "I would like to walk more." Say." I would like to walk 10,000 steps everyday. Having a goal you can measure makes it much easier to track your progress.
Achievable: Make sure your goals are realistic. When you're consistently hitting your goals, it is much easier to stay motivated. Failure is never fun!
Relevant: If your goal is to overall lead a more healthy lifestyle— hitting a 10,000 step is very relevant to the overarching goal.
Time-Bound: Say, "I would like to take 10,000 steps every day for 30 days." Chances are, if you stick to a goal for a set period of time and can push past the tough days— it will be much easier to transform those goals into keystone habits.
This method of curating goals ensures greater success—and who doesn't want that?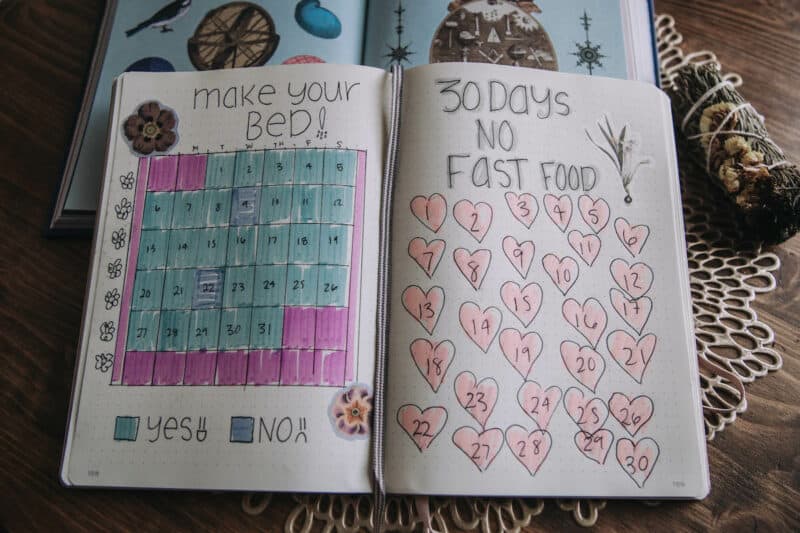 Ultimate Habit Tracking List
So if you're ready to increase productivity and solidify keystone habits, here is the ultimate list of daily habits you can track!
1. Fitness Habit Tracker Ideas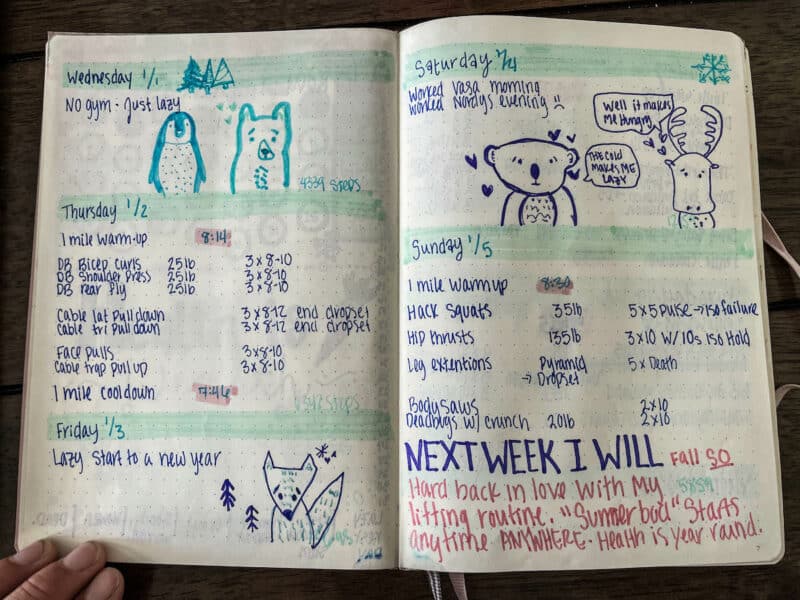 It seems like almost everyone is hoping to reach some sort of fitness goal. Maybe you're an avid gym rat or runner. Maybe you're wanting to build more muscle. Or maybe losing weight after a holiday is a goal.
No matter what your goals are—journaling and creating fitness habit trackers will keep your goals in sight and help you stay focused and on the right track.
Some examples of fitness habits to track include:
Daily running goals
Tracking daily workouts
Keeping track of workout intensity
Hours spent at the gym
Hours spent running
Miles ran throughout the day/ week/ month
Amount of weight lifted
Steps taken throughout the day
Time spent stretching/ foam rolling
Tracking how your workouts made you feel
2. Daily Habits to Track to Improve Nutrition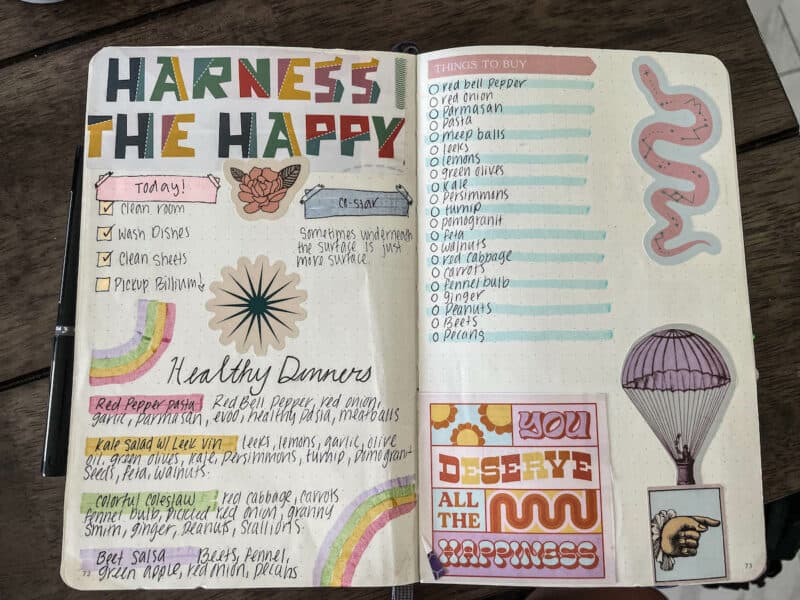 Nutrition is arguably the most important component to feeling your best and staying healthy. Nutrition pretty much means anything you consume. Just remember when creating nutrition goals that every single body is different and requires different things. Before copying another person's goals, please remember that what works for some may not work for you!
If you have specific macronutrient goals always be sure to contact a registered dietitian or your doctor first, and not just some fitness influencer. Just because you're tracking nutrition does not mean you're always being good to your body.
The last thing any of us want is to create habits that are disordered and unhealthy. Unfortunately, nutrition can be a sensitive subject for those with a history of disordered eating. If you feel this may be you, please seek help from a trained professional.
Here is a list of some of the ways you can track your nutrition (in a healthy and safe way!):
Track water consumption
Keep an eye on caffeine intake
Cut down on alcohol
Track sugar intake
Track what you eat in a day, or whether you had a healthy meal
Analyze how you feel after eating certain foods
Track fast food consumption
Create meal guides and shopping lists to stay on track
Track whether you're eating enough veggies
Track whether you're eating enough fruit
Make sure you're taking vitamins you want to
Making a healthy breakfast part of your morning routine
3. Ideas for Mood Habit Trackers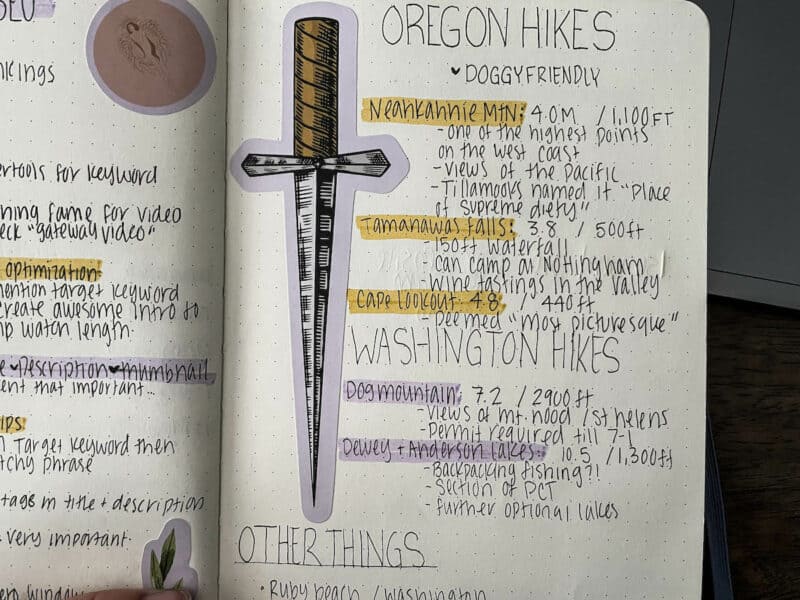 There are so many ways you can track not just how you're feeling, but habits that benefit your mood and mental health, too!
It can be so easy to focus on the things we can see and tangibly feel. Taking time out of your day for self care, and to invest in your mental and emotional well-being will undeniably make you more productive, positive, happier, and more thoughtful in your day-to-day life.
Some easy mood boosting trackers to incorporate in your day are:
Track meditation habits
Gratitude journal everyday
Track how you feel everyday with a mood tracker
Track your time unplugged from technology
Set time aside to call a friend or family member everyday
Spend more time outside on a daily basis
Create monthly mood board to visualize your goals and maintain motivation
Set time aside for hobbies and learning new skills
Give back! Set aside time helping others or volunteering
Getting enough sleep on a regular basis
4. Finances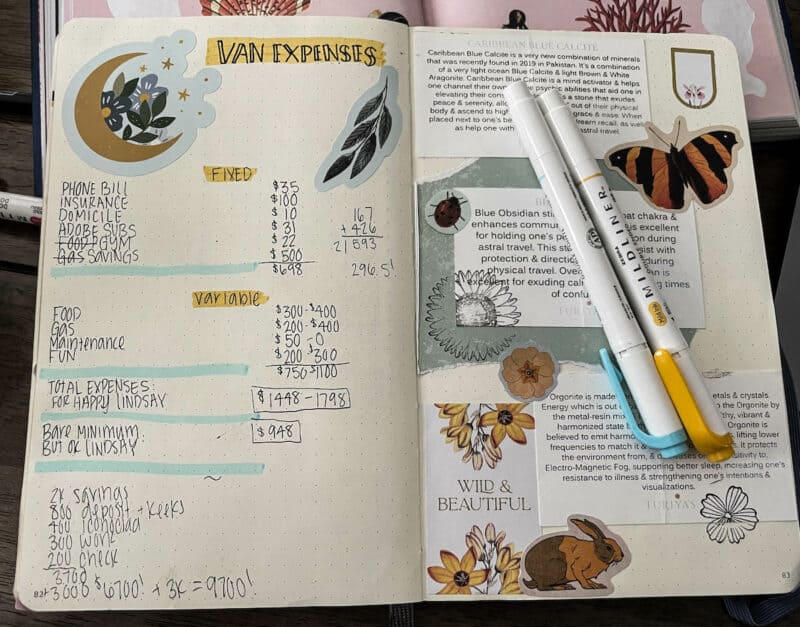 Money can be a giant source of stress for so many people. When people say money doesn't equate to happiness- they're definitely not wrong. We all deserve to live a happy life no matter our income level.
When we start struggling with finances, our overall peace of mind and happiness is absolutely affected. Money stress is a normal part of being alive, but setting goals and keeping to a budget can ensure we stay happy and fulfilled.
Tracking your spending and income through journaling is a fantastic way to give you peace of mind and help you reach financial freedom. Some great examples of ways you can track your finances though journaling are:
Track income
Track fixed expenses
Analyze frivolous spending habits
Budget for your vacations now (even if you don't have any planned!)
Set weekly/ monthly/ yearly savings goals
Track your investments
Analyze how certain purchases made you feel
Create a "get out of debt" plan
Track your subscription services
Budget a "Giving and helping others fund"
Ensure you pay bills on time each month
There are so many ways to gain control of your finances. Always start by analyzing how much money you're bringing in regularly and plan from there. Obviously, fixed expenses such as rent, utilities, loan payments and and other misc. bills should be the first thing you plan for.
Spending time planning how you invest for your future is so important! This can be saving for a downpayment for a house, a vacation, or even just a rainy day fund.
If possible— create a budget for giving, too! This may be through your church, a charity, or even putting aside money to help a friend or family member in need.
5. Housekeeping
I always say: "you can tell exactly how my mental health is doing if you look at my living space."
This is not true for everyone of course, but sometimes the easiest way to increase my productivity and well-being throughout my day is to spend time on housekeeping. I am personally terrible at putting my laundry away and it can so quickly become out of control and overwhelming.
By staying on top of my housekeeping, I feel much less overwhelmed throughout the day. I also love starting the day with good habits because habits absolutely stack as well! Good keystone habits will create a rippling effect throughout the day.
An object in motion stays in motion!
Some great ways you can use your journal to track good housekeeping habits are:
Track making your bed daily
Make a daily / weekly/ monthly chore chart
Create a morning routine
Create a nightly routine
Schedule your plants needs
Track vehicle maintenance needs
Create a laundry schedule
Make a declutter plan
Use our spring cleaning spread and checklist!
Other Things to Remember For Habit Tracking
Taking the step into habit tracking can feel overwhelming—but it doesn't have to be! Here are some things to consider as you embark on this journey to better productivity.
It's Okay to Miss a Day
Creating new habits is hard. It's totally okay to miss tracking a day (or even a week). Tracking habits is a powerful way to be more productive and organized in your life, but you don't have to be perfect. If you skip a day– just pick up right where you left off! You're not starting over.
Habit Tracking is Not a One-Size-Fits-All Practice
Your goals and aspirations are going to be much different than others. I may struggle with putting my laundry away— you may not!
We all have different things we feel we can work on, and being aware of our personal struggles is very important.
Don't Overwhelm Yourself
Hey, being ambitious is a great trait to have! Just make sure the habits you are looking to track are actually feasible for you. Remember that you can always add goals later on.
I find that when I set too many goals too quickly, I get overwhelmed and quit much faster. I am MUCH more motivated to succeed if I am actually hitting my goals and keeping things fun.
Keep Habit Tracking Fun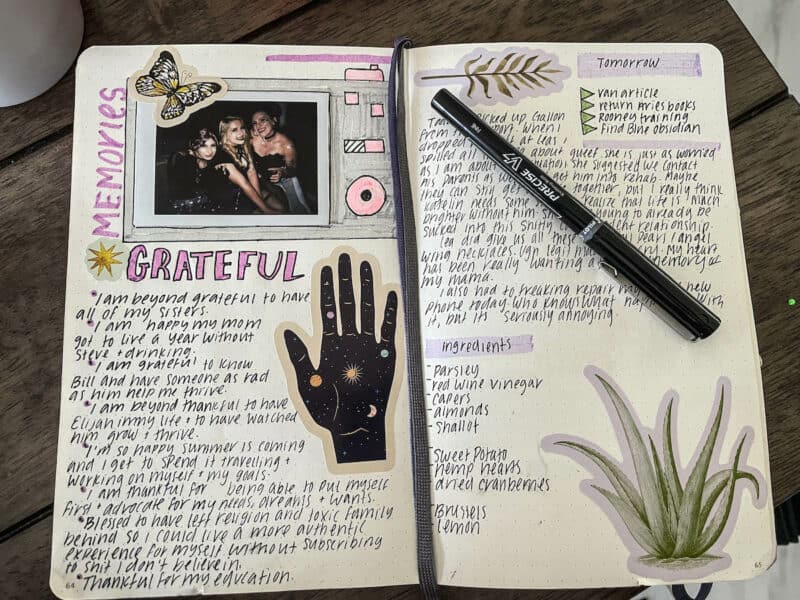 I am a sucker for a beautiful-looking journaling page! It's so relaxing to spend time making an artistic spread, and using my favorite pens. Not to mention— if my spread is beautiful I am excited to open my journal and use it!
Spend the time creating your goals and visualize exactly how amazing it would be if these habits were part of your daily/ weekly/ monthly and yearly routines!
How accomplished would you feel if you hit your financial goals? Or maintain a tidy home effortlessly? Wouldn't you feel better if you were eating healthy and keeping on track with your fitness goals?
Visualization is such a great way to keep your "eyes on the prize" and stay motivated.
If you find yourself feeling overwhelmed by the goals you have set out for yourself– that is totally okay! There is no shame in scaling back your habit trackers and picking them back up when you feel ready. Failing is not fun— so set yourself up to succeed!
Happy Journaling!