Ready to rock your journal with your favorite things? This list of bullet journal collections will have you filling the pages in no time.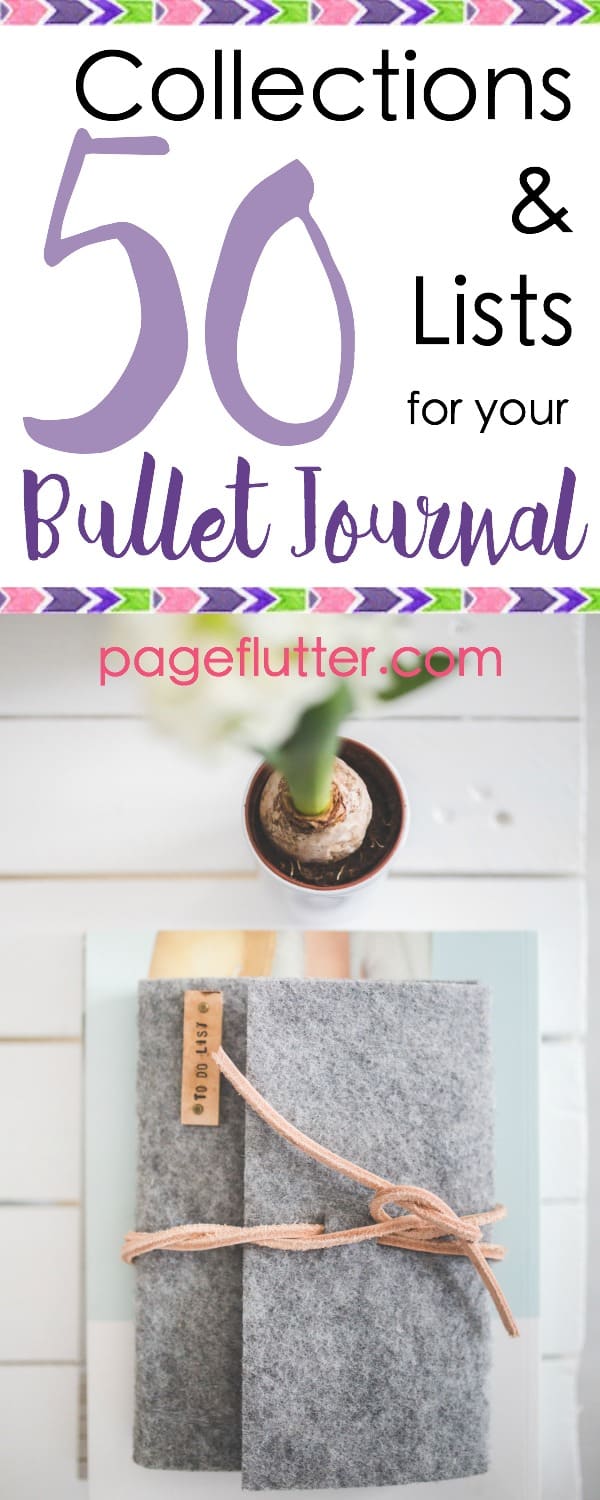 |50 Collections & Lists for you Bullet Journal|
Starting your first bullet journal is a thrilling experience. From the first time you fan through your new notebook, the clean pages practically beg to be filled with rows of tidy inked words.
Now, for the hard part. What do you write?
If you are staying true to the original bullet journal system, you'll begin with your future planning, monthly spreads, habit trackers, and dailies. At its very core, bullet journaling is a productivity system, so you simply fill it with tasks and ideas you don't want to forget.
Too many to-do lists start to get me down. I use them daily, but I also like my journal to be a place for ideas and references. I'm a creative thinker. Collections (such as my lists to improve your writing) help me catalogue the rodeo of ideas and distractions constantly rattling around my brai—Squirrel! What was I saying?
So, you're ready to take your bullet journal beyond the basics? I've rounded up 50 of my favorite collections by category. Some are exercises in self-discovery and gratitude, while others can be used to keep tabs on important names, titles, data, and ongoing projects.
A word of CAUTION: Please, DON'T try to take on this full list at once. Pick and choose a few that fit your goals and lifestyle.
50 Handy Collections & Lists for Your Bullet Journal
Personal Goals
1. About Me
2. My Bucket List
3. Gratitude List
4. Places to Visit
5. Skills to learn
6. Savings Tracker
7. Spending Tracker
8. My 5-Year Plan & Goal Tracker
Gratitude
9. "Flaws" I am grateful for & why
10. Material objects I'm grateful for
11. People I'm grateful for
12. Trials I am grateful for
13. Everyday "nothings" I'm grateful for
Hobbies & Entertainment
14. Hobbies to try
15. Books to read
16. Authors to know
17. Movies to watch
18. Television shows worth following
19. #PFSixWordChallenge (6-word stories)
Home & Family
20. Important Addresses/Phone Numbers
21. Birthdays
22. Gift list
23. Gift-less List (kind gestures, share meal, share and experience, etc.)
24. Family Activities
25. Thing My Kids Say
26. Family Health Appt. Tracker
27. Cleaning Schedule
28. Home repair tracker
29. Vehicle maintenance & registration tracker
Health & Fitness
30. Go-To Meal Ideas
31. Healthy Snack Options
32. Yoga Poses
33. Cardio Options
34. Resistance training routines
35. Foods to Eat & Avoid
36. Weight & BMI tracker
37. Methods for relaxation
Mindfulness & Self-Improvement
38. My Observations About People
39. Self-care activities
40. Un-Do List (Things I'll STOP Doing)
41. Quotes from Famous Figures
42. Inspirational Quotes
43. New Words to Use
Miscellaneous
44. Interesting Facts
45. Online purchase tracker
46. Green living habits
47. Favorite memories
48. Snail mail tracker
49. Websites/YouTube channels to follow
50. Future purchases
As your journal evolves, you'll come up with your own collections to keep—ones that are unique to you. Happy journaling!
I want to hear from you! What collections have you developed to whip your life into shape?
Brainstorm with me!
Subscribe to my newsletter for Page Flutter updates, posts, and announcements,
and FREE access to resources in the Vault!
Don't worry, I only deliver the good stuff. No spam.
Facebook // Twitter// Instagram // Pinterest