I took the Leuchtturm1917 B5 Slim notebook for a spin. Need something a bit bigger? See why the B5 might be for you.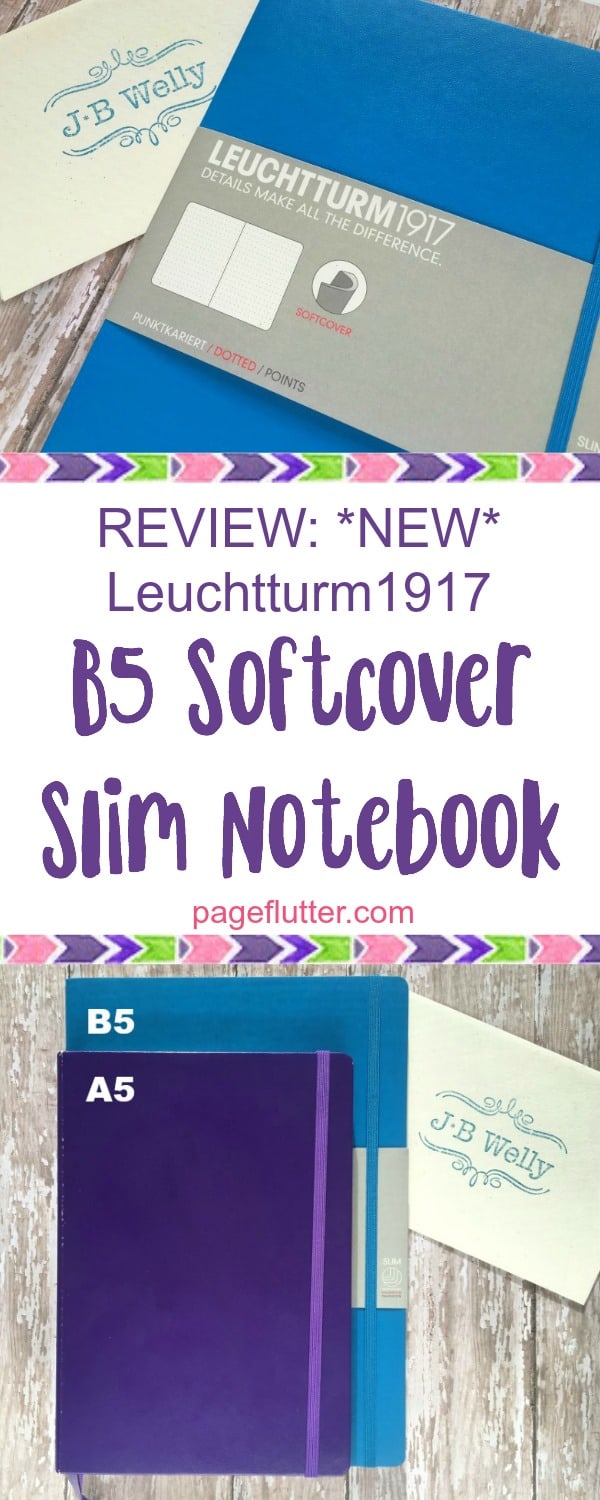 REVIEW: Leuchtturm1917 B5 Slim
If I'm a sucker for anything, it's a good notebook. I'm already a huge fan of Leuchtturm1917 notebooks. What? You don't have an "Ode to Leuchtturm" in your journal? My everyday bullet journal is a LT1917 A5, hardcover, 249 pages.
When I saw that Leuchtturm was releasing the larger B5 size in the U.S., I was intrigued. I wanted a larger page size for some of my ongoing projects, but I didn't want to jump up to the Master Slim A4 size (9 inches x 12 inches). An A4 is practical as a desktop notebook. Not so great for my "stuff-my-notebook-in-my-purse-and-go" lifestyle.
A complimentary notebook was sent to me for review purposes by J.B. Welly. 
When John at J*B Welly asked me to review one of the new LT1917 Slim Composition Softcovers (B5/ 7 in. x 10 in.), I couldn't wait to dive into the pages!
Packaging
I admit, packaging is not the most important thing for me. As long as the product arrives intact, I'm happy. Unfortunately, I have had LT1917 hardcovers from other sellers arrive at my door mangled beyond recognition.
J*B Welly puts a lot of care and attention into packing their notebooks so that they arrive safely. This box was in a bubble envelope when it first arrived.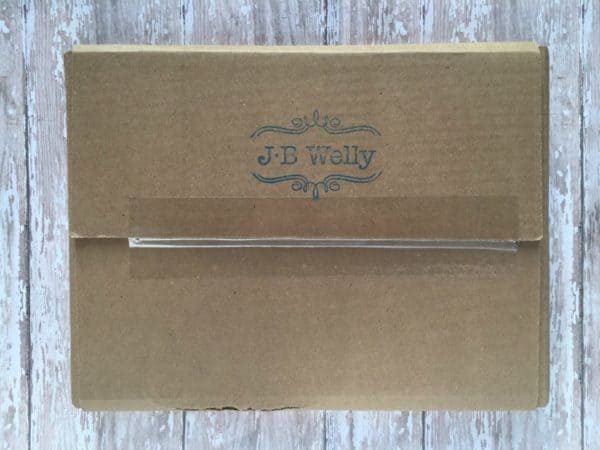 Remember how I said packaging doesn't matter to me? Well, it matters a little when it feels like Christmas morning National Notebook Day is waiting inside the box! J*B Welly hand-wraps all of their notebooks in beautiful wrapping paper. I've gotten a different wrapping paper each time! I might start a collage with it in my journal.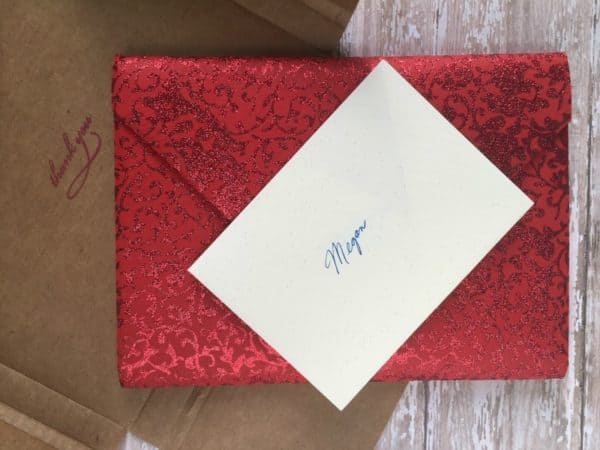 I often worry that sellers go the extra mile for bloggers in order to get favorable reviews. Not to worry, I have the inside scoop!
I'll let you in on a little secret… A couple of months ago, before I was asked to do a review, I quietly purchased a notebook through J*B Welly's website. They had no idea who I was or that I had a blog. My regular order was hand-wrapped and packaged just as carefully as this one! I don't feature companies who dress up their practices for reviewers.
J*B Welly has become my go-to shop for my Leuchtturm1917 notebooks. Their color selection is far better than other places I've found find in the U.S., and their prices are competitive.
Product Details
Oh, goody, goody! Now, we can get to the real treat…THE NOTEBOOK!
Brand:  Leuchtturm1917
Dimensions: A5 / 7 in. x 10 in. (Slim Composition Notebook)
Cover: Flexible
Binding: Sewn, lay flat
Color: Azure
Pages: 121, pre-numbered pages
Paper: 80g off-white, fountain-pen friendly
Rule: dotted
Features: Expandable pocked on back cover, two ribbon markers, archive labels, pre-printed index, 8 perforated pages in back.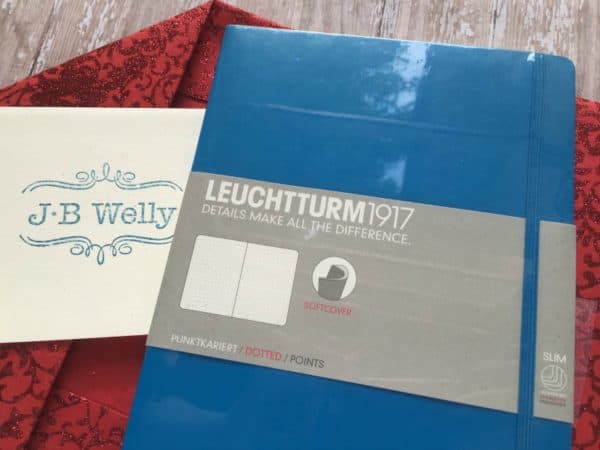 LT1917 notebooks generally come shrink-wrapped, so no surprises there. The cover information shows that it is dotted, softcover, and slim (121 pages vs. 249).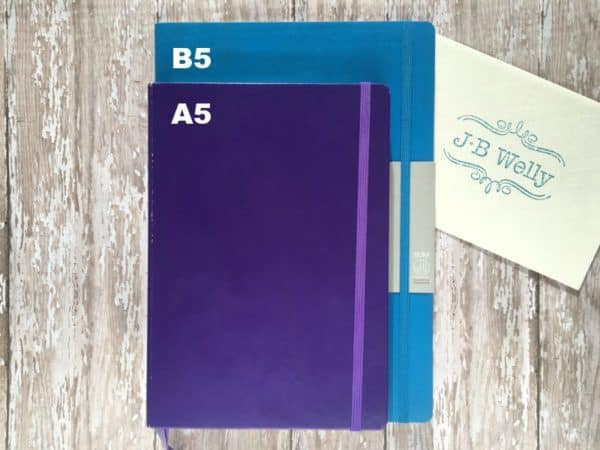 Here's a quick look at the size difference between my A5 (hardcover) and the B5. It's not a huge difference, just enough to give your pages a little more reach.
Bullet journalists with task-heavy schedules, or those who prefer a traditional calendar grid, will appreciate the few extra inches (especially during those awkward six-row months that begin on a Sunday and stretch for 31 days! If you're a calendar grid planner, you know what I'm talking about).
I had a specific writing project in mind for this little dandy. The A5 size is great for everyday bullets, but I sometimes need to write long sections in narrative prose style. With a larger notebook I don't have to interrupt my flow as frequently to turn the page.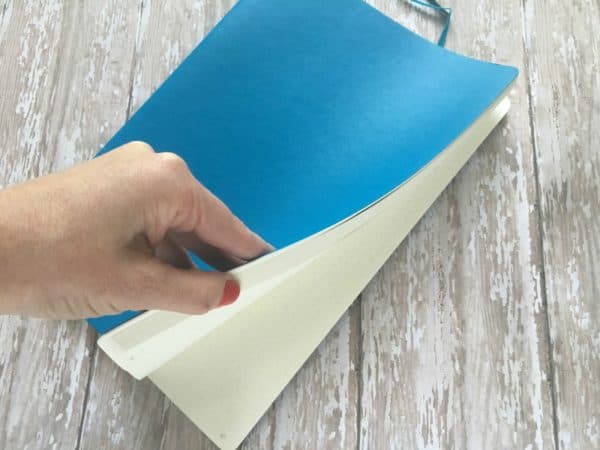 I'm accustomed to a hardcover in my bullet journal, so I wasn't sure how I would feel about the switch to a softcover. After using this notebook for a few days, I actually prefer it. The softcover makes up for the larger size, since I can bend it into my bag and take it anywhere.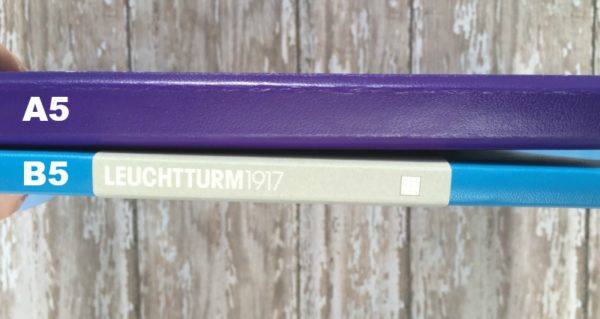 "Slim" means exactly what you think it means. There are fewer pages in this notebook (121 is the last page number) than the A5 hardcovers, which are packed with 249 pages. The B5 wouldn't work for my everyday bullet journal; I devour the pages too quickly. It would work for someone who is frugal with pages or doesn't mind switching notebooks mid-year.
Otherwise, this is the perfect notebook for ongoing projects that deserve their own space apart from a daily bullet journal: work journals, class/meeting notes, creative writing projects, gratitude journals, pregnancy journals, recipe collections, reading journals, lab notebooks, etc.
Additional Features
The B5 slim comes with all the features you would expect from Leuchtturm1917. For those of you who may be unfamiliar with the brand, here's a closer look: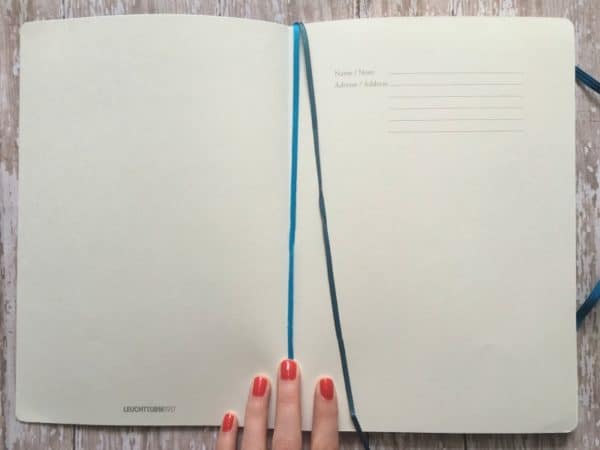 It comes with two ribbon markers. I could go for a third, but two is pretty standard for LT1917 (the only exception I know of is the official bullet journal). These ribbons are thinner than the ones that come with the A5 size. Not sure why, but there you have it.
Unlike the A5 hardcover,  the binding doesn't lay perfectly flat on the first use. It is sewn as a lay-flat binding, so I suspect the softcover affects the way it lays. I took a few minutes to break in the binding, which corrected the tendency for the journal to close on its own.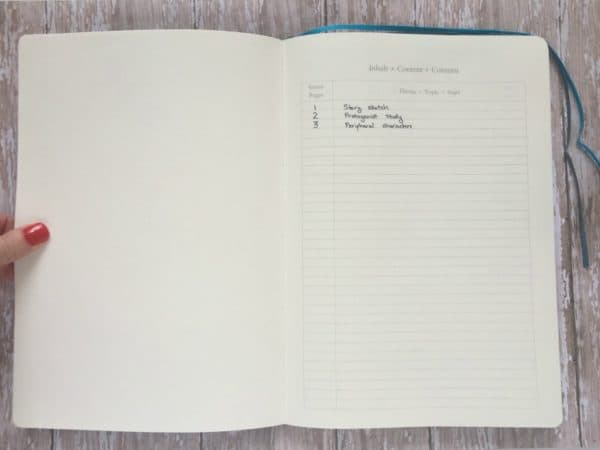 The first three pages are the pre-printed index. The line spacing is identical to other LT1917 notebooks, so you actually get a much longer index due to the larger pages. Page 1 follows the index.
Was I excited to use this notebook? Yes I was. I couldn't even finish this review before I started filling it in with my latest pet project!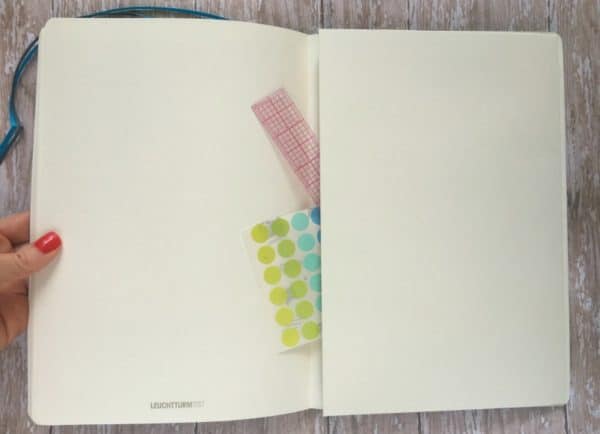 I couldn't truly love a notebook without a pocket. Love is fickle, isn't it?
The B5 size has the same expandable pocket people expect from LT1917, so my ruler and color coding stickers (the only true essentials I carry besides my pen) fit easily in the back.
Overall Impressions
I'm thrilled with this notebook! I'll definitely purchase some in the future.  I was able to write freely across the larger pages, which made for a surprisingly luxurious journaling experience (Anyone remember the Seinfeld episode with "wide lanes"? They were so luxurious)! The quality and features were definitely up to the standards I expect from Leuchtturm1917.
J.B. Welly has a slew of these in stock in at least 7 colors, so make sure you head over to their website for a peek.
Happy journaling, everyone!
Brainstorm with me!
Subscribe to my newsletter for Page Flutter updates, posts, and announcements,
and FREE access to resources in the Vault!
Don't worry, I only deliver the good stuff. No spam.
Facebook // Twitter// Instagram // Pinterest