Looking for a new fountain pen? The Lamy Safari is a quality choice that won't break the bank. Here's a closer look.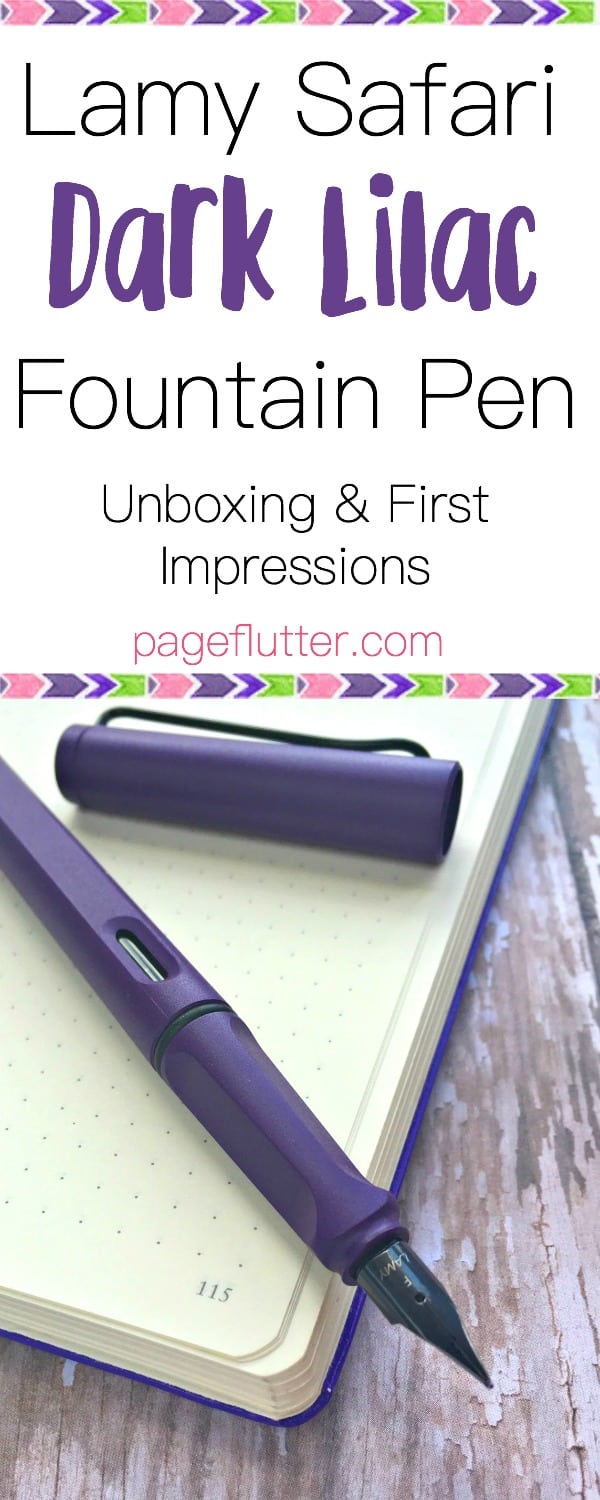 |Lamy Safari Fountain Pen Unboxing & First Impressions|
When I was a kid, I learned to write with a fountain pen at school. I should mention that I went to school in the French public school system, where cursive was taught from the earliest ages, pencils were rarely allowed, and fountain pens were the standard.
When I was in fourth grade, my family returned to the United States (land of #2 pencils and goopy ballpoint pens), but I still wax nostalgic for tiny stationery shops full of Clairefontaine notebooks and the snap of a new cartouche in my fountain pen on the first day of school. My sister even fished the little beads out of her empty ink cartridges and collected them in a box!
Of course, after we returned to the U.S., we quickly adapted to the utilitarian ways of U.S. school systems (many of my teachers couldn't even read cursive). I soon forgot the sensation of my fountain pen gliding smoothly over the page.
When I took up bullet journaling, I stumbled into online stationery shops and rediscovered fountain pens. My Pilot Metropolitan was the first fountain pen I bought as an adult, and I've been quite happy with it. Having been away from fountain pens for so long, I essentially came back as a newbie. The Metro is simple, smooth, reliable, and comes in rich, gemlike colors. I haven't had any major ink explosions or other screw-ups, so it probably can't be done!  😉
The only thing missing from my Metro was a changeable nib. The pen itself disassembles easily, but I haven't been able to find replacement nibs.
When I saw the Goulet Pens Blog buzzing about a Dark Lilac edition of the Lamy Safari, I couldn't resist! I ordered one as soon as they came out, and it arrived a couple of days ago. I even managed to get a sample of the highly-anticipated Lamy Dark Lilac ink!
Instead of gushing all day, how about I just let you have an up-close look for yourself?
Unboxing
Like everything else from Goulet pens, my order was packed carefully and protected with enough bubble wrap to shield it from a nuclear blast! I'll reuse it, of course. They include their business cards and a happy little Tootsie pop (in case you're not already crackling with excitement over your new pen)!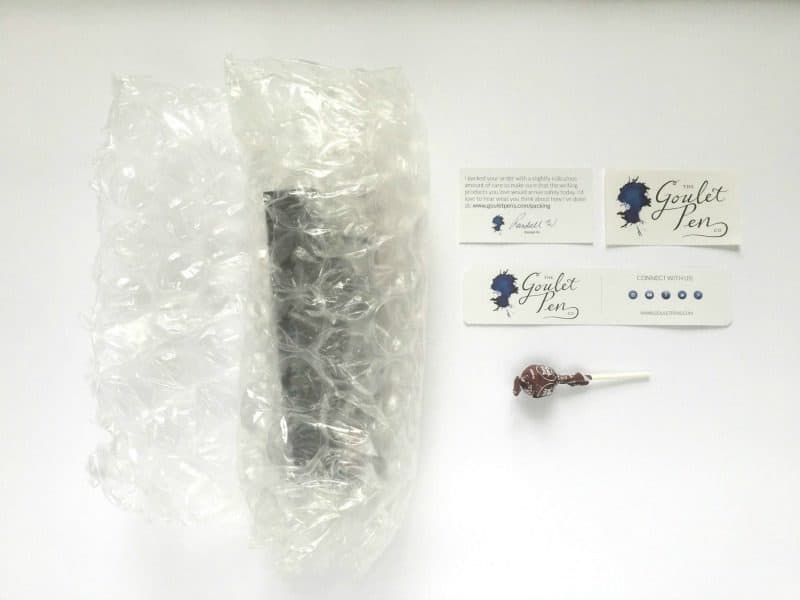 I ordered a few extra items, which I've labeled below for you. Save yourself the extra shipping by getting ink and any accessories you may need in the near future. The converter is a must-have if you plan on using bottled ink. Don't worry, it's really simple to use. Don't be intimidated by bottled ink if you're a newbie. I also grabbed an extra-fine Lamy nib and  a few ink cartridges for my Pilot Metropolitan, so I'm well-stocked for a while.
In the photo below (all items can be found at gouletpens.com):
Lamy Safari Dark Lilac Special Edition, Fine
Lamy ink cartridges in Black
Sample of Lamy bottled ink, Dark Lilac
Lamy Z24 Cartridge Converter (twist)
Lamy Steel Nib, Black (Extra-fine)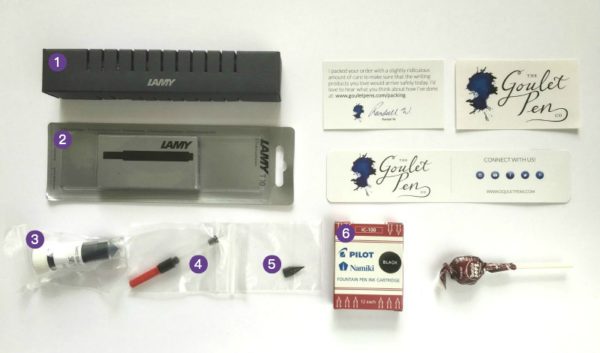 Here's what the pen looks like right out of the box. The barcode sticker peels off without any sticky residue. There's also a little cardboard ring that's only needed during shipping. My pen had a blue ink cartridge stored inside, but it's not actually loaded into the pen.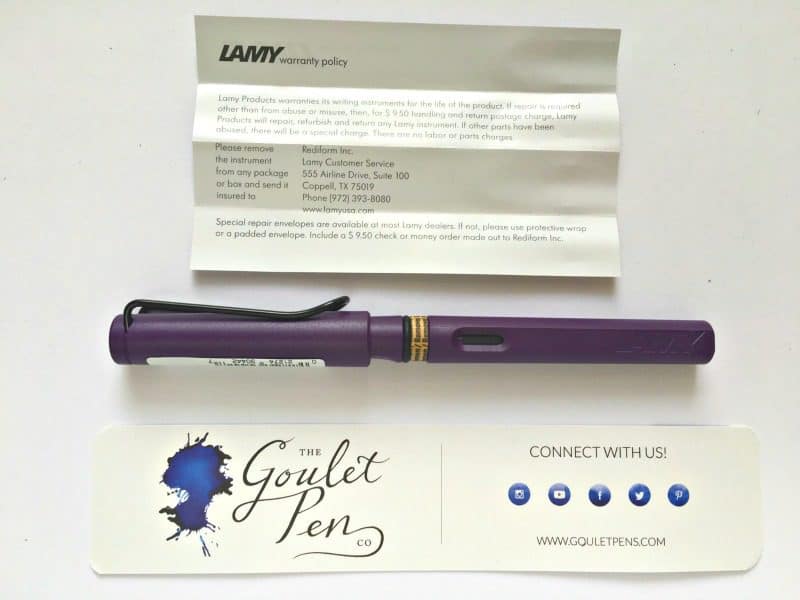 Filling the Converter
I decided to try the Dark Lilac ink right away, so I saved the blue cartridge for future use. Ink cartridges are portable and convenient for everyday writing, but they tend to be brand specific. Get a converter so you can try any ink you want.
The converter fits right inside the pen, and I filled it with the Dark Lilac sample I ordered. To fill the Lamy Z24 converter, you just twist it closed, put the tip of the pen in the ink bottle, and twist in the opposite direction. I promise, it's very simple. You'll see the ink being pulled into the cartridge.
Overall Impressions
The Lamy Safari is light and comfortable to write with, and I love the color; it's a perfect match for my Leuchtturm1917 Purple Hardcover! The Lamy Dark Lilac ink didn't disappoint, either. It's dark enough to be legible as a staple ink for journal entries and personal letters, but it's definitely purple.
I know more advanced fountain pen users can discuss ink dry-time, feathering, saturation, flow, and other fancy metrics. I'm not going to get into all that. What matters to me is whether I get a clear line on the paper and a smooth writing experience. This ink was satisfying to use, and that's good in my book!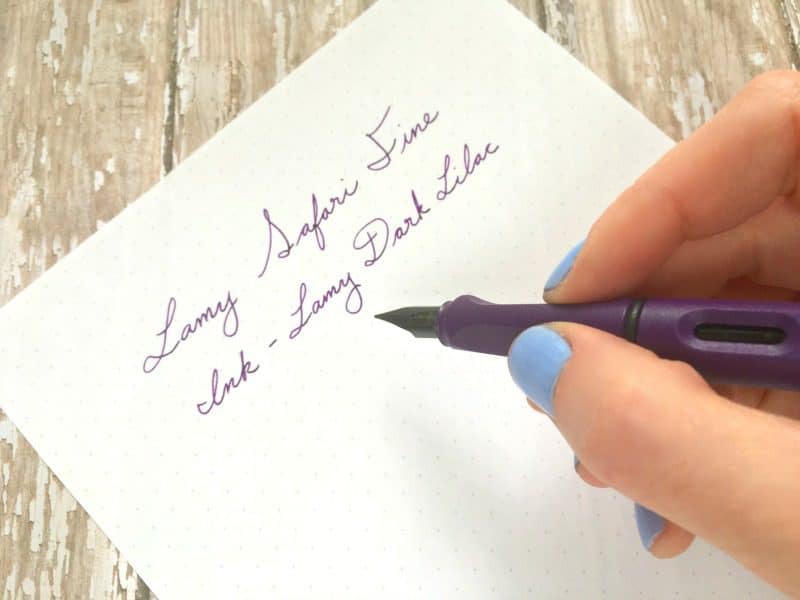 I'm thrilled with my choice to buy my Lamy Safari. I'm careful about how much "stuff" I let into my home, so finding an inexpensive pen that will serve me for many years is big win! I couldn't be happier with it!
Over to you! Are you a fountain pen user? What projects call for a fountain pen instead of another writing instrument? Do you have a favorite brand? Specific qualities you look for in a fountain pen?
Brainstorm with me!
Subscribe to my newsletter for Page Flutter updates, posts, and announcements,
and FREE access to resources in the Vault!
Don't worry, I only deliver the good stuff. No spam.
Facebook // Twitter// Instagram // Pinterest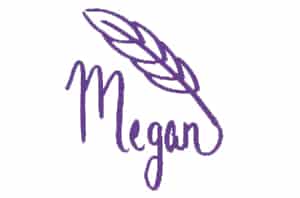 SaveSave
Never miss a post!
Join my mailing list for updates on new posts,
PF events, product, and special offers!
*As a bonus, you'll also get access to my community resources
in the Page Flutter Vault.