You asked for them, so here they are: May's Six-Word Story Challenge Prompts (#PFSixWordChallenge) are live on Instagram!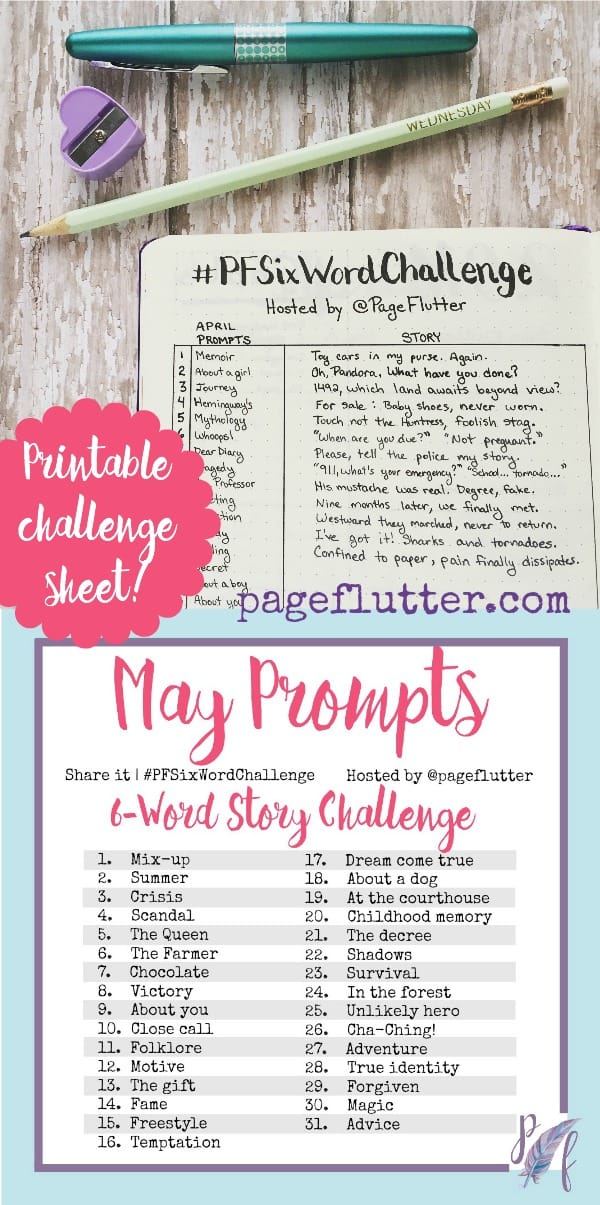 | Six-Word Story Challenge (#PFSixWordChallenge): May Prompts! |
I was completely blown away by your enthusiasm and ingenuity in April, and I know May will be even better. There was so much mutual support and encouragement in the group; your positivity is catching! You're all incredible, and I can't thank you enough for being a part of my crazy writing adventure.
Now, on with the challenge!
Printable MAY Challenge Sheet
Repost my challenge graphic in your Instagram feed for easy reference, then grab the FREE printable PDF (A5 size) and paste it into your journal.
**CLICK IMAGE TO PRINT**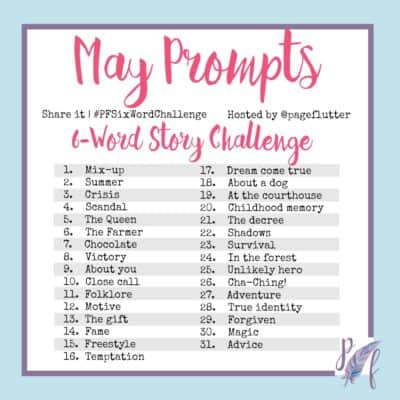 **CLICK IMAGE TO PRINT**
How to Play…
Six words, that's all you get. Try to put them together in a way that feels like a complete story, but also take the opportunity to experiment. Have fun with it!
You are welcome to use the prompt words in your story, but it's not required at all. Write whatever sparks in your mind.
Be sure to tag your stories on Instagram with #PFSixWordChallenge so we can all see them.
Tag me (@PageFlutter ), so I can give your awesome story a shoutout!
Not on Instagram? No worries; just play along on my Facebook page!
Subscribe to my newsletter to get my latest posts and challenge prompts delivered to you inbox!
Remember: It's not about having the "best" 6-word story.
It's about inspiration, so have fun & take creative risks!
If you need a little help getting started, check out my 6-Word Story board on Pinterest. For those of you looking to turn your six-word stories into larger projects, you can check out my board devoted to the craft of writing. Happy journaling!
Follow Page Flutter | M.J. Rutell's board WRITING | Six-Word Stories on Pinterest.
Brainstorm with me!
Subscribe to my newsletter for Page Flutter updates, posts, and announcements,
and FREE access to resources in the Vault!
Don't worry, I only deliver the good stuff. No spam.
Facebook // Twitter// Instagram // Pinterest