By now, you've probably heard of the Bullet Journal. Read on and find out if it's for you…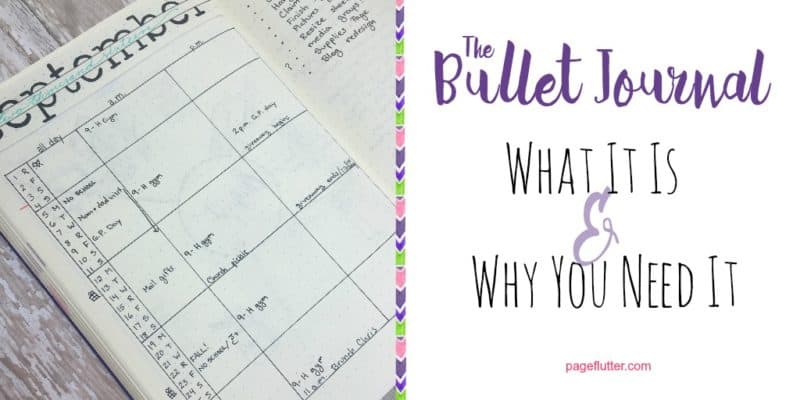 |The Bullet Journal: What It Is & Why You Need It|
You've probably heard the term "Bullet Journal" popping up in social media a lot lately. I've used various types of journals and planners throughout the years, but the Bullet Journal has its own way of doing things. I gushed about the system to a few of my writer friends the other night, and figured I might as well share the love with all of you.
Why You Need a Bullet Journal
Let's back up for a minute so I can tell you how I stumbled upon Bullet Journaling. It's a tragic tale, I'm afraid. I had a great idea once—yes, just the once—and I wrote down my world-changing, hunger-solving, disease-curing, mind-blowing idea on a Post-it note. Then I worked on some title ideas, took some notes for my book that would define an entire generation, then I moved the Post-it, took some more notes, moved the post-it again, brainstormed for a while…now, where did I put that Post-it? Sadly, the Post-it was lost forever. Are you crying yet?
I scavenged the globe through treacherous conditions searching (*ahem* sat in my living room Googling ways to organize writing notes) and finally stumbled upon the notes and productivity system developed by Ryder Carroll. Voila! The bullet journal.
For real…What Is A Bullet Journal?
Here's my simple explanation: The Bullet Journal is a highly customizable system for taking & organizing notes. Those notes are used to organize your schedule, ideas, goals, and other aspects of your life. That's it.
I know what you're thinking: "What about all those fancy habit trackers, gratitude logs, hydration trackers, weather icons?" Those are purely based on the needs on the user. Instead of worrying about what other people put in their journals, you need to first understand the structure underneath it all.
So, I'm going to repeat myself because I feel like it's vital that you understand this one point. Anything else a bullet journal might resemble is based on the user. For some people it's part sketch book, diary, kid wrangler, project manager, dream log, motivator, etc.
But at its core bullet journaling is still a basic system. Cool? Good. We're all on the same page.
Ryder's website has the best rundown of the system basics you'll find on the web. I've taken this basic system and adapted it for my own use. Let's get started!

My Favorite Gear for Bullet Journaling: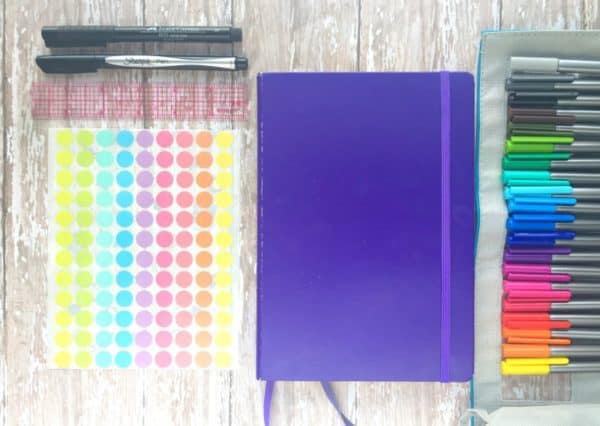 The essentials are:
Pretty simple, no? There are a few bonus items I keep on hand, and they quickly moved into the essential category for me. If you're feeling jazzy, give them a go:
This is a very basic overview of the system, but it's enough to get you started.
The index
The index ensures the infamous "Post-it Situation" never happens again. My Leuchtturm1917 already has page numbers printed in the corners, so I just record the topic and page number.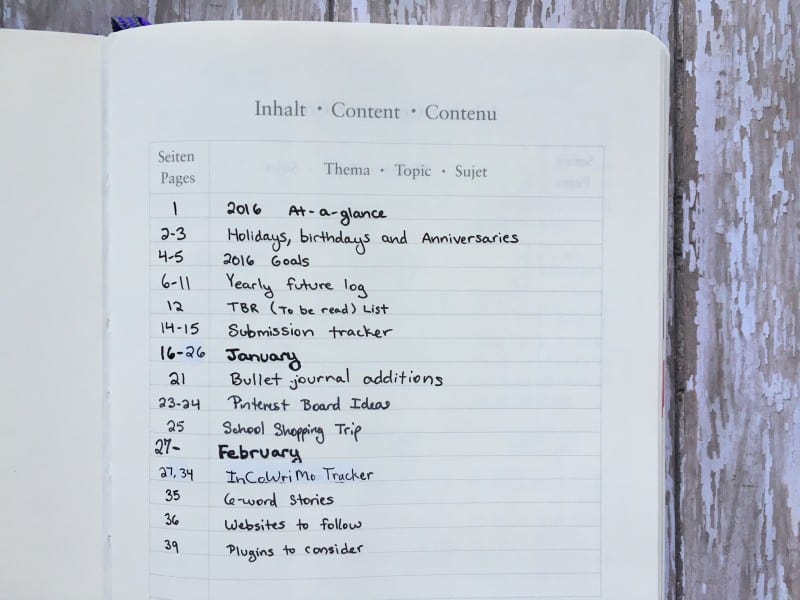 **A note on mistakes: You're going to see some pretty impressive bullet journals out there. Don't get frustrated if yours has a few blotches and mistakes. Mine does. It happens. Invest in some white out tape, and move on.
Future Planning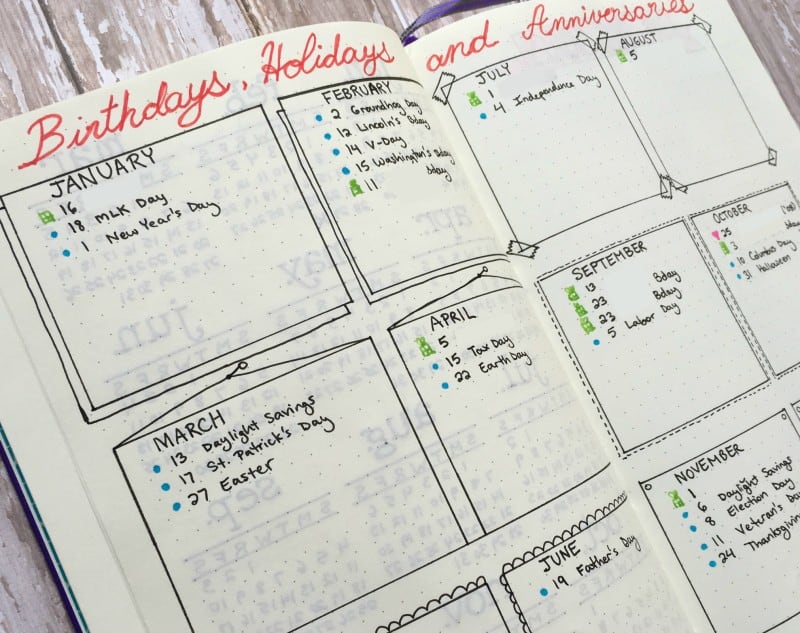 I keep one page for holidays and birthdays. I find that if I put these in my Future Log, they leave little room for other events. The next page starts my long-term Future Log for the year. We move frequently for my husband's job, so I sometimes have to plan things months, even a year in advance. I use three 4-month spreads to cover my year.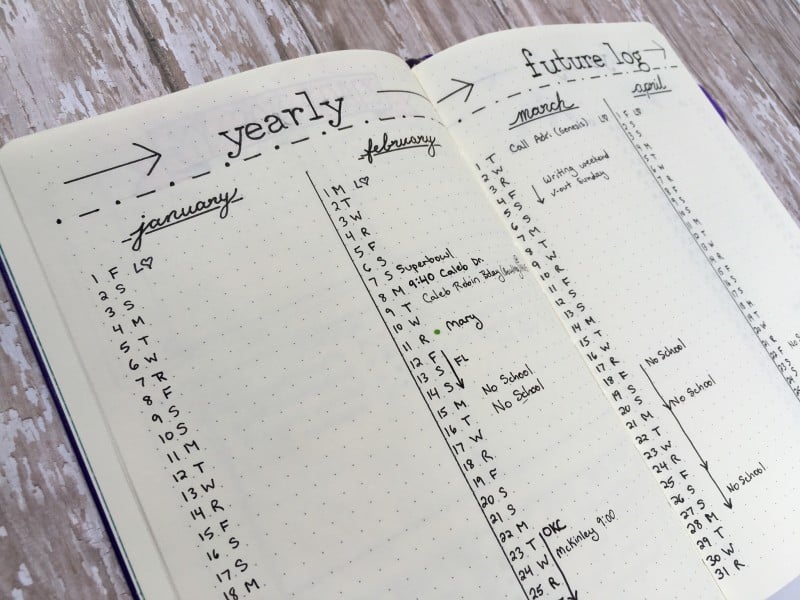 Future planning can be one of the trickier aspects of bullet journaling. As I expand this section of my blog, I'll keep you updated on the latest and greatest solutions in the bujo (short for bullet journal) community. Make sure you sign up for my newsletter so you don't miss out!
Monthly pages
Events scheduled in the Birthday Calendar and the Future Planning Log get migrated to the monthly pages.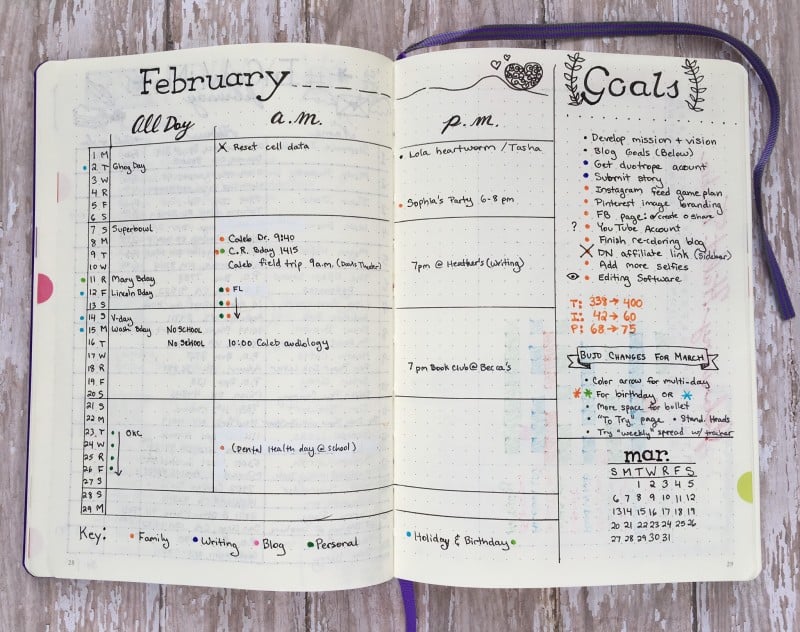 Monthly spreads are where the magic happens. I wrangle my schedule primarily on a monthly basis, and it gives me a place to focus my actionable goals. At the end of the month, I take a few minutes to assess whether I reached a particular metric; if not, I can reestablish my game plan for the next month.
>>See more monthly layouts here <<
Daily & Weekly Pages
Daily pages follow the monthly pages. You simply transcribe scheduled events and tasks from your monthly spread to your daily pages. I also add notes of encouragement, inspiring quotes, and doodles if the mood strikes me. This works best for me if I do it the evening prior. Anything that didn't get accomplished is migrated to the next day.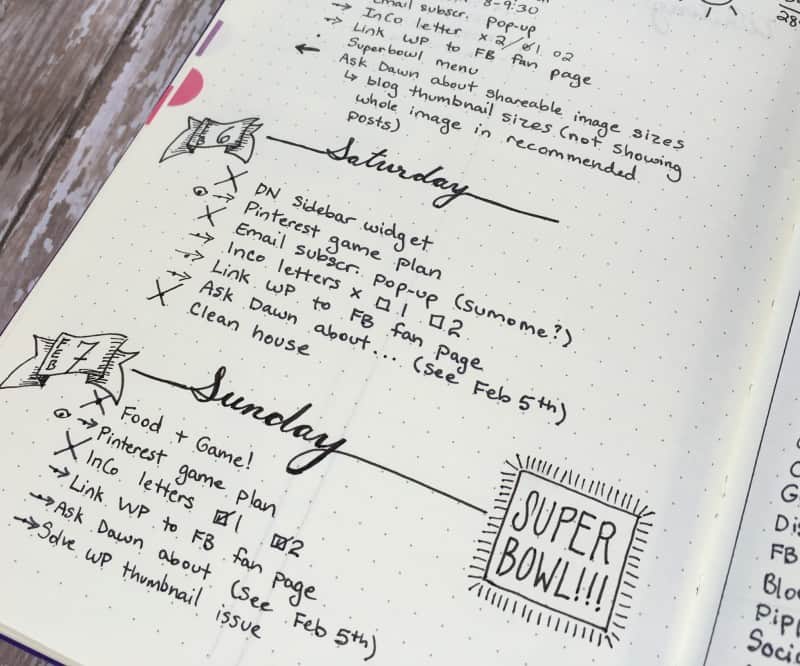 Topics & Collections
Each page is given a topic (the heading or title, normally) describing what the page is about. Pretty straightforward, right? It can be as general as "January" (for monthly spreads) or more specific, like "6-Word Stories."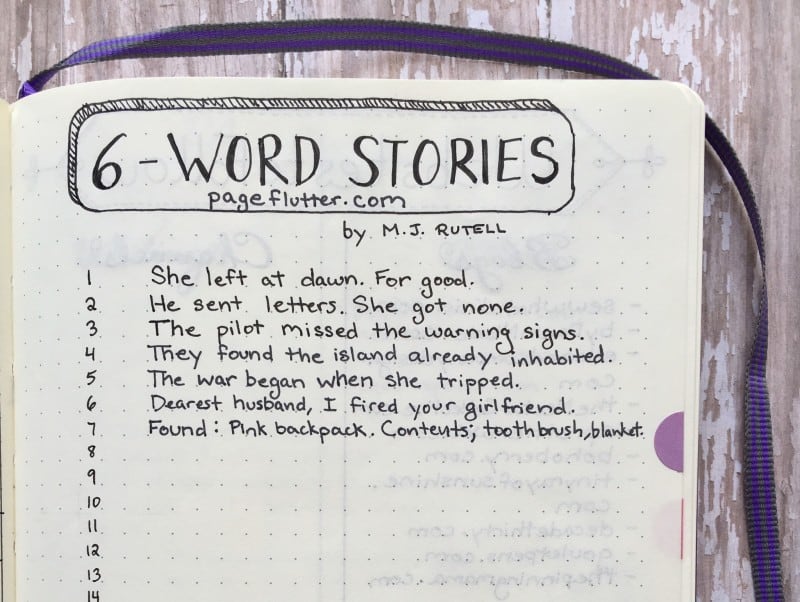 Whenever you need to take notes on a new topic, you simply turn the page, create a topic heading, and start writing your bullets. Record it in the index, and you can locate your notes when you need them. Easy peasy!
My favorite thing about this system is its adaptability. You'll notice I have pages for creative writers, like my "6-Word Story" spread. It doesn't really matter if you are a logical-sequential or creative-abstract thinker. You really can mold the system around your projects. Now, go be inspired!
Your turn! Have you tried the bullet journal system? How has it helped you keep your projects organized?
Brainstorm with me!
Subscribe to my newsletter for Page Flutter updates, posts, and announcements,
and FREE access to resources in the Vault!
Don't worry, I only deliver the good stuff. No spam.
Facebook // Twitter// Instagram // Pinterest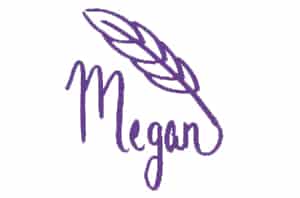 SaveSave
SaveSave