It's easy to become so focused on getting it all done you might forget to take care of the one person shouldering all those "To-Dos".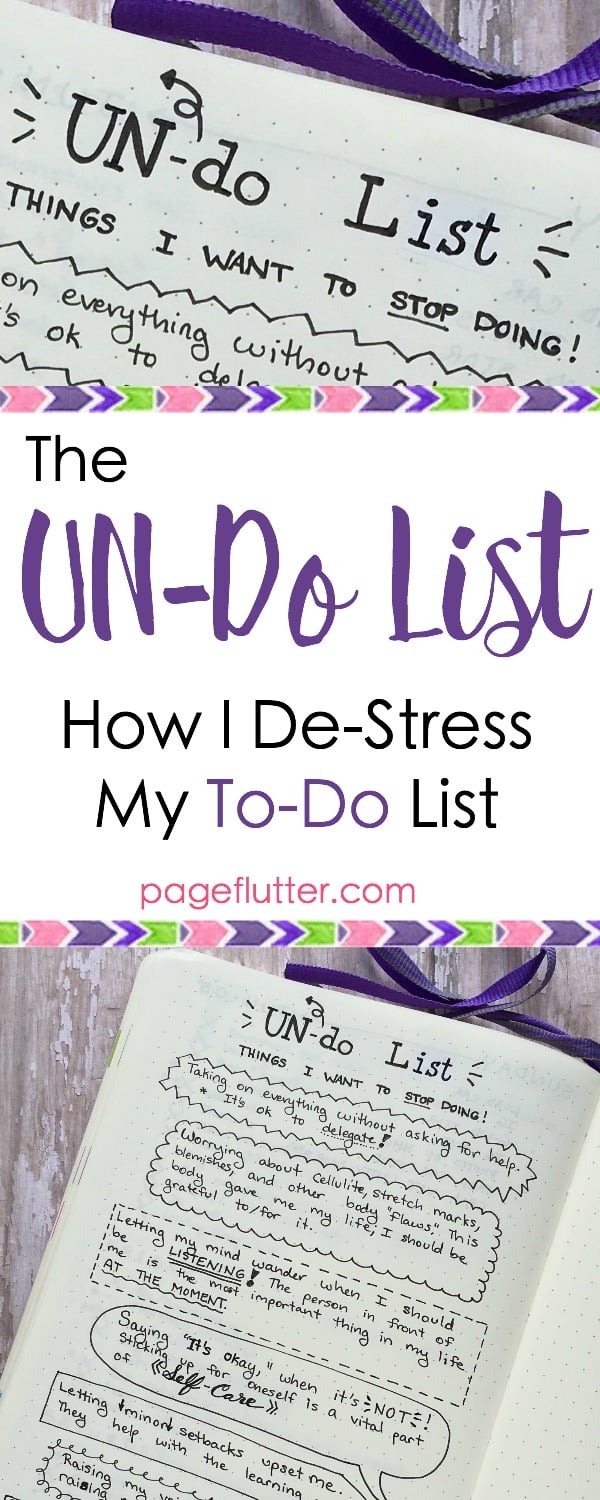 |The UN-Do List: De-Stress Your To-Do Lists|
As I type, my house is filled with the smell of cardboard and packing tape! Even in the middle of a move, all I can think about is what I need to write, journal, blog, post, and pin! It seems like the default mode for most people these days is "GO, DO, RIGHT NOW!"
I fill my life with to-do lists. Normally, that's a good thing. I am able to focus on actionable goals, take one task at a time, and accomplish more than I could have otherwise. It's easy to become so focused on getting it all done you might forget to take care of the one person shouldering all those "To-Dos".
YOU!
Let's be clear. I'm not about to give up my To-Do lists!  The UN-Do list is a little tactic I use to push things out of my life that don't help my productivity or happiness.
This little list has has a big impact on my bullet journal, mentality, and how I take care of myself.
What's an UN-do list?
It depends on what you need at the time.  I use my UN-do list as a way of bringing self-care to my bullet journal, give myself permission to do less, worry less, and be my imperfect self (even if I still have bad habits to overcome).
Try listing things you want to STOP letting into your life:
Bad habits
Insecurities
Self-doubt
Making excuses for other people
Taking on too much
Getting stuck in "Doing" mode when you need some "Being" time
Letting other people/outside situations determine your feelings
Again, I'm not telling you to ditch your to-do lists or bullet journal. Oh, the horror!
I am suggesting you set aside time for "being" rather than "doing". Your bullet journal is the most logical place to start your self-assessment; after all, it maintains a record of your daily life, interests, and goals.
>>

Read more about how I use my bullet journal here

<<
Other Ways to Bring Self-Care to Your Journal
Make your UN-do List. You can fill it with whatever you want to see LESS of in your life.
Physical self-care: Keep a list of activities to energize your body and keep it healthy. Yoga & running are my top picks, but you can choose anything you like.
Mental self-care: Keep a list of affirmations, compliments, quick meditative exercises to help you focus & reconnect, map out ways to unload mental & physical clutter.
Spiritual self-care: keep lists for gratitude, unexpected beautiful things, memorable moments
Useful self-care websites & articles:
Do you use self-care in your bullet journal? Comment below with your awesome tips for a happy, productive, and balanced YOU!
Brainstorm with me!
Subscribe to my newsletter for Page Flutter updates, posts, and announcements,
and FREE access to resources in the Vault!
Don't worry, I only deliver the good stuff. No spam.
Facebook // Twitter// Instagram // Pinterest