Wondering if gel pens are the right choice for your Bullet Journal? I tested 8 popular gel pens to find out which one was best. Check out the results below!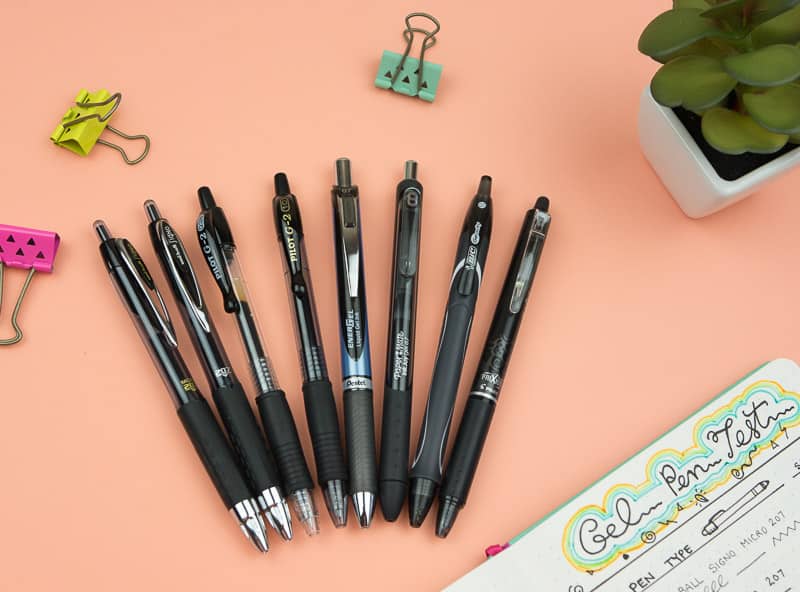 8 Mighty Gel Pens to Boost Your Bullet Journaling + Note-taking
They say the pen is mightier than the sword. Tell this to the journaling community and they'll ask, "Which pen?"
When it comes to supplies, two items generate more questions than any others: pens and notebooks. Periodically, I update my supply page with all my favorite things, but sometimes we need to focus on pens.
I recently shared my top 6 journaling supplies, which featured felt-tipped artist pens. I'm partial to felt pens in my journal, but it didn't feel right to completely ignore gel pens, especially since they have a huge fan base. Gel pens have a number of pros and cons, but by the end of this post, you'll be a bona fide gel pen aficionado!
What is the difference between ballpoint and gel pens?
"Ballpoint" refers the the mechanism of the pen: a tiny ball in the tip transfers the ink to the paper. You probably already knew that. Every office supply closet has boxes of basic ballpoint pens. They're utility pens. They get the job done. Good ballpoint pens write smoothly, though even the best have occasional skipping and ink globs (that's a highly-technical term for a pen booger).
"Gel pen" refers to the type of ink inside the pen. Technically, a gel pen can also a ballpoint pen, it just doesn't use the thick pasty ink that an ordinary ballpoint does. Gel pens contain ink suspended in a water-based gel. That's what gives them their oh-so-enchanting smoothness as they go sliding across your page. That being said, a gel pen is only as good as its ink!
Gel pen, ballpoint, rollerball? How to you tell the difference when you're shopping? Just know that unless it says "gel" somewhere on the package, it's probably not a gel pen.
M'kay, that's cleared up! Now, let's see what these bad boys are good for, shall we?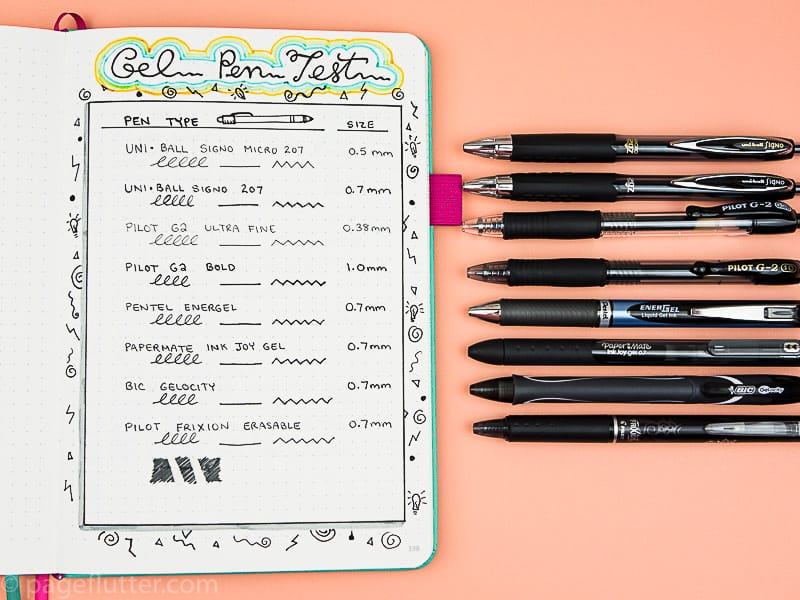 Are gel pens good for Bullet Journaling?
In short, yes, gel pens are a great choice for most types of journaling, including Bullet Journaling.  They typically create clear, sharp lines, and the marks appear much darker than those from a ballpoint pen. The strong lines of gel ink create a distinct aesthetic that has attracted quite a few fans. The Pilot G2, in particular has a strong cult following!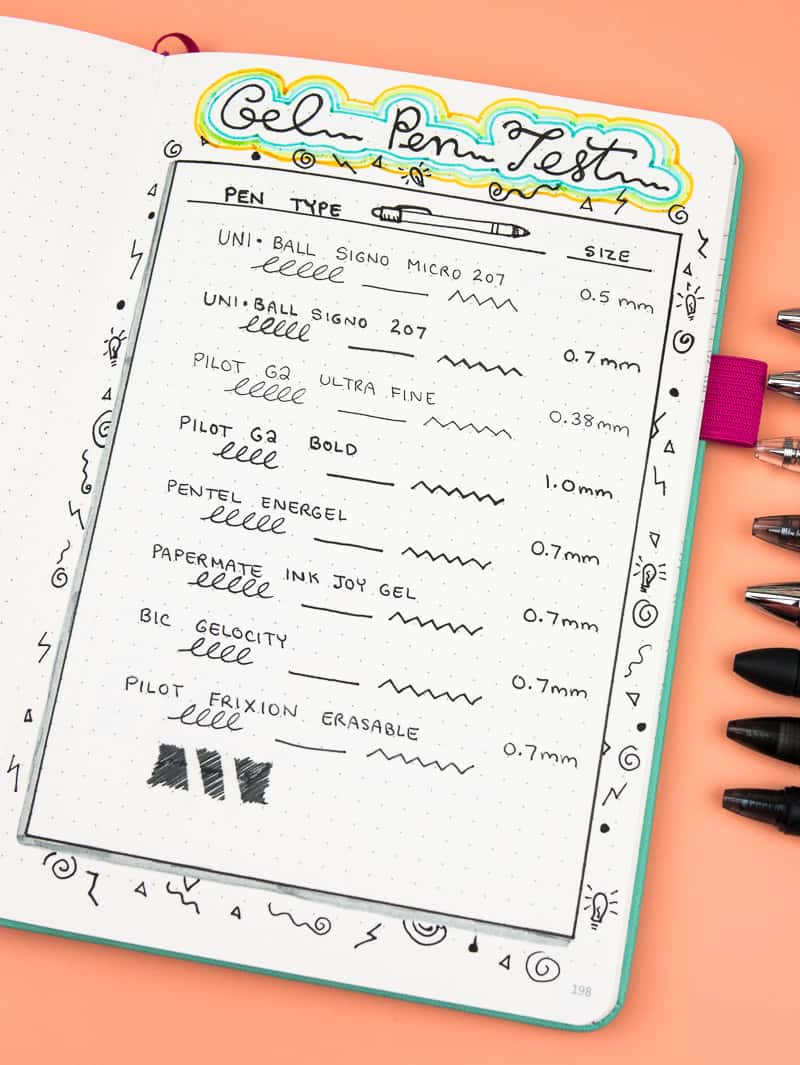 Keep in mind, not every gel pen is created equal. For every wonderful gel pen you try, you'll find two more that skip, dry out, and smear like yesterday's eyeliner. However, they do have some common pros and cons that push people to either the "Pro-Gel" or "Anti-Gel" crowds.
Pros of gel pens
Write with very little pressure (easy on the hand)
Don't smear as easily as liquid rollerball pens
Create clean, sharp lines
Not likely to bleed through paper
Cons of gel pens
They run out of ink quickly
Smudge more than ballpoint or artist pens
Ink can dry out over time
Sometimes skip or don't write on the first stroke
Me? I'm a peacemaker. I love all pens. That being said, I rarely use gel pens in my journals. For doodling, drawing layouts, and everyday planning, I prefer the uniformity and precision that a felt pen provides. I love my gel pens, but I love my felt tips just a smidgen more for journaling.
I do favor fountain pens and gel pens for note-taking, though. They're fast, reliable, and easy on the hand. Depending on what I'm doing, I choose different gel pens. Here are some great choices to consider…
8 Everyday Gel Pens Reviewed
I created a test page in my journal so I could see these inks side by side. After creating the sample for each pen, I also tested them individually by free writing a half page with each pen.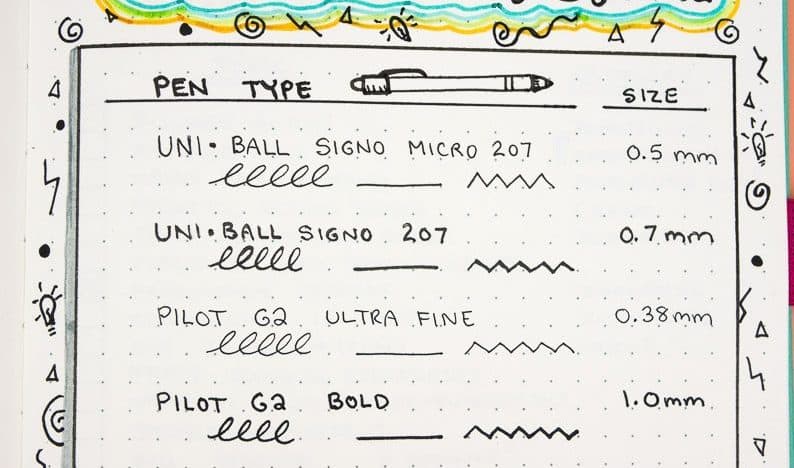 Uni-ball Signo Micro 207 (0.5mm):  I use a Uni-ball Signo for writing checks. Their "super ink" is more secure against check washing and other fraud methods. The lines created by this pen were mostly clean, but I did have some minor skipping while I was writing my test page. I also noticed that this pen required a decent amount of pressure to write evenly, which I suspect is true with most fine gel pens. When I ran my finger across my fresh words, the ink smeared 1 second after writing, but not after 3 seconds.
Uni-ball Signo 207 (0.7mm): This contains the same ink as the Micro 207 above, but it produces a thicker line. Overall, I was actually pretty disappointed with how this pen performed. The ink was quite clumpy when I first began writing with it. You can probably see that from the sample pictured above. I didn't experience this with the Micro 207, so it surprised me. I thought the clumping might be due to it being a new pen, so I gave it more than the usual half-page test. The clumping improved, but it never really stopped. The ink seemed to accumulate on the tip as I wrote, so occasionally it would drop an ink glob on my page. It smeared significantly after 1 second, and slightly after 3 seconds.
Although I didn't review it, the Uni-ball Signo 207 also comes in a bold 1.0mm tip. 
Pilot G2 Ultra Fine (0.38mm): Compared to the Uni-ball Micro 207, the G2 Ultra Fine required less pressure to produce even writing. The ink flowed readily, and I didn't experience any skipping during my half-page test. This pen produces the finest line of any I tested, and man, is it ever tiny! To be honest, it was a bit too fine for me, but if you have small handwriting, or if you love the minimalist look of thin letters, this may be the perfect pick for you. Because it's so fine, it dries very quickly and doesn't smear a lot. I had slight smearing after 1 second, and none after 3 seconds.
My local store was out of them, but Pilot also makes a 0.7mm G2.
Pilot G2 Bold (1.0mm): Another round with the Pilot G2, but this time, it's a full 1mm BOLD tip! Because my medium Uni-ball Signo had so much clumping, I expected to see some from this thick G2. That wasn't the case. The G2 didn't have any clumping during my test at all. It skipped the crossing of one "t" throughout my test page, but other than than, I enjoyed the smooth writing experience of this pen. The ink is also extremely dark, so it really stands out from the page. On the downside, this pen smears like crazy after 1 and 3 seconds of dry time. I let it sit for more than 10 seconds and still had slight smearing. Lefties beware!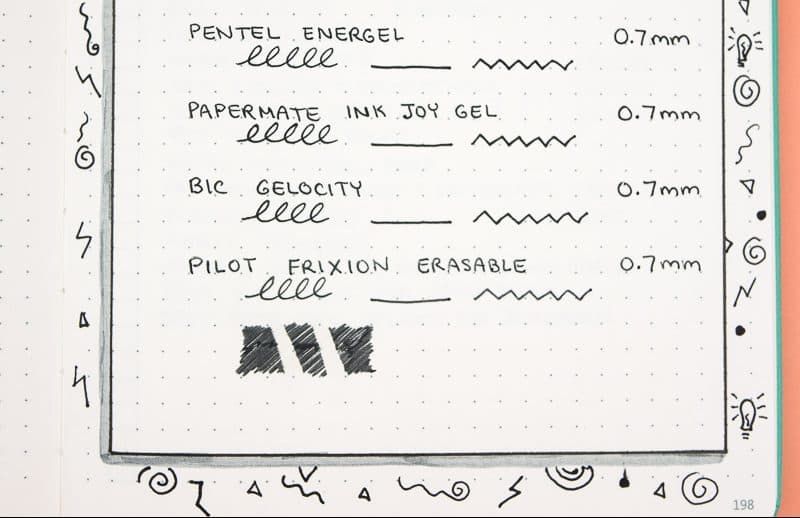 Pentel EnerGel (0.7mm): The Pentel EnerGel is one of my old favorites. I stumbled on this pen about a year ago thanks to a reader. It requires almost no pressure to write, so I find I can write for longer sessions without my hand getting tired. During my test page, I saw no skipping and no ink clumping. This is definitely one of the smoothest writing experiences of these gel pens. If I had to find a weakness, I'd say the grip doesn't feel quite right in my small hand. Still, I use this pen all the time and enjoy it very much. My test ink smeared after 1 second, but hardly at all after 3 seconds.
Papermate Ink Joy Gel (0.7mm): Ah, Ink Joy! Even the name makes me happy. Papermate knew what they were doing when they made these pens. For the sake of uniformity, I only tested the black ink, but these come in a whole rainbow of colors. The black is incredibly dark (comparable to the G2), and it's incredibly smooth to write with. Considering how buttery the writing experience is, I was prepared for a lot of smearing. Actually, it dried very quickly. I did get some smearing after 1 second, but almost none after 3 seconds.
Bic Gelocity (0.7mm): Gelocity is Bic's answer to Papermate Ink Joys. They also come in a variety of colors, but again, I chose to focus on black so I wouldn't be swayed by my favorite colors. I had never tried the Gelocity before this test, so I was excited to take it for a spin. Online reviews of this pen are pretty mixed, so I was prepared for it to disappoint. I can't speak for what the other reviewers experienced, but I thoroughly enjoyed this pen. The ink goes down quickly and smoothy, even with minimal pressure. I had one very minor instance of clumping during my test, but I had to look pretty closely to find it. Regardless of which angle I held the pen or how quickly I wrote, I couldn't get it to skip, and the ink was dark and crisp. As for smearing, it was abut the same as the Ink Joy. The Gelocity wasn't quite as natural in my hand as the Ink Joy, but it's a nice gel pen, all around.
Pilot FriXion Erasable (0.7mm): Compared to the other gel pens here, the Pilot FriXion is a different beast altogether. I wrote a full review on FriXion gel pens a little while back, and I encourage you to read it. FriXion ink has some unique properties that make it awesome (it erases!), but you need to understand how it works (especially if exposed to extreme heat or extreme cold). As for the black FriXion gel pen, I wish the ink were a little darker. I put my pen in the freezer to make the ink as dark as possible, but it still looks more charcoal than black. I had to use more pressure and experienced more skipping with this pen than most of the others listed here. Honestly, this will probably not be your favorite note-taking pen. Still, it has some great uses.  I regularly use my FriXions to write appointments in my journal; they give me the flexibility to change things later.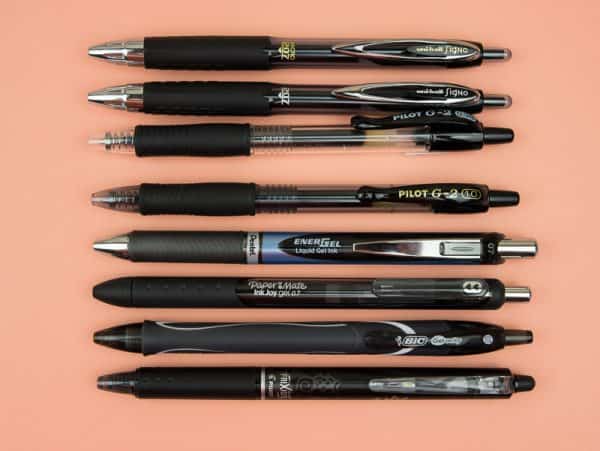 Final thoughts
Which gel pens were the best for Bullet Journaling and note-taking?
My pick for journaling: For smooth, precision writing, doodling, and list-making, my favorite is the Papermate Ink Joy. The fact that they come in a huge variety of colors only makes me love them more.
My pick for note-taking: Either the Gelocity or Pentel EnerGel. As much as I  love the G2, I imagine lefties would struggle with how much the ink smears.
My pick for perfectionists: When it comes to pure writing experience, the Pilot FriXion has some room for improvement. However, those who worry about making mistakes may benefit from being able to erase their work.
What's your all-time favorite pen for journaling? Do you use different pens for journaling versus note-taking? Comment below with your picks!
Brainstorm with me!
Subscribe to my newsletter for Page Flutter updates, posts, and announcements.
Don't worry, I only deliver the good stuff. No spam.
Facebook // Twitter// Instagram // Pinterest