Pilot FriXion pens have been popping up everywhere I look lately. Are they really that good? Let's find out, shall we?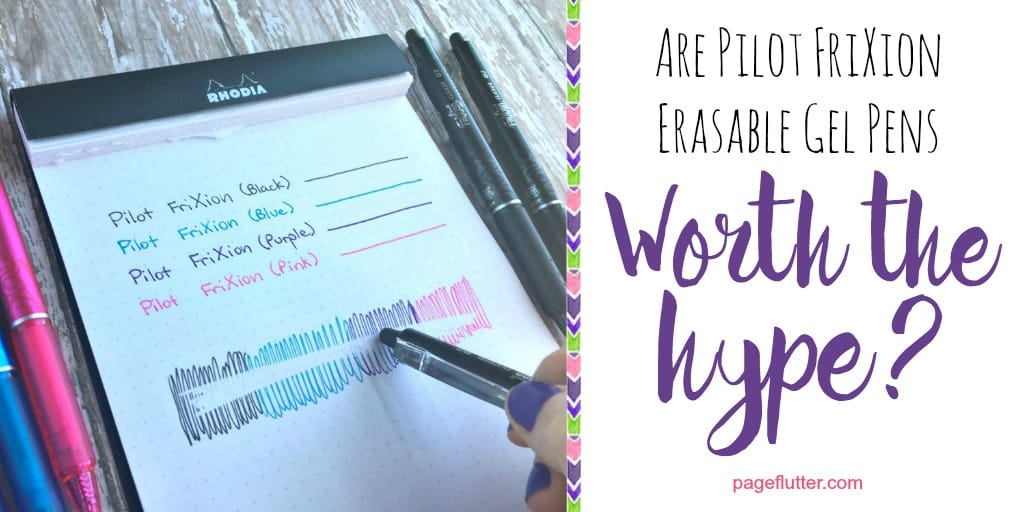 |Are Pilot FriXion Erasable Pens Worth the Hype?|
Hello, my productive pals, my goal-getting gurus, my Page Flutter friends, my jaunty journa–ok, this could go on for a while. Hey, everyone! I have a quick review for you today! I put together a post of 10 Sure-to-Please Pens for Bullet Journaling a little while back, but I hadn't tried Pilot FriXions yet. These erasable gel pens have been getting a lot of praise in various bullet journal forums, so I thought I'd check them out for myself. But first, let's hit one of the big hiccups for many journal users: Mistakes.
Mistakes are a prickly subject in journaling circles.  Most of us love admiring the artistic pages we see online, especially from bullet journal bloggers out there. These are exceptionally talented people who can make their pages come alive with ink. They're tidy, impeccable designed, and almost always, mistake-free! It only makes sense that we see those pages and think, "If my pages looked like that, I could finally get things done." But you make mistakes, right?
Well, my first piece of advice is to make peace with the mistakes. They are a part of life, after all. >>Head over HERE to read my post about taking creative risks (mistakes and all). If that doesn't work–and you really, really, really can't face the spread when it's a squiggly mess–an erasable pen is in order.
Full Review: Pilot FriXion Erasable Gel Pens
Let's get this out of the way before I get any sarcastic "Ever heard of a pencil?" comments. Pencil smears. Everywhere. Moving on… I wanted a good sample of black ink (for everyday writing) and the color versions (for labels, headings, color-coding). In this review, I'll give you a close look at two sets of pens I purchased:
There are many more colors available, and I think it's safe to assume the other colors behave similarly to the ones I'm trying.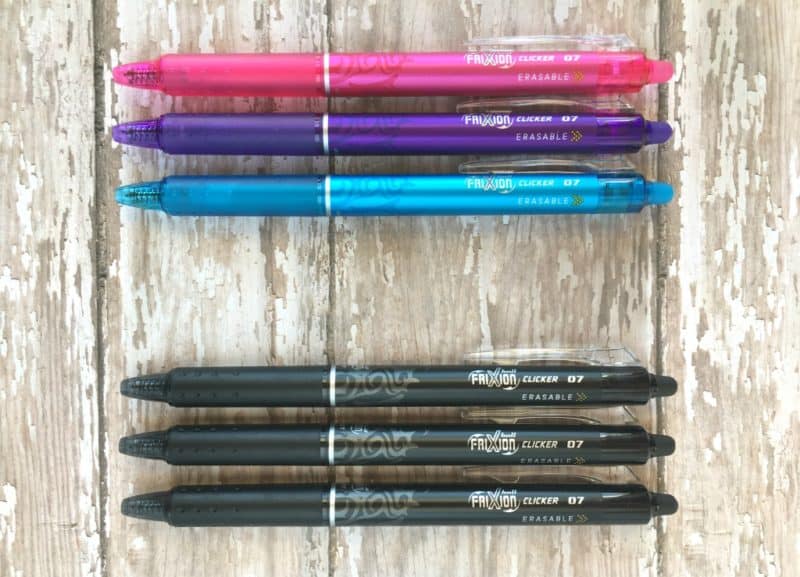 When I hear "erasable pen" I think of those old skinny, goopy ballpoints with the hollow erasers on the end. Remember those? They skipped on the paper, smeared like crazy, and dropped what can only be described as ink boogers. So, just to put your mind at ease, FriXion pens are NOT your grandma's erasable pens.
Overall Writing Experience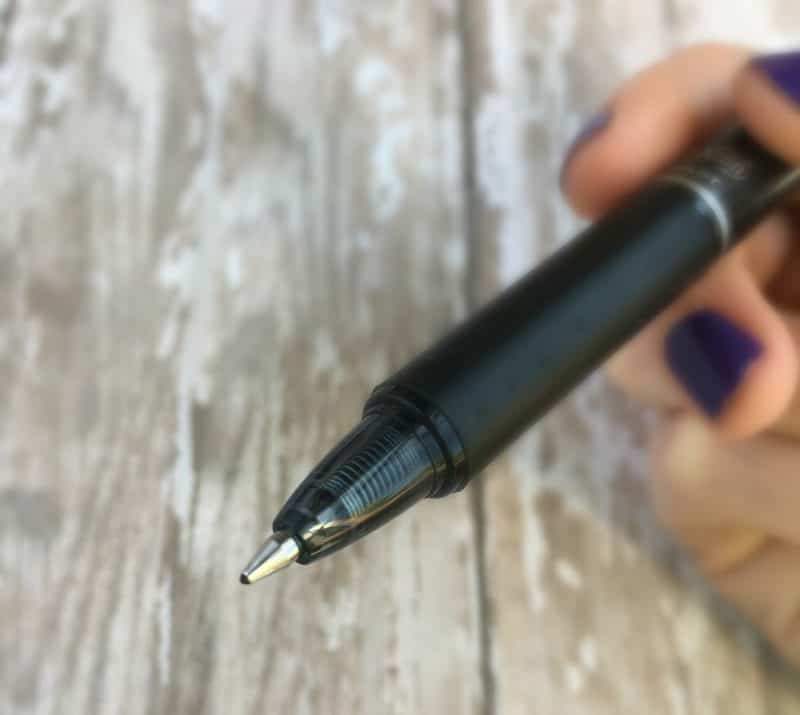 The first thing you'll notice is that these are gel pens. They write quite smoothly, without sticking or skipping like a large ballpoint. The lines are dark, crisp, and fine (although the black was not quite as dark as a Uni-Ball Signo, Vision or Pilot G2). FriXion packaging lists the tip as 0.7mm, and it writes like most other "fine" pens I've used. That's just about the right thickness for me. I write quickly, but this pen keeps up nicely, no splotches, bleeding, or skipping. I tried the colored ones with equal results. It was  a nice, smooth, clean writing experience. No complaints!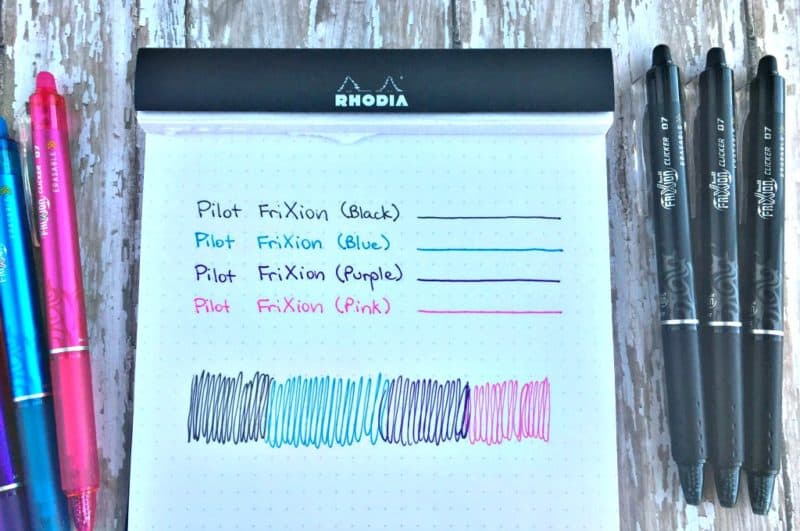 Thermo-what?
Now, here's the part that really matters! FriXion pens are not technically erasable. Friction makes the ink invisible, but it's still on the page. The ink inside these pens is thermo-sensitive, so its properties change under different temperatures. That doesn't make them any less useful, but it may affect how you use them. Here's how it's different:
I really wanted to see out how this worked, so I put my test page through the ringer.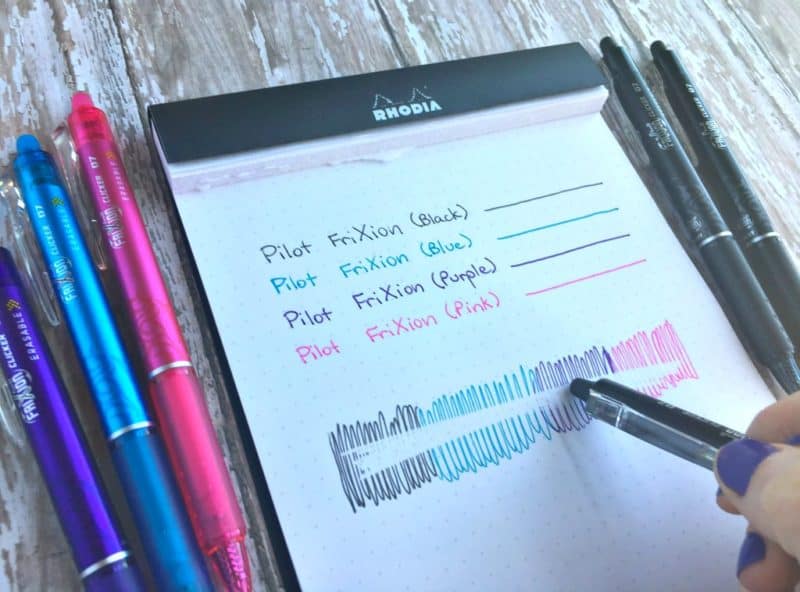 Eraser test: These pens surprised me with how well they erased. I wouldn't have expected a gel pen to erase so cleanly, but it does. Also, the eraser doesn't flake everywhere like a pencil eraser. It's a gummier rubber that doesn't wear down as quickly. There is a slight shadow of the ink left, and you can't really get rid of it. Rubbing harder doesn't change anything, because you aren't really removing any ink from the page. It's light enough that no one would notice once you wrote over it. Hairdryer test: Hey, when I test something, I test it. I wanted to see what would happen if I ran a hot hairdryer over the ink, and as expected, it faded just like it had under friction. You can use the hairdryer trick to erase an entire page, if needed. **Note: Be careful that you don't accidentally blast adjacent pages, or they'll erase, also. A little demonstration from my IG account:
Freezer test: So, if the ink is still on the page, does that mean you can bring it back?  YES! After blasting the ink away with my hairdryer, I stuck my test page in the freezer for about 10 minutes. When I pulled it out, the ink had all turned back to its original color.
You Shouldn't Use These Pens IF…
–>If you frequently leave your bullet journal/notes in a hot car, you might not want these pens. –>If you don't want your "erased" spreads to reappear on your frequent Arctic expeditions, don't use these. Other than those extreme conditions, these are great pens that perform very well! **I noticed some online reviewers felt they received dried-out pens, or highlighters that didn't have any ink in them. If your FriXion products don't write when you receive them, it's likely they turned clear because of excess heat during shipping. You can stick them in the freezer for 20-30 minutes and they'll return to their intended color.
Other "Perfectionist-Proof" Products from Pilot
All of these products have thermo-sensitive "erasable" ink. Erasable highlighters come in handy for me since I tend to go highlighter crazy. I had a professor in college tell me, "If you highlight everything, you've highlighted nothing." Good advice, doc. Erasable Highlighters
Markers
All things considered, I was very pleased with how these pens performed! I will definitely use these pens for note-taking. They won't replace my Sharpie pens anytime soon (only because gel pens aren't my favorite for journaling), but I'm also actively forcing myself to accept more mistakes. It's helping my productivity. FriXions are a great option if you need smooth, dark lines with the freedom to erase. Over to you! Have you tried FriXion or another brand of erasable ink? Comment below to share your tips for stress-free journaling.
Brainstorm with me!
Subscribe to my newsletter for Page Flutter updates, posts, and announcements. Don't worry, I only deliver the good stuff. No spam.
Facebook // Twitter// Instagram // Pinterest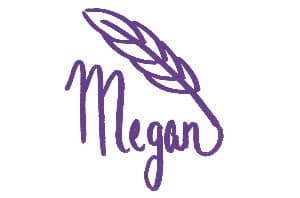 SaveSave
SaveSave