Your local store may not have the perfect journaling supplies, but that doesn't mean they don't exist. Here are 10 of my favorite online sources for top-notch journaling, planning, and paper crafting goodies.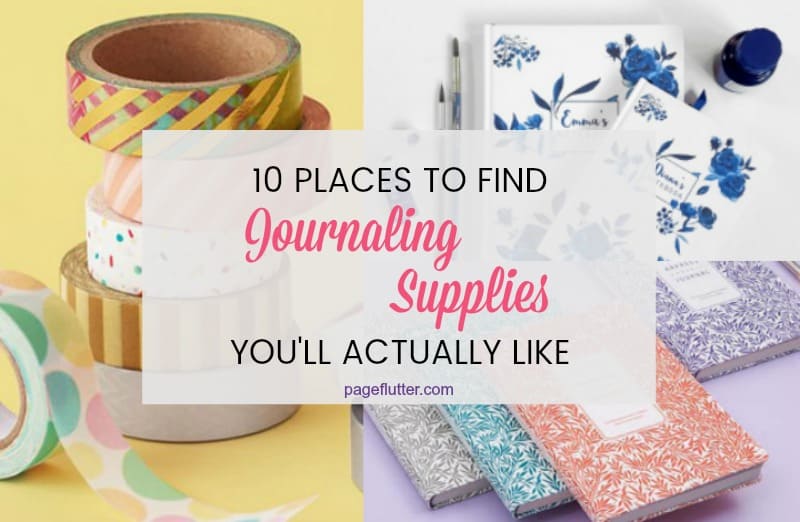 10 Places to Buy Journaling Supplies You'll Actually Like
I'm such a stationery junkie that I could spend hours browsing planner aisles and online shops. Did I say hours? Silly me, I meant days. Some people binge watch Netflix, I binge watch stationery. Local stores are slowly (and I do mean s-l-o-w-l-y) catching on to the paper planning movement, but they're not likely to have all the special supplies you crave.
If any benefit has come from my time browsing stationery, it's that I know where to find the goods!
Here are my top 10 places to buy journaling supplies…
*A note to my international friends: While many of these companies ship internationally, my list is mostly based in the U.S.  It's difficult for me to keep tabs on companies overseas, but you can help!  Drop a comment at the end of this post with your country and favorite stationery supplier. 🙂
For Classic Bullet Journaling Supplies
These first few stores keep a huge selection of high-quality notebooks and pens. You'll appreciate their selection if you notice details in your writing experience–the feel of the paper under your fingers, the weight of a good pen, or the smell of real leather.
1. J*B Welly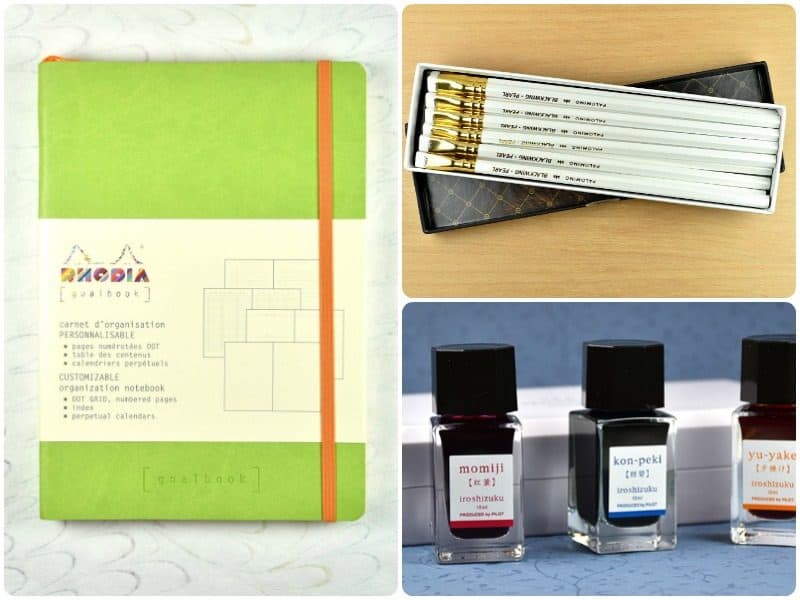 J*B Welly is a small online stationery shop that specializes in notebooks and pens "for people with plans and ideas" (hey, that's us!). Their selection focuses only on high-quality favorites for journaling (like Leuchtturm1917, the official Bullet Journal, Rhodia, and Blackwing), so you don't have to scroll forever to find what you're looking for.
This gem of a store first earned a place in my heart about a couple of years ago. At the time, Leuchtturm1917s were trickling into the American market at a snail's pace, and I couldn't get my hands on the color I wanted! After getting a damaged notebook from an Amazon seller, I ordered from J*B Welly. I was blown away by the customer service and attention put into each order (every item is wrapped in gorgeous fine wrapping paper). John, the owner, takes the time to write notes to his customers, and takes great pride in his business.
*BTW, this company also sent me my first-ever product to review back in my newbie blogger days (and let me tell you, it felt like I had arrived)!
Everyone I know who has ordered from J*B Welly has loved the experience.
2. The Goulet Pen Co.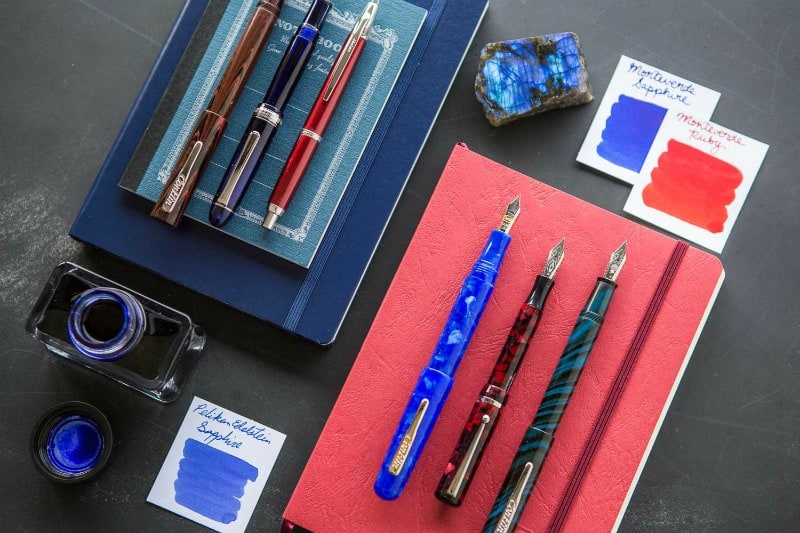 For fountain pen enthusiasts, this company needs no introduction! The Goulet Co. is wildly popular for their selection of pens, vibrant inks, and stationery supplies. They also carry a nice variety of top-brand notebooks for journaling and note-taking.  Instructional videos on their blog also help to cut through the confusion many people feel around fountain pens.
Goulet Pens featured one of my goal-setting pages on their blog post, 12 Bullet Journal Layouts to Help Organize Your Year, along with some very familiar faces in the journaling community.
3. Jenni Bick Custom Journals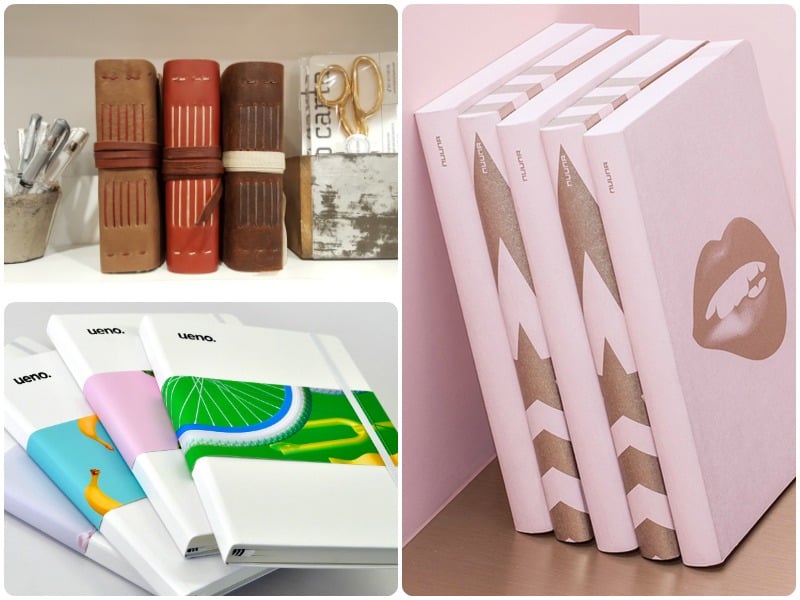 Jenni Bick is a more recent discovery for me, but I'm impressed with their selection and the services they offer. You won't find much in the way of pens or other supplies here, but you will find notebooks and journals you can't get anywhere else. They add personal embossing to brands like Moleskine, Leuchtturm1917, Nuuna, Paperblanks, and more.
For the Biggest Selection
Sometimes you just want to a one-stop shop! The stores in this section are great options when you need a variety of planning, journaling, and art supplies. You may even discover some hard-to-find, custom-made, or highly-specialized journaling supplies.
4. Etsy.com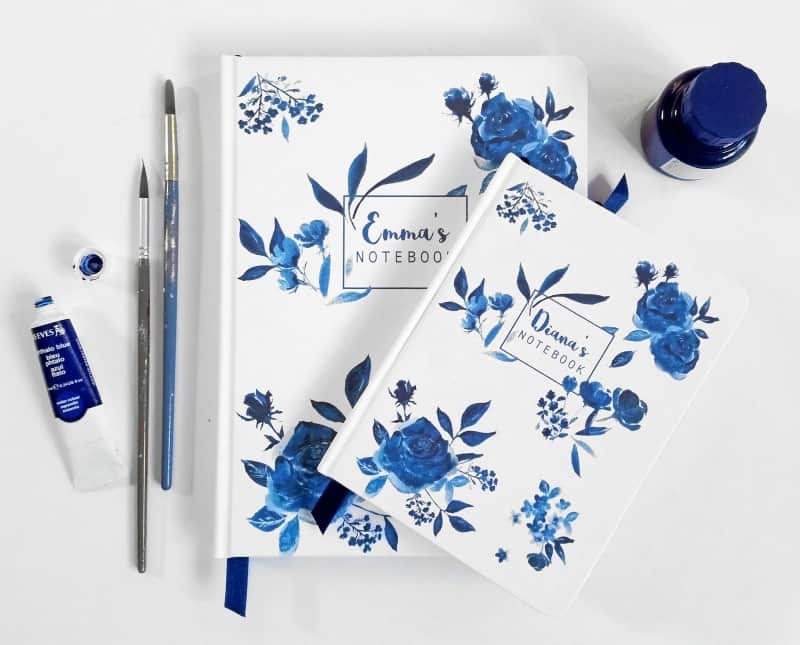 Never underestimate the power of Etsy! Not only is it a convenient way to shop, but I love that it's made up of small businesses. Buying items directly from artists  allows you to find unique treasures that enhance each moment of  your journaling practice, like this  handmade notebook with blue flowers. You'll also find popular favorites like metal stencils from Jayden's apple, whole shops that specialize in washi tape (check out Washi Station!), and printable journal pages for those days you just don't have time to design your own.
Related:Â 12 Irresistible Etsy Shops for Journal + Planner Supplies
5. Amazon.com
Amazon to the rescue! You won't get the specialized customer service that you get with the smaller shops I've already mentioned, but no one can deny that Amazon has variety. You can load up on washi tape, stencils, markers, and planner stickers while shopping for dog food and kids' clothes.
6. Jet Pens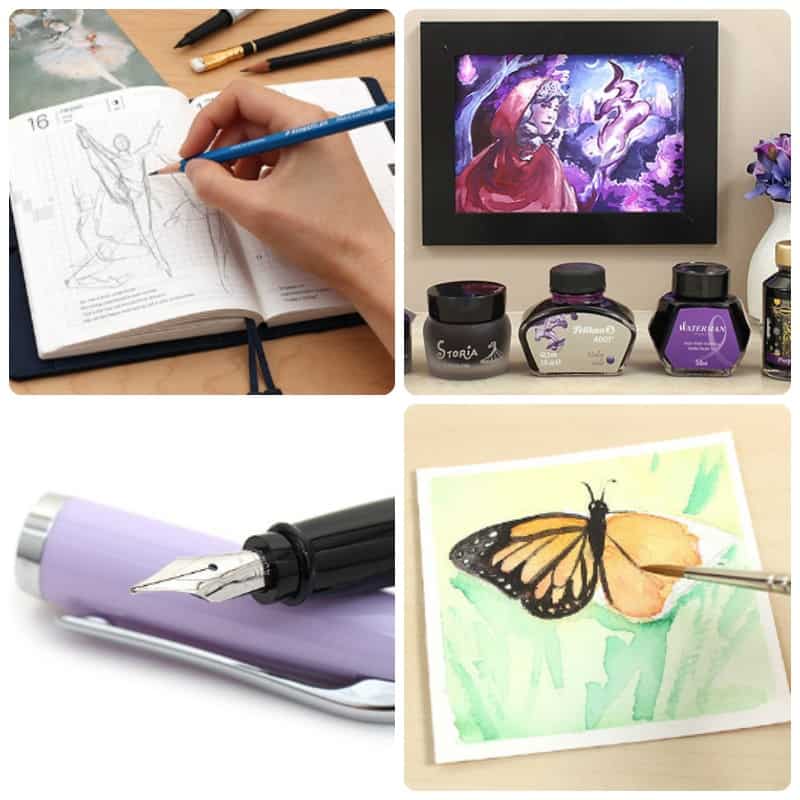 Jet Pens is like a pen, stationery, and art supply superstore! I first discovered the site when I was looking for a Hobonichi notebook, but I quickly got lost down a rabbit hole. They have everything from basic notebooks, to fountain pens, brush pens, sketchbooks, paints, and calligraphy supplies. Â They even have sections devoted to note-taking supplies for students. If only I'd had them when I was in school!
For Creative + Fun  Journaling Supplies
These last few places are for the artists, creative thinkers, and free spirits of the journaling world! When the rest of the world is wearing basic black, they dress in bold florals. If that sounds like you, check out the stores below for fun and creative journaling supplies…
7. Two Hands Paperie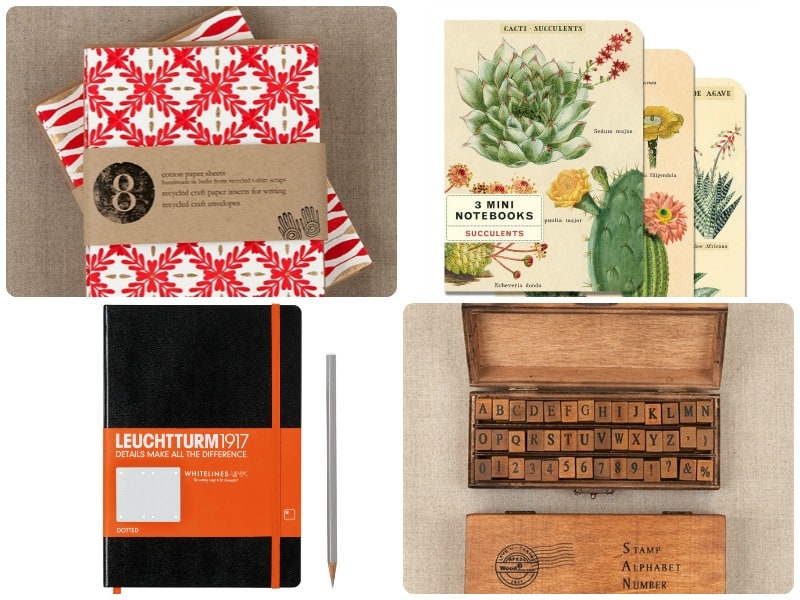 Browsing Two Hands Paperie makes me feel like I'm walking through a global paper marketplace. They have a beautiful selection of artisan paper products, stamps, journals, and sketchbooks. It's my top pick for people who enjoy blending traditional journaling, sketching, stamping, and scrapbooking with a vintage aesthetic.
8. Paperchase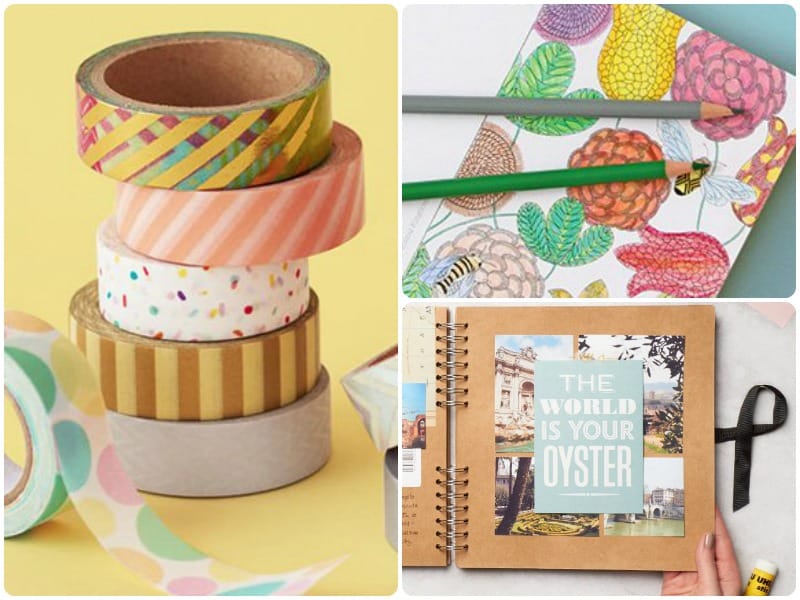 Paperchase stocks fun and energetic stationery supplies. Their notebooks come with funky covers, cool shapes, and unusual closures (like a Zip-lock style closure on the edge). They also carry pretty supplies for scrapbooking, coloring, studying, and workspace organization. If you need color to energize your routine, check out what Paperchase has to offer.
9. Mochithings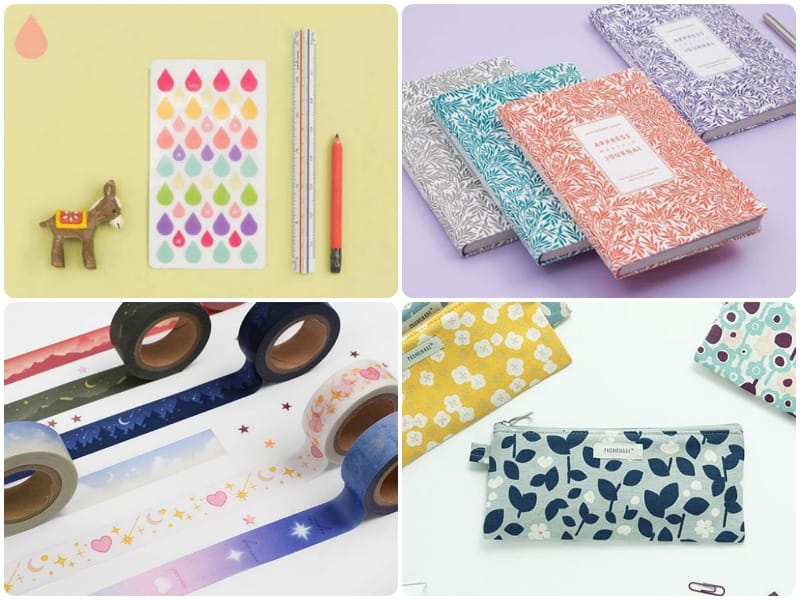 Speaking of color, Mochithings has it in abundance! What I love about this company is that they're all about organizing life in a beautiful way. They have plenty to offer in the way of notebooks, pens, and desk accessories, but they go beyond basic planning. Many of us journal because we want our entire lives to work better. Mochithings understands this, so they carry items that are equal parts form and function: Planner cases, backpacks, organizing totes, phone cases, and unique office items.
10. Paper Source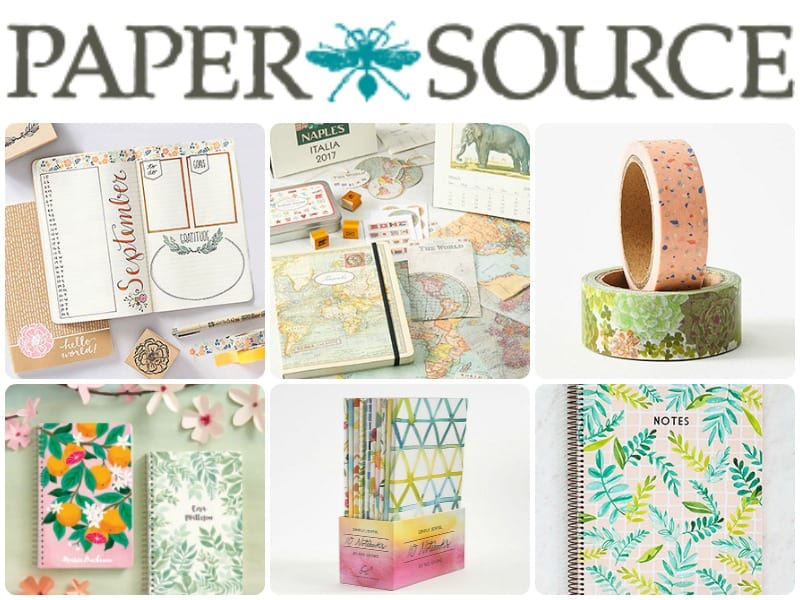 I can't walk past a Paper Source store without going in! Since the closest one is a three-hour drive from where I live, I have to settle for shopping online. Most people know Paper Source for their decorative wrapping papers and custom invitation printing. Just the tip of the iceberg, my friends!
Paper Source also carries supplies for paper crafts, journaling, scrapbooking, and planning, along with some unique gifts. Among my favorite things they sell are  their custom journals (and yes, they offer dot grid paper). Lots of temptations on their website…Don't say I didn't warn you!
Those are my 2 cents…Your turn to share! Where do you load up on journaling supplies? Comment below to share your awesome finds.
Brainstorm with me!
Subscribe to my newsletter for Page Flutter updates, posts, and announcements.
Don't worry, I only deliver the good stuff. No spam.
Facebook // Twitter// Instagram // Pinterest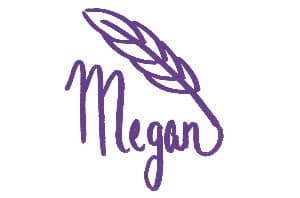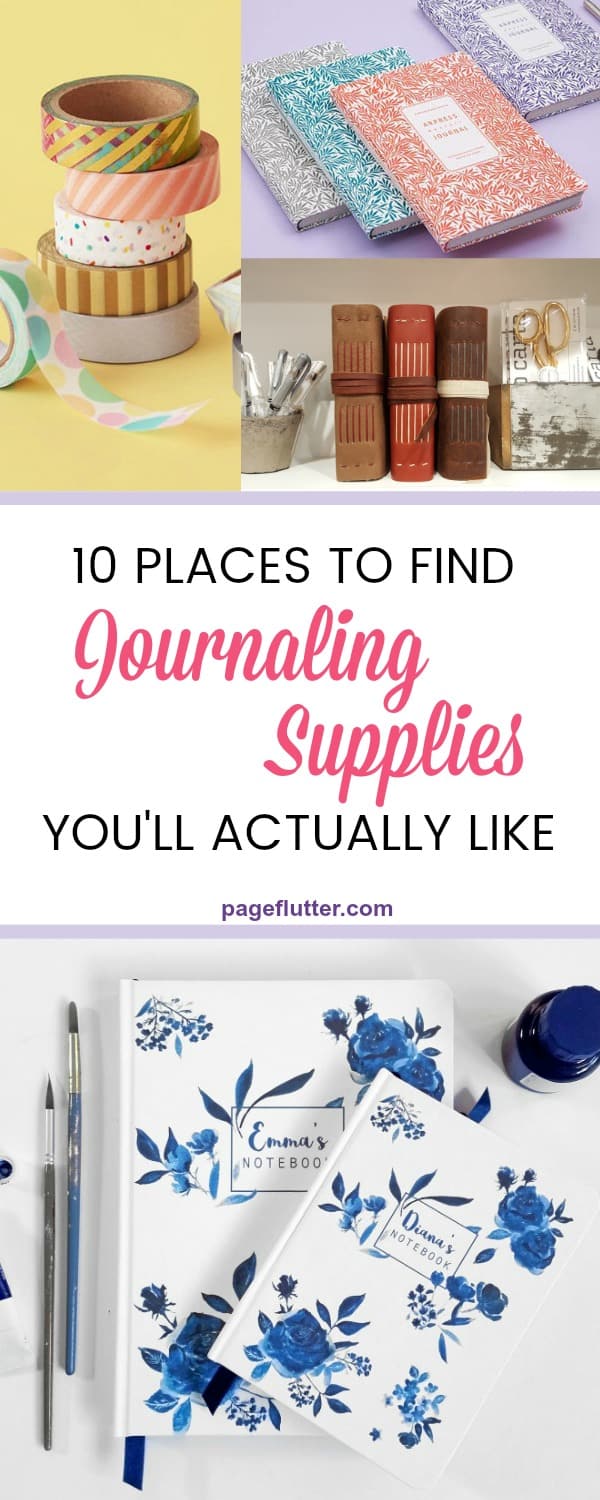 SaveSave
SaveSave
SaveSave
SaveSave
SaveSave
SaveSave
SaveSave
SaveSave
SaveSave
SaveSave
SaveSaveSaveSave
SaveSave
SaveSaveSaveSave
SaveSave
SaveSave
SaveSave
SaveSave
SaveSave
SaveSave
SaveSave
SaveSaveSaveSave
SaveSave
SaveSave