If you ever wished for a miniature Bullet Journal, Claire has you covered. She's sharing a lineup of A6 Bullet Journal layouts that are half the size of an A5. Â Now, you can toss your journal in a purse or pocket without a lot of extra bulk. More proof that bigger isn't always better…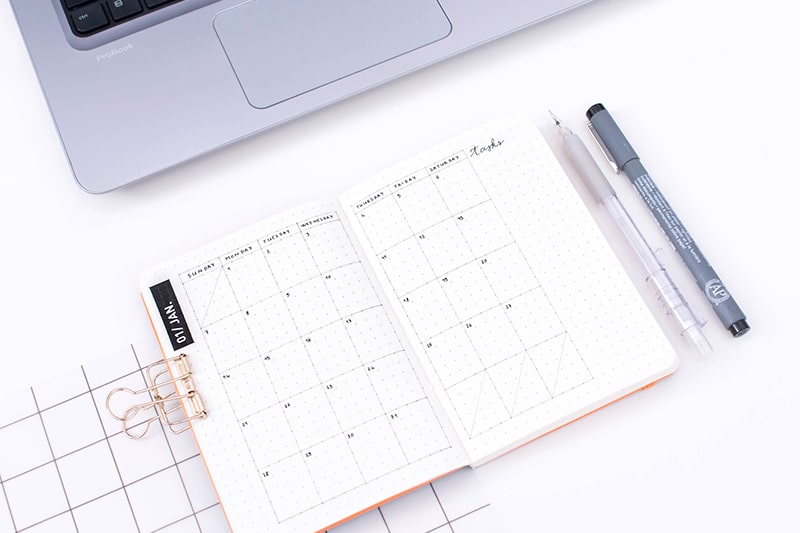 Hello, again, my Page Flutter friends! I have a very special treat for you today. Claire from minimal-plan.com is here in all her minimalist glory. She has an insanely elegant website and Instagram account, so I was thrilled when she decided to hang out with me today. So, on that note, I'll turn it over to Claire so she can walk us through making pocket-sized A6 Bullet Journal layouts. Take it away, Claire!Â
10 Awesome A6 Bullet Journal Layouts to Optimize Your Planning
Thanks, Megan! The Bullet Journal system has "a framework that is easily customizable by its user." Therefore, it's possible to start a Bullet Journal in any type of notebook. Even though the A5 dotted notebooks are the most popular among the Bullet Journal community, the size of the notebook is one of the (many) parameters that can be adjusted to your needs. You can start a Bullet Journal in a big A4 notebook that is meant to stay on your desk, or in a cheap composition notebook. Any of these notebooks can be turned into an amazing organizational system where your creativity can bloom.
So today, I want to introduce you to the concept of a miniature Bullet Journal. The term applies to a journal smaller than the regular A5, generally a B6 or A6 size. Beside how cute a miniature Bullet Journal looks, it's also a great option if you want to carry your journal with you. It can be thrown in just about any bag or a large coat pocket. Perfect for jotting down your (brilliant) ideas no matter where you find yourself!
Just like in any Bullet Journal, there are unlimited possibilities for ways to may A6 Bullet Journal layouts. The only limit is your imagination. Not convinced yet?
Here are 10 awesome A6 Bullet Journal layouts that will give you the urge to start your own miniature Bullet Journal!
My Supplies:
In the photos below, I'm using a dotted Rhodia A6 (soft cover) and my trusty Staedtler Pigment Liner (0.1).
A6 Bullet Journal Future logs
There are many ways to plan future events and tasks in the Bullet Journal system. From the original horizontal layout designed by Ryder Carroll to the Calendex system, the options are many and varied.
The original future log
It's quite easy to adjust the original future log to make miniature A6 Bullet Journal layouts.
In this example, the double spread is divided into 6 horizontal boxes. Each box features a mini calendar and a blank space to log events and appointments as needed. The only thing with this layout is that the space for each month is smaller, so you'll only be able to log a few events.
If your future planning needs require more space, you can always  divide your pages into 2 larger boxes (instead of 3 each), or try Alastair Johnston's method for future planning (see below).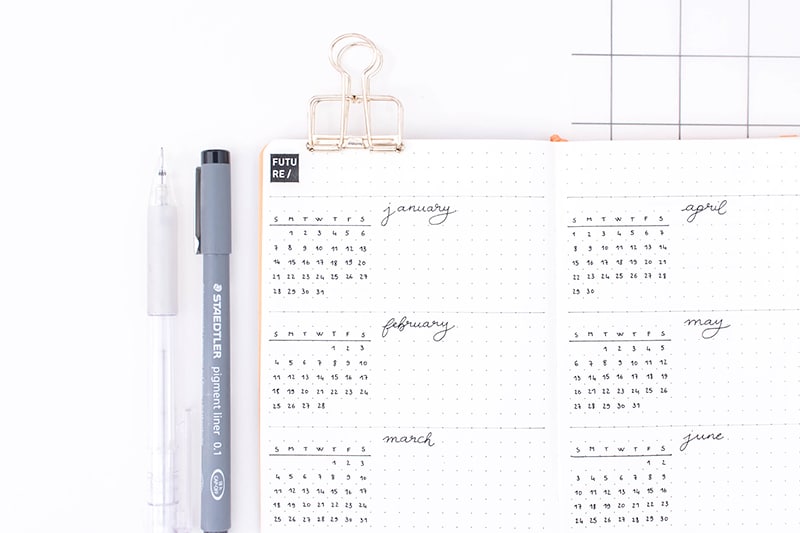 Alastair Johnston's method in an A6 notebook
If your schedule needs more space than the regular Bullet Journal future log layout, the Alastair method may be just what you need for your miniature Bullet Journal.
Instead of calendars, you just need to draw a table with 7 columns: the first 6 small columns represent the next 6 months. When you need to record an appointment, you'll log the date of the event in the correct column and use the larger column to write the name of the event (and any other details you may want to add).
Alastair Johnston's method works well for A6 Bullet Journal layouts (or any other size you're using for your miniature Bullet Journal). It allows you to log a large number of events and tasks in a super compact layout.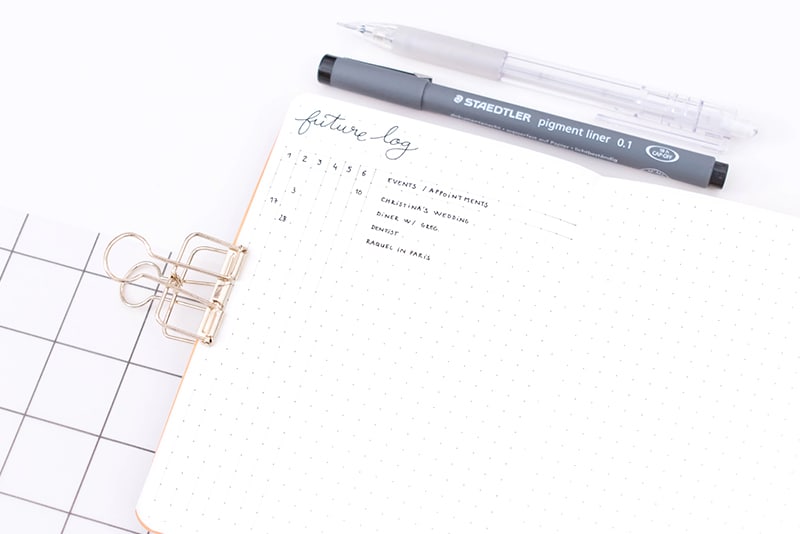 Monthly logs in an A6 notebook
Just as with future logs, there are tons of different monthly log layouts. And most of them can be adapted to fit in a miniature Bullet Journal. Even though the A6 size can seem super small, it can still hold both your events calendar and monthly task list on the same double spread.
Vertical calendar in an A6 notebook
In the original Bullet Journal method, the monthly log features a vertical calendar (a list of dates that runs straight down the page). This can seem problematic when you try to use vertical calendars in A6 Bullet Journal layouts. The A6 size doesn't have 31 vertical spaces. No problem! This version of the Bullet Journal monthly log can be adjusted to a miniature Bullet Journal.
In the layout below, the vertical calendar is split between two pages. It's also divided into 2 columns that can be used to separate your professional and personal events, or to make plans for mornings and afternoons.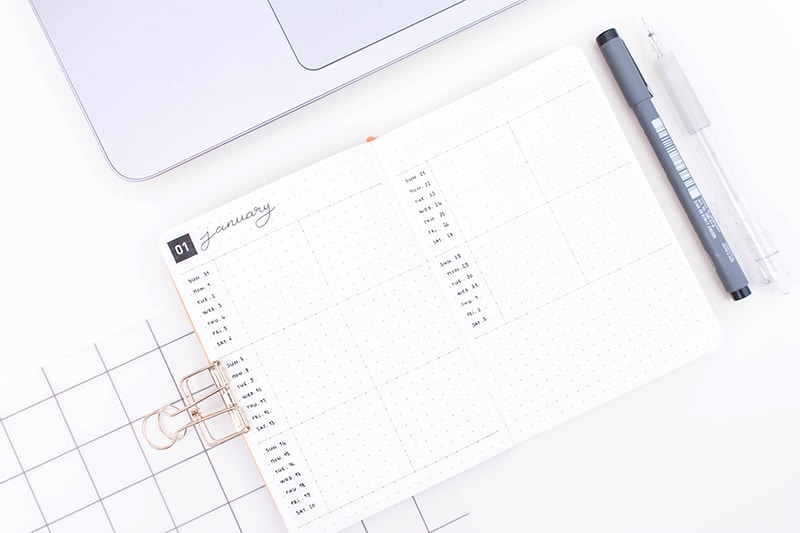 Boxed calendar in an A6 Journal
If you like boxed calendars better, the size of a miniature Bullet Journal shouldn't be a problem either (because nothing's impossible with the Bullet Journal system, you know?!)
Sure, it's possible to have a 31 days calendar on two pages, and have some room left for your trackers or task list!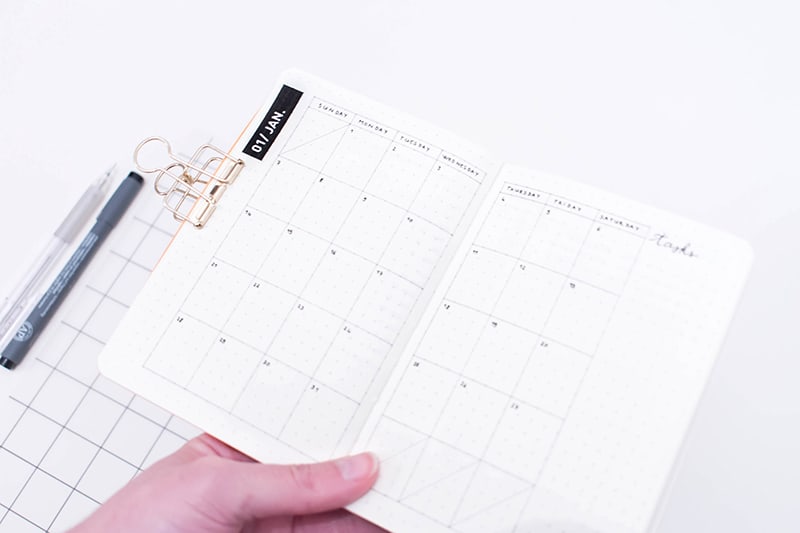 Weekly log in an A6 Journal
The weekly log doesn't exists in Ryder Carroll's original Bullet Journal system, but a lot of bullet journalists add one to get an overview of their week. >>Check out more weekly layouts from Page Flutter here.Â
Weekly logs usually feature a section for events and appointments and a weekly task list, at a minimum. They can also include advanced tools such as habit or budget trackers. Just like the rest of these A6 Bullet Journal layouts, the weekly log can be customizable to fit anyone's needs. Here are two weekly layouts in a miniature Bullet Journal.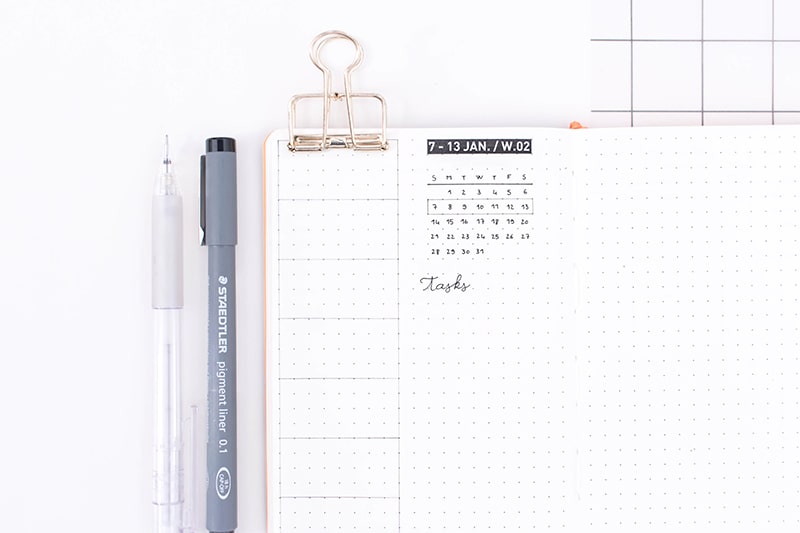 The weekly spread above is divided into 2 sections. The first column is a 7-day mini calendar. It can be used to log events, or it can become a meal plan, a food or a gratitude log. That's up to you! The second part of the spread is dedicated to a mini calendar and a master task list.
The second layout features 3 sections, from top to bottom: a mini event calendar (inspired by the regular Bullet Journal monthly log) with room for morning and afternoon events, a weekly task list and some extra space that can hold a weekly habit tracker (or anything you need).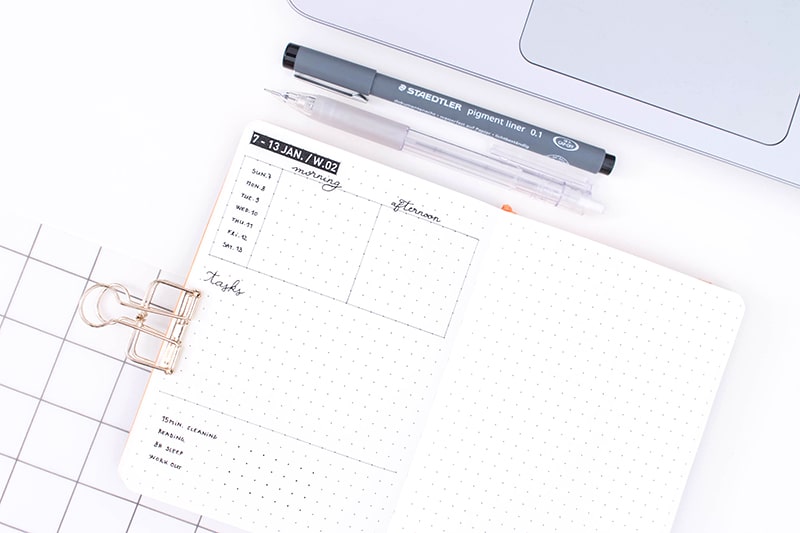 Daily log
There are probably as many daily log layouts as Bullet Journalists. So, it's quite easy to get some inspiration on Pinterest or Instagram and tweak things until they work for A6 Bullet Journal layouts.
If you include notes and scribbles in your daily log, you'll probably need a one page per daily layout, like the one shown below. This "One Page Per Day" layout allows to have loads of room to log both tasks and events, and to have a time bar for time blocking or time tracking.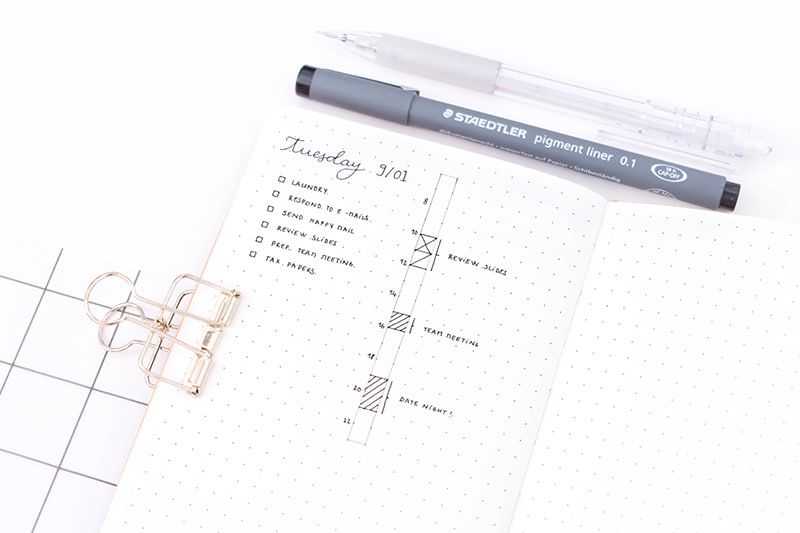 The second daily log layout (inspired by @decadethirty) features 2 columns. The 2 sections can be use to have separate lists for work and personal or to have a special section dedicated to events and appointments apart from the daily task list. In this very minimalistic example the space for each day can vary, depending on how long your lists are.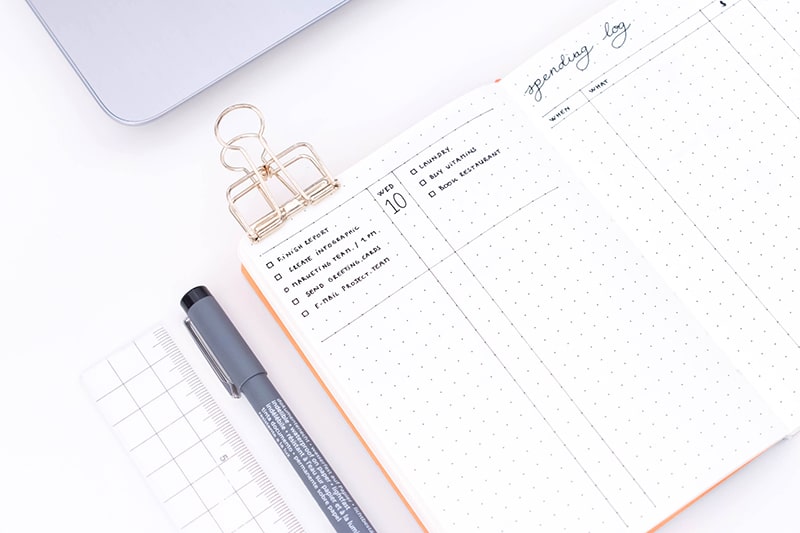 Collections
The collections are (in my opinion) what make the Bullet Journal so valuable compared to other planners or digital tools. They're composed of ideas, task lists, notes and any other information you want to put in your journal.
In a A6 bullet journal, the collections work just as it would in any other notebook, but they can span multiple pages. So the pages of a miniature Bullet Journal will probably be filled quicker than any other size of notebook.
That being said, it's not really harder to manage collections in a A6 journal. You can easily adapt your regular collections into A6 Bullet Journal layouts if you use a little imagination!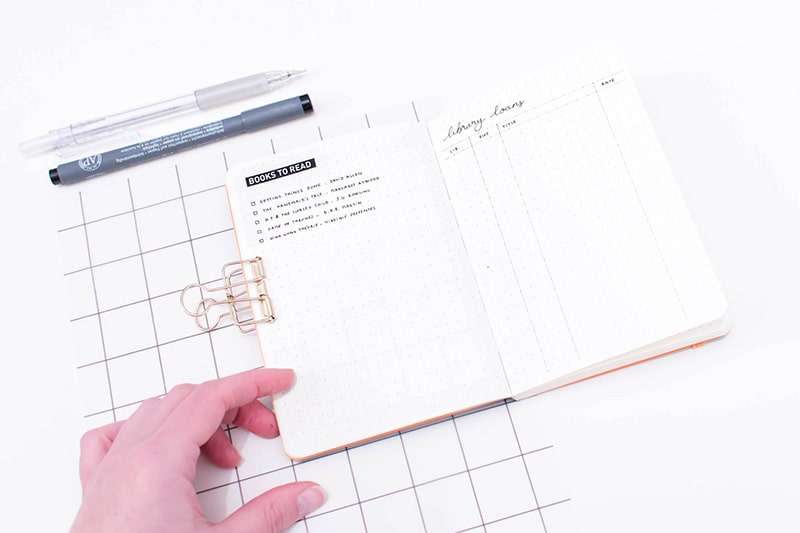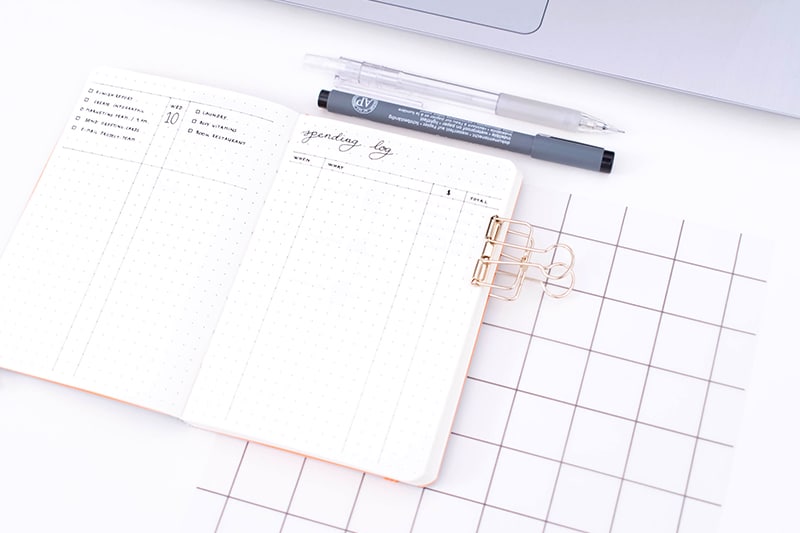 As the miniature Bullet Journal has so many advantages, a lot of Bullet Journalists choose to downsize their journals and use A6 notebooks to get organized. You can find inspiration on Instagram or even in Facebook groups to create your own A6 Bullet journal layouts (or any other mini size you want to use). And after all, it's a great excuse to get a new notebook and play around with it to create new layouts!
Now it's your turn to share! What do you think of Claire's miniature Bullet Journal ideas? Comment below with your own tips and tricks for making the Bullet Journal system even more portable!