I'm switching things up by adding art journaling to my life! This ultra-expressive journal style lets you unleash your wild side to play with different colors and materials. Disorder is encouraged.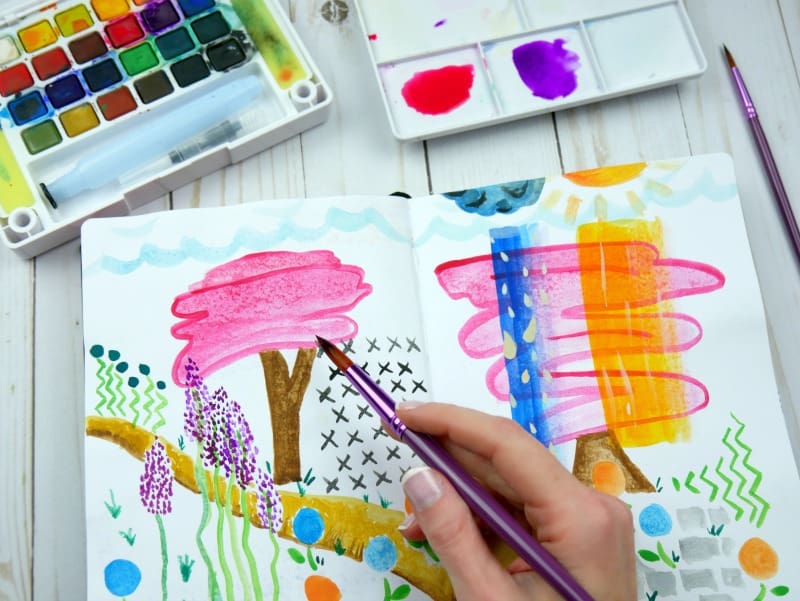 Stretch Your Creativity With Art Journaling
I'm so glad I can finally reveal this post to you! A month or two back, I began dabbling in some art journaling. I wanted to publish this post weeks ago, but some some stuff came up that called for an editorial reshuffle. Finally, finally, I can pull back the curtain on my art journal.
To put it plainly, journaling is my jam! If you thought journals had to be done a certain way, I'm here to tell you they're as diverse and colorful as the people who create them. So far, I've shown you guys:
Now, it's time to show you why art journaling has me all a flutter.
The Why and How of Art Journaling
Anyone read Start With Why by Simon Sinek? I'm starting with "Why" friends!
It as taken me a year and a half of trial and error to cultivate my ideal Bullet Journal system. I rely on it every day. That can make me a little shy about letting loose on the pages. My journal organizes my creative writing ideas, blog, family schedule, project notes, and tiny bits of inspiration. I need it to be a place for work and the occasional doodle page.
Still, I sometimes find myself craving heavy-duty artistic time. I wanted my art journal to be a place I could let loose–Experiment with color, form, different media. I want to splash color around with reckless abandon and see what takes shape. My hope is that this new type of creating will inspire the rest of my life in new and unexpected ways.
Keeping it all in a notebook seemed ideal to me because…well, where else would a journal addict like me keep her stuff? Even if my style evolves over time (and I hope it does) I can flip back to my earlier creations. They'll always be there in my notebook for me to enjoy.
My biggest reason: It looked fun! So, I took the leap. Wanna dive in with me?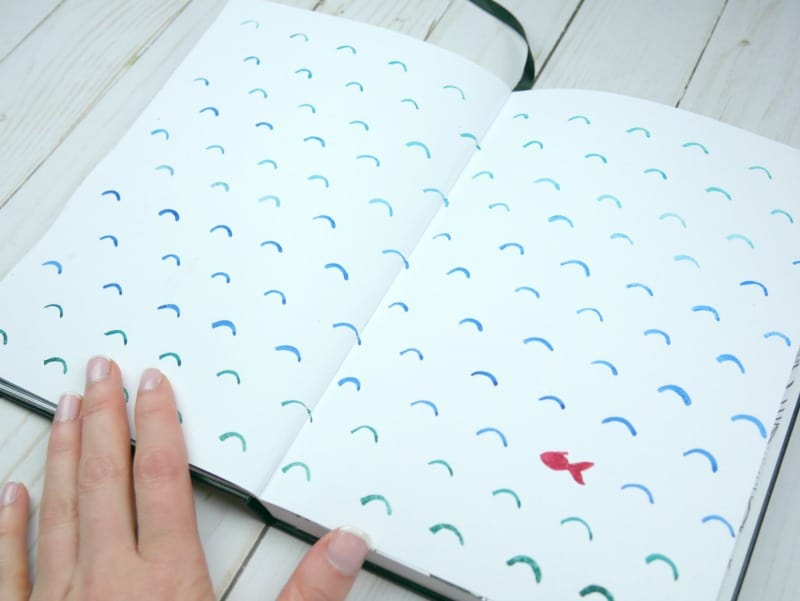 Basic Supplies
I'm using these supplies in my journal, but you can also start with whatever you have on hand. I would suggest getting a quality sketch book that can handle the media you like using.
Leuchtturm1917 Sketch Book: I got a black one from J*B Welly.  I love how it looks so innocent on the outside, but open it up and BAM! Color your world. The sketch books have much thicker paper than the regular LT1917s (180g vs. 80g). Dawn Nicole Designs did a bleed test with different art pens, which you can see here. I used watercolors in mine, but if you go watercolor crazy, you might want to consider something like Strathmore's Visual Journal watercolor pad.
 Sakura Koi Watercolor palette. I started with this palette to see if watercolor was for me. I ended up loving it, and I've added a full-sized Kuretake Gansai Tambi watercolor set to my stash. The Sakura palette is super compact, and with the weather warming up, I'm looking forward to throwing it in my bike basket and heading to the park.
Colored Pencils: I'm a raving fan of my Prismacolors. I've talked about them at parties. No joke.
Artist Pens: Good choices are Sharpie art pens, and Pigma Microns, and Faber-Castell PITT artist pens. For different sized tips (good for Zentangle) go for the Faber-Castells or Microns. You can also use a colorful set of artist pens like Staedtler Fineliners.
Brush Pens: I dabble a bit in hand-lettering, but I'm not ready for "real" brush pens. I go for the foolproof marker versions like Tombow and Faber-Castells.
A high-quality pencil: Even when I'm completely winging it I find a pencil handy to have.
Fun media you want to experiment with (see below for how I used Deco Foil).
Free Yourself from Perfection
Whereas bullet journaling is all about order, art journaling can be disorderly, unplanned, and completely unchained.
By the way, many people successfully blend these two styles together. That's difficult for me ("Hello, my name is Megan, and I'm a compartmentalizer." All: "Hi, Megan.") If you want to incorporate more artistic creations into your everyday journal, I say go for it!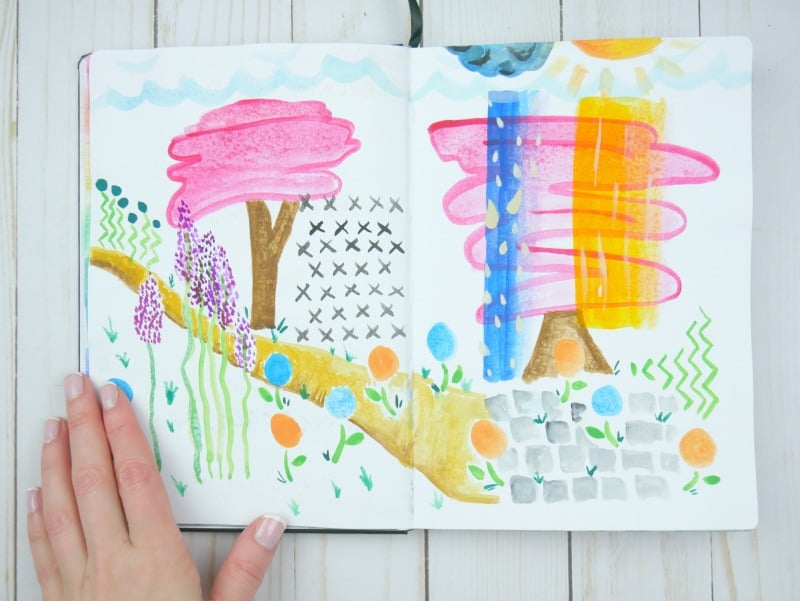 This page was originally just swashes of watercolor, but I decided to embrace the mess and make it a whimsical watercolor landscape. It was exhilarating to work on something I had no ambitions for. I just let it go where it wanted. I'm sure someone with even minor artistic training could point out 1,000 things wrong with this page, but that's not the point. It's not about what it looks like.
Experiment With New Media
I've been wanting to use my Thermoweb iCraft Deco Foil  and glue pen for ages. My art journal gave me the perfect place to play with it. It added just the right amount of sparkle to a page that wasn't thrilling me. Once I drew some gold stars on and added the foil, the whole thing came to life.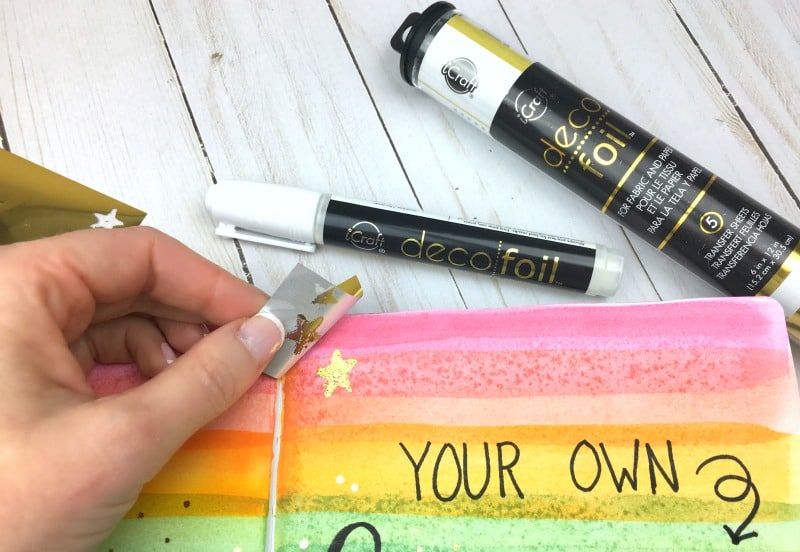 Try New Forms (Even If You Think You Can't)
You'll never know what you can create unless you try it. I had no idea what I was doing when I made the page below (or any others, for that matter). I just tried things. I ended up creating something I absolutely love.
On a side note, these two little silhouettes are my sons. I don't share photos of them on Page Flutter (I have my reasons), but I still love to brag on them. I was so excited to finally post about them here! Aren't those just the cutest little blank heads you've ever seen?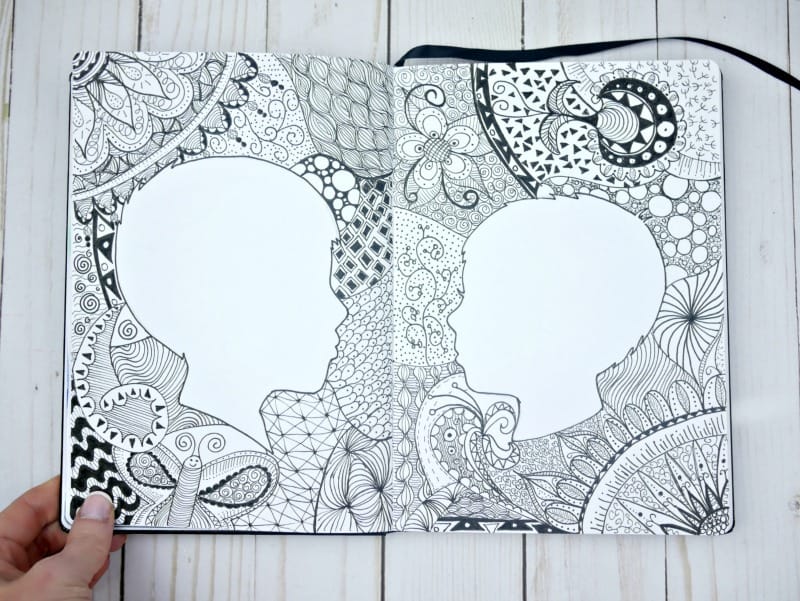 Now, I know you want to start your own art journal, so I'll let you get to it. Grab your supplies over at J*B Welly (affiliate), and dive right in!
Do you have a place where you experiment with different art styles? Do you blend Bullet Journaling and art journaling? Comment below to tell me how you fill your life with creative joys.
Brainstorm with me!
Subscribe to my newsletter for Page Flutter updates, posts, and announcements,
and FREE access to resources in the Vault!
Don't worry, I only deliver the good stuff. No spam.
Facebook // Twitter// Instagram // Pinterest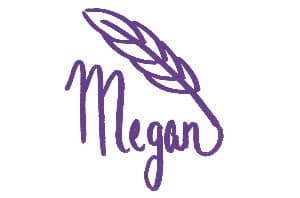 SaveSave
SaveSaveSaveSaveSaveSave
Never miss a post!
Join my mailing list for updates on new posts,
PF events, product, and special offers!
*As a bonus, you'll also get access to my community resources
in the Page Flutter Vault.