Keeping a reading journal is a habit all book-lovers should adopt. If you're scratching your head and wondering, "How does a reading journal work?" this post has you covered!
This post was originally published as two articles written by PageFlutter founder, Megan, in 2016, and Alice from The Geeky Burrow in 2018. In 2022, the post from Alice was added into the post by Megan, creating one article covering everything you need to know about reading journals.
If you're ready to get started keeping track of your reading with a book journal, keep reading for our best tips, plus a peek inside a real reading log!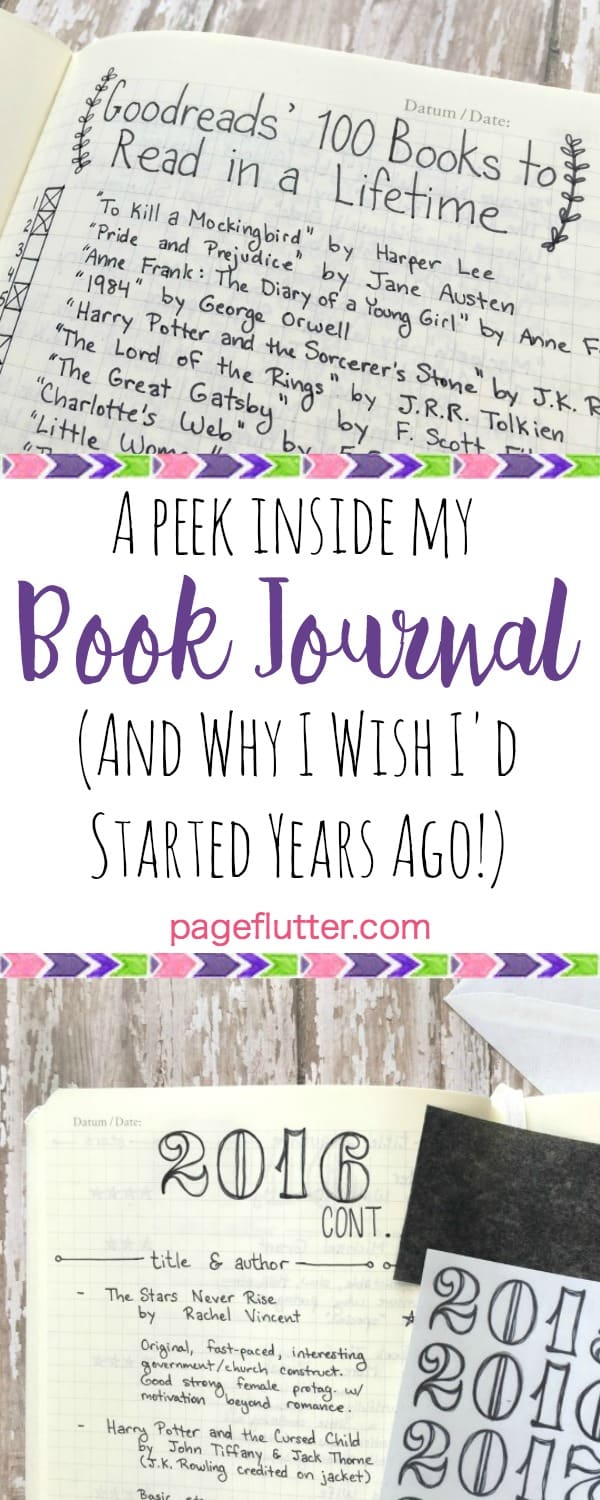 What is a Reading Journal?
It's no secret that pen and paper lovers like to record all the things.
Over the years, we at PageFlutter started noticing that reading journals have become more and more popular.
And as we noticed reading journals become more popular, we also noticed our own mistakes: we never recorded the books we've read over the years, or used any kind of book tracker!
We should have started this habit years ago.
At PageFlutter, we consider ourselves avid readers. Books are our jam! And journaling is our jam, too!
Which brings us to keeping a book journal: the subject of this post.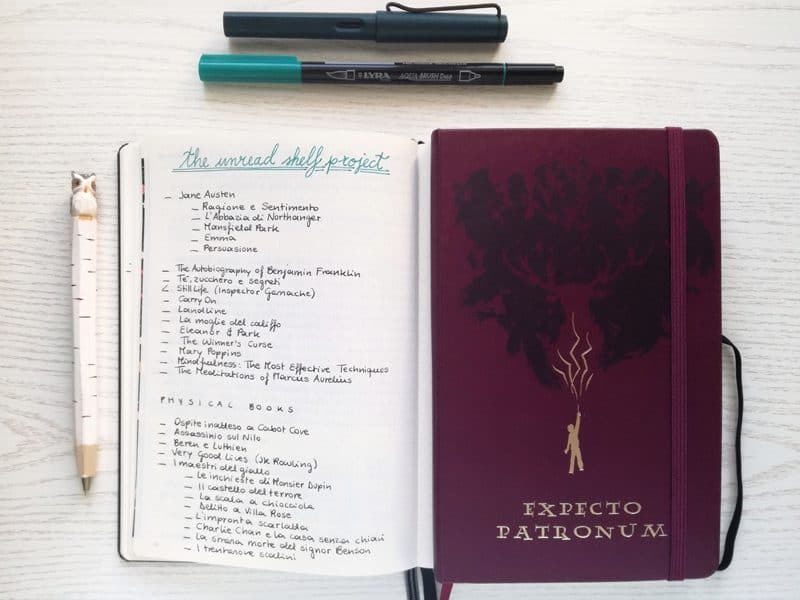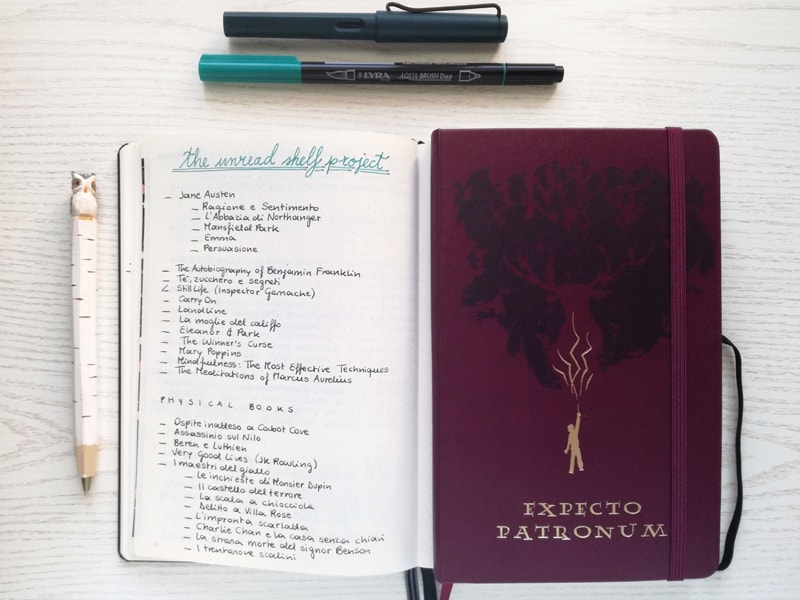 What are the Benefits of a Reading Journal?
Let's back up for a moment shall we? Why do you need a separate reading journal, anyway?
Our reason: we've forgotten so many books.
That last sentence is so sad, though!
I don't know about you, but when we read a book, we feel close to it. The story becomes a part of you as you travel through its pages. There's a unique cooperation that happens between reader and book. You can walk away from a movie, or TV show, and it keeps playing. But a book needs the reader to enter into a type of covenant. If you close the book, the story stops moving. It stops existing in the mind of the reader.
So, when we say we've forgotten books? It's like claiming an old friend never existed.
Keeping a reading journal can help keep those old friends alive!
However, there are also more practical reasons why keeping a reading journal to record the books you read is useful and important.
For one, it makes you feel like you actually accomplished something. And while that may seem like a small detail, a sense of accomplishment gives your brain a little reward, which is an important part of establishing a new positive habit, or even a keystone habit, and improving your life.
If one of your goals is to read more or even become an avid reader, simply keeping a reading log could help.
Additionally, the act of writing down the title, the author and a couple of notes on the book, allows you to actually think more about the book.
Over time, we think you'll find you love having that extra info about all the books you've read since you started your reading log or journal!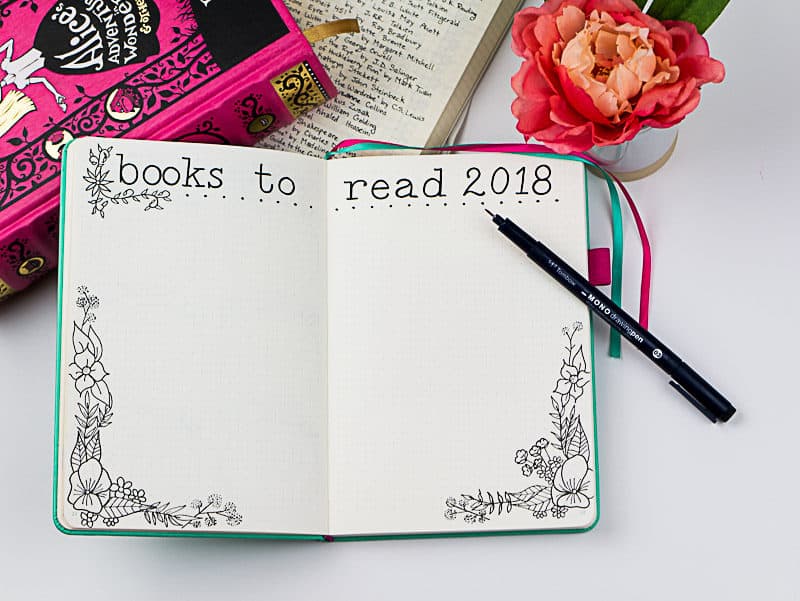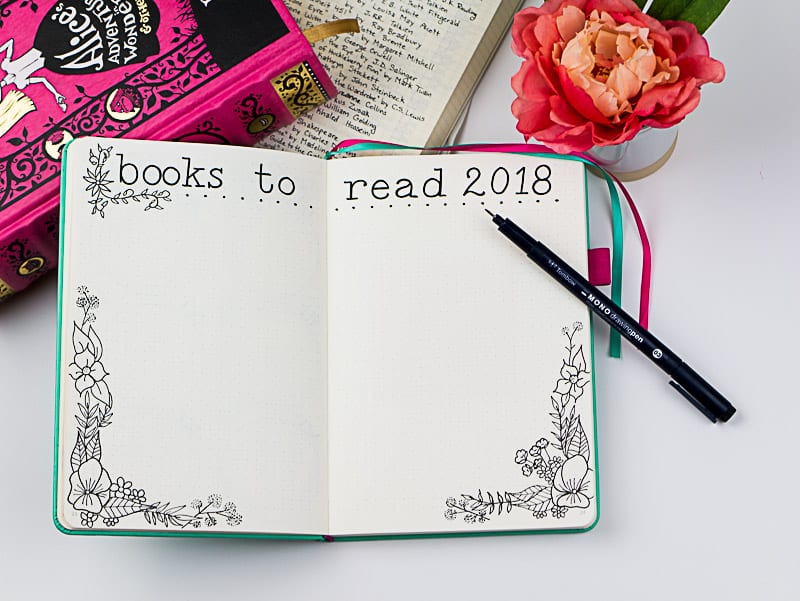 HOW TO START A READING JOURNAL
We've gone through the practical work of how you can start a reading journal below, but before we get into that, we want to share some tips for keeping a book journal.
The First Rule of Reading Journals is keep things simple
First and foremost, don't try to create the most incredible and perfect reading log on your first try.
We all make mistakes. When many people start their reading journal the first time, they're basically paralyzed by the fear of messing up with the first page, then the second one, the third one, and so on. You get the idea.
Don't get stuck trying to create the perfect reading journal! Done is better than perfect, so just get started.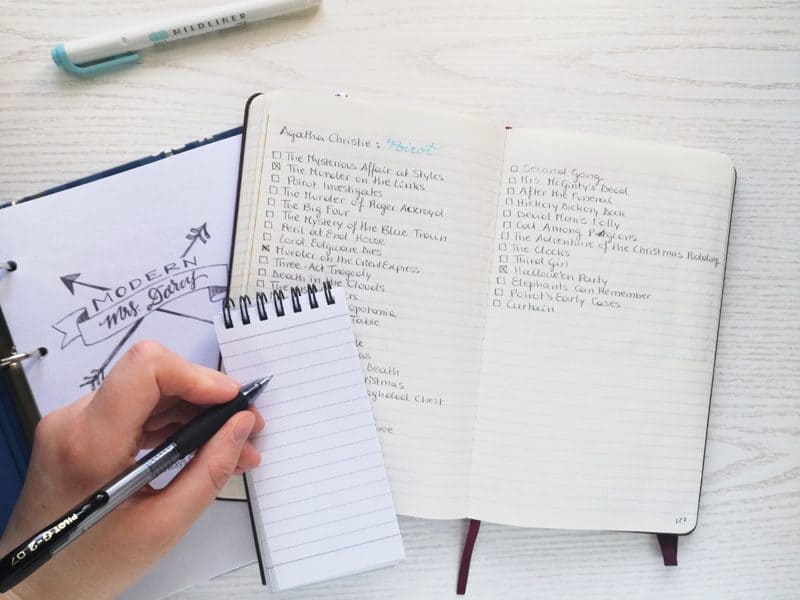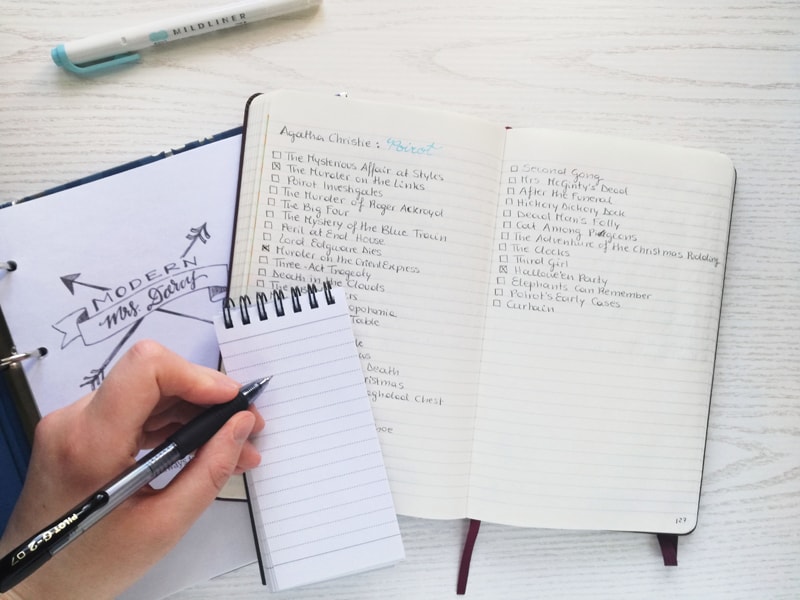 The best reading journals start with a notebook you love
There are so many amazing options out there! Some of the most popular are:
The Bullet Journal® is probably the most popular option among journalers. It's on the DIY side, but it's very useful if you don't need pages and pages for books review. You can also customize the journal to fit your needs.
Our choice, at least for this kind of reading journal, would be a Leuchtturm1917 notebook. It's a great journal for all sorts of journaling, but for this project the index will be very useful. We also love the two ribbon bookmarks.
Start with a simple list
Do you remember when we said lots of people are scared of imperfection when starting their very first reading journal?
Well, the advice we would give to you, would be to start with a list.
In this case, a list of books you want to read and you already own could be a great start. The infamous TBR pile!
But you could also break it down further: sci-fi book TBR, for example, or book recommendations from friends that you've collected over the years.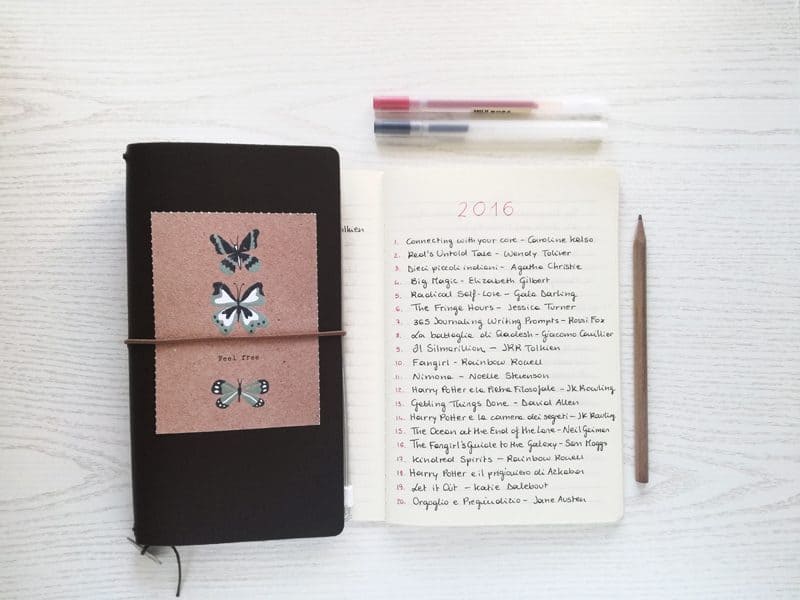 Find some inspiration
The internet is a wonderful place… Just typing "reading journal" on Pinterest, YouTube, and Instagram would give you plenty of results to find some inspiration. The Instagram hashtag called #bujoforbooklovers is a great source of inspiration. Follow the hashtag itself to keep yourself updated.
Keep it simple
This is a little reminder, once again, not to compare your journal to the others. Sure, find some inspiration, but also do what it feels good to you. Mistakes happen, and you can't start a new journal all over again every time you mess things up, so at some point you'll need to go with the flow!
If you are dead set on having a beautiful-looking journal, stickers are a great way to add a little color and whimsy, without the pressure of achieving perfection. Not surprisingly, there are a ton of Etsy sellers offering cute stickers for sale, making it a good go-to first place to look!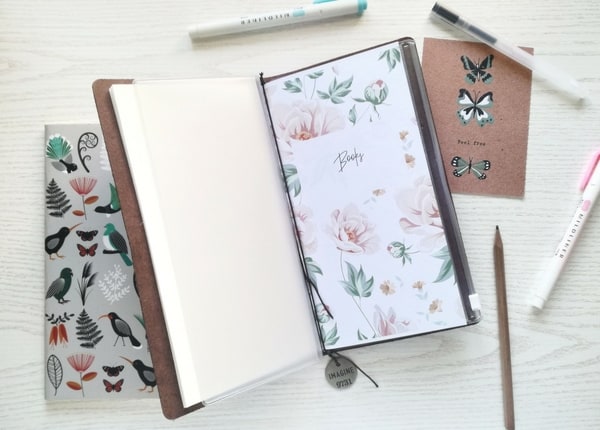 A Peek Inside Megan's Book Journal
Megan started keeping a reading journal years ago, writing down as many past books as she could remember, and then adding new books as she read them.
But after she started bullet journaling, she became dissatisfied with the structure of her reading journal. It was really just a list of books with no sense of time or order. She needed room to expand, add her own thoughts, and index book reviews, TBR lists, or any other reading related collection she might like to add.
If you follow PageFlutter, you know creative writing is a passion here! Not only do we run a 6-word story challenge on Instagram, but we also use our journal to improve our writing. It's not enough to read books. A writer must study them, refer back to them, even dissect them.
With this in mind, Megan painstakingly recopied her reading journal–using the bullet journal framework–and now we can share it with you!
Below, we'll show you how to make a simple reading journal to inspire, organize, and catalogue your reading experiences. It's such a simple project to start, but it will give you many years of happy journaling.
For our reading journal we used:
How Do You Make a Reader's Journal?
We Used a Bullet Journal Structure for my Book Journal Pages
We like the Bullet Journal® system because it's flexible, efficient, and highly customizable. Whether you want an artistic journal or a minimalist approach to note taking, bullet journaling is flexible enough that you can make it work. And that includes using it to keep reading logs, goals, your own unique rating system…whatever.
Since Megan already keeps a daily bullet journal, adapting the style for her reading journal was a snap.
CONFUSED? READ MORE ABOUT BULLET JOURNAL BASICS >>HERE<<.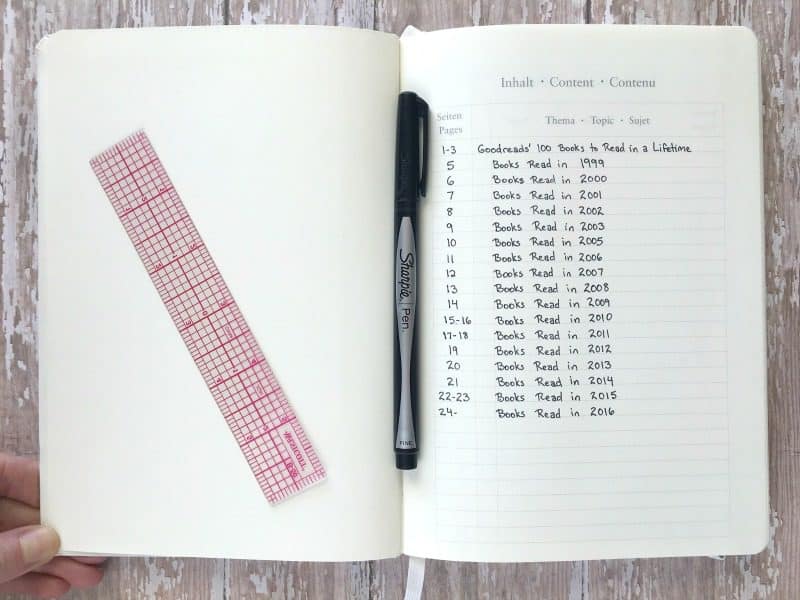 What Should Be in a Reading Journal?
THE INDEX
The index is one of our favorite parts of the Bullet Journal® system. It pulls the whole system into order.
In the photo above, you'll see that Megan indented the lines for each year of books. The top line, "Goodreads' 100 Books to Read in a Lifetime" is flush left, but each year is indented.
You don't have to align your index like this if you don't want to, but it helps separate the annual book log from "To Be Read" or future reading lists, books reviews, reading challenges, books you've abandoned, great quotes from books that you want to remember, book suggestions from friends, recommended reading lists for your kids, books from your book clubs, all-time favorites, specific notes, and so forth.
In practical terms when setting it up, Megan used a light pencil line as a guide for where to anchor the "Books Read in [year]" subheaders.
LT1917 notebooks have a pre-printed index (one of the many reasons we love and recommend them!).
If your notebook doesn't have a pre-printed index, leave a few pages plank before starting page 1.
What About To Be Read (TBR) Lists?
After combing through about 21,310 ultimate reading lists online (give or take 21,300), Megan finally picked Goodreads' "100 Books to Read in a Lifetime" for page 1 of this reading journal.
The list covers everything from contemporary YA to the classics of 10th-grade English. If it's been a long time since you read some of these titles, you can leave them unchecked so you can re-read them.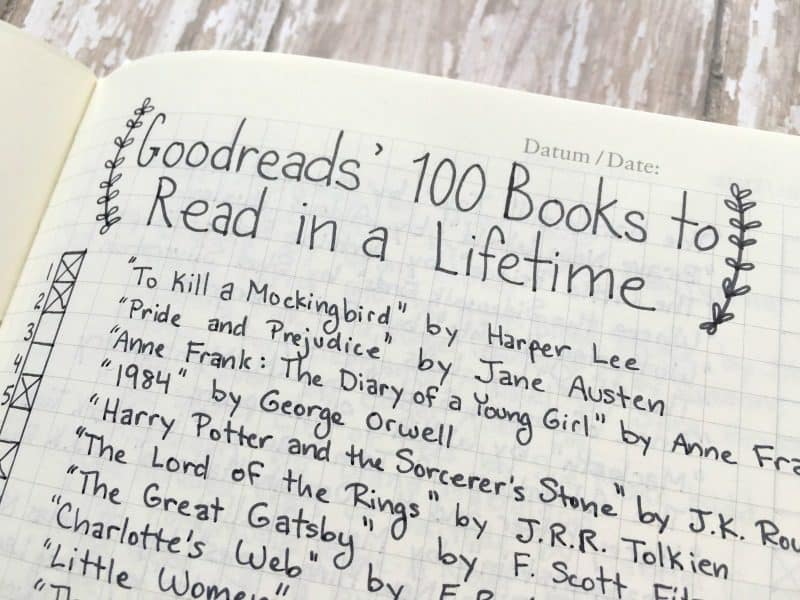 Megan's ideas was to add about 10-20 more versions of "Books to Read in a Lifetime" before this journal is all through.
What can we say? She likes lists!
She also planned to add her own TBR list (To Be Read) each year then catalogue the books she's read with a short blurb (her opinion, a notable quote from the book, etc.).
TBR lists are handy for keeping a list of quality books you want to read, all ready for the next time you need it.
However, our advice is to not let your TBR list give you tunnel vision. If a book speaks to you that you want to read, but it isn't on the list, read it! The list will always be there.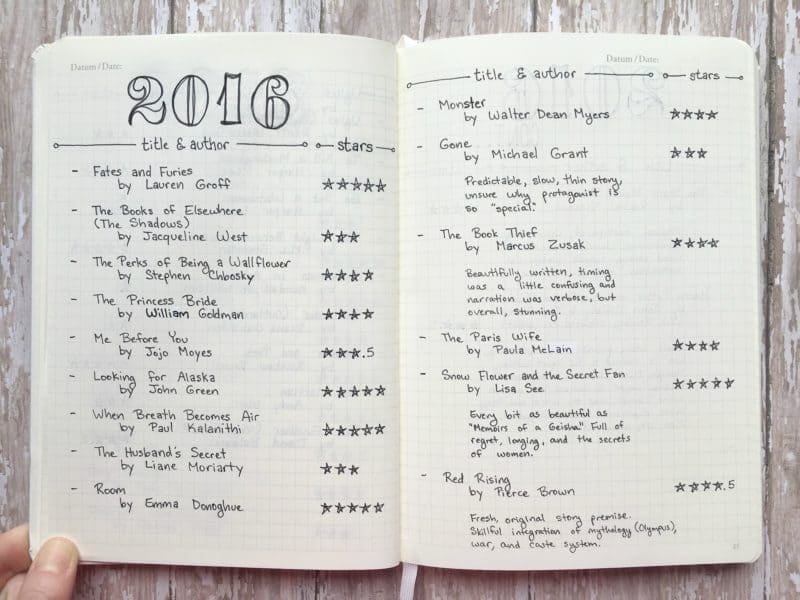 Megan only began to formally journal her reading in 2015, so anything before that is recorded based on memory.
For each book, she lists the title, author and stars out of 5, and yes, there are a few half stars floating around the pages.
Hey, sometimes a girl just needs a half star!
FANCY HEADERS
You do NOT need to use any fancy headers. Let's get rid of that pressure right now, m'kay?
However, she chose to add a little fanciness because she liked the way it looks in her journal.
We enjoy journaling more when we add small touches like nice lettering or a splash of color, but let's not pretend fancy is more effective.
It's just fun!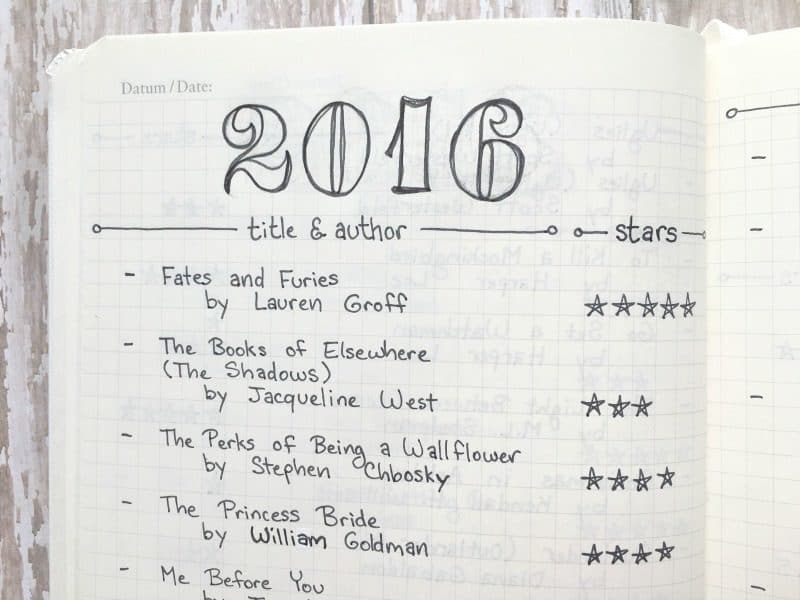 The font she used is based on an old stamp set by Sassafrass Lass. We love the font, but the stamps ended up looking too small for this purpose. Megan used her printer to enlarge the letters and traced each one into the journal with graphite paper.
If need more help with this technique, check out the full tutorial.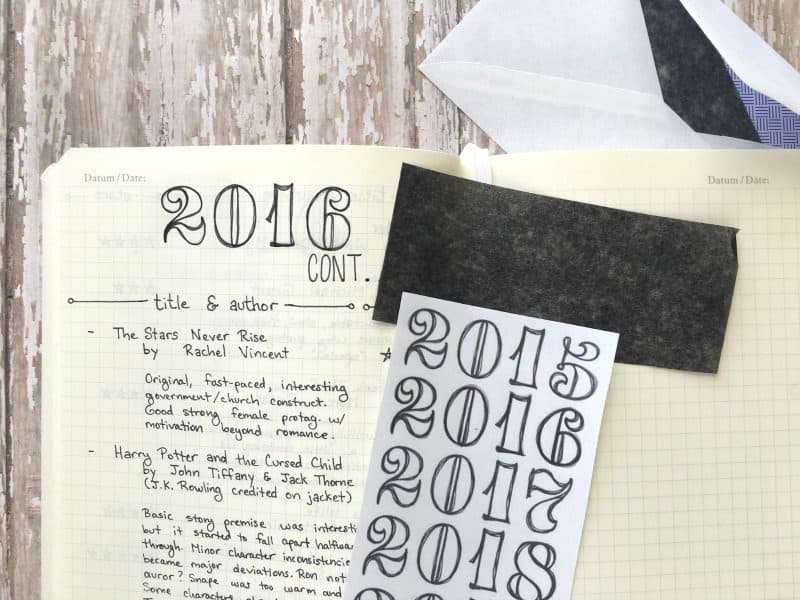 Unfortunately, these stamps were discontinued, so you can skip the extra steps she had to take in enlarging them.
Instead, grab a font you love at Creative Market. They have thousands of fonts to choose from. It doesn't need to cost you anything (unless you're like us and can't resist all the pretties); they have free fonts & graphics you can grab each week.
Simply type your headers on your computer and trace them. Argh! Sooooo much easier!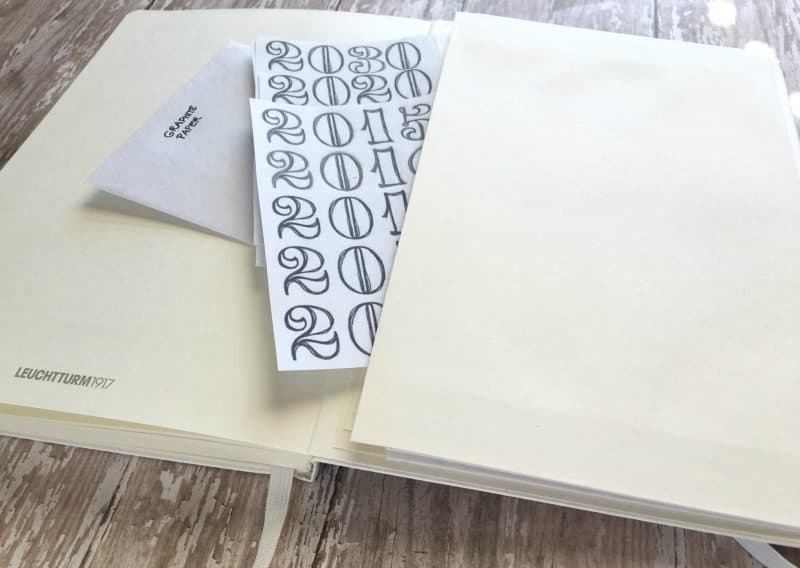 When printing out headers for your annual reading log pages, it's a good idea to print a few years in advance. It will save you from having to create new ones each year.
Megan also put a few sheets of graphite paper in an envelope and saved, oh, a few decades of header templates. Overkill? Ha!
She stashes it all in the back pocket of my Leuchtturm1917 and now always has what she needs to start a new year. Ready to read and record!
What Do You Put in a Reading Journal? Here Are Some More Reading Journal Ideas
Now that we've shared a real reading journal example, here are a couple of lists to consider as you start a reading journal of your own:
Reading goals or wish lists
It can be a simple number of books you'd like to read in a year, like the Goodreads Challenge, but it could also be a list of goals you'd like to achieve:
A certain genre, such as classic books, non-fiction books, or other favorite genres
Books from diverse authors (you could also get really niche with this, like "Books from Japanese Female writers)
An entire collection of novels from favorite authors (i.e. Read the entire work of Sir Arthur Conan Doyle)
A curated collection, such as Oprah's Book Club Picks for 2022
Reading challenges
There are so many reading challenges out there that you may even feel overwhelmed!
One of the most popular is the Pop Sugar reading challenge, but we also recommend the one by Modern Mrs Darcy, there are even some goodies to print and add to your journal!
Another challenge we would recommend is #TheUnreadShelfProject that will help you tackle your endless TBR pile of books. This one was born on Instagram, or Bookstagram if you're a bookworm, and we highly recommend you to follow the hashtag if you're interested in joining it.
Reading log
You can't go wrong with a simple log to keep track of the books you've read during the year! This is our favorite way to record readings. Plus, since it's so easy, you can even keep this simple list in your daily Bullet Journal if you don't want to have a separate literary notebook.
Reading Journal Ideas and Layouts from Other Bloggers
NOW, IT'S YOUR TURN TO SHARE YOUR LITERARY SAVVY! ARE YOU PLANNING TO START A READING JOURNAL THIS YEAR? COMMENT BELOW AND TELL US ABOUT YOUR APPROACH.
Brainstorm with me!
Subscribe to my newsletter for Page Flutter updates, posts, and announcements.
Don't worry, I only deliver the good stuff. No spam.
Facebook // Twitter// Instagram // Pinterest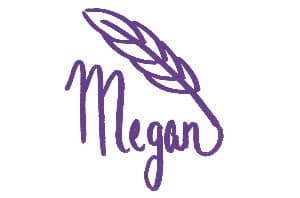 SaveSave