Keeping a writing journal is an essential practice for any aspiring writer. What should you write in it? Take a peek in my journal &  start your own today!

Inside My Writing Journal: The Ultimate Study in Craft
I've been promising you a look at my writing journal for quite some time, and today I deliver! Every time I got ready to show it to you I found one more page to add. Then another. Maybe just one more. You get the idea; it's an ongoing project.
What Is It Good For?
In short, studying the craft of creative writing.
Those of you who are regulars around here know how much I love creative writing, so I make it a huge part of my journaling process. It's no coincidence that I run a six-word story challenge on Instagram (Yes, you should try it!). The written arts fascinate me.
In fact, I discovered Bullet Journaling while trying to organize my writing notes into something more portable and permanent. It's been a great system for funneling my random sparks of inspiration into one place.
Check out my list of writing collections from my regular Bullet Journal.
"Why a whole separate writing journal?" you ask. Good question.
Megan, the "Real" Writer
Since I have a master's degree in creative writing, I would love nothing more than to tell everyone that I am an expert writer. You should imagine me tucked away in a handsome library that smells faintly of cedar and 30-year-old scotch. I'm tapping away at my keyboard, and every word that appears on the page is pure genius. I'm so good, in fact, that my bronze statues of Ernest Hemingway and Jane Austen briefly come to life to applaud my genius. "How does she do it?" they ask. "What hacks were we!" Stephen King asks me to mentor him (I turn him down because he's beyond hope).
That's what I want you to think.
The truth is, the best creative writing degree in the world will not make anyone a great writer. I was more confused about story construction when I graduated that when I began. But at least I knew where to start. I had a much better idea of where I was deficient as a writer, so I could study on my own. I won't pretend to have all the answers. I just keep working at it.
Writers improve by writing and studying great writing. This journal is my attempt at the latter.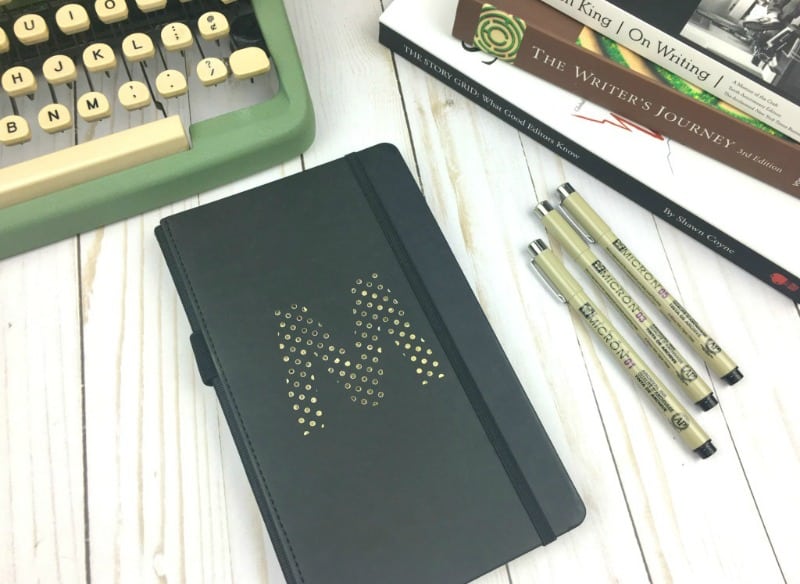 Enter the Writing Journal…
For my full comparison of the Leuchtturm1917 vs. Blackwing Slate click >>HERE<<.
A few months ago, my friends at J*B Welly sent me the new dotted Blackwing Slate to try, and I knew right away that I wanted to make it my writing journal. I usually use a Leuchtturm1917 (A5, dotted) for my Bullet Journal, but the Blackwing Slate has amazing paper and it was a perfect project journal.
Other items used/mentioned in this post
Favorite Books on Writing
Whew! I hope that answers most questions along the lines of, "What are you using?" If you have any other questions you can always comment below or shoot me an email.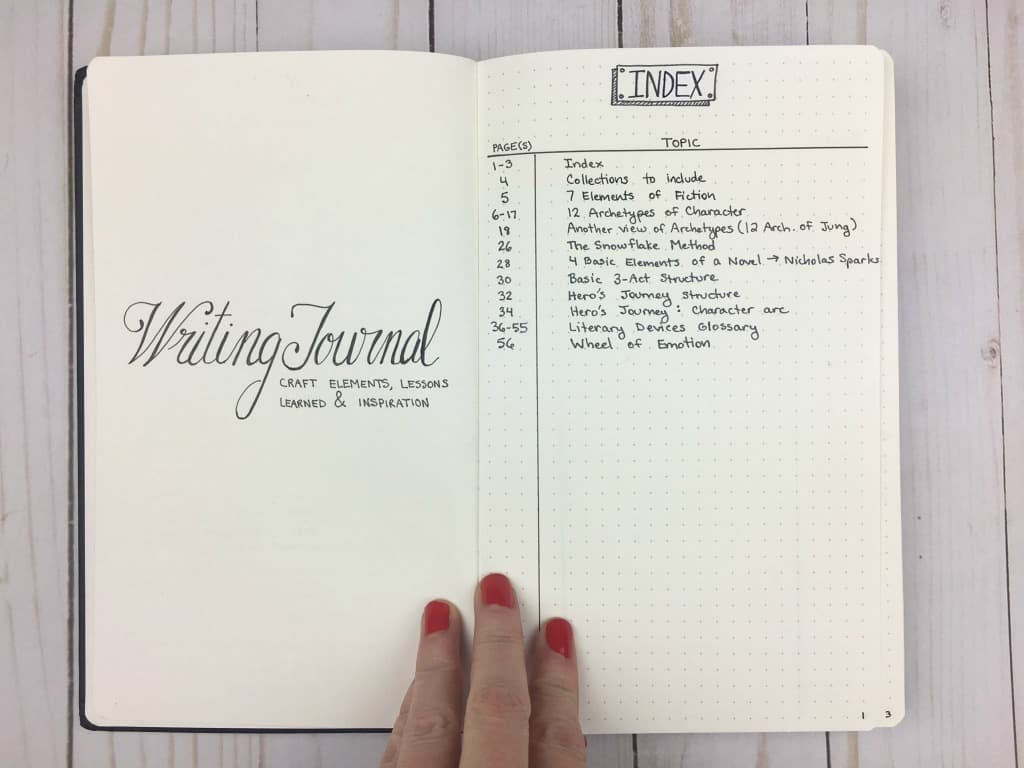 The Blackwing has a pre-printed index, but I wanted to format my own, along with a fun title page. Journals can be very simple undertakings, but having a visually appealing journal helps me stay engaged with the process.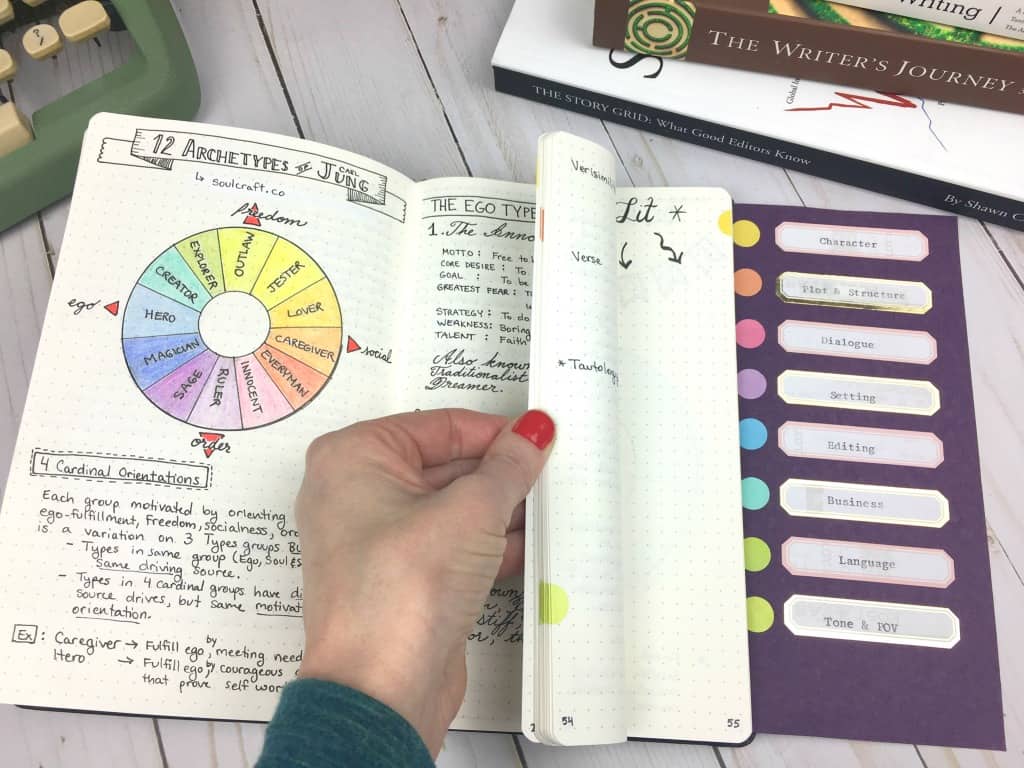 I also used my favorite circular stickers to create a category system. By labeling the page edges, I don't have to worry about my page order. I can flip through the journal to find all spreads dealing with character development, as an example.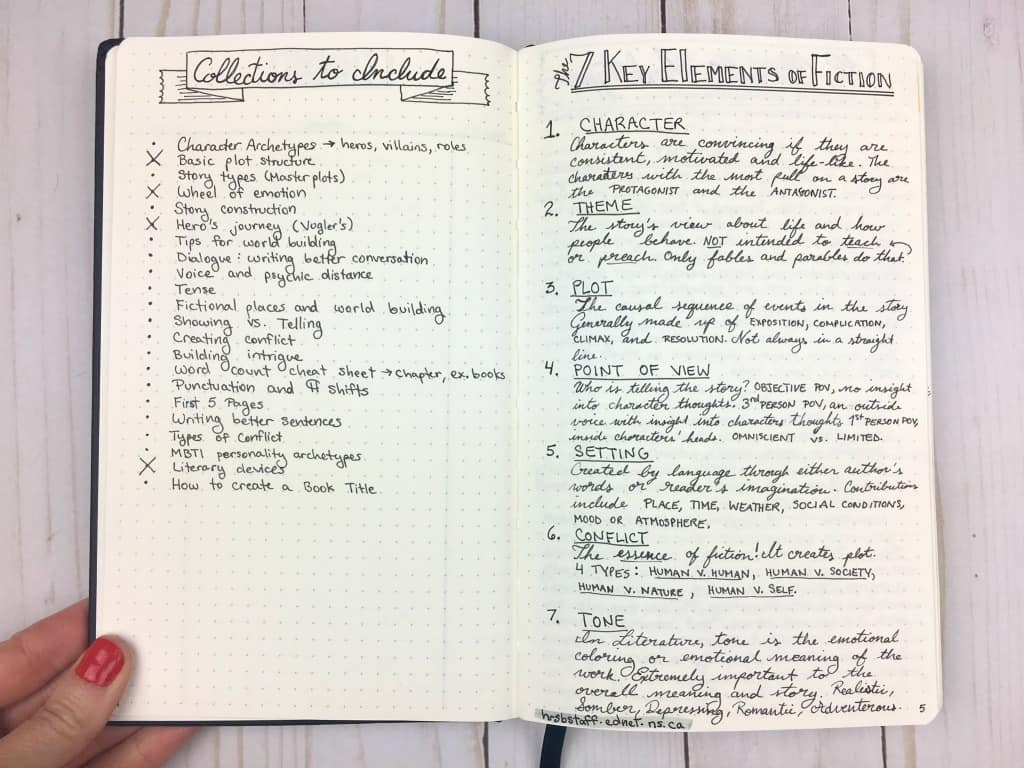 Usually, I let my life determine which collections I should create. Since this journal doesn't include my schedule, I created a list of spreads to guide me. Then I kicked things off with the 7 Key Elements of Fiction. I'm not too proud for the basics.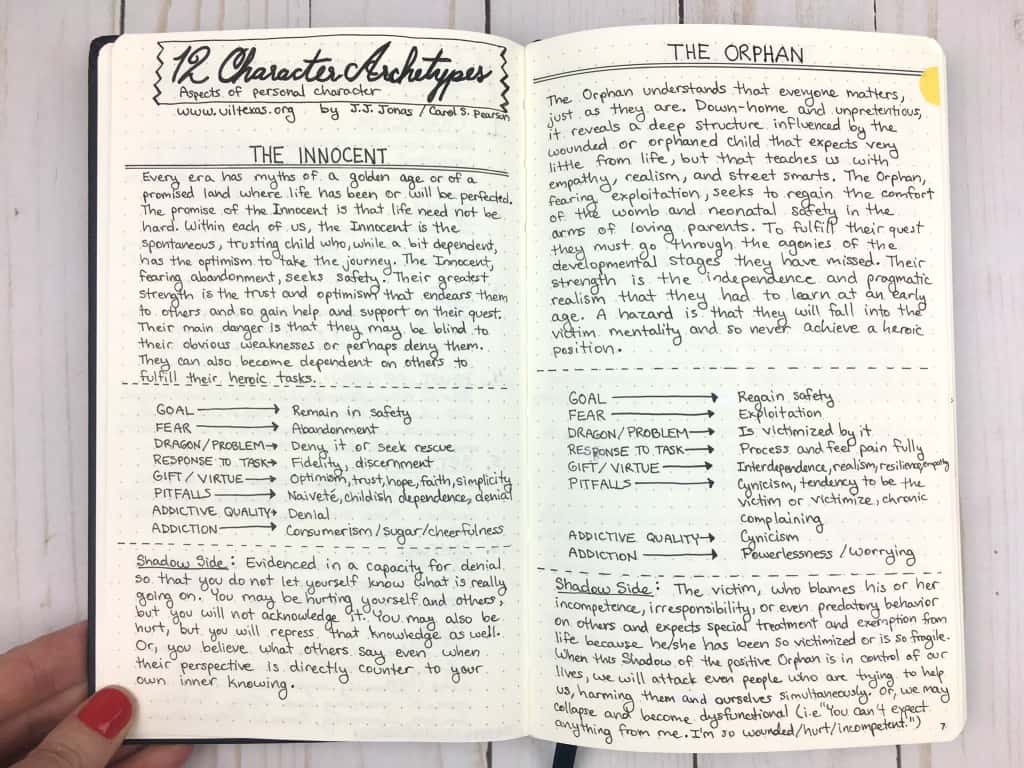 I devoted the first two sections of my journal to the 12 basic character archetypes. This first set comes from J.J. Jonas, and discusses the archetypes from a practical standpoint. Each type has the potential to be a hero or villain (shadow side).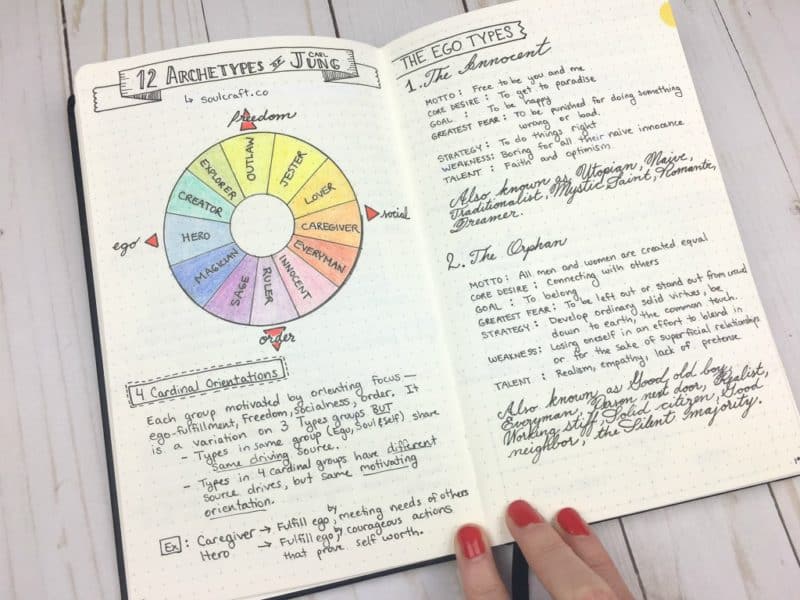 My next view of the 12 major archetypes comes from Soul Craft. It's the same basic information, but I appreciated how this website broke them into categories: Soul Types, Ego Types, and Self Types. This is all based largely on the works of Carl Jung whose influence on the literary world is extensive.
When it comes to character archetypes, I feel like I should point out the 12 basic types are highly flexible. If you want to know more about how to use them, I suggest reading 45 Master Characters, by Victoria Lynn Schmidt or The Complete Writer's Guide to Heroes and Heroines by Tami Cowden. I have both books and use them all the time, but if I had to pick just one, Cowden's is organized better.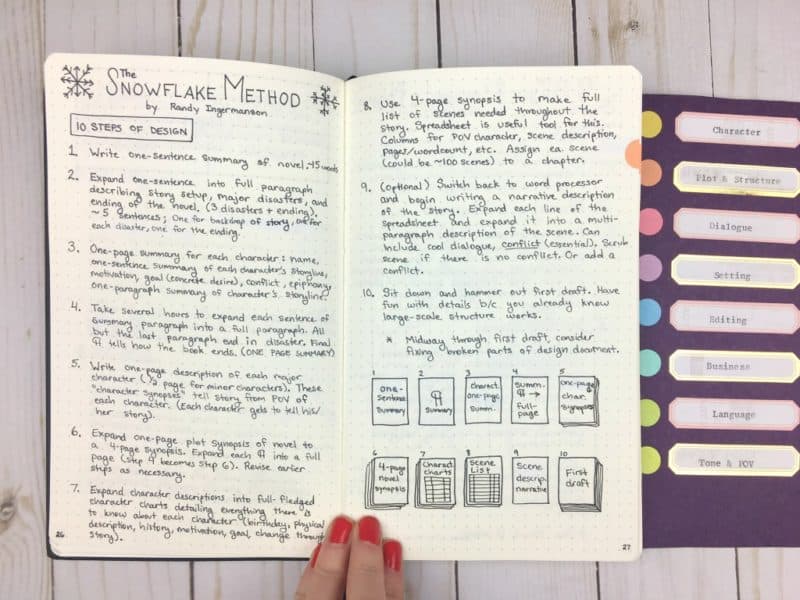 Randy Ingermanson's Snowflake Method needs no introduction. If you haven't heard of it, it's basically an outlining & plotting method in one. Each step expands your project until you end up with a full manuscript. It's a good place to start if you've never outlined a big writing project before.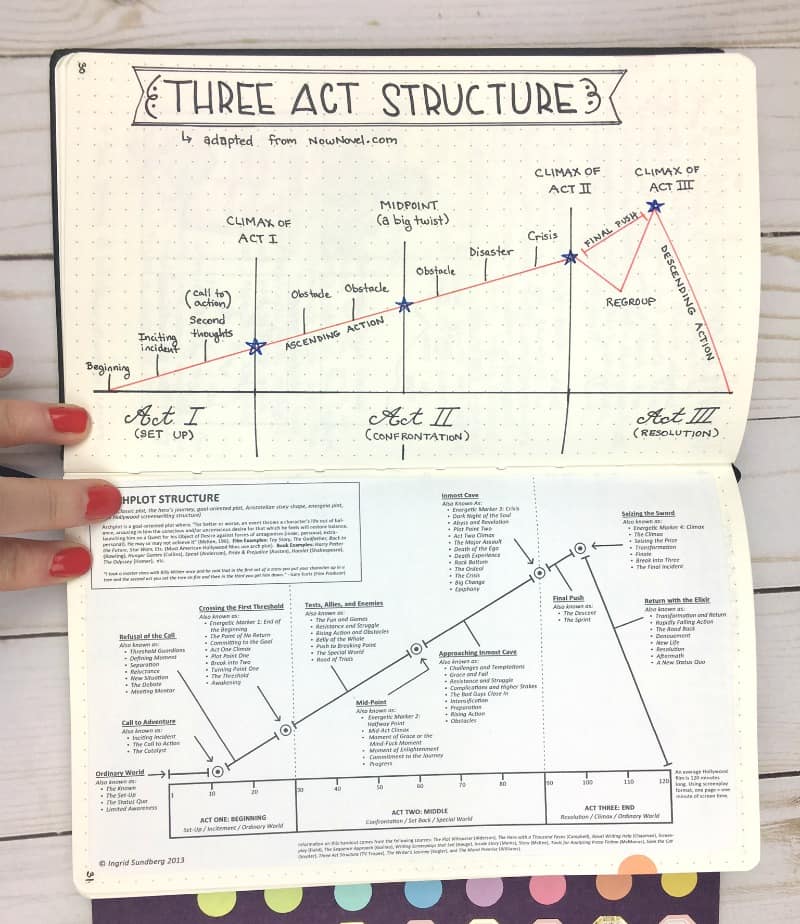 Flashback to 9th grade English! Yes, the oh-so-familiar 3-act structure is still useful. The top page is my very basic view, and the bottom one is from joeydevilla.com. The second page includes more information about each stage in the story as it aligns with the 12 steps of the Hero's Journey model (from Joseph Campbell's Hero with a Thousand Faces.)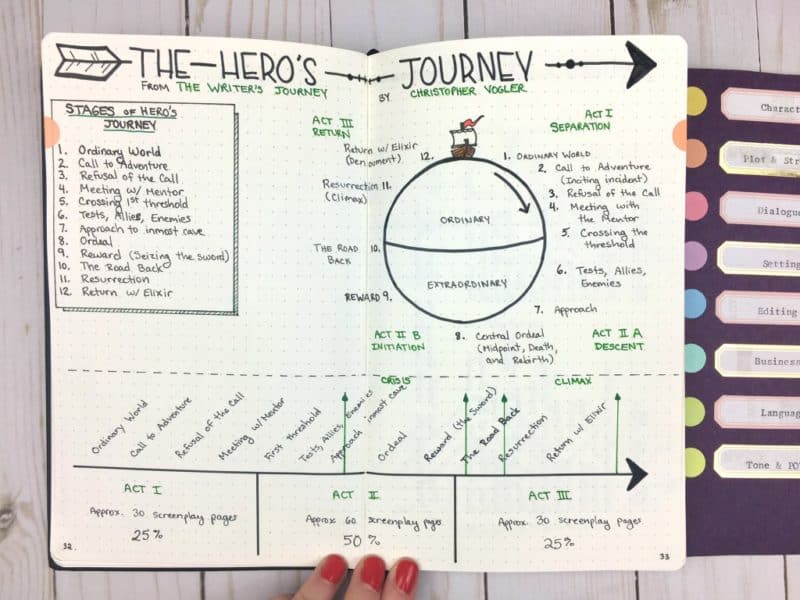 Speaking of the Hero's Journey…This page is based on visual aides in one of my all time favorite books on writing, The Writer's Journey by Christopher Vogler. He expands on Hero with a Thousand Faces. The 3-act structure was always a bit mysterious to me. I could never figure out exactly how authors were filling the second act.
The old formula from Harry B. Smith goes, "In the first act get your principal character up a tree; in the second act, throw stones at him; in the third, get him down gracefully." It killed me when my writing instructors would quote this type of passage. Throw a rock? Are you kidding me?
Tell me how to throw the stones! I want specifics.
The Hero's Journey takes the mystery out of it by showing the major trials characters usually encounter in any good story. It also compares to the 3-act foundation so you can see where the 12 steps line up. Vogler, where have you been all my life? (Oh, yeah. He was busy teaching Disney how to write The Lion King. Dude knows stories).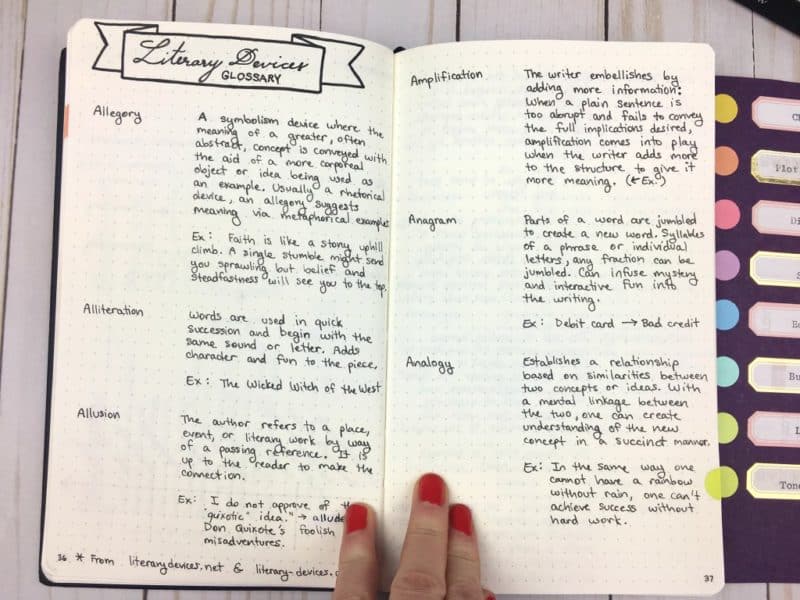 I filled pages 36-54 in my writing journal with a list of common literary devices (from literarydevices.net & literary-devices.com). Literary devices cover wide ground: everything from metaphor to the lesser known chiasmus and hyperbaton. I'm good at a few of these. Others, I didn't know existed.
If nothing else, it's great for seeming pompous at parties with fancy Latin phrases like Deus Ex Machina. On second thought, not a good ice breaker…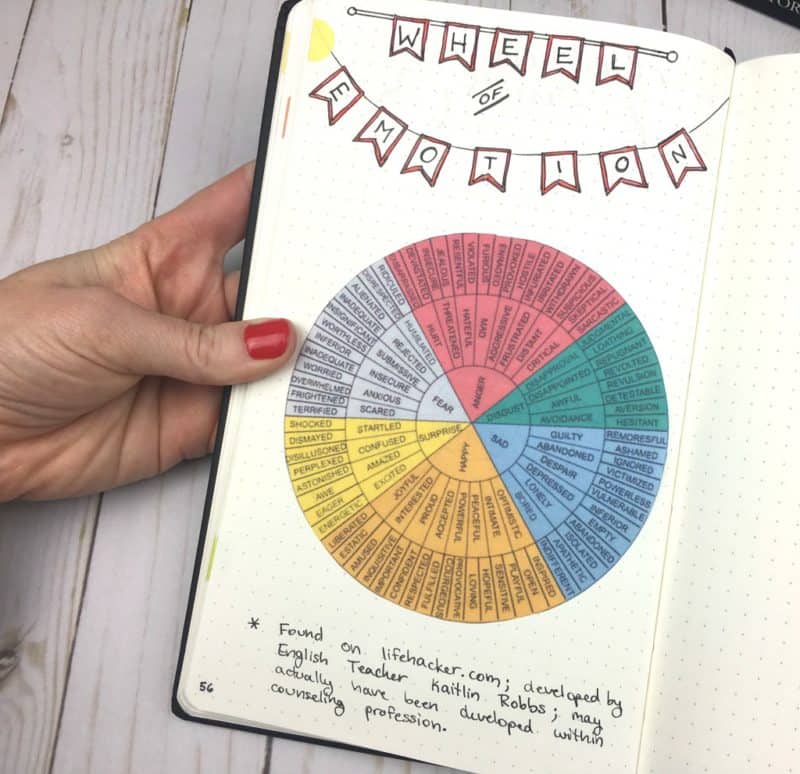 The latest addition to my writing journal is this handy Emotion Wheel, whose origin is questionable. I found it on Lifehacker, and they attribute it to English teacher Kaitlin Robbs. Other people claim it's old hat in the counseling profession. No matter who the genius is behind this graphic, I'm grateful!
My writing journal is still growing, but that's all for now. Your turn to share!
Do you use a journal to develop skills or hone a craft? Comment below with your favorite resources, suggestions, or journaling tips!
Brainstorm with me!
Subscribe to my newsletter for Page Flutter updates, posts, and announcements,
and FREE access to resources in the Page Flutter Vault!
Don't worry, I only deliver the good stuff. No spam.
Facebook // Twitter// Instagram // Pinterest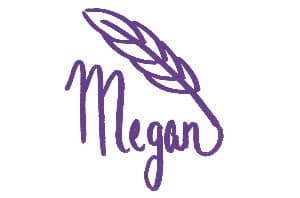 SaveSave
SaveSave
SaveSave