Moving to a new Bullet Journal doesn't have to be hard. If transferring collections & schedules worries you, grab the free printable checklist.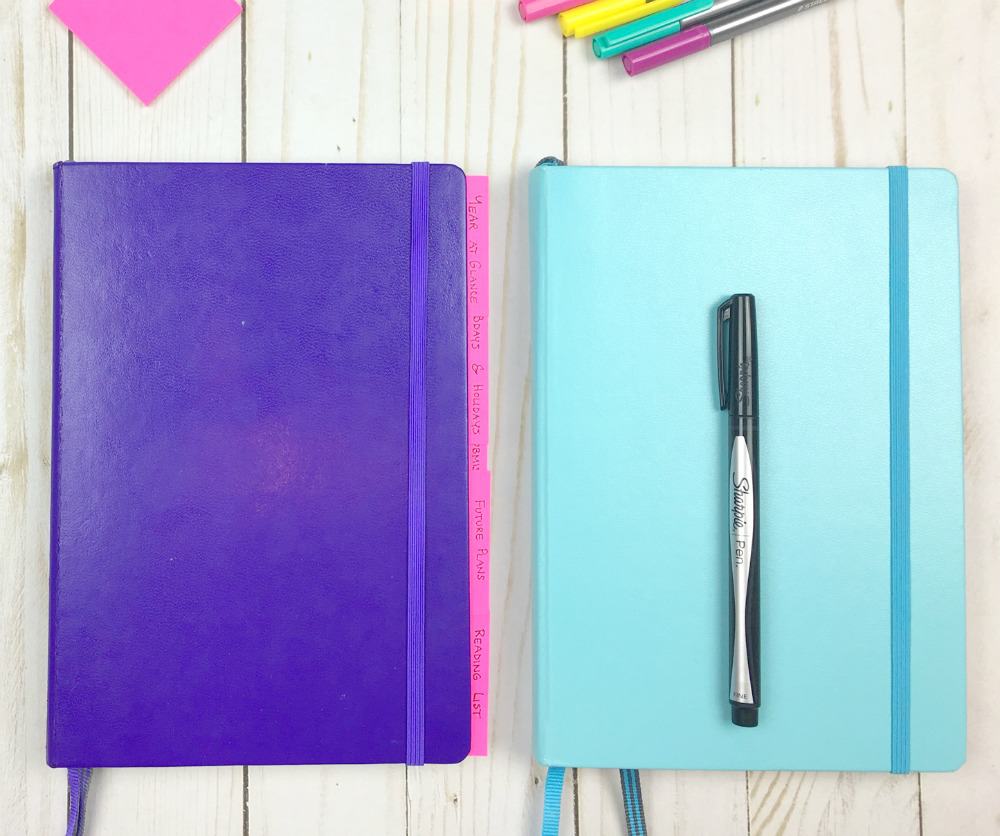 Moving to a New Bullet Journal (The Zen Way) |
Moving to a new Bullet Journaling can be tricky, especially if you use a bound notebook. Some people prefer a binder or disc-bound system that lets them move their collections with them. Modular systems solve big migration issues, but there are some tradeoffs.
I won't get into the many reasons I stick to a bound notebook. The truth is, it's just personal preference. If you're a notebook purist like me, you've probably thought about how to handle the move to a new journal.
What to do with all those collections? Don't stress. You don't have to write for hours or trash your favorite collections.
Here's my zen strategy to moving journals.
Supplies aren't everything, but someone always asks, so…
My old journal was a Leuchtturm1917 dotted A5 hardcover in purple.
I switched to a Leuchtturm1917 dotted A5 hardcover in light blue.
Tips to Stay Organized
These are some of the basic steps I go through when moving to a new notebook. They're not carved in stone. Feel free to adapt them for your journaling style and personal preferences. Don't forget to grab the printable checklist below to keep you organized!
1. Flip through the old journal
As you move through the pages, you'll get a sense of how they make you feel. What grabs you right away? Were some spreads forgotten immediately after you made them?
This is your Hindsight 20/20 moment. What might have seemed like a great idea at the time could end up being not so useful. You can take those lessons with you to the new journal.
Also, take time to enjoy your memories in your journal. It's a great productivity tool, but it also becomes an important expression of your life and personality.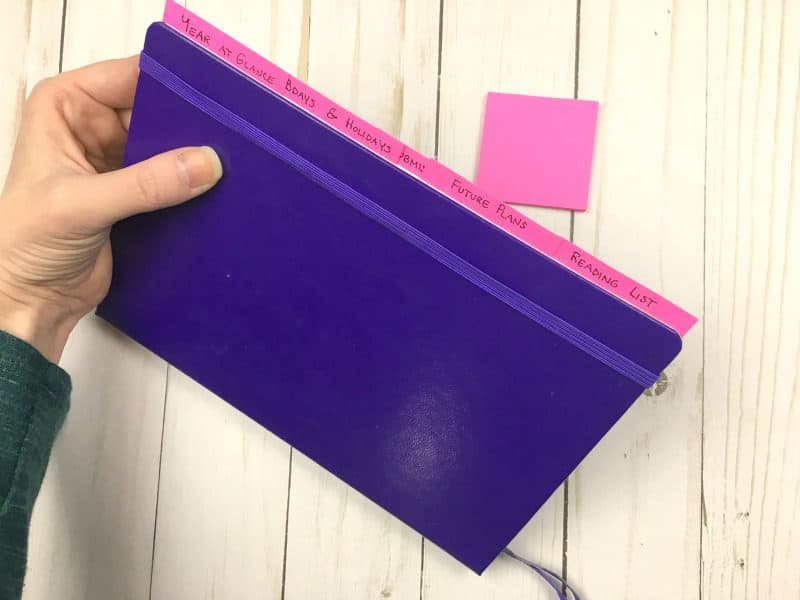 2. Sort your collections
This is where the real work begins. I started by flagging the collections I use most. I'll copy those into my new journal by hand. To keep things simply, I only copy over the true essentials. Let the other collections rest. They've earned it. Seriously, let go.
If a collection if still growing you can simply continue it in the new journal. Thread it back to the old journal if you like.
Try setting up a journal archive like THIS ONE. It will help you organize collections from different years into one catalogue.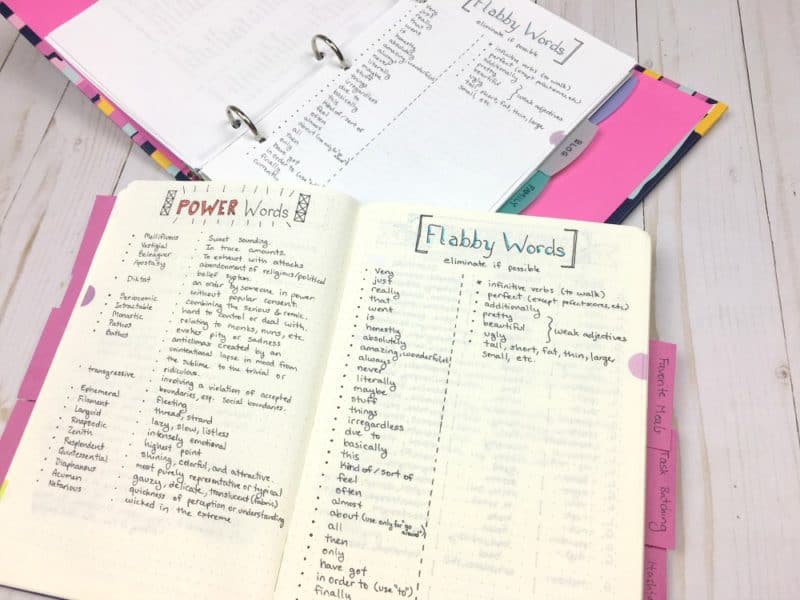 3. Create a journal blueprint
Develop a plan for how your new journal will be laid out. I created a plan for my core pages, which you can see in my post about my 2017 Bullet Journal setup. Those are the pages that make up the bulk of my planning. Doing this ahead of time will give your journal predictability & structure. It also saves you from dealing with page orders that drive you crazy!
To be clear, your blueprint shouldn't be complicated.  It's a simple outline of how you want to order your initial pages & what your usual flow will be. You can jot it down on a page of your journal or scrawl it out on a napkin. Keep it low stress. The point is simply to think about how you'll be using your journal daily.
4. Start with the essentials
When you're ready to start creating pages in your new journal, move your most important pages first. If you run out of pages in the old journal, your new one will be ready to go!
For me, that's my future planning. I'm a terrible digital planner, so I rely on my paper plans to get me where I need to go. Everything else is a little less urgent.
5. Use placeholder tags
Ok, so I told you to move the essentials over first. But what if you're in a hurry to get into your new journal? You ran out of pages and need to move to your new journal yesterday, but you also want certain pages in the front of it (maybe a birthday tracker, future plans, or important contact numbers).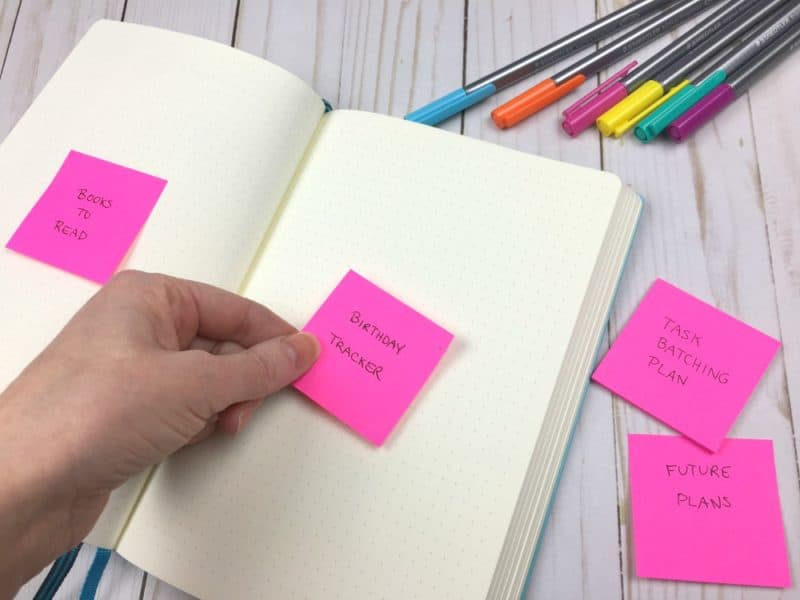 Easy peasy! Just tag pages with Post-it notes. You can come back and create them when things aren't so hectic.
You'll be able to envision the flow of your journal and save certain pages for designated spreads. This is a huge help for me when I'm planning a new journal.
6. Adjust formats
Now is a great time to adjust heading styles, move things around, regroup collections that should be in a different order, etc. Again, it doesn't have to be perfect. It's just a chance for a "do over" from your previous system.
7. Take your time
All of these tips are designed to make your move to the new journal smooth & stress free. With the exception of your essential pages, there's no rush to get everything done all at once. Take your time setting settled in your new journal. You'll be there for a while.
I slow things down with a list of "someday" collections. If I know a collection would be helpful, I add it to the list (before I can forget it. 'Cause you know it's not staying in this old noggin for long). Then I can take my time developing the idea into a truly useful spread.
8. Save the old journal
I don't hoard many things in life, but I can't part with my journals. They're a log of my life, memories, and useful reference guides. Right now mine are on my desk, but they probably deserve their own shelf.
Now you can enjoy your new journal and get on with your goals!
Printable Moving Checklist
To make things even more stress-free, I've created this printable checklist for you. Enjoy!
** CLICK IMAGE TO GET IT**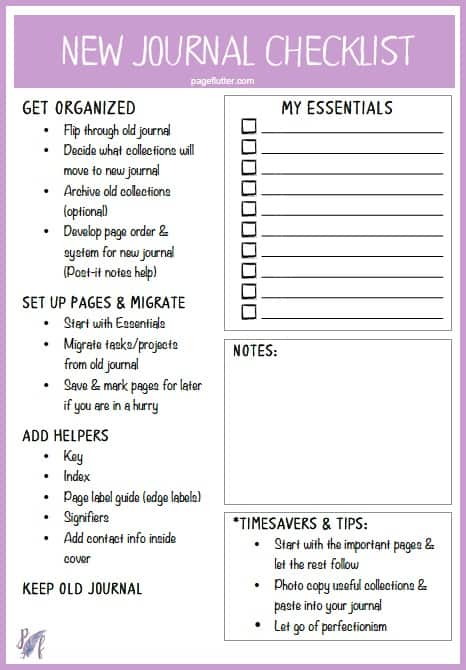 Brainstorm with me!
Subscribe to my newsletter for Page Flutter updates, posts, and announcements.
Don't worry, I only deliver the good stuff. No spam.
Facebook // Twitter// Instagram // Pinterest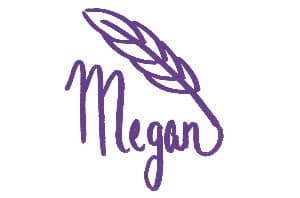 SaveSave