The New Year is pumping new life into the 6-word story challenge! Add simple inspiration to your day with 6-word stories, or embrace your inner romantic with 6-word poems. Instagram (#PFSixWordChallenge).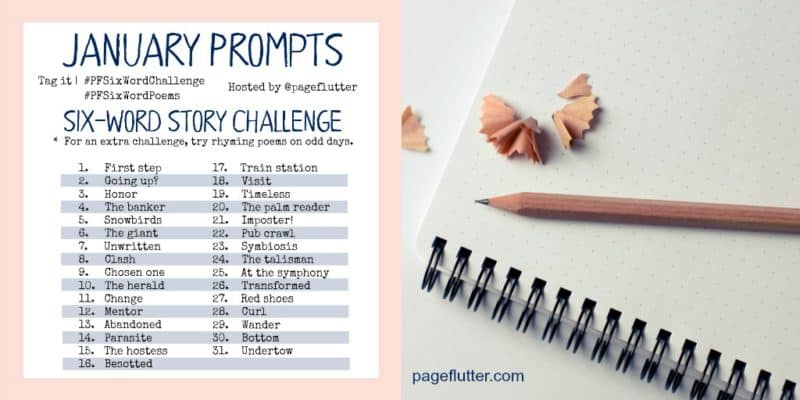 January 2017 Prompts: 6-Word Story Challenge|
It's official! The PF Six-Word Challenge is sticking around for 2017. New Year, new prompts, new hashtag.
Back in November, many of you saw my posts on Instagram about saying goodbye to the challenge. Yes, I had originally planned to end the challenge at the end of 2016.
As December wore on, I realized I wasn't ready to say goodbye. Watching a community of creatives pop up around this challenge has been an amazing experience. So, I turned to you guys for help. I asked how many of you wanted to keep the challenge and the response was incredible! I even got personal emails from a few of you asking to keep the challenge.
One reader (I'm looking at you, Phil!), suggested spicing things up with six-word poems. I knew right away they'd be a great addition to the PF Six-Word Challenge!
What are 6-Word Poems?
Basically, they follow a rhyming scheme, breaking the 6 words into tiny verse (poetry doesn't always have to rhyme, but let's assume it does for this challenge). Here are a few examples:
Idea shared. Challenge spared. Creativity flared.
Kissed my fellow. Knees like Jell-o.
A task begun is halfway won.
And because my awesome husband wanted to help us out, here are a few from Mr. Page Flutter:
Napoleon is short. Especially in jorts.
Black and Blue. Tae Kwon…Due?
Wasn't a fling. Got finger bling!
NFL playoffs. Need the day off.
How to Play…
Six words. That's all you get. Experiment and have fun with it!
Write whatever sparks in your mind. You are free to use the prompt words in your story, but it's not required.
You can continue with the 6-word stories (non-rhyming) if you like.
If you're ready for the extra challenge, try rhyming poems on odd days.
Where to Post
Post your stories on Instagram. For the best chance of being featured, tag your posts with the challenge hashtags.

#PFSixWordChallenge
#PFSixWordPoems

Feel free to tag me (@PageFlutter ), so I can give your awesome story a shoutout!

Not on Instagram? No worries; just play along on my Facebook page.
Printable DECEMBER Challenge Sheet
Repost my challenge graphic in your Instagram feed for easy reference, then download the FREE printable PDF (A5 size) and paste it into your 2017 bullet journal.
January 2017 6-Word Challenge_Printable Prompts
**CLICK IMAGE TO PRINT**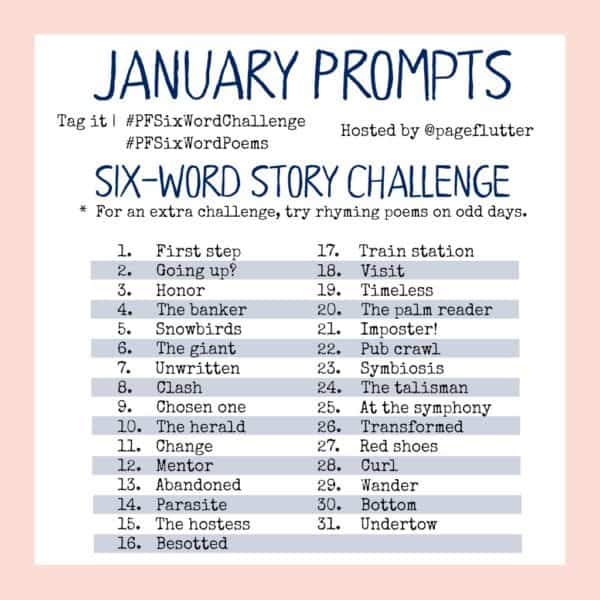 **CLICK IMAGE TO PRINT**
Remember: It's not about having the "best" 6-word story. It's about inspiration, so have fun & take creative risks!
If you need a little help getting started, check out my 6-Word Story board on Pinterest. For those of you looking to turn your six-word stories into larger projects, follow my boards devoted to the craft of writing. Happy journaling!
Follow Page Flutter | Megan's board WRITING | Six-Word Stories on Pinterest.
Brainstorm with me!
Subscribe to my newsletter for Page Flutter updates, posts, and announcements. Don't worry, I only deliver the good stuff. No spam.
Facebook // Twitter// Instagram // Pinterest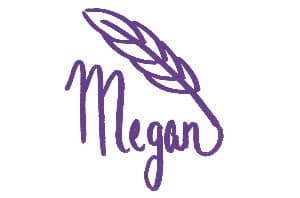 More Page Flutter Posts You'll Love: