Love letters aren't just for Valentine's Day. They're the perfect gift all year long. Here's why (and how) you should write love letters to everyone in your life.

Why You Need to Write Love Letters (& How to Write One)|
With Valentine's Day on the horizon, now seems like the perfect time to talk about one of my very favorite written forms: the classic love letter.
First, I'd like to clear up my feelings about Valentine's Day. My husband and I don't really do Valentine's Day, but only because it feels redundant. We do a lot of mushy romantic stuff the rest of the year. We've been together almost a decade, so this seemed like good year to go the extra mile!
Along those same lines, love is a diverse human emotion. It's not confined to romantic love (which, let's face it, can be messy and complicated). My favorite types of love are quiet and unassuming: the neighbor who brings soup, the child you tuck into bed at night, your friend who is still your friend (even after you voted for so-and-so). That's the love I want to celebrate!
You can send a love letter to the many loves of your life: parents, children, best friends, siblings, grandparents. So, let's get writing!
Why to Write Love Letters
They're always the right gift (Seriously. Who doesn't want a love letter?)
You can say things you should have said a long time ago
Your loved ones will cherish them for years
They're a mindful way of connecting with your loved ones
They don't wilt or go out of style
They're calorie-free! (Please, don't eat your love letters)
They strengthen your personal relationships. People respond to affirmation. By telling someone why you love them, you also reinforce their love for you.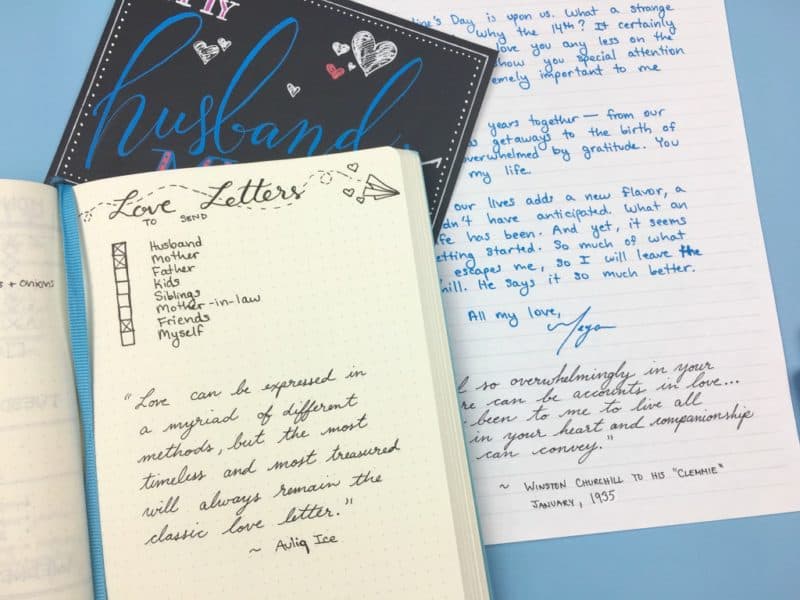 Tips for Writing Your Own Love Letters
I'm sending out a few love letters this year, so here's a peek at my approach. I took a chance on embarrassing my husband and wrote an open love letter to him. And Ima-puttin' it on the inter-webs! Don't feel bad for him; he knew what he was getting into when he married me.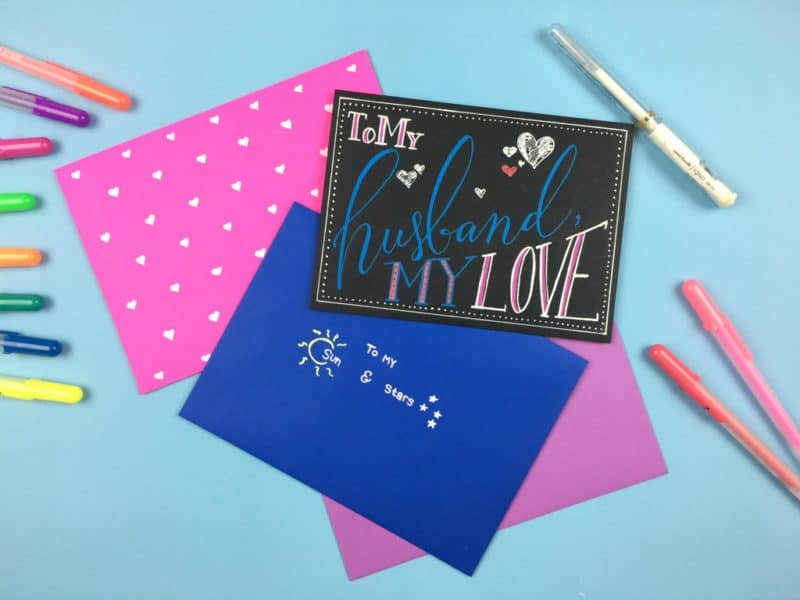 Gather Supplies
The good news is love letters don't call for tons of supplies. Write them on printer paper, fine stationery, or a gum wrapper. It doesn't matter. I have a love letter in my "save" box that really is on a gum wrapper. It's beautiful.
But I wanted to have some fun with these. I just stocked up on stationery goodies (in preparation for InCoWriMo, for  International Correspondence Month in February). Any excuse to play with pens and paper, right?
Here's what I'm using:
Parts of a Love Letter
There's no set pattern for a love letter. You can go wild, if you want!
But if you don't know where to start, here's a basic format for a classic love letter.
Date your letter; when your loved one re-reads it years from now, they'll appreciate knowing when it was written.
Use their name, nickname, or a pet name to address you letter.
Mention the reason for writing the letter. Maybe you miss the person, or it's their birthday, or it's Tuesday and you were thinking of them.
Use a memory from your past to guide your feelings
Look toward the future
Close your letter with genuine sentiment (don't forget to sign it!)
A nice quotation to add depth to your letter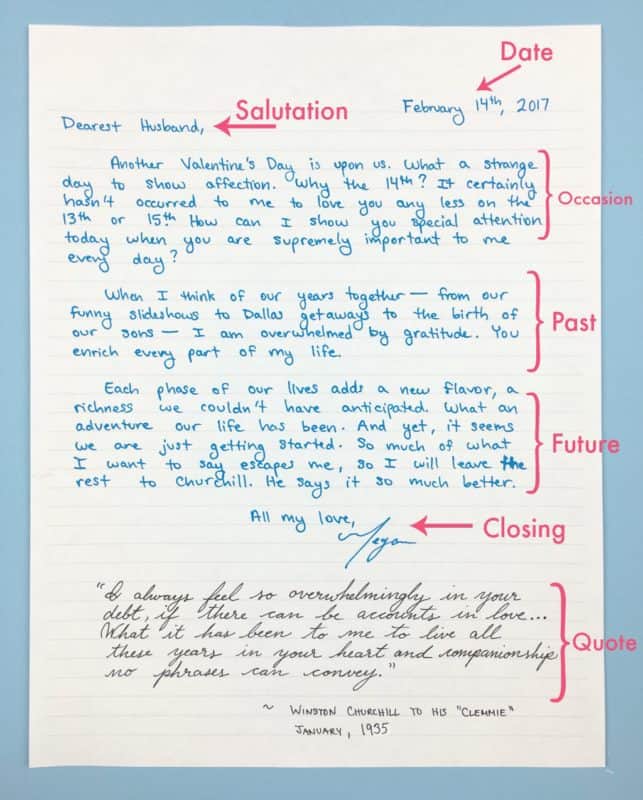 Write a Rough Draft
One of the best parts about expressing yourself on paper is you can tweak and refine you words until they're exactly the way you want them. The first draft (or 2nd or 3rd) is just for you. Write the first copy safe in the knowledge that no one will ever see it.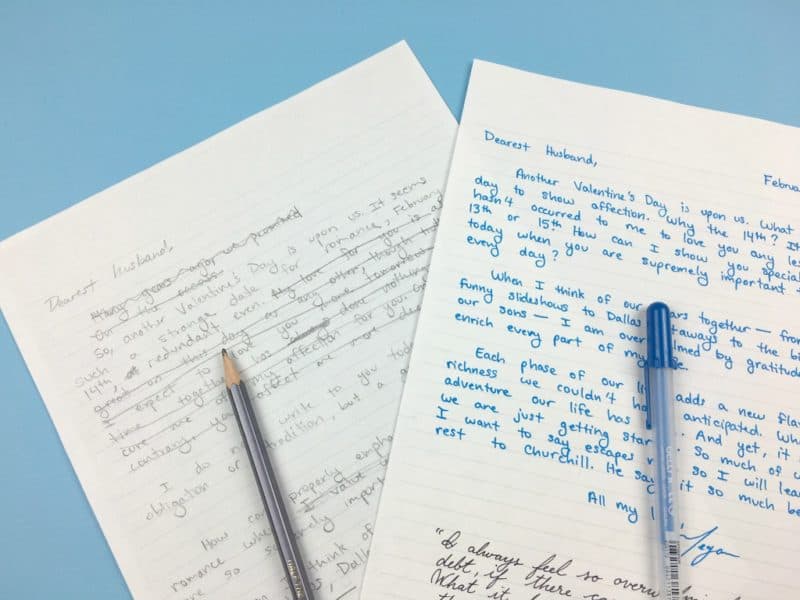 Start in pencil or on scrap paper. Then let your letter rest. Take a break, get some coffee, have a snack, stretch, and come back to edit your letter.
Bad penmanship? Check out how I improved my cursive with the Spencerian method >>HERE<<.
Once you have the words right, put it down in your favorite ink. I used a blue Gelly Roll pen that coordinated with the envelope I decorated for it.
If All Else Fails, Consult the Greats
I know, writing is hard. Love letters can be even harder. It's ok to ask for some help. Pull an excerpt from famous love letter and quote them. Let a seasoned writer do your mushy work for you! Sometimes we feel "fake" if we try to write with formal, romantic flourishes.
A quote, on the other hand, means you took the time to search for the right words in someone else's hand. The sentiment is there without feeling forced or contrived.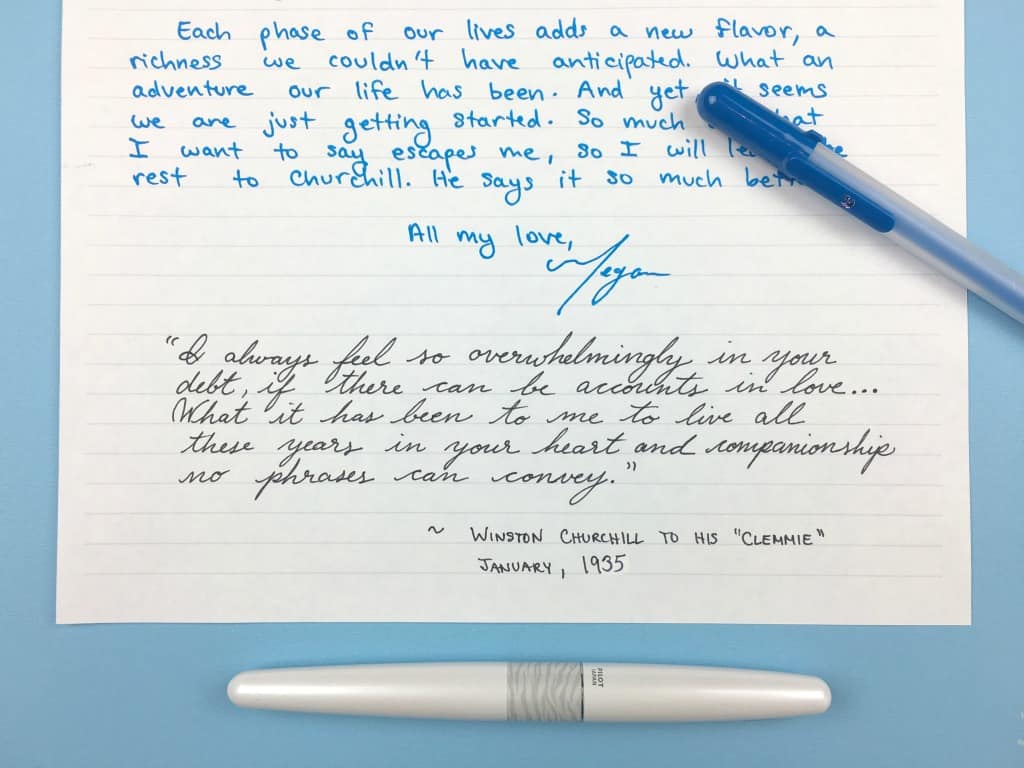 My pick was this beautiful passage from one of Winston Churchill's love letters to his wife, Clementine. I copied it in cursive using my Pilot Metropolitan so it would stand out from the rest of my letter.
I always feel so overwhelmingly in your debt, if there can be accounts in love…What is has been to me to live all these years in your heart and companionship no phrases can convey.
You can get more inspiration from famous love letters, HERE and HERE.
Simple Love Notes
Sometimes simpler is better. "Simple" is my word for the year, so I wanted to explore an easy way to express affection each day. I cut some bright Post-its into hearts and put sweet and silly phrases on them.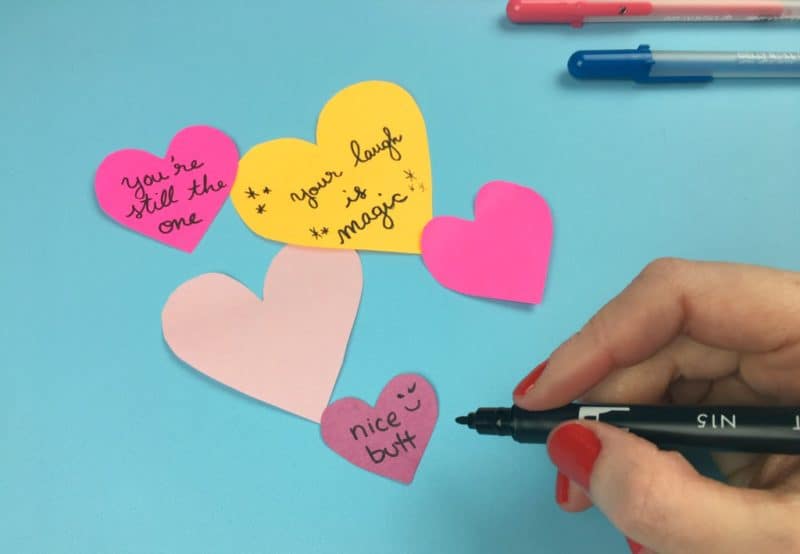 Enough from me, I want to hear from you! What's your favorite way to write a love letter? What about non-romantic love? Share the ways you celebrate your loved ones each day. 
Brainstorm with me!
Subscribe to my newsletter for Page Flutter updates, posts, and announcements,
and FREE access to resources in the Page Flutter Vault!
Don't worry, I only deliver the good stuff. No spam.
Facebook // Twitter// Instagram // Pinterest