Grab your notebook and head outside! The May challenge prompts will get your summer writing off to a great start. Try your hand at six-word stories to add a dash of literary fun to your bullet journaling.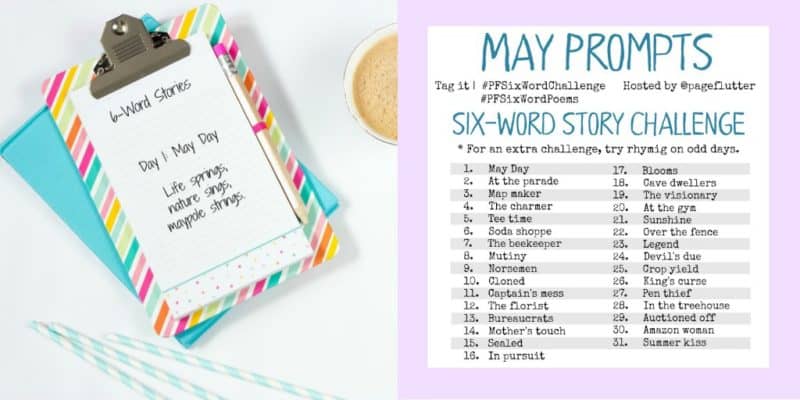 |May Challenge Prompts: 6-Word Story Challenge (2017)|
Welcome back to another month of my 6-word story challenge (#PFSixWordChallenge)! The May prompts are live on Instagram.
You don't have to haul a huge collection of art supplies with you to enjoy some summer inspiration.If you're eager to start some creative projects this summer, 6-word stories are a great place to start. They're quick and portable. You can even throw your notebook in your bag and ride to the park for an outdoor writing session.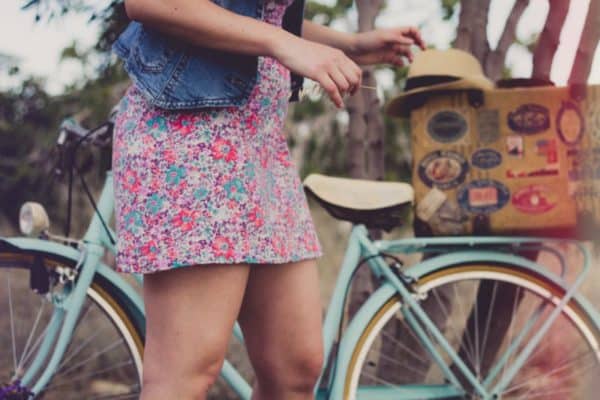 If you think 6 words sounds easy, think again! You won't have to waste a whole day on the computer, but it's tough to squeeze a full story arc from only 6 words. That's the challenge.
Here are a few of mine to get you started:
Homesick Colorado girl dreams of mountains.
Dear husband, I fired your girlfriend.
"I'm innocent!" (The judge did it.)
Ready for bigger writing projects? Take a peek inside my writing journal for inspiration.
If you're feeling extra creative, try your hand at six-word poems (rhyming) on odd days. Six-word poems are new to the challenge this year, but they've added a whole new layer of complexity.  Micro-poetry is definitely outside my comfort zone. It's a great way to flex your creative muscles.
Not sure where to start? See the examples of 6-word poems in the January 2017 Challenge post.
How to Play…
Six words. That's all you get. Experiment and have fun with it!
Write whatever sparks in your mind. You are free to use the prompt words in your story, but it's not required.
You can continue with the 6-word stories (non-rhyming) if you like.
If you're ready for the extra challenge, try rhyming poems on odd days.
Where to Post
Post your stories on Instagram. For the best chance of being featured, tag your posts with the challenge hashtags.

#PFSixWordChallenge
#PFSixWordPoems

Feel free to tag me (@PageFlutter ), so I can give your awesome story a shoutout!

Not on Instagram? No worries; just play along on my Facebook page.
Printable Challenge Sheet: MAY
Repost my challenge graphic in your Instagram feed for easy reference, then download the FREE printable PDF (A5 size) and paste it into your bullet journal.
May Challenge Prompts  PRINTABLE | pageflutter.com
**CLICK IMAGE TO PRINT**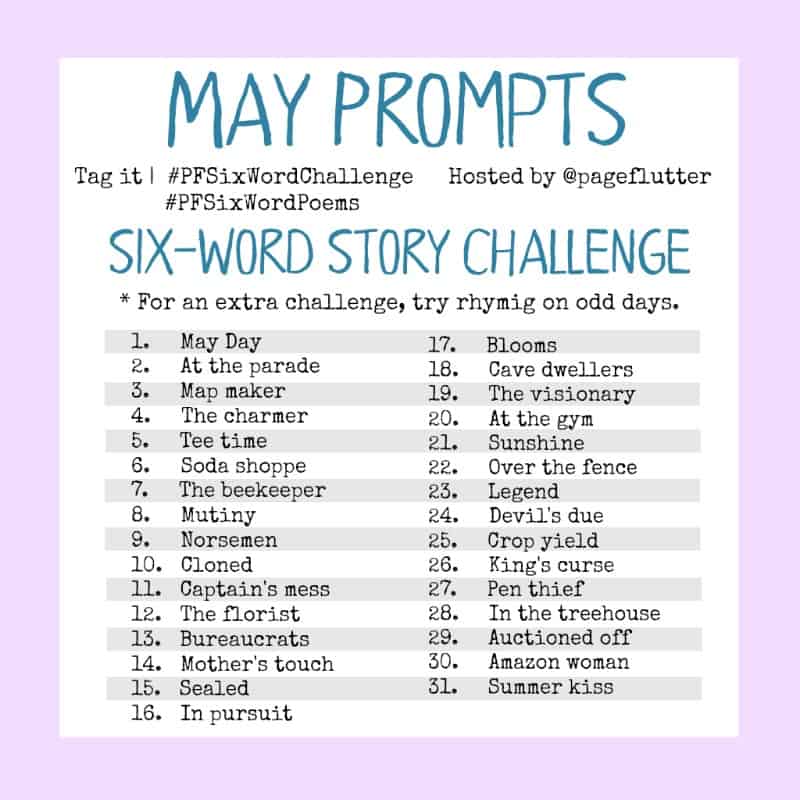 **CLICK IMAGE TO PRINT**
Remember: It's not about having the "best" 6-word story. It's about inspiration, so have fun & take creative risks!
If you need a little help getting started, check out my 6-Word Story board on Pinterest. For those of you looking to turn your six-word stories into larger projects, follow my boards devoted to the craft of writing. Happy journaling!
Follow Page Flutter | Megan's board WRITING | Six-Word Stories on Pinterest.
Brainstorm with me!
Subscribe to my newsletter for Page Flutter updates, posts, and announcements.
Don't worry, I only deliver the good stuff. No spam.
Facebook // Twitter// Instagram // Pinterest