Journaling with your kids can be a great way to bond over a shared interest. Some kids love it right away, while others resist. Try these 5 easy tips for journaling with kids. Let the fun begin!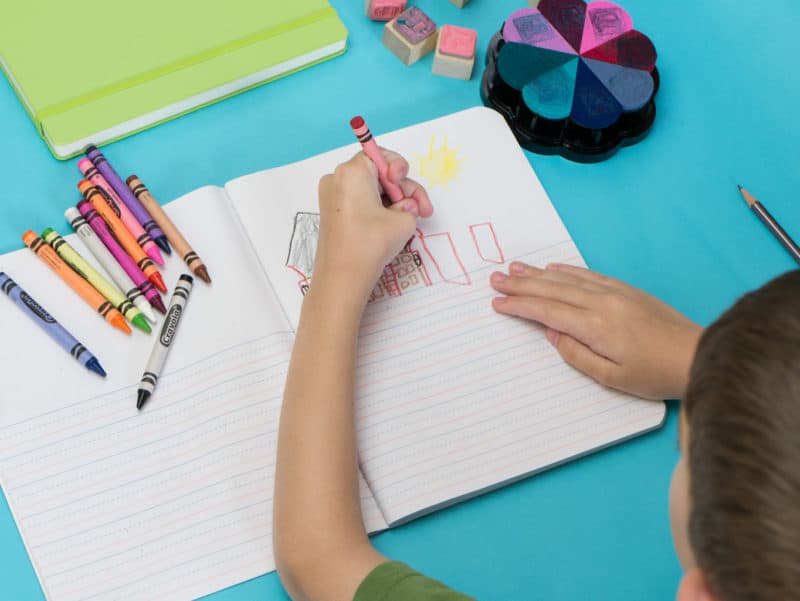 5 Game-Changing Tips for Journaling with Kids
Today, I have a very special post from my oldest son, Blue (not his real name). He's seven years old and has been begging me to put him on the website. As a general rule, I don't put my kids online, but my son was so patient that I had to find a way to include him. So, we put our heads together and decided to help parents and kids embark on journaling together! Aunts, uncles, grandparents and babysitters are also welcome.
1. Let Them Choose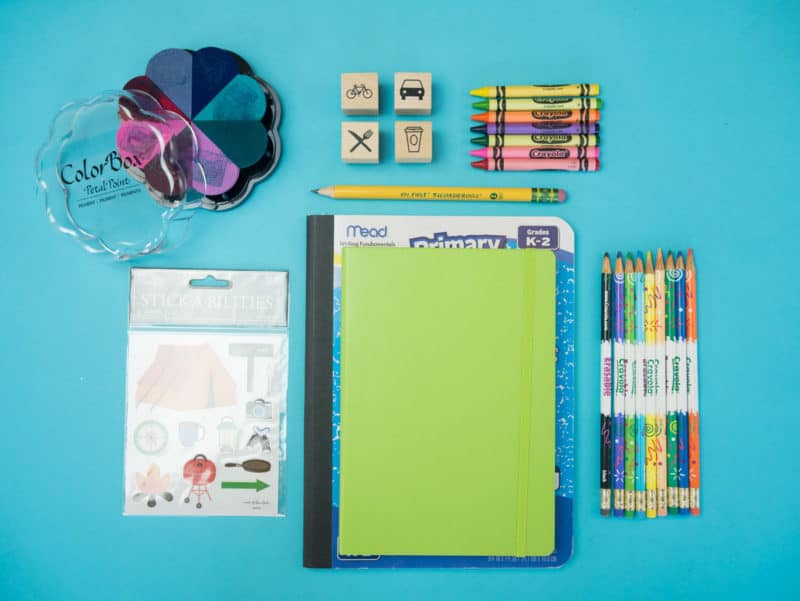 My son really loves his Mead Primary Journal. He'll be going into first grade, so he still needs the red and dotted lines to help him form his letters. He's also a lefty and has trouble with his grip. The best pencils I've found for him are My First Ticonderoga Pencils.
Older kids might prefer to have adult supplies. Unless cost is a concern, you might even let them choose a Leuchtturm1917, Rhodia, or Moleskine notebook. They'll probably take it as a sign of confidence that you are willing to invest in their journaling practice.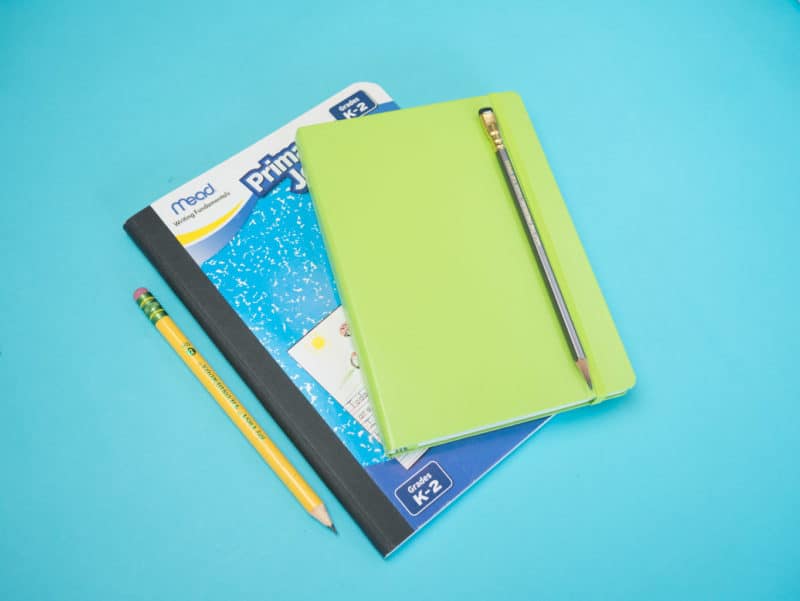 Most of these notebooks come in a variety of colors, so they'll be able to choose one that reflects their personality. If a fancy notebook isn't in the cards, make your first journaling adventure all about decorating the cover. You can find inexpensive vinyl decals on Etsy. Putting a personal touch on the journal can help  your kids connect with it. This is their personal space to dream, think, and be whatever they want.
You can also look for other kid-friendly supplies like crayons, stamps, and erasable colored pencils.
2. Share Your Supplies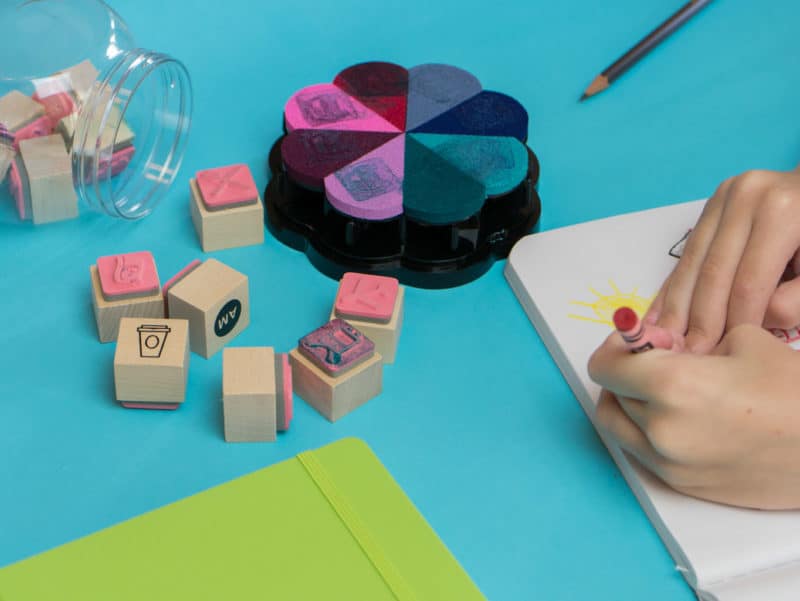 While it's important for children to have their own journals, you probably won't want to buy them too many supplies. My son likes to use my "special supplies." Ordinarily, I don't like sharing my toys. Each time he asks, I have to release my white-knuckle grip on my favorite pens, take two deep breaths and tell myself, "It will be ok." I have to live with some cross-inking on my color box stamp pad, but hey, it's worth it.
Kids know it's a treat to use these supplies. They'll look forward to your journaling sessions together if they feel they get special privileges. Â Plus, if you're like me, you love your supplies enough you'll want to supervise. My son asks for my stamps, but what he's really asking is for me to spend time with him. You bet, lil' bud!
3. Respect Their Journaling Style
It's tempting to prompt your kids in their journaling (and school, and sports, and life, and everything). Goals, daily to-do lists, dreams, self-discovery…those are your journaling topics. Let your kids journal their way. They might draw something fictional and describe it. Maybe they'll simply draw. Or scribble.
Encourage them in whatever style they seem to enjoy. Older kids might want you to stay out of it completely; that's ok, too. Maybe they'll benefit more from solo journaling. Just because you're not pouring over spreads together doesn't mean you can't bond through a mutual interest.

4. Make a Mess
Perfectionists, I'm looking at you! (and me). If you're particular about your own journal, you may have to sit on your hands to keep from interfering with your kids. Does it matter if they write the wrong date or misspell everything? Those childhood errors are a huge part of what gives kid journals their charm; you'll look back at these little notebooks and cherish each little quirk.
Plus, kids love messes! Let them go a little wild and explore their creativity. We rarely encourage our kids to be untidy, but that freedom can light a fire in them. "Messy Journaling" will probably become their favorite part of the week.
5. Emphasize Your Time Together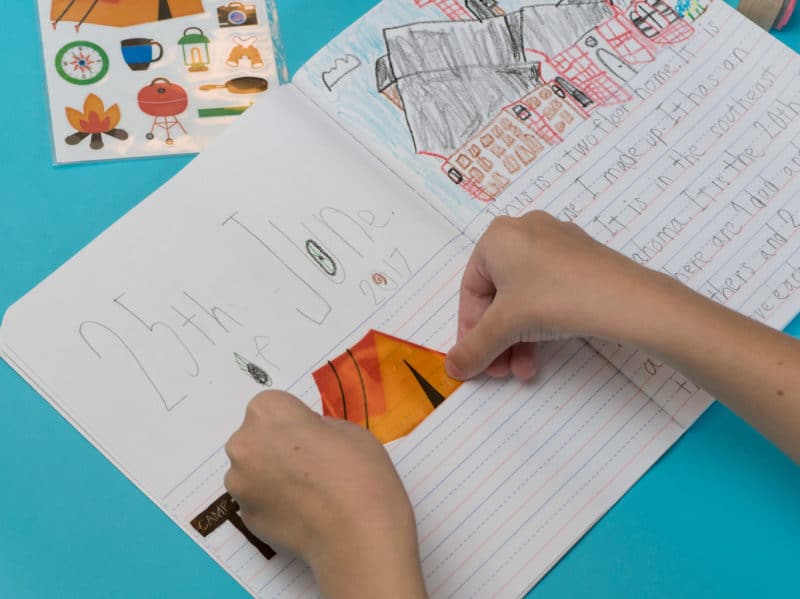 When all is said and done, I don't care what kind of journal pages my son produces. Who am I kidding? I think everything he makes is dipped in miracle oil and dusted with sunshine. I'll save anything he makes.
What matters to me is that we spent time together. We created, laughed, and learned together.
Blue's Journaling Tips for Kids:
I already mentioned that I don't normally let my kids appear on the website. Since he finally has a chance, Blue asked if he could pass along his journaling wisdom. So, here are some (verbatim) tips from my very wise 6 –oops!– I mean, 7-year-old…
Think of a plan for what it should look like at the end.
Get all the colors you need.
Make sure you know what to write about.
Ask for help with spelling.
Make the outline of your drawing.
Color your picture.
Put on the finishing touches.
Make sure you didn't forget anything.
Put the date on the paper.
Remember to put your name on it.
It's okay if you make a mistake.
You can always remake it on a new page if you need to.
Have fun!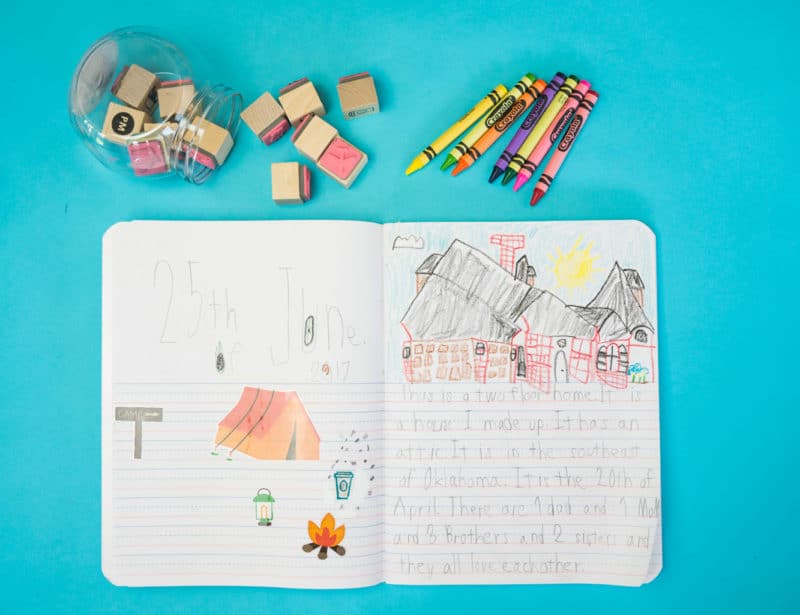 Have you tried journaling with your kids (or nieces/nephews/grandkids/step-kids, etc.)?
Comment below to share your tips for encouraging happy journaling.Â
Brainstorm with me!
Subscribe to my newsletter for Page Flutter updates, posts, and announcements,
and FREE access to resources in the Vault!
Don't worry, I only deliver the good stuff. No spam.
Facebook // Twitter// Instagram // Pinterest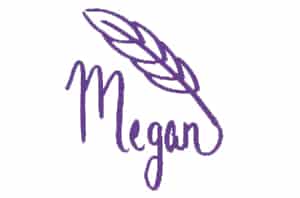 SaveSave
SaveSave
SaveSave
SaveSave
SaveSave
SaveSave