Do you love colorful washi tape? These super easy (and thrifty) washi tape projects will make quick work of your washi tape stash and brighten up your routine!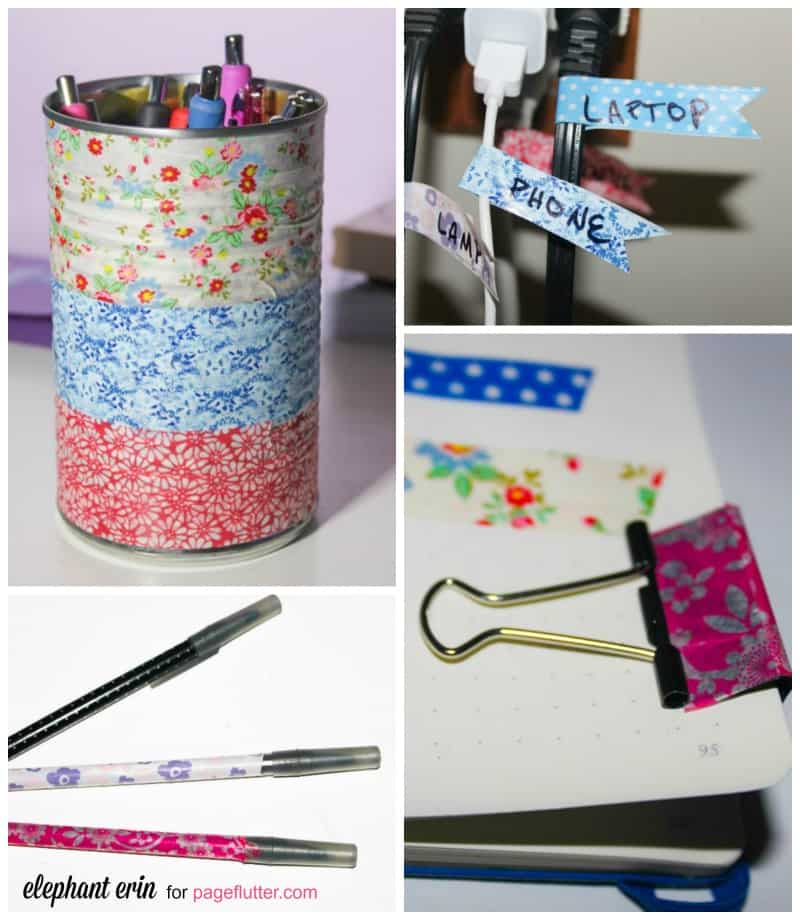 10 Stash-Busting Washi Tape Projects To Try Today *VIDEO*
We have another new face on Page Flutter! I've asked Erin (of elephanterin.weebly.com) to share her favorite washi tape projects with us. It's a great excuse to clean out your drawers. Hey, once they're empty, you'll have an excuse to pick out new washi tape. Plus, these projects are great if you're on a budget. Without further ado, let's see what Erin has for us today!
Thanks, Megan! Hi everyone.  If you haven't heard of my site, elephanterin.weebly.com,  it's completely understandable. I only started it about a month ago. I've learned a lot from the people around me–and from life in general–and want to pay that forward to all who read my posts and site. I'm super excited to be working with Megan because I absolutely love Page Flutter and am constantly inspired by her posts:)
For my first post on Page Flutter, I have chosen the almighty WASHI TAPE! If you're a Bullet Journal user or follow any popular Bullet Journal sites, you know that Washi Tape is a very popular supply in the community. I have accumulated a ton of Washi Tape, and frankly, I have way too big of a collection to use it only for Bullet Journaling. That led me to find many other uses for this cute semi-transparent Japanese tape. Believe me, there are some pretty practical uses, but there are also many that are fun!
Where to Find the Best Washi Tape
Even if you're not already a washi tape fanatic, these projects might push you over the edge! If you want to start your own stash, you can usually find washi tape in any store that sells craft or planning supplies. To get the really beautiful patterns (like this one and this one), you'll want to check out the places below.
Amazon: Amazon has washi tape sets that are inexpensive and give you a good variety of colors.
Etsy:Â Etsy is amazing because there are entire shops dedicated to only washi tape.
If you can't whittle your stash down to a few rolls, you might like a washi tape organizer
You went in for 1 roll of washi tape and came out with 10. Right? Well, you need some stash-busting washi tape projects to keep you taping with glee! Watch all of these projects in action at the video above, or check out the photos below for the skimmable version.
10 Stash-Busting Washi Tape Projects To Try Today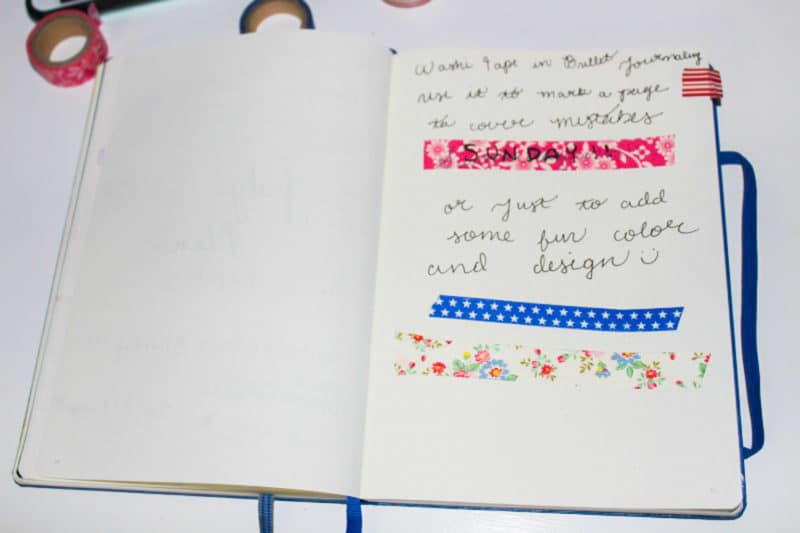 Washi Tape in the Bullet Journal:Â Most of the Bullet Journal community is familiar with the ways washi tape can be used in the Bullet Journal. Mark pages, cover mistakes, and even color code collections!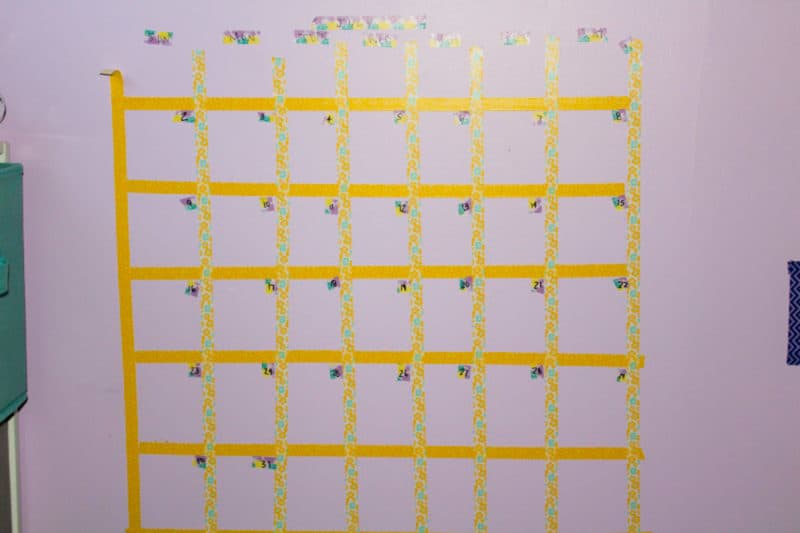 Washi Tape Calendar: As a college student, it's incredibly important to stay on top of due dates. Sometimes Bullet Journaling just isn't enough, and you practically need the due dates to smack you in the face. That is exactly what this Washi Tape calendar does! You can make it as big or as small as you like, and use any color or pattern washi tape you have. Write the event directly on washi tape, or use a sticky note that you have on hand. Either way, it's a great way to create a completely removeable calendar on any wall. It's practical, but more importantly, it's fun!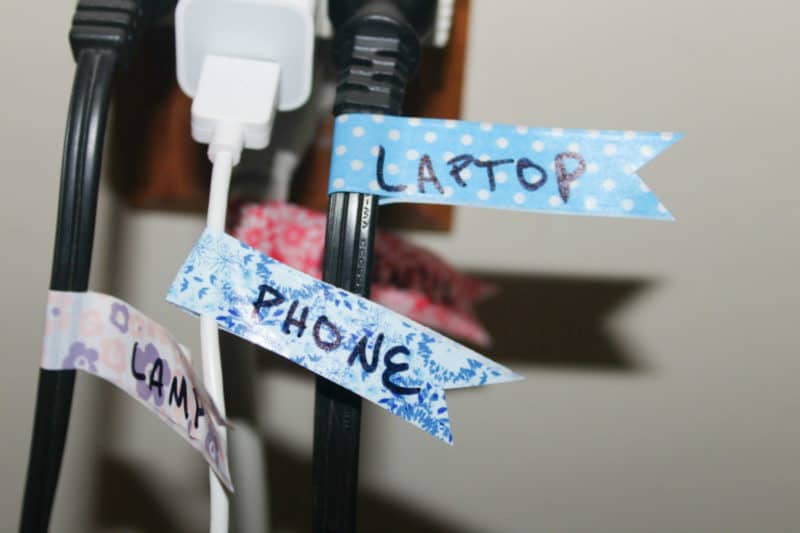 Washi Tape Cord Labelers: I have an extension cord in my room, and I always seem to unplug the wrong thing. Plus, I can never tell the difference between the cords. Creating labels with washi tape was the perfect plan for eliminating the cord mixups. I have so many different colors and styles the confusion will never occur again. It's so convenient to write on with a Sharpie–Why buy a label maker when you can just create them yourself?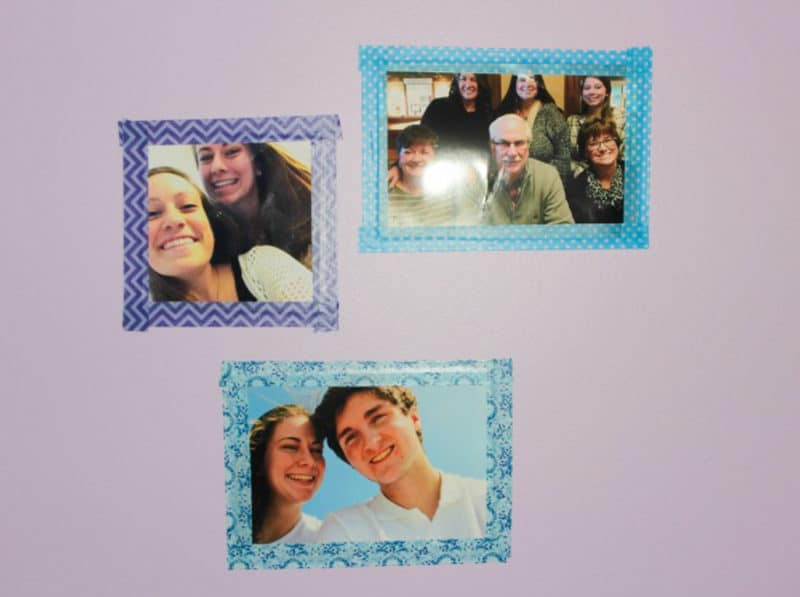 Washi Tape Frames: I am one of the most indecisive people when it comes to hanging pictures and posters on the walls! In searching for a nonpermanent solution to my problem, washi tape fit the bill flawlessly. You can be fancy and create intricate designs, or keep it plain and simple. Either way, it's a fun and easy way to instantly hang that picture you just printed.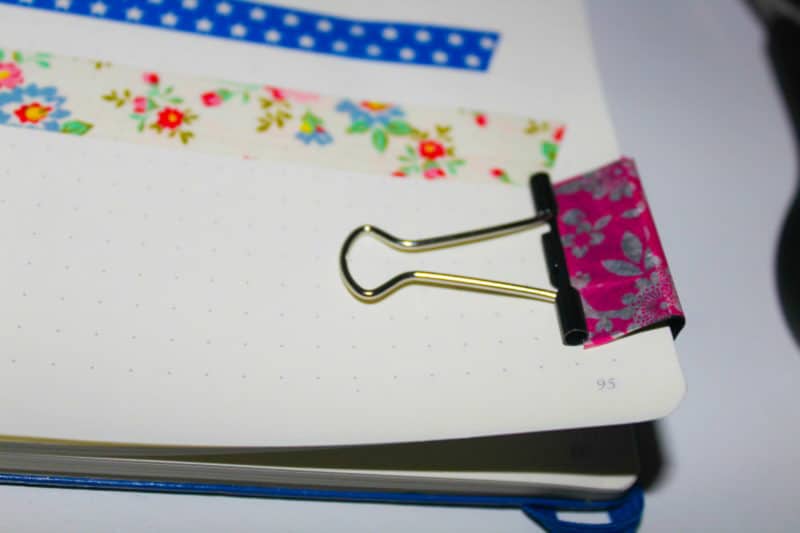 Washi Tape Binder Clips: I don't know why, but binder clips are expensive. I always see fun patterns and shapes, but 5 bucks for 2 clips seems steep to me. I headed to my local dollar store to hunt for a solution.  I found a whole package of binder clips for a dollar. Then I went through scrapbook paper, fabric (and so much more) before I realized I could use washi tape to cover them! I have so many different patterns (including holidays) I can switch switch them out whenever I feel like it. I'm never paying more than a dollar for a set of binder clips again!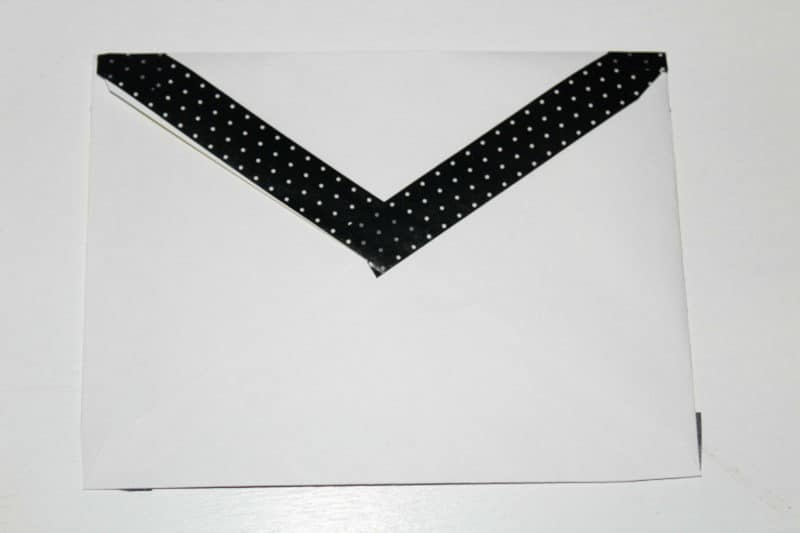 Washi Tape Decorative Envelopes: When I first bought Washi Tape I thought it would be the perfect solution to avoid the taste of envelope glue, and now it has turned into something way more than that! I love using fun designed to make a letter feel more special. 🙂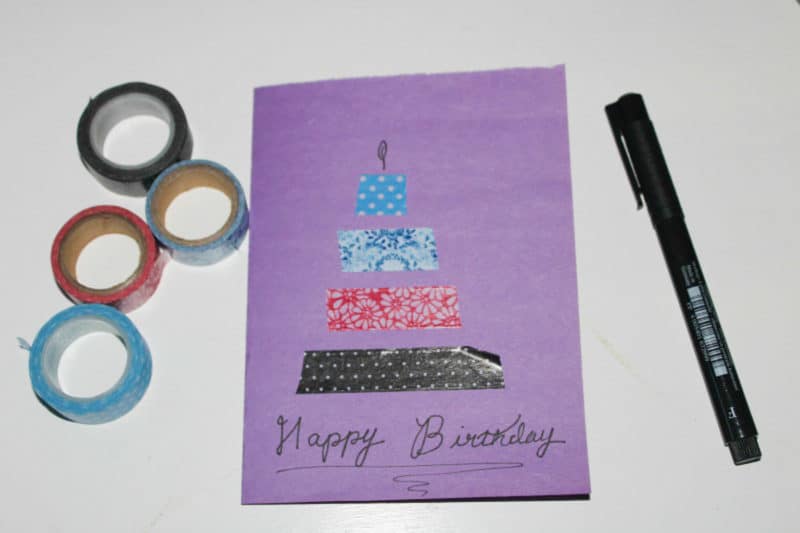 Washi Tape Birthday Cards: After you have decorated your envelope for your best friend's birthday, it's time to make a card. You can put a personal touch on something as simple as folded printer paper. Who knew that a tower of washi tape looks like a birthday cake? I sure didn't (until I drew a little candle upon the top). Plus, you can save the 5 bucks you were going to spend on a card. It's the thought that counts!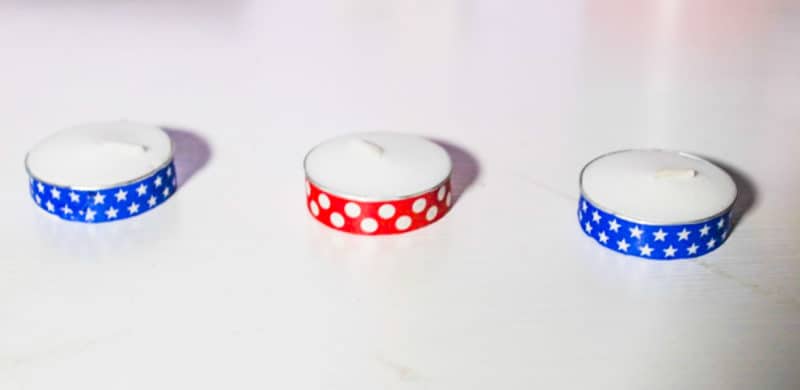 Washi Tape Tea Lights: Every time I buy tea lights, I feel like I have to buy something to display them in, and most of the time, it's just one at a time. I find one one light a but boring! I wanted something simple, yet cute, that would let me have as many lit as I needed. Dressing the plain silver tea light with washi tape was my solution. Throwing a 4th of July Party? Go to your local craft store and pick up some fun red, white, and blue washi for a perfect centerpiece.Â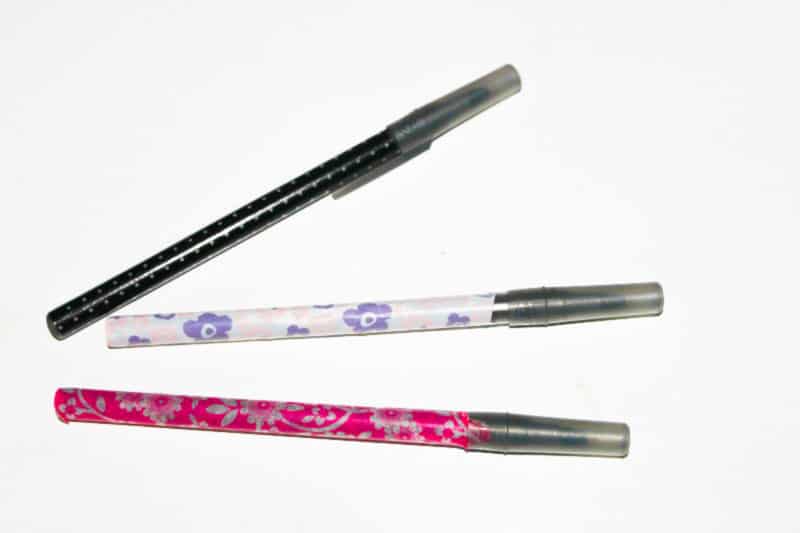 Washi Tape Pens: I have always loved the pens with cute designs, but have never loved the price. Covering a plain ballpoint pen with some cute washi tape was the perfect solution!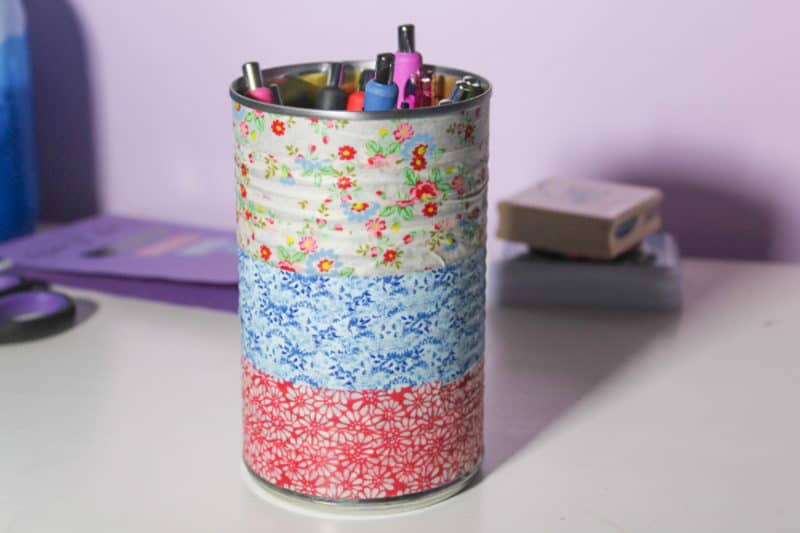 Upcycle Washi Tape Cans: Soup cans are the perfect size and shape for pen/pencil holders, and adding washi tape makes them a Pinterest desk space dream! Don't get too excited and forget to wash them out. Also, check for sharp edges.
These projects are just the tip of the iceberg when it comes to washi tape. I'm constantly amazed at how often I find new uses for it. On that note, let's hand this post over to you!
What genius washi tape projects have made your life easier? Want to confess how many rolls are in your stash right now? You know we won't judge. 😉  Leave a comment below!
SaveSave
SaveSave
SaveSave
SaveSave
SaveSave
SaveSave
SaveSave
SaveSave
SaveSave
SaveSave
SaveSave