I used my trusty Bullet Journal to plan some screen-free summer activities for kids (and grownups). Get ready to unplug and live your best summer ever!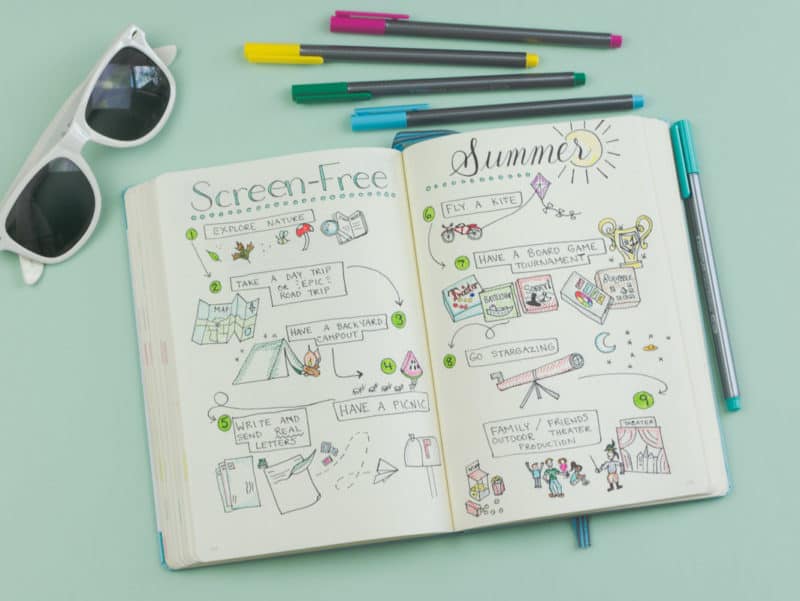 Screen-Free Summer Activities to Beat the Boredom |
June is here, and we've definitely noticed at my house. My kids are out of school for the summer, which means I have extra noise, fights, "No-he-did-it"s, and the legendary: "Mom, I'm BORED!"
With a full-time blog, a book to write, my closest family a thousand miles away, and two kids out of school, summers have a tendency to turn me into a one-woman circus. I know I'm not the only mom who is tempted to send her kids away with a tablet just for a little peace and quiet. Real talk: I've caved to screens more times than I care to admit. So, I sat down with my journal to brainstorm some screen-free summer activities. My doodle page sparked even more ideas, so I just kept going.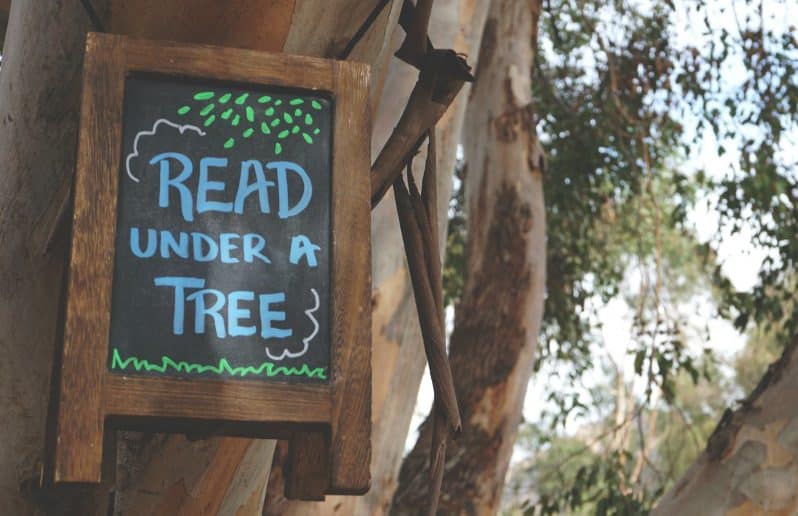 Many items on this list are independent activities (depending on the age of your kids), but others are fun ways to connect with friends or family away from electronics.
Even if you don't have kids, chances are you spend too much time on electronic devices, too. I know I do! Between the blog, email, and social media, it feels like I spend half the day buried in my phone. This list is for grownups just as much as it is for kids.
Summer is too precious to waste on screens!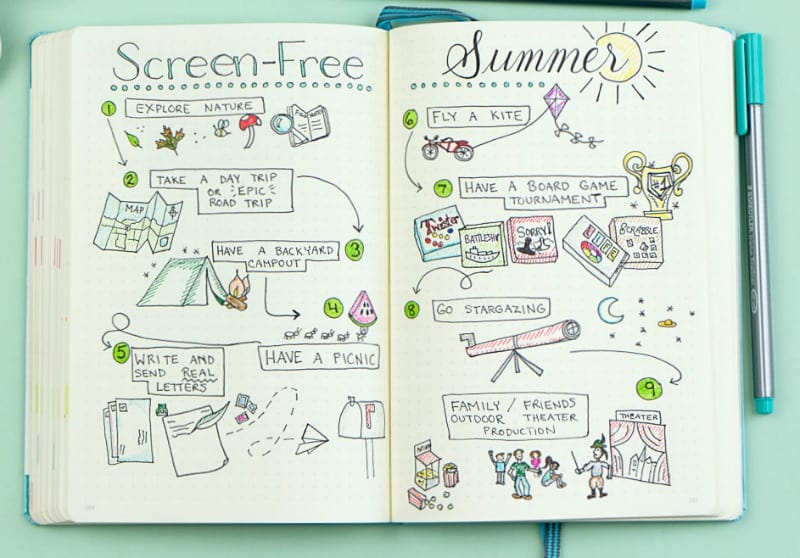 My Summer Activities Bullet Journal Brainstorm Page
This project began, as so many do, with a page in my Bullet Journal. I brainstormed some fun ways to unplug with the kids. I don't always brainstorm in doodles; in fact, I usually prefer simple lists. Summer seemed like a great time to celebrate color and creativity.
I quickly realized I needed 2 lists: activities the kids can do alone (when I'm occupied), and activities we can do together. My goal is to always have an alternative to electronics on deck. No waiting!
Quick/Independent Activities
After I made my journal pages above, I decided I needed some simple activities on hand for those "Mom, I'm bored" moments. I worked up this list of activities for quick redirects. Older kids will be able to manage most of these alone. Use your best judgement if you have younger kids.
Do a puzzle
Blow bubbles outside
Run in the sprinklers
Read a book
Build a blanket fort
I'm Bored Activity Cards
Start a sticker book
Write and draw in a journal
Go on a backyard safari. Don't forget your field notes!
Build a Lego castle
Learn hand lettering
Fly a kite
Create a sidewalk chalk masterpiece
Write a letter to someone far away
Study the night sky
Jump rope
Play with marbles, jacks, or learn yo-yo tricks
Learn to tie sailing knots
Make an improvised instrument
Ride a bike
Find butterflies and bugs
Make up a song
Create your own comic book
Find and press wildflowers
Create a fairy garden
Paint a pet rock
Learn Cat's Cradle

With Friends/Family
While the list above is to keep the kids occupied, I wanted to make sure I wasn't "getting rid" of the kids all summer. The activities below are great ways to unplug  as a family or circle of friends. Go nuts!
Host a board game tournament: Hit all the classics like Scrabble, Monopoly, Clue, Battleship, and Life.
Start a club
Put together a scavenger hunt
Host a murder mystery barbecue
Set up a lemonade stand
Host a stargazing party
Go on a road trip
Slip n' Slide
Host a Mad Hatter Tea Party
Go to a baseball game
Organize a neighborhood theater production (outdoor)
Make homemade ice cream
Play Ultimate Twister
Backyard camping
Start a rainbow (veggie) garden
Go to the zoo
Make old-fashioned sundaes
Put on a puppet show
Go on a picnic
Make a bonfire
Piggyback ride races
Water balloon fight
Climb a mountain
Leave happy quotes in random places
Flash mob
Be a tourist in your own town
Play croquet with lawn flamingos
Catch fireflies and release them
Do a color run
Go berry picking
Oh, no! Did I miss your favorite summer activities? Drop me a comment below to share your tips for ditching electronics this summer. 
Brainstorm with me!
Subscribe to my newsletter for Page Flutter updates, posts, and announcements,
and FREE access to resources in the Vault!
Don't worry, I only deliver the good stuff. No spam.
Facebook // Twitter// Instagram // Pinterest