You don't need a designer journal to get organized. You can Bullet Journal in a basic notebook. Alice from The Geeky Burrow is sharing her favorite tips for getting started WITHOUT special supplies.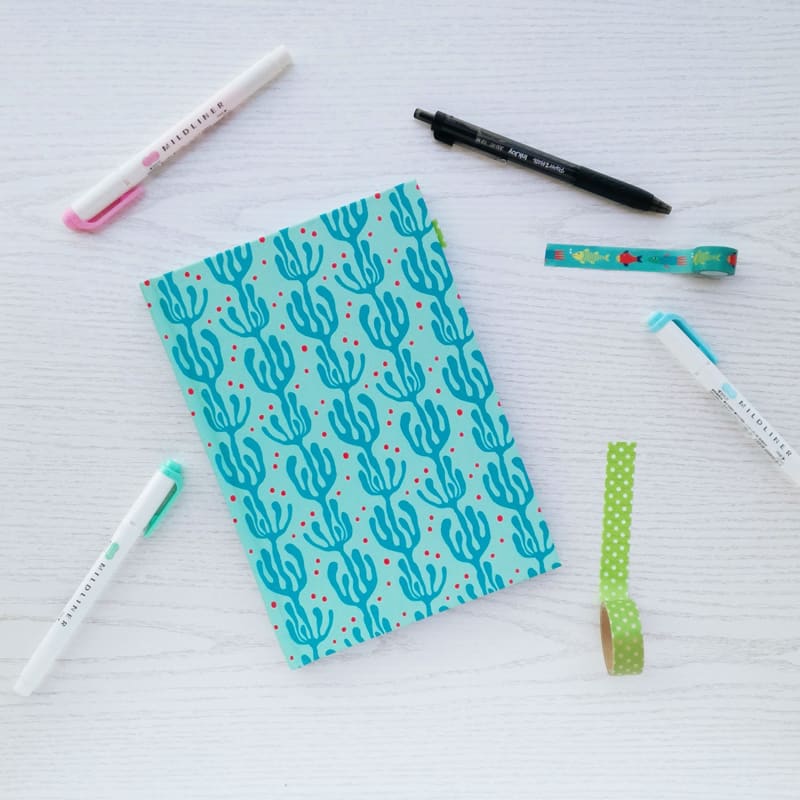 3 Easy Tricks to Bullet Journal in a Basic Notebook
September means new beginnings to many people! Back-to-School season can be considered the start of a new year, maybe even more than January. This time of year is also when many of us get a new planner or start a new journal. If that sounds like you, you're in the right place because I have a couple of tips and tricks for you today!
First of all, remember there is no right or wrong time to start a Bullet Journal®. You could just open a random notebook right now and start writing. Second, I'd recommend both new and seasoned journalers to do a quick review of  www.bulletjournal.com. After two years, I still like to go reread the foundation of this method, I usually discover I'm complicating things, making it look like a complicated process when it's actually very simple.
Now, the journal. The most popular choice out there is definitely a hard cover Leuchtturm notebook with dotted pages, but I didn't start with it because this brand can be pricey and hard to find in some areas. If you live in the US, I'm pretty sure that Amazon and many other retail shops (like J*B Welly) have it, but it isn't the same elsewhere. I started my very first Bullet Journal in a basic notebook found among my school supplies and, after realizing this method was for me, I moved to a fancier notebook. It was a nice experience, but I also started noticing it was a bit expensive after ending up with two and a half Leuchtturm journals, and that was just for 2016! Twice the price of a simple planner. So one of my goals for the future is to save some money using cheaper stationery.
A couple of weeks ago, I picked up this cheap (and very cute!) notebook at my local Flying Tiger shop. I thought it was perfect to show you that Bullet Journaling in a basic notebook is possible, since I know many people would feel discouraged by not being able to afford or find a Leuchtturm/Moleskine/Rhodia notebook. Oh, and when I say cheap, I mean that this notebook only cost me 1€ (about $1.20 in dollars)! I didn't want blank paper because I need some guidance and, since my planning is all about lists, I decided that lined pages were what I needed.
You absolutely can Bullet Journal in a basic notebook! Here are my easy tricks to make the experience way better.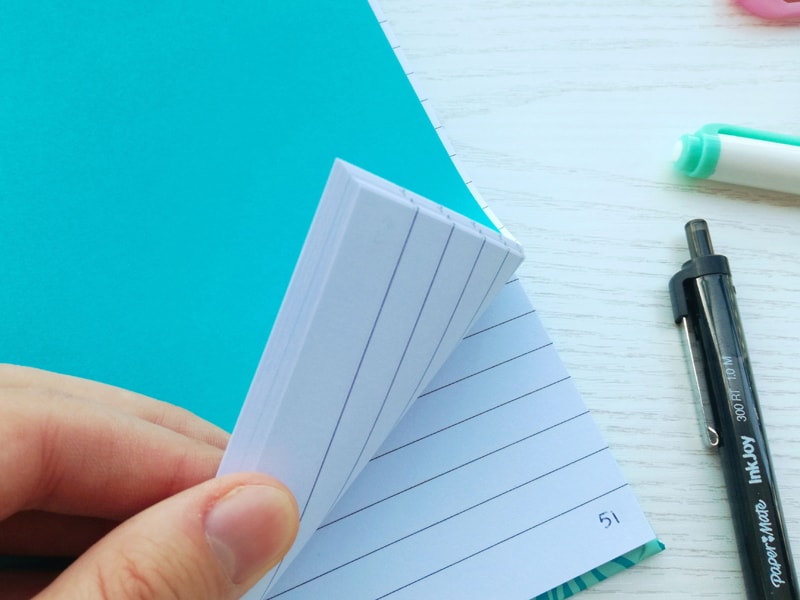 1. Number only odd or even pages
I don't remember where I learned this trick, but it actually changed my life! As you may know, the index is one of the core concepts of Bullet Journaling, and it's so handy that I keep using it even in my other kind of notebooks. I used to patiently number every single page, having to deal with wet ink, smears and so on, before discovering this method. Now I just number the right pages, i.e. the odd ones, and it still works to refer the numbers for the index because if I see that the right page is numbered 5, for example, I would know for sure that the left one is 4, even if it isn't written. You can do the same numbering only the even pages (the left ones), it's up to you. This method is very flexible and it will save you some time.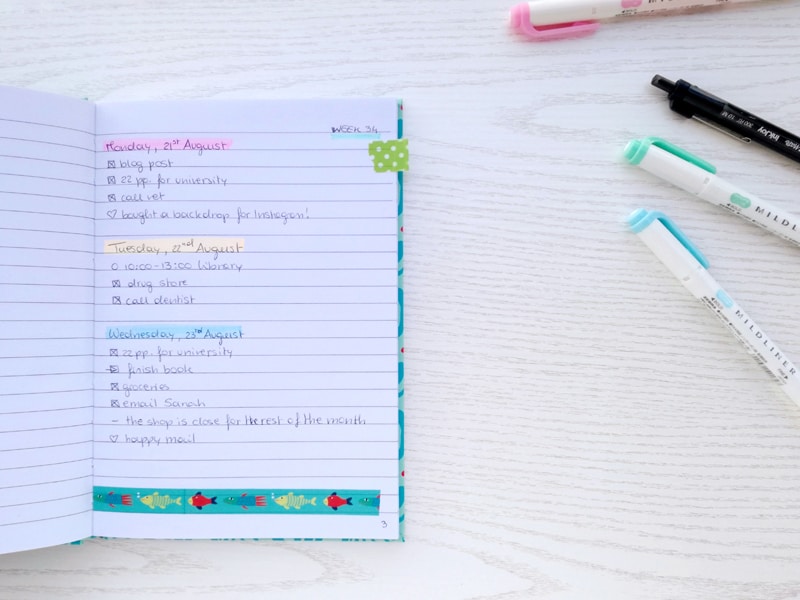 2. Highlight or underline titles
When I watch Bullet Journal videos on YouTube or photos on Instagram, I always notice amazing titles written in a perfect cursive, or elaborate ones decorated with colors or brush pens. I'll watch them and wish my journal looked like that. But the truth is that spending too much time on the title of the page is very unproductive to me. I usually forget what I was going to write down by the time I finished it!
Since I've decided to Bullet Journal in a basic notebook, I accept that the paper of my notebook (like this one) may not be the best quality. Using fancy pens is not ideal since the ink would bleed through. That's why I'm a big supporter of highlighted or underlined titles. In the first case, you should pay attention that the ink is dry before using a highlighter. Again, because of cheap paper, I just use a ball point pen (my all time favorite is the Papermate Inkjoy, by the way) and my Mildliner won't smear the ink. If you're using a gel pen, I'd recommend you only underline the text. Gel inks usually smear a lot.
You don't need fancy pens, but if you're looking for options, check out this post.
You don't always have to create fancy titles for your collections. Most of the time I just underline the title with the same ball point pen or I write it all caps. But a little line of highlighter can make your page look nicer in no time.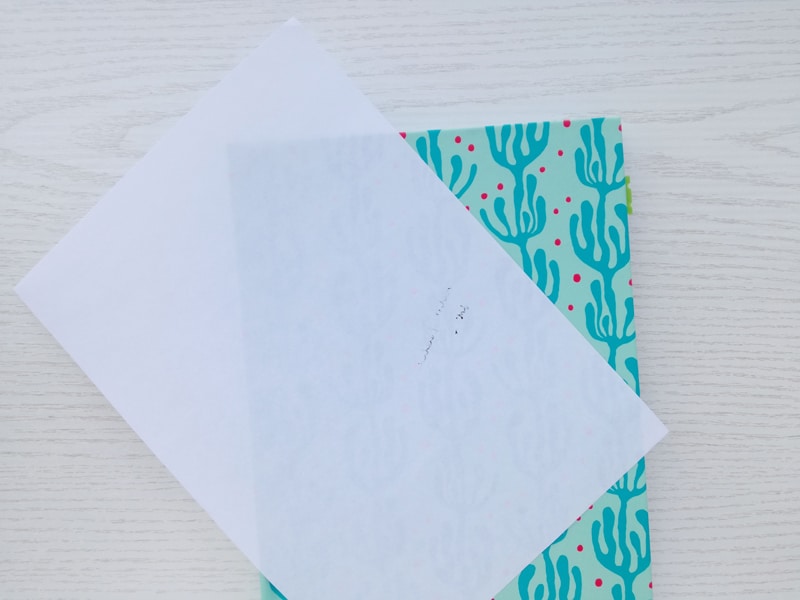 3. Always carry a sheet of paper to absorb gel ink
Since this notebook doesn't work very well with gel inks, I just avoid them altogether. But if you use gel or wet ink pens (and you're lucky enough to write on thicker paper), I would totally recommend you to carry a scrap piece of paper inside your notebook to use as blotting paper. Just insert between pages when you have to write on the other side. It used to be very common in school when children still used fountain pens back in the days.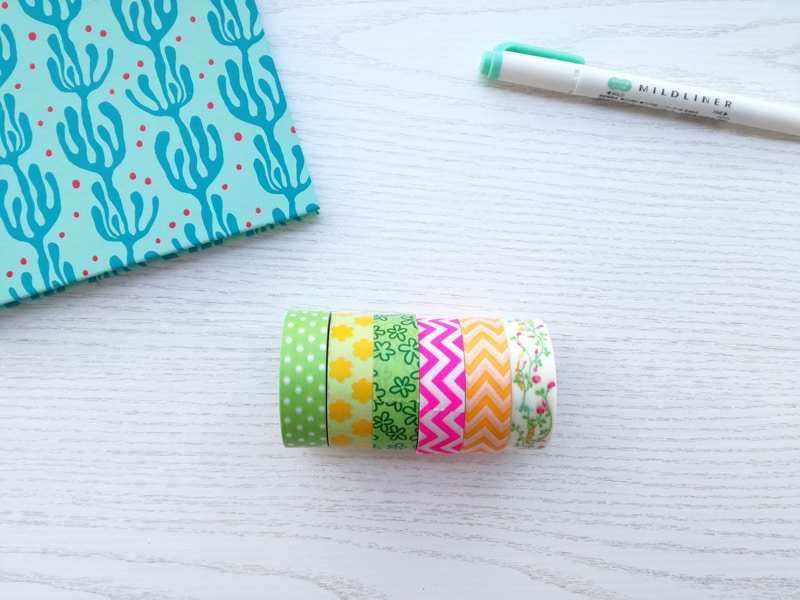 BONUS. Use washi tapes to decorate
As I mentioned above, we always see amazing decorations, lettering, and fancy headers and we wish our pages were more colorful and less boring. Well, the solution is very simple: washi tape. I don't have a particular brand I prefer because I usually look for good deals around. My favorite places are Flying Tiger and Amazon, the latter is where I found the beautiful washi tapes in the photo above (when I purchased them they were under $5!). They are cheap and give a pop of color to the page without spending too much time decorating. You can also use washi tape for countless projects around the house.
I hope this post was helpful for those of you who are on a budget or just want to save some money.
Do you like to decorate your Bullet Journal or do you prefer to keep it simple? Would you Bullet Journal in a basic notebook? Feel free to let us know leaving a comment down below!
SaveSave
SaveSaveSaveSave
SaveSave
SaveSave
SaveSave
SaveSave
SaveSave
SaveSave