Having trouble sifting through all those notebooks for bullet journaling? I've rounded up some of my favorites to simplify your life.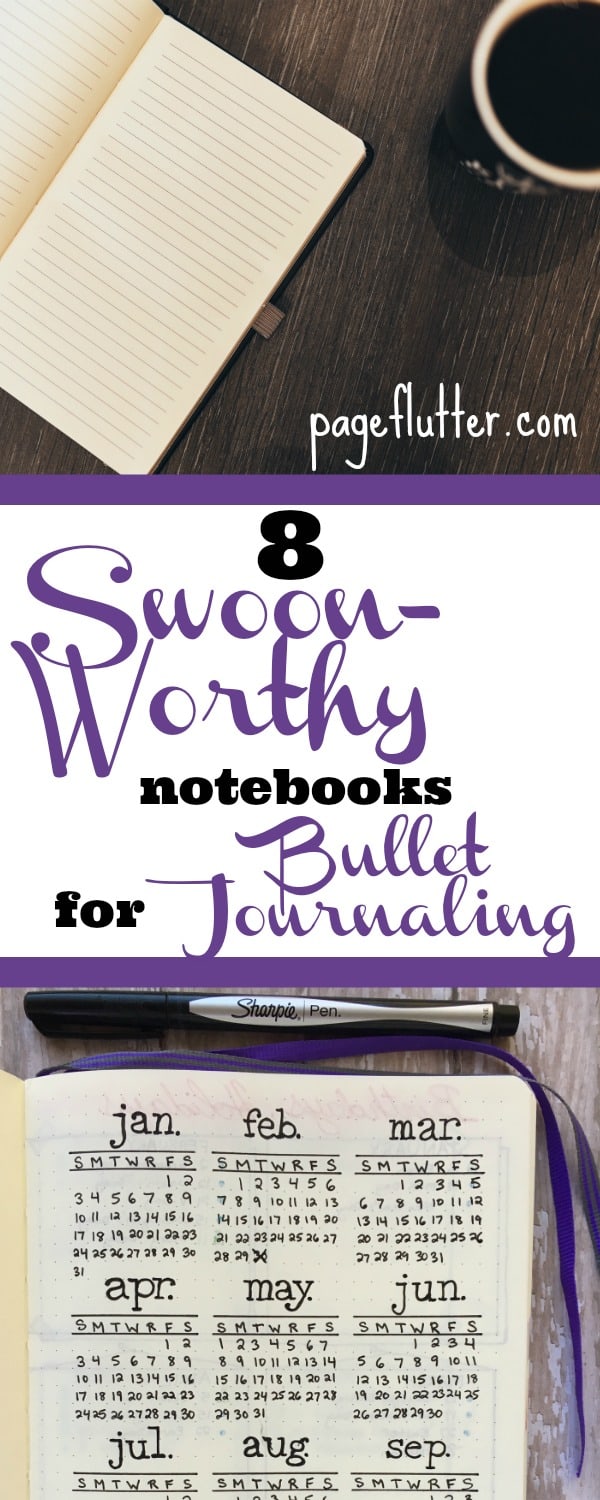 |8 Swoon-Worthy Notebooks for Bullet Journaling|
Hobbies are notorious for the equipment and accessories necessary to keep them going. They're great fun at first, but one day you look around and wonder how you ended up with so much stuff!
When I first picked up bullet journaling, I knew I did not want a hobby—I was looking for a solution. My blog, creative writing projects, submissions, reading lists, and family schedule were a hot mess, so the last thing I needed was a diaper bag full of equipment to organize my life.
Bullet journaling has only two necessities: a notebook and a pen. The type of notebook and pen depends largely on the user's budget and requirements.
In an attempt to help you buy only one notebook—the right one—I've rounded up some of my favorites for bullet journaling. They all have pros and cons, so keep your needs in mind when considering each option.
*UPDATE*  The official Bullet Journal notebooks are back in stock at http://store.bulletjournal.com! The official notebook is made by none other than Leuchtturm1917 (my personal favorite), and comes with a printed bullet journaling guide, key, index, three ribbon markers, and everything else you would expect from Leucchtturm (numbered pages, elastic closure, gusseted pocket, sturdy cover, smooth 80g paper). This notebook is designed by Ryder Carroll, the bullet journal inventor himself, so  you definitely can't go wrong with it! 
1. Leuchtturm1917 A5 Notebooks
My notebook of choice. I'll refrain from reciting my "Ode to Leuchtturm." I'm partial to the dot grid version, but Leuchtturm also makes lined, squared, and blank versions. As far as I'm concerned, Leuchtturm1917 is the ultimate bullet journal notebook; the paper is high quality, covers are durable, pages are pre-numbered, there's a pre-printed index in the front, a pocket in the back, two ribbon markers, an elastic closure, and they come in every color of the rainbow. You can see my bullet journal in action here.
2. Moleskine Notebooks
Moleskine notebooks compare closely to Leuchtturm1917, and the brand is more accessible in the U.S. I've found soft cover versions with lined and dot grid paper at Target. They are smaller than Leuchtturm1917 (192 pages vs. 250), and some bullet journalists find the paper too thin for elaborate colored doodles. Still, this is a quality notebook that can take a lot of abuse.
3. Rhodia Webnotebook A5 Dot Grid
Rhodia fills their A5 notebook with 90g Clairfontaine paper, which holds up to fountain pens and calligraphy inks. With a ribbon marker, elastic closure, pocket on the back cover, and 192 pages, Rhodia's Webnotebook is Moleskine's twin, but with much better paper.
4. Midori MD Notebook, A5 Grid Paper
Midori makes smooth paper suitable for fountain pens and calligraphy. If paper quality is your biggest concern, you should give Midori a closer look. One thing to keep in mind is that the cover is thin paper, so you'd be wise to invest in a Midori MD plastic cover or stout paper cover.
5. Miquelrius Soft Bound Medium Journal, Graph
Even with 250 pages in my Leuchtturm1917, I find myself rationing pages. Having 600 pages to work with in the Miquelrius gives you plenty of wiggle room (and then some). On the downside, the binding is glued, not threaded. If you need a notebook that lies completely flat, this one might not be for you.
6. Moleskine Cahier Journal
Moleskine Cahiers are my pick for bullet journalists who take customization to the max. Sold in packs of 3, cahiers are small and lightweight but maintain the quality you would expect from Moleskine. They're perfect for short-term projects or separating your journal into sections. I've even seen some bullet journalists use a fresh cahier for each month, and the brown paper cover creates a stunning backdrop for doodles and lettering art.
7. Northbooks Dots Hardcover Notebook
Northbooks hardcover notebooks are for no-frills bullet journalists. Just 192 pages of smooth ruled or dot grid paper, sewn into a hard cover—straight up, no chaser. It's a well-made notebook, to be sure, and will suit those who prefer simplicity. No ribbon markers, pockets, pre-printed pages, or any other extras, but it does hold up over time, lies flat when open, and stays true to the simple spirit of bullet journaling.
8. Essentials Grid-lined Notebook, A5 size
The Essentials notebook has a sturdy cover and nearly 200 pages of quality grid-lines paper. Many bullet journalists who find Moleskine's paper thickness inadequate are satisfied with Essentials, and it is less expensive than Moleskine and Leuchtturm1917.
Any notebook lying around  your house will get you started journaling, but quality details make the process come alive. Any one of these notebooks would serve you well as a bullet journal; now, it's just up to you to make it your own!
Oh, no! Did I miss your favorite notebook? I'd love to hear from you. Leave me a comment with your go-to brands, and tell me how you use them in your daily life! 
Brainstorm with me!
Subscribe to my newsletter for Page Flutter updates, posts, and announcements,
and FREE access to resources in the Vault!
Don't worry, I only deliver the good stuff. No spam.
Facebook // Twitter// Instagram // Pinterest