Bullet Journal Self-Care Spreads You Should Try Today| This post was done in collaboration with Cratejoy, the only online marketplace for subscription boxes. From planner and stationery, to wellness, book clubs, and beauty, there's a subscription box for you on Cratejoy.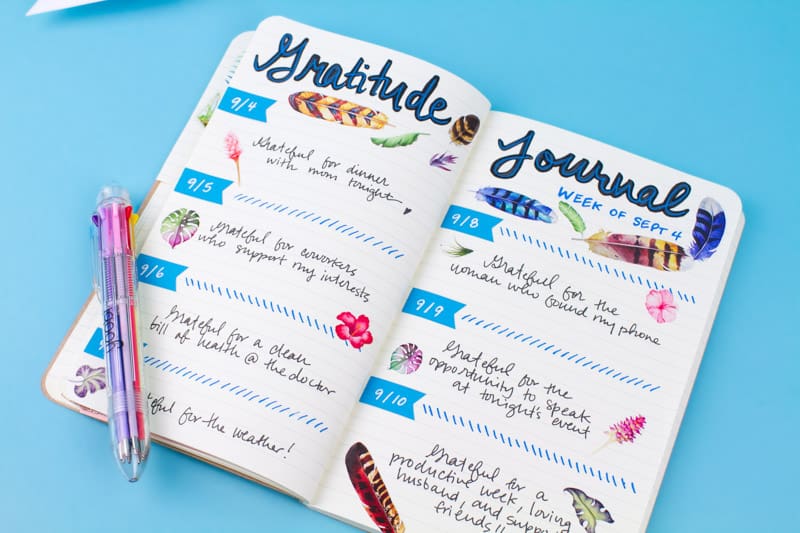 3 Bullet Journal Self-Care Spreads You Should Try Today
I'm so excited to have Cratejoy back on Page Flutter. A while back, they let me review a couple of their boxes for relaxation and self-care. I completely fell in love with this company and couldn't wait to work with them again. Today, they're sharing some of their favorite Bullet Journal pages with us. If you are new to Bullet Journaling, check out the video tutorial at bulletjournal.com. With that, I'll turn it over to my friends at Cratejoy!
Thanks, Megan! When it comes to Bullet Journaling, productivity spreads are the gold standard. And though a great spread can give you that little burst of energy you need to knock out your to-do list or plan your week, the real secret behind being productive is a good head space.

To help you find and maintain that good energy, we're sharing three of our favorite self care and wellness Bullet Journal spreads so you can track and work towards your best you. Once you find spreads that work for you, you can even make a product out of them, and sell your own journals if you are up for it!
As for the supplies, all of today's Bullet Journal self care spreads were made with stickers from Pipsticks , Moonlight Gelly Roll pens, Sharpies, and Pilot pens.
Let's Dive in!
Gratitude Journal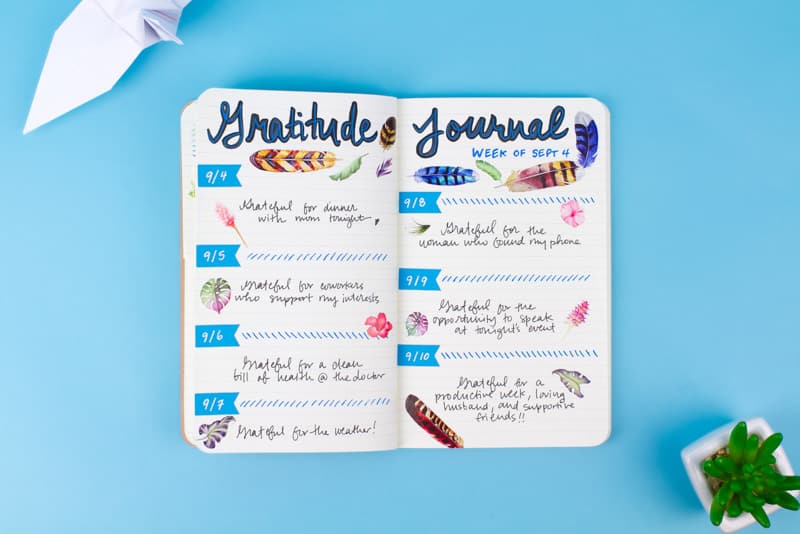 This spread is an easy way to practice gratitude on a daily basis. Modeled after a traditional weekly spread, there's a space carved out for each day of the week. But instead of putting your tasks here, you'll jot down the moment from your day that inspired the most gratitude.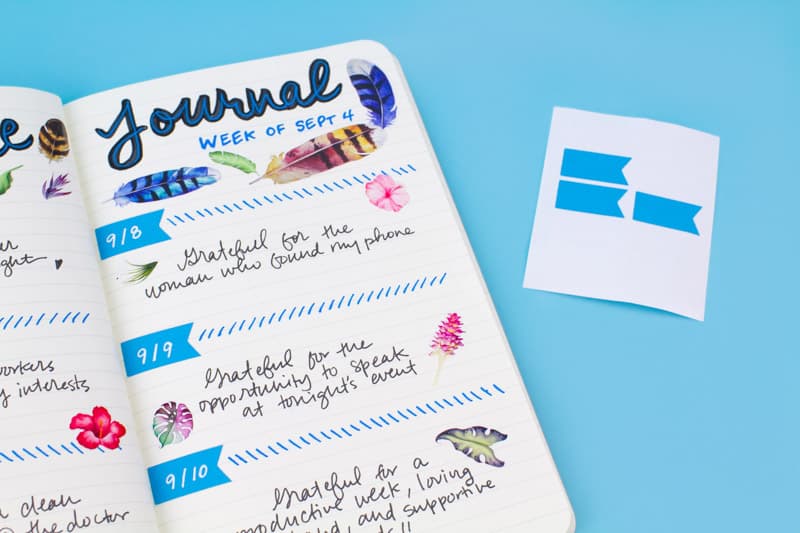 These should be short, sweet, and a reminder of the positive things that have happened even on your worst days.
Stickers used: feather, flag, and botanical sticker sets from the sticker subscription box, Pipsticks.
Mood Tracker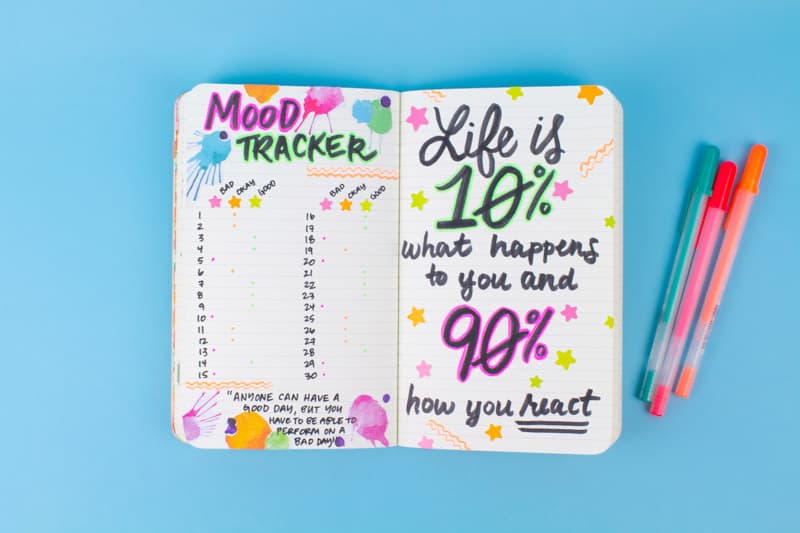 Consider this spread one part habit tracker, one part inspirational quote log. Here we've outlined the days on one side of the page and used a color system to track "goodâ€, "okayâ€, and "bad†moods.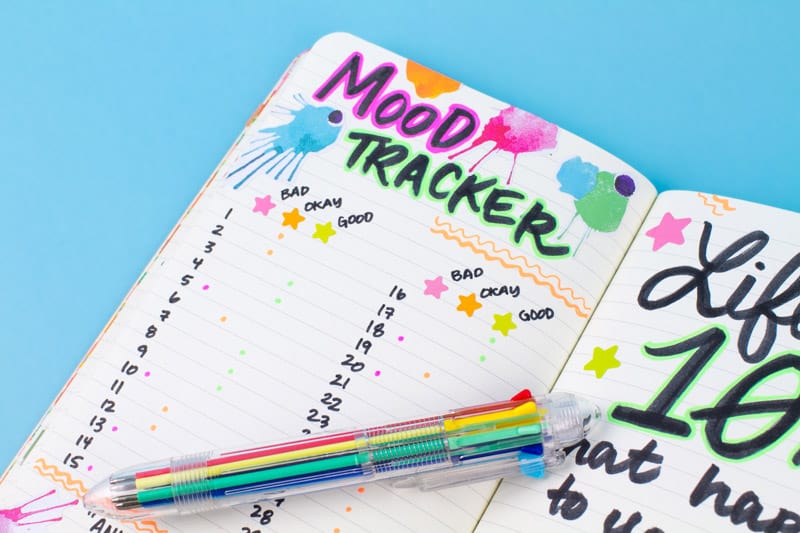 This spread is great for keeping tabs of patterns. Do your bad days usually fall on Mondays and you need to do more on Sunday to prep for the week? Or maybe your bad days come in threes – what can you do to work yourself out of bad moods faster? For data junkies, this spread is the perfect mix of style and substance.
Stickers used: paint splatter and star sticker sets from Pipsticks.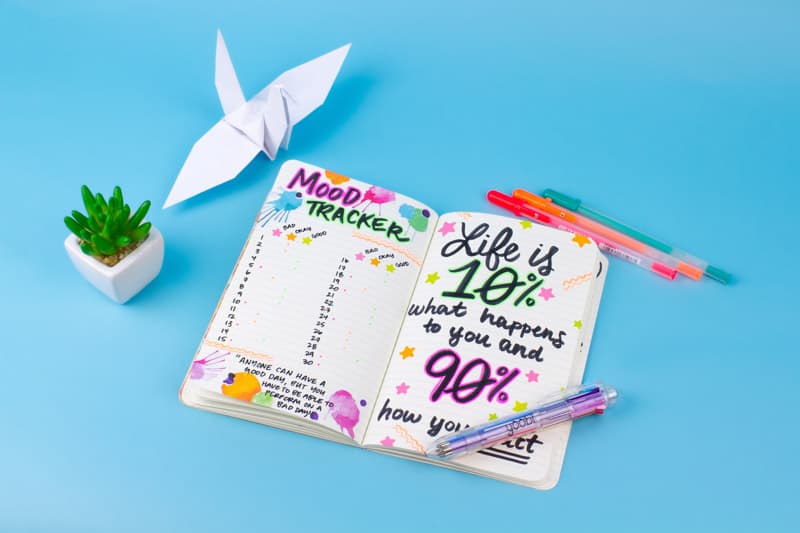 Self Care Cheat Sheet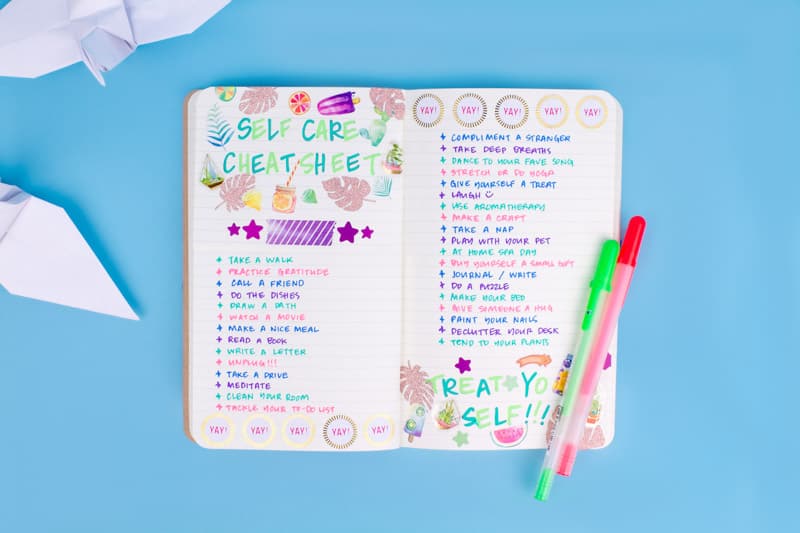 This is our favorite spread in the batch. Set it up once, and use it for the life of your Bullet Journal as you find those days where you just need a little pick me up. We've got some self care essentials like decluttering your desk and stretching, but feel free to fill your cheat sheet with your favorite relaxing activities. Whatever your go-to mood boosters are, jot those down here for a rainy day.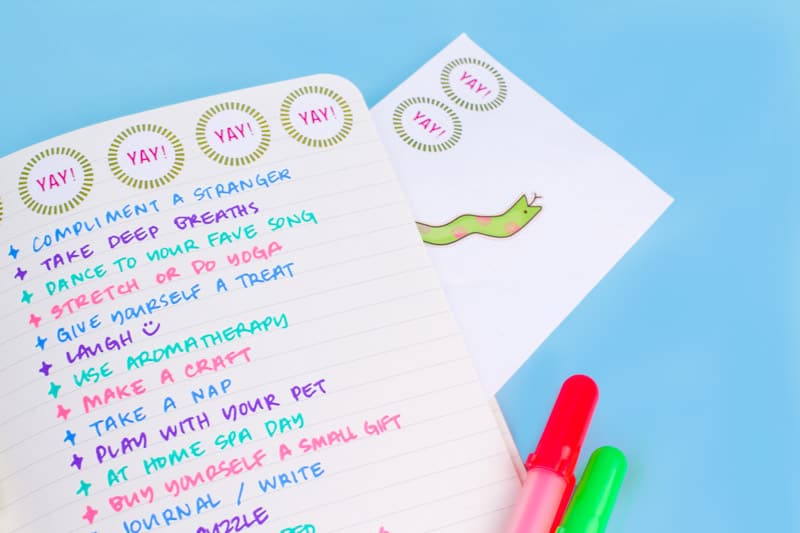 Stickers used:Â Gold palm, summer snacks, terrarium, botanical, and star sticker sets from Pipsticks.

Need More Bujo Inspo and Supplies?
Check out our bullet journal tips and ideas for organizing your life as well as our top 10 planner and stationery subscription boxes, where you'll also find Pipsticks!
How do you add joy and gratitude to your journaling routines? Do you have any special rituals that bring self-care to your journal? Comment below to share your ideas!
SaveSave
SaveSave
SaveSave
SaveSave
SaveSave
SaveSave