Bullet Journal enthusiasts are always on a quest for the perfect notebook. How does the new dotted Blackwing Slate measure up against a leading favorite?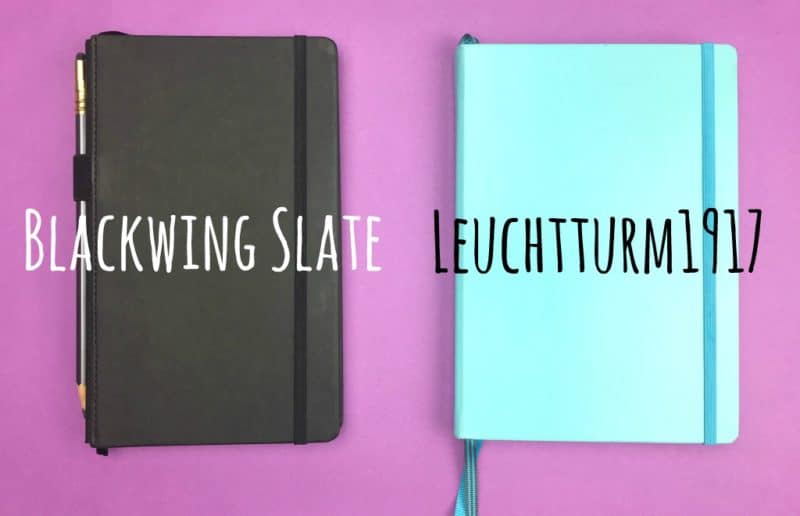 |Notebook Faceoff! Blackwing Slate vs. Leuchtturm1917|
Well, well, what have we here? There's a new notebook in town, eh?
I'm sure aware of my love for Leuchtturm1917 notebooks. Still, I can't resist the quest for my Holy Grail notebook. So, when the nice folks over at J*B Welly asked if I would review the new dotted Blackwing Slate, I couldn't say no!
Need something  a little bigger? Read my review of the Leuchtturm B5 Composition notebook here.
Since I just started a new Bullet Journal in my light blue Leuchtturm1917, I used my Blackwing as a creative writing journal (details to come in a later post). I'm about 30 pages into the Blackwing, so I've used it enough to feel confident in its quality.
Enough talk. Let's get the showdown started!
I received a complimentary Blackwing Slate from J*B Welly.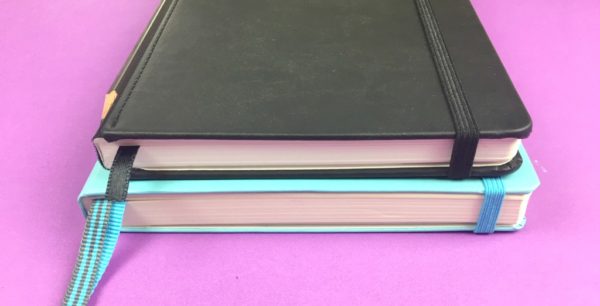 The Basics
Both notebooks are available at J*B Welly.
Blackwing Slate
Size:   5 in. x 8.25 in. (A5)
Pages:   160 (80 sheets)
Pre-numbered pages:   No
Paper:   100 gsm (off white, lighter than LT1917's)
Pre-printed index:   Yes, 1 page
Lines:   Dot grid, light grey, 5 mm
Colors available:   Black
Ribbon marker(s):   1
Pocket:   Yes, on back cover
Binding: sewn, opens flat
Leuchtturm1917
Size:   5.75 in. x 8.25
Pages:   249
Pre-numbered pages:   Yes
Pre-printed index:   Yes, 3 pages
Paper:   80 gsm
Lines:   Dot grid, light grey, 5 mm
Colors available:   20+ (pretty much any color you could want)
Ribbon marker(s):   2
Pocket:   Yes, on back cover
Binding: sewn, opens flat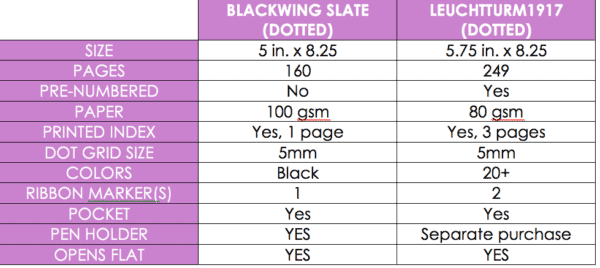 First Impressions
One of the first things I noticed (an appreciated) about the Blackwing Slate is that it comes with a built in pencil holder (pre-loaded with a Blackwing Palomino Pencil, of course). I enjoy pencil for note taking or brainstorming, but I stick with ink for my journals. No big deal; I just swapped the pencil for one of the dozen or so Sharpie pens on my desk.
Leuchtturm1917 makes color-coordinated pen holders you can purchase separately, but they aren't built into the journal. Potato Potato, right? There are a few other tricks floating around to keep a pen handy.
Still, keeping the pen on the spine of the notebook works well, and I didn't have to remove my pen to look something up in the notebook. It was a nice bonus.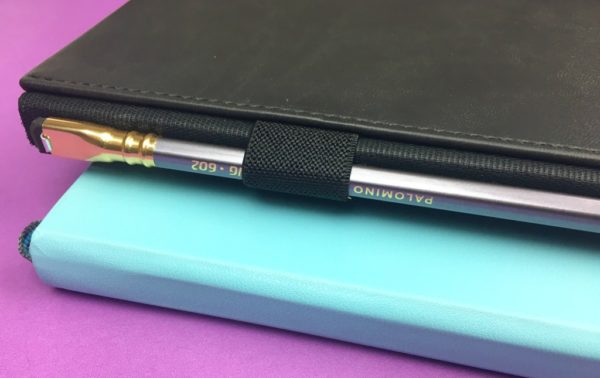 There is an index pre-printed in the front of both journals. The Blackwing has a 1-page index and the LT1917 has 3 pages devoted to the index. The formats are slightly different, but they both work.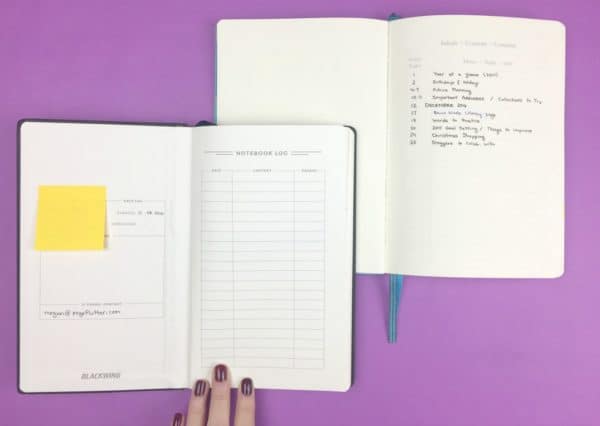 I do a lot of indexing; one page isn't quite enough. Even in my LT1917, I sometimes have to run my index into a new page of my journal.
I created my own index in the first few pages of my Blackwing. Here's what it looks like now: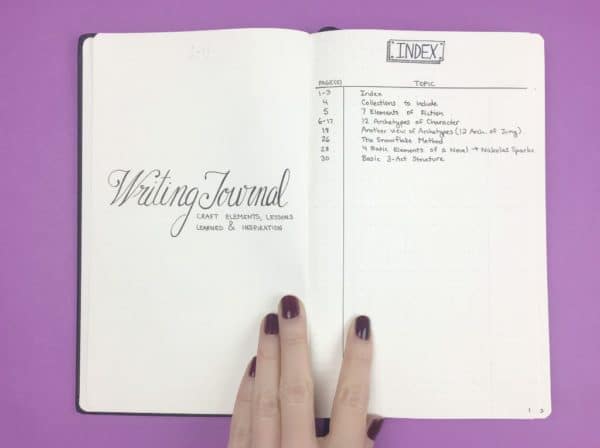 And yes, I had to number the pages by hand. I expected to be annoyed by this, but I really didn't mind. Since I don't skip around in my journal, I can just number as I go.

I already worked past page 23 (working on some character profiles), and I've been numbering pages 20-30 at a time.
Paper
These are both great journals, with different strengths. For sure, the Blackwing Slate has the edge when it comes to paper.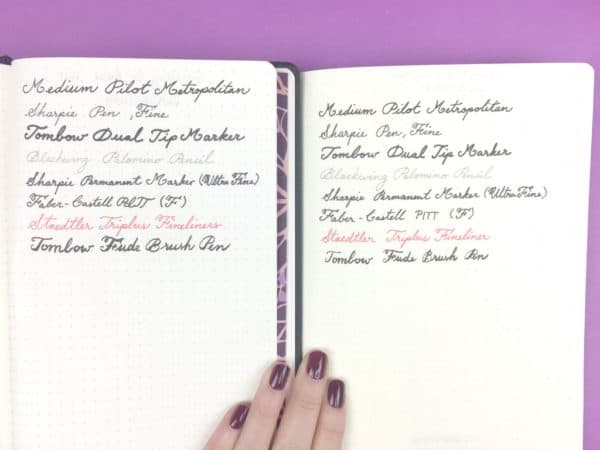 I love the velvety smoothness of Leuchttturm1917 paper, but I hear a lot of complaints from other Bullet Journalists about ghosting (or even bleed through with some fountain pens). The thicker paper of the Blackwing makes a big difference when it comes to ghosting. I was pleasantly surprised with the clean look of my pages in the Blackwing. It's also very smooth; no ink feathering.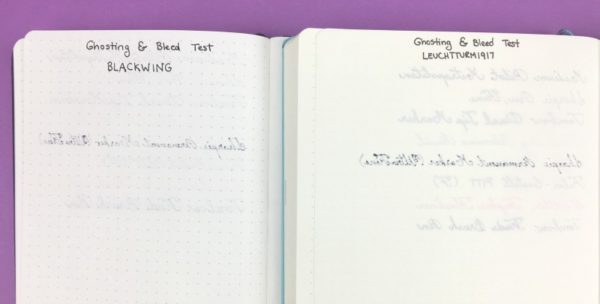 Winner? It's a Draw
Yep, it's a toss-up for me. For my everyday Bullet Journal, I like having the extra width in the LT1917, and having a nice color to tote around makes my day a bit brighter. Also, the second ribbon of the LT1917 helps me for planning purposes. I won't be giving up my LT1917 any time soon.
On the other hand, my writing journal is a serious place for me to study a craft. Plain black won't detract from the lessons I'm putting inside it. Since scheduling isn't an issue, I don't really need the extra ribbon marker. I just couldn't get over how much better the Blackwing paper is.  If ghosting is your beef, give this notebook a try!
You can get both notebooks at jbwelly.com.
Brainstorm with me!
Subscribe to my newsletter for Page Flutter updates, posts, and announcements.
Don't worry, I only deliver the good stuff. No spam.
Facebook // Twitter// Instagram // Pinterest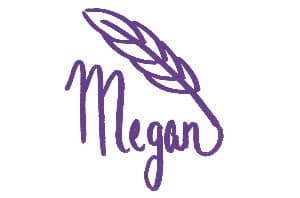 SaveSave
SaveSaveSaveSave