The HAUNTED Six-Word Story Challenge prompts are ready for your creative touches! Grab the printable prompt list and get ready for some super scary, super short stories…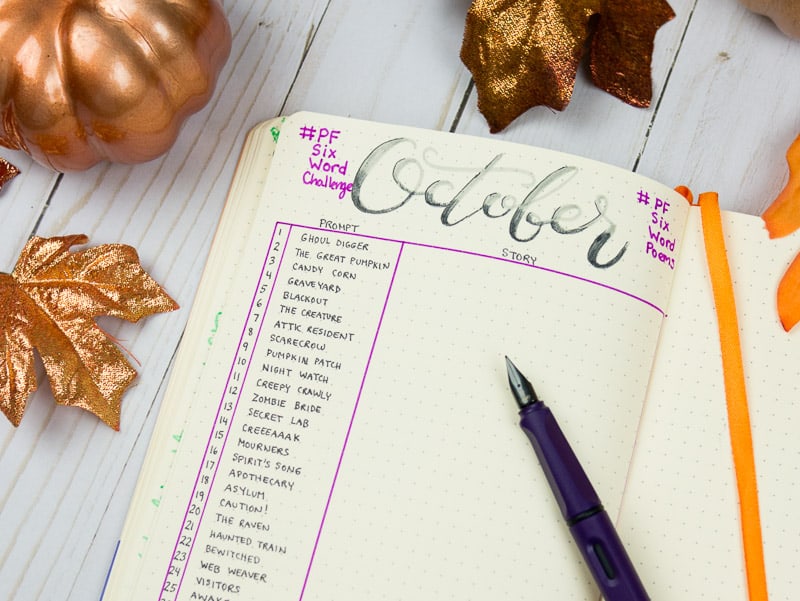 October's Haunted Six-word Story Challenge Prompts (2017) #PFSixWordChallenge |
It's finally here! I'm completely nutty when it comes to fall. I'll buy almost anything pumpkin spice, and I bust out my sweaters when it's still 80 degrees outside (but I play it cool like, "Hot? Me? No way, no this is perfect sweater weather. Fall, baby!").
Not to mention, I look forward to the October #PFSixWordChallenge all year because this one is HAUNTED! Follow along with the prompts in your journal, or share your stories on Instagram (you might even get featured in my feed). Last year, October had some of the highest participation rates in the challenge, so I know I'm not alone in my fall/Halloween enthusiasm. Now is your chance to explore any creepy stories you've been hiding!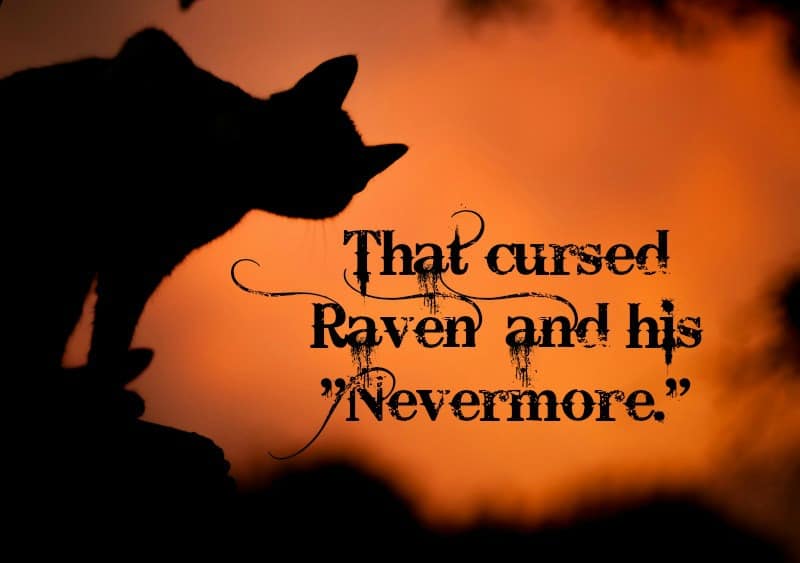 If you've been through this challenge before, you know the drill. The only difference is the spooky theme in the prompts. For those of you who might be new to the PF Six-Word Challenge, keep scrolling to learn more.
How to Play…
Six words. That's all you get. Experiment and have fun with it!
Write whatever sparks in your mind. You are free to use the prompt words in your story, but it's not required.
You can continue with the 6-word stories (non-rhyming) if you like.
If you're feeling extra creative, try your hand at six-word poems (rhyming) on odd days. Six-word poems are new to the challenge this year, but they've added a whole new layer of complexity.  Micro-poetry is definitely outside my comfort zone, but it's a great way to flex your creative muscles.
Where to Post
Most of the six-word story challenge takes place on Instagram. For the best chance of being featured, tag your posts with the challenge hashtags.

#PFSixWordChallenge
#PFSixWordPoems

Feel free to tag me (@PageFlutter ), so I can give your awesome story a shoutout!

Not on Instagram? No worries; just play along on my Facebook page.

Subscribe to my newsletter to get my latest posts and challenge prompts delivered to your inbox!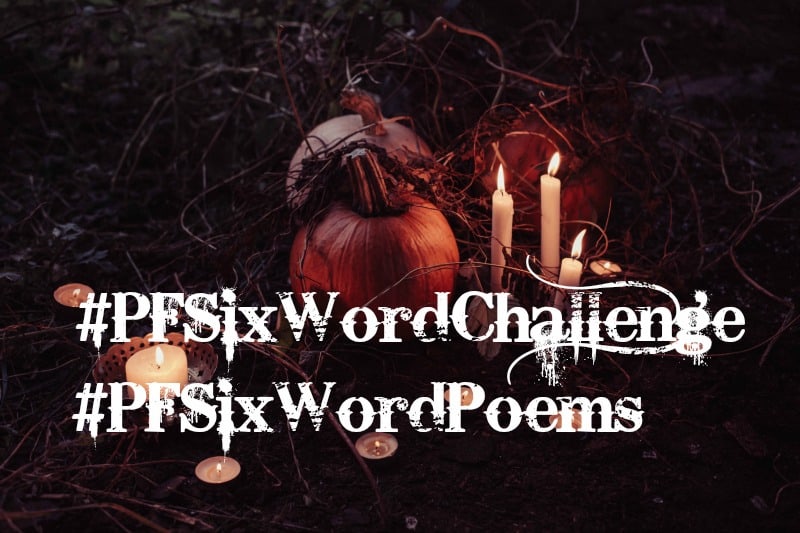 You choose what to do with your 6-word stories. You can use them for hand lettering practice, add doodles, or turn them into larger stories. Totally up to you.
Not sure where to start? See the examples of 6-word poems in the January 2017 Challenge post.
If you think a 6-word limit sounds easy, think again! You won't have to waste a whole day on the computer, but it's tough to squeeze a full story arc from only six words. The fun is in the attempt.
Here are a few of mine to get you started:
Breaking news: Martian president threatens blockade.
Light the lamp. Redcoats are coming.
Bride: "Is that my sister's perfume?"
Ready for bigger writing projects? Take a peek inside my writing journal for inspiration.
Printable Prompt Sheet
Repost my graphic for the Haunted Six-Word Story Challenge in your Instagram feed for easy reference. Or you can simply download the FREE printable PDF (A5 size) and paste it into your bullet journal.
**CLICK IMAGE TO PRINT**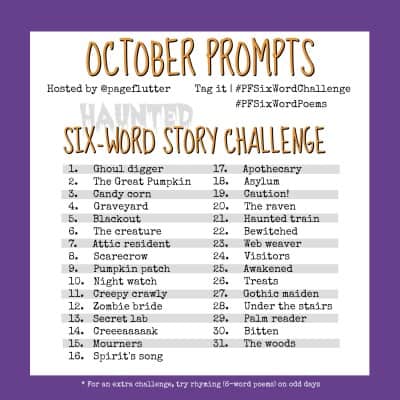 **CLICK IMAGE TO PRINT**
Remember: It's not about having the "best" 6-word story. It's about inspiration, so have fun & take creative risks!
If you need a little help getting started, check out my 6-Word Story board on Pinterest. For those of you looking to turn your six-word stories into larger projects, follow my boards devoted to the craft of writing. Happy journaling!
Follow Page Flutter | Megan's board WRITING | Six-Word Stories on Pinterest.
Brainstorm with me!
Subscribe to my newsletter for Page Flutter updates, posts, and announcements.
Don't worry, I only deliver the good stuff. No spam.
Facebook // Twitter// Instagram // Pinterest