A DIY journal can be super stylish! Plus, it's a great option when a fancy designer journal isn't in the budget. I'll show you how to completely transform an ordinary composition notebook with supplies you probably already have!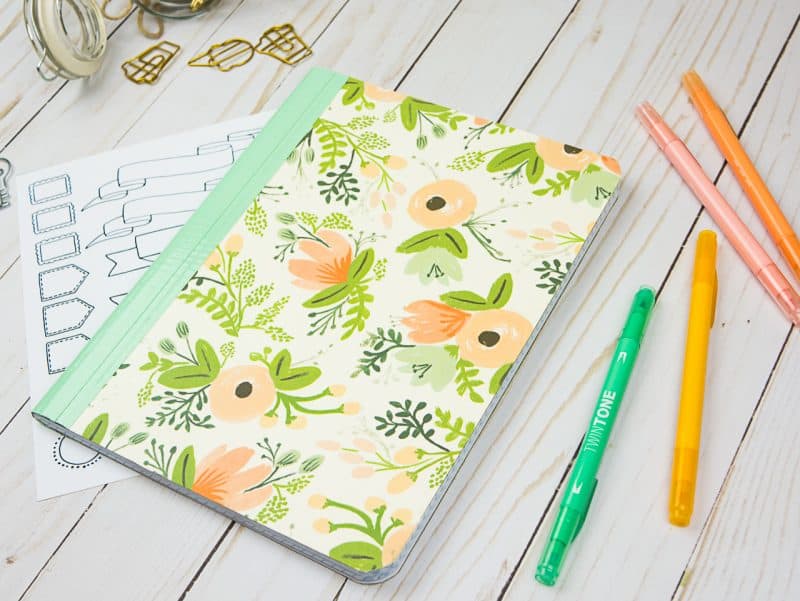 I've had this post on the back burner from a couple of months, and I'm so excited that I can finally share it with you today! One of the most exciting times in my journaling routine is breaking into a brand new notebook. I keep a stash of high-quality  notebooks and journals around so I'm always prepared to start a new one when the need strikes. But what if you're brand new to journaling? Or on a tight budget? Investing in those designer notebooks can be intimidating. You might not want to drop a pile of cash right now, especially if you're not sure journaling is your jam!
Today, I'm going to show you how to transform a boring composition notebook into a stylish DIY journal you can use for planning, Bullet Journaling, studying, doodling, daily journaling, scrapbooking, creative writing, or anything else that strikes your fancy! You can watch the video tutorial below, or keep scrolling for the full write up. 
How to Turn a Composition Notebook into a Stylish DIY Journal
I have a soft spot for those all-too-familiar black marble composition notebooks. Not only can you find them everywhere, but they're the quintessential blank slate for making a DIY journal. You can customize everything from the cover to the index, or even add pockets to the covers.  They're also lightweight, inexpensive, B5 sized (which is comfortable for writing) and the paper gets a wonderful crinkly quality after it's been used for a while. There just something about these notebooks I love!
Today, I'll show you how to cover one of these bad boys so that it reflects your personality. I've also noticed this process adds a bit of strength to the cover.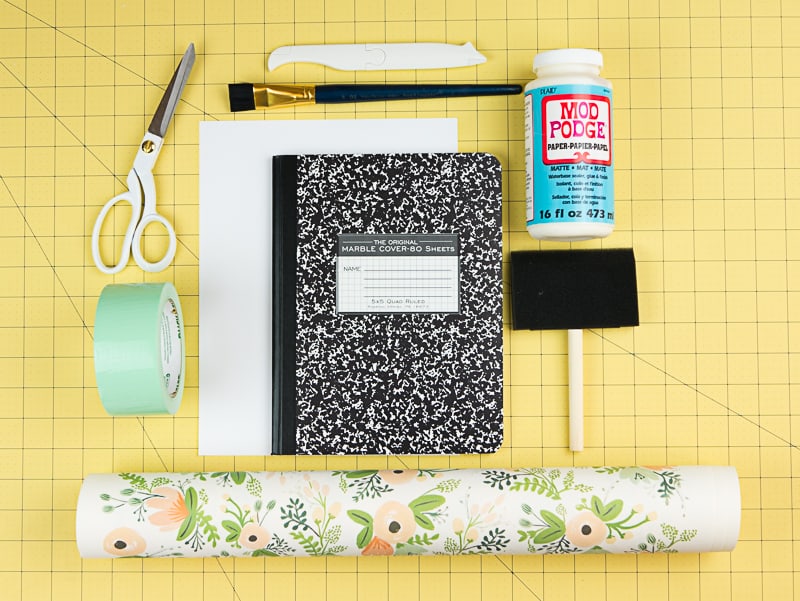 Materials Needed
These are the materials I used, but they definitely aren't the only options. Start with what you have on hand, then switch things up with new materials or color combinations.
Composition notebook: The lined versions are everywhere! You can usually find them in stores for less than a buck. I prefer grid or dot ruled paper for my journaling (Of course! It would be too easy otherwise, right?). Since grid composition notebooks are surprisingly hard to find in my area, I ordered a 4-pack of grid-ruled notebooks by Roaring Spring. I keep them handy for those times I need a good basic notebook.
Mod Podge: I used the paper craft formula because I had it on hand. I probably would have preferred matte gel medium, as my base adhesive. I still would use the Mod Podge at the end to seal the notebook. It dries completely clear and has a wonderful matte finish!
Scrapbooking paper or gift wrap: I'm using Rifle Paper Co. gift wrap. I adore their designs, and I had a huge stash from a sale they ran a few months back.
Printer paper (if your decorative paper isn't thick enough to hide the marble pattern)
Colored duct tape: I had mint green Duck Tape that looked great with my gift wrap.
A flat paintbrush: Use one you don't care about ruining. Remember, you'll be dipping it in glue!
Scissors
A sharp craft knife
A cutting mat or board: I used my big Fiskars sewing mat, but you can also use a small one designed for paper crafts.
How to Make a Stylish DIY Journal
Step 1: Start by covering the composition book with a thin layer of Mod Podge, matte gel medium, or adhesive of your choice. You need to work quickly so the glue doesn't dry before the next step. Pay special attention to the edges of the notebook.
*Quick tip: To avoid getting glue on your pages, hold the cover away from the rest of the notebook while you coat the edges with glue. Smooth everything with your sponge brush.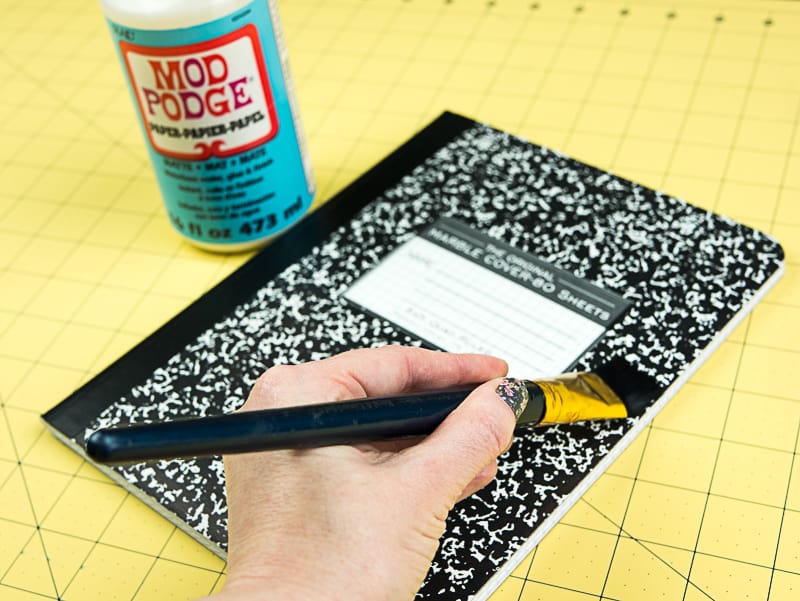 If your decorative paper is a light color, or if it's not very thick, you'll need a white layer to hide the marble pattern (see Step 2). Otherwise, you can skip the white paper and dive straight in with your decorative paper.
Step 2:  While your glue is still wet, apply a sheet of white printer paper to the front of your notebook. Start at the spine and smooth outward, paying special attention to the edges. Give everything a good once over to make sure you have a smooth application with no air bubbles. Every inch of the paper should be firmly adhered to avoid problems later on. Repeat on the back cover and allow everything to dry for at least two hours before moving on.
Step 3: Using a craft knife, trim around the front cover of the notebook to remove the excess paper. I wanted a very clean edge, so I trimmed right up next to the cover. Repeat on the back cover. Now you should have a white composition notebook with clean, trimmed edges.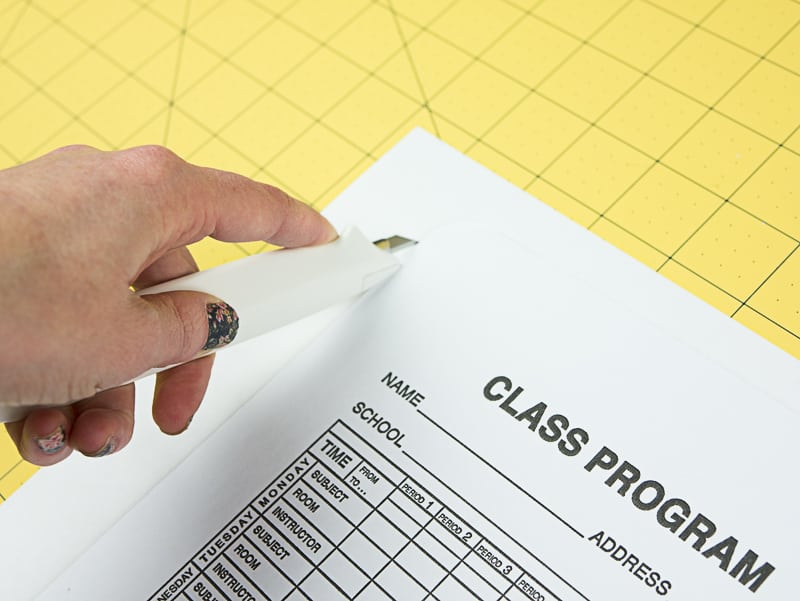 Step 4: We're ready for our next layer of glue. Just like you did in Step 1, apply a thin, even layer of Mod Podge over the white paper layer. Work quickly so your glue doesn't dry up before you're finished applying it. Remember to smooth it with your sponge brush. Smooth, smooth!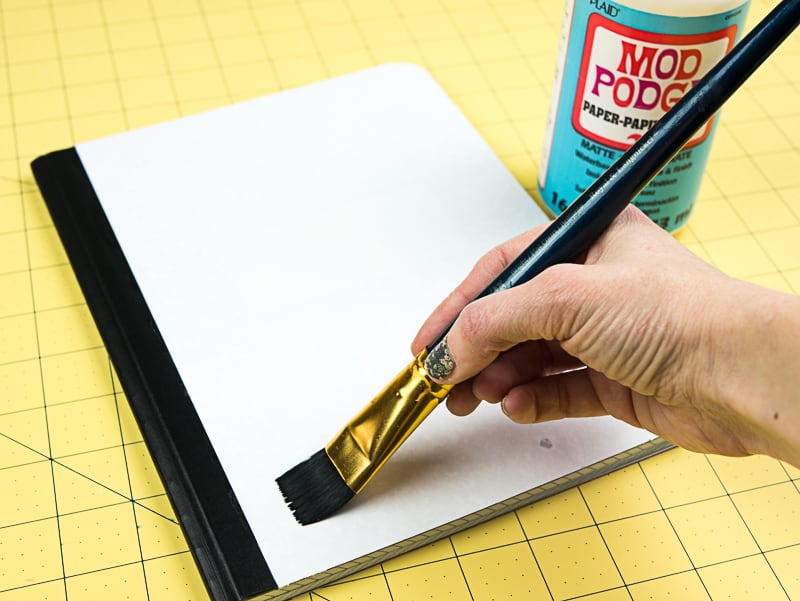 Finally, it's time for the star of the show! I bought a couple rolls of Rifle Paper Co. gift wrap a while back, and it's so pretty I can barely bring myself to wrap gifts in it! Along with these pretty peach flowers, I also snagged a few other patterns. That way, I can make a complete set of notebooks in different patterns and still have some left for–Oh, I don't know–actually wrapping gifts? 😉
*Quick Tip: If you're using gift wrap, you'll need to cut your paper down to a size you can work with. I used my Fiskars paper trimmer to get a nice even cut.
Step 5: While your glue is still wet (I know I've already said it, but it's really important that your glue is thin, even, and wet. Otherwise, your paper won't adhere properly), apply  your decorative paper sheet, starting at the spine and working your way outward. Since you just did this in Step 2, you're already an expert paper smoother. Look at you go! Once your pretty paper is safely applied to both sides of the notebook, let the whole thing set for 2 hours.
*Quick Tip: If you notice your notebook warping while it dries, you can place a heavy book on it to coax it back into shape.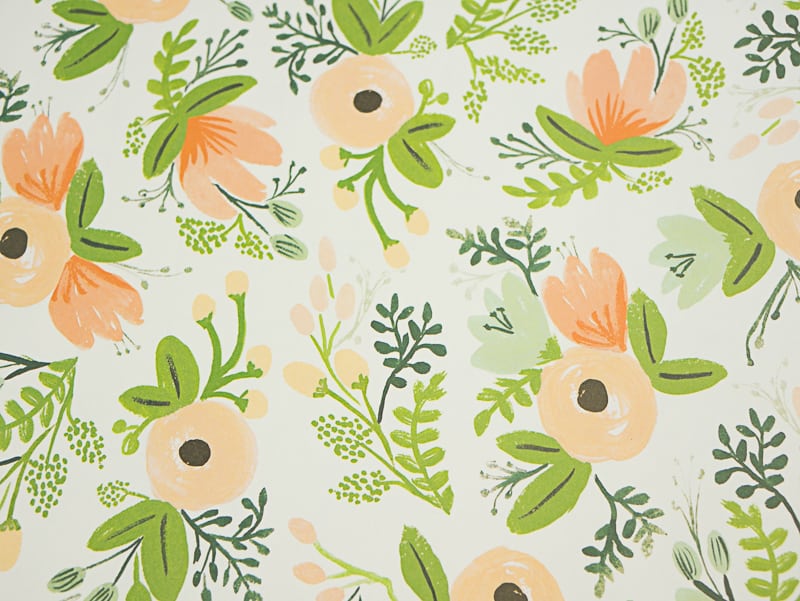 Step 6: Once everything is nice and dry, go around the edges again with your craft knife to remove the excess paper.
Step 7 (optional): Coat the whole notebook with one more layer of Mod Podge to seal everything.  Pay special attention to the edges since that's where you're most likely to get lifting.
**This was an essential step for me since I tend to be pretty rough on notebooks. Having an extra layer of Mod Podge gives it a little more durability against sticky-fingered kids and coffee spills. I was really happy with the finish I got from the Mod Podge paper formula because it wasn't shiny or sticky.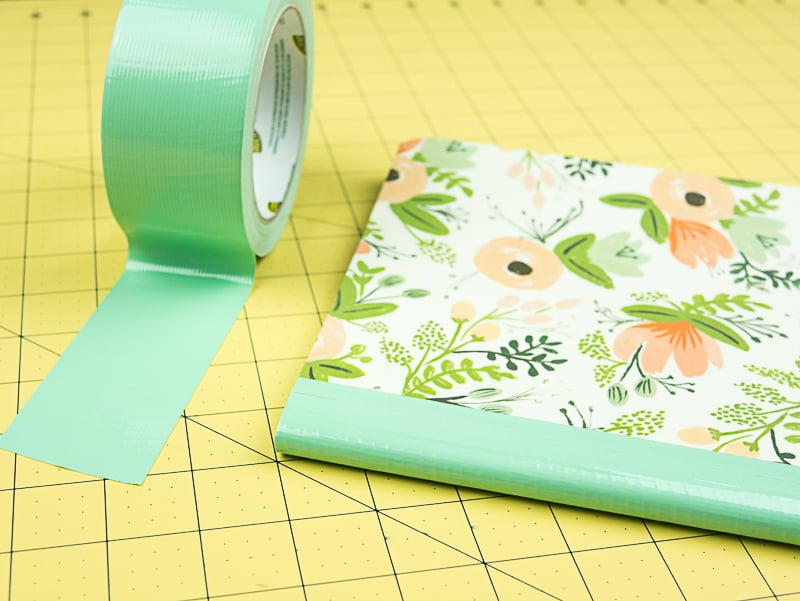 Step 7: Now that your notebook is covered, let's take care of the spine. I got glue all over the spine while I was working. Seriously, you would think I was working with a mop! Anyhow, you can cover the spine with colored duct tape that matches your paper. It may take more than one strip to cover the entire spine. Smooth any air bubbles and trim the top and bottom edges with your scissors.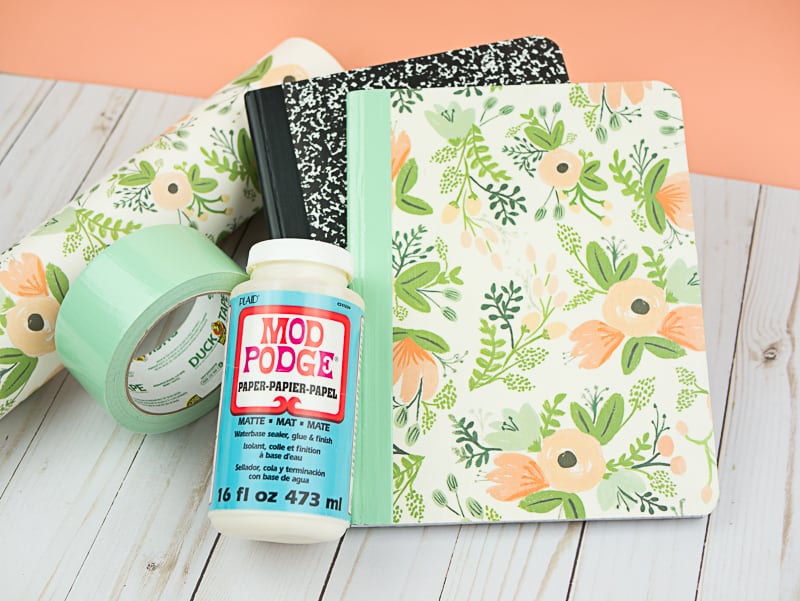 Voila! A beautiful DIY journal that's ready for all your big ideas. Grid-lined notebooks are great for Bullet Journaling, planning, travel journaling, and even doodling. Plus, these make great gifts for teachers, writers, and budding entrepreneurs. Give this a shot, then experiment with other materials. Make sure you share your projects and tag me on social media (@pageflutter) so I can see your beautiful creations. Happy journaling!
Those are my ideas, but I want to hear yours! What materials would you use to cover your own DIY journal or stash of notebooks? 
Brainstorm with me!
Subscribe to my newsletter for Page Flutter updates, posts, and announcements.
Don't worry, I only deliver the good stuff. No spam.
Facebook // Twitter// Instagram // Pinterest