A traveler's notebook can be a flexible and enjoyable way to record your life and manage your schedule. Check out how Alice organizes hers!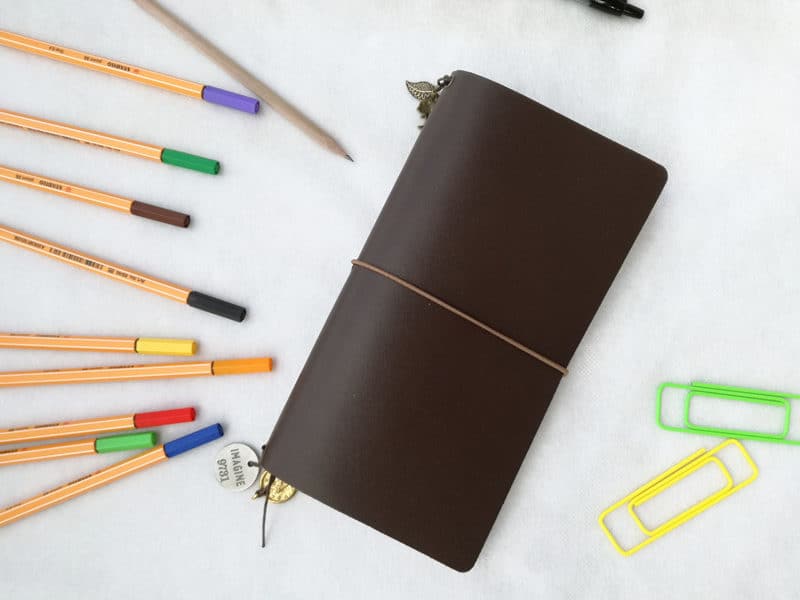 How to Preserve Your Memories and Stay Organized with a Traveler's Notebook
Hi, everyone! Alice here, from the Geeky Burrow. I don't know about you but I've always been a bound notebook kind of girl. That is, until I discovered the planning community on Instagram. It took a couple of years, but I finally joined the Traveler's Notebook club last Fall, when a dear friend of mine gifted me a pretty brown leather one.
One of the things I like about this system is that it can be whatever you want. And once you finish an insert, you just start a new one without having to shelf your entire notebook. It's a great system, especially if you're like me and you get scared about using a big, thick notebook. Also, I get bored very easily and I find it awesome to be able to switch inserts pretty quickly.
One of my biggest struggle with the Bullet Journal has always been future planning. I know, the traditional Future and the Monthly logs are made for that and I really like to use them for events and appointments, but when it comes to tasks, I find myself in need of more space.
Tip: If you want to try different layouts for future planning, be sure to check out Megan's post. It gave me tons of inspiration!
However, being a planner lover since elementary school, I decided to use my Traveler's Notebook for that. The way I've set it up is very simple, since I wanted to test this method for a couple of months first. That way, I could decide if it works for me before investing in additional TN goodies.
The first insert is a DIY booklet I made following the instructions by Ray Blake, who runs a wonderful blog, My Life All in One Place. It's full of free resources for planner lovers! This traveler's notebook insert has a week on two pages with a little space for to-dos on the right side; I use it to schedule my tasks 3 to 4 weeks in advance (for very long-term tasks I use an app). I usually check it once a day (in the evening), when I write my Daily Log for the next day in my Bullet Journal. I previously used a pocket Moleskine, but it didn't have enough room for my needs. (I'll never be a one-notebook kind of girl!)
Then I have a simple grid paper insert. I found this one at Flying Tiger. It was super cheap and the paper quality is still great for gel ink pens, even if the color of the paper is a bit too yellow for my tastes. This is where I scribble random notes and lists, things that I need only for a short amount of time and I don't care to keep inside my Bullet Journal. Tt's like a scratch pad.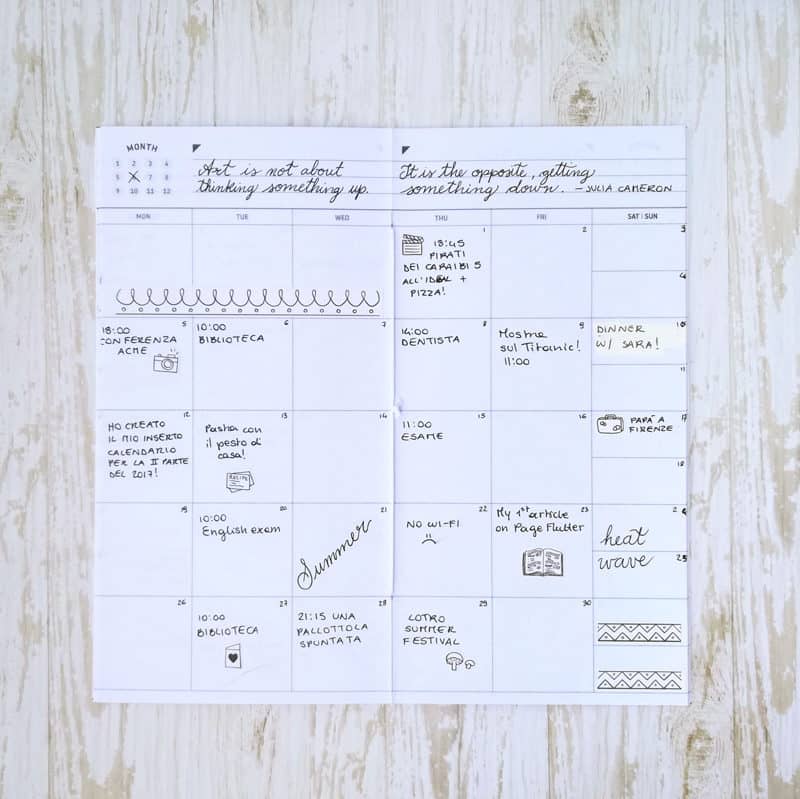 Finally, the third insert is my favorite one. It has a month on two pages layout. I purchased it on Etsy, and it's an undated one so I'll be able to use it again next year. Initially designated for my big plans and monthly overviews, it ended up becoming my little memory planning project. At the beginning of each month, I usually add events and appointments I'm sure are going to happen, in order to be able to see my month at a glance. Then I like to come back to it later and add little notes about things that happened during the month. Nothing too complicated, just a word or a short sentence.
I'm not a big planner decorator, but I like to add some stickers here and there to make my spreads prettier. My favorite ones are from the BohoBerryPaperie shop on Etsy, I like the black and white look of my months in this insert.
After six months using this method, I can say I'm still happy with my Traveler's Notebook. It's like journaling with zero effort and it will be nice to check it again in a couple of years and remember what 2017 looked like.
Anyone else have trouble getting down to one notebook? Do you prefer memory or functional planning? Or maybe both? Drop me a comment down below!
SaveSave
SaveSave
SaveSave
SaveSave
SaveSave
SaveSave
SaveSave