Harry Potter Night is February 1st! Add a little magic to your correspondence with these super cute Harry Potter Valentines.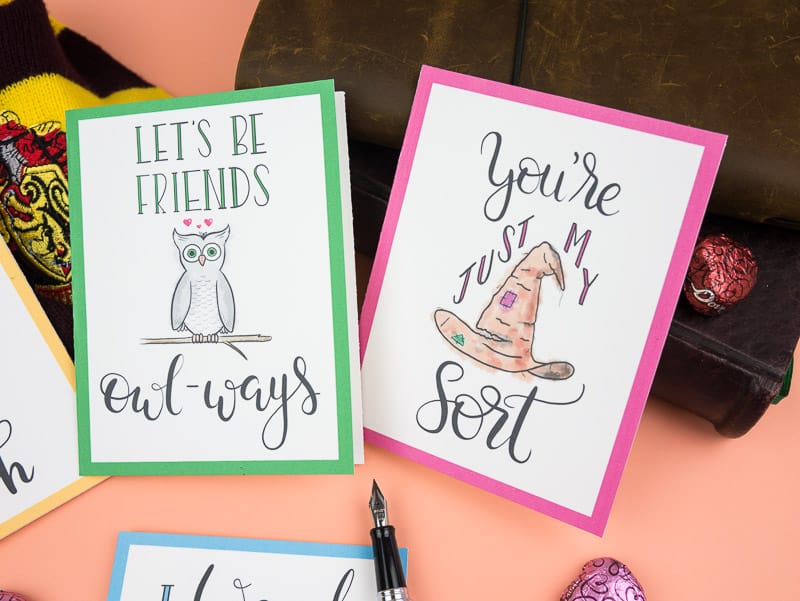 4 Harry Potter Valentines to Charm Your Friends
Every now and then, a month comes along that is so special, so festive, so jam-packed with pen and paper goodness, that I can't wait to share it with the world! I'm here to tell you, my friends, February is shaping up to be one of those months.
Between Harry Potter Book Night (February 1st), International Correspondence Writing Month (InCoWriMo), and Valentine's/Galentine's Day, who can choose? It felt like the perfect opportunity for hand-written letters to spread friendship and fantasy. If you ever needed and excuse to break out the fountain pens and stationery, I just gave you three!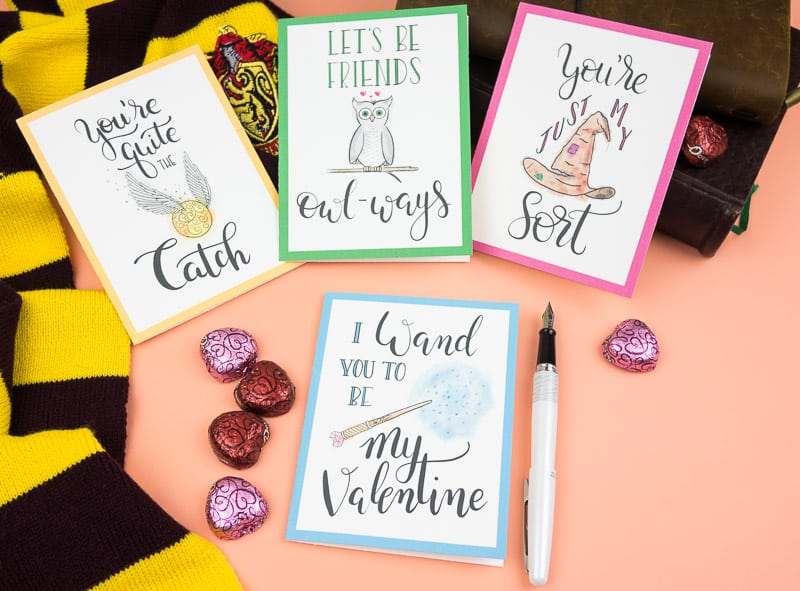 In the interests of full disclosure, I'll admit that Valentine's Day isn't really my thing. Don't get me wrong, I love my husband. The Mister and I can get sappy with the best of them. Heck, we still write love letters! But I used to have such a blast celebrating V-Day with my gal pals, that I tend to overlook the romantic stuff on the 14th.
So, this year, I was determined to design cards that were just cheesy enough to exchange with pals or loved ones. I had so much fun designing and drawing these cards for you. My oldest son, who recently developed an interest in the Harry Potter books (*cue happy mom dance*) enthusiastically approved of each one of these cards. I can't wait to drop them in the mail to my long list of Potter-loving friends!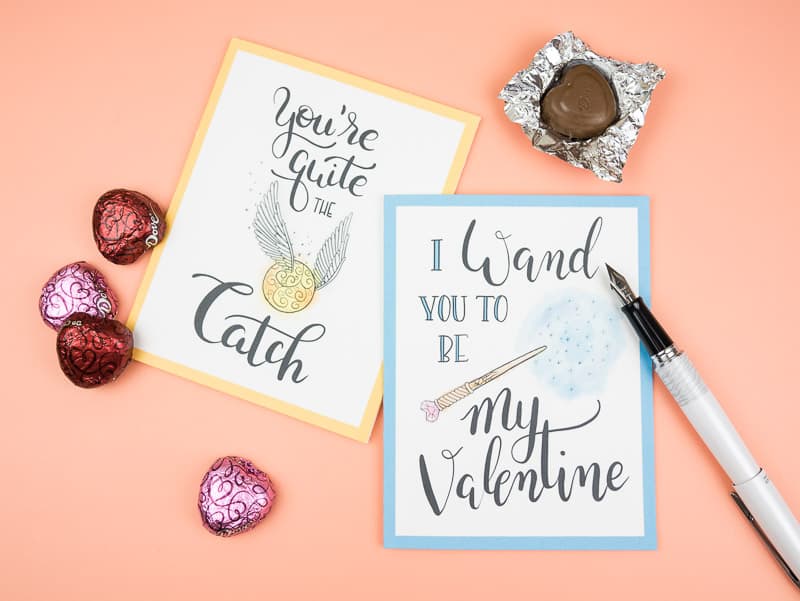 Printable Harry Potter Valentines
CLICK HERE to download your Harry Potter card set and print as many as you like!
*Please note: All of my freebies are for personal use only and may not be sold, duplicated, or distributed in part or in full without my consent. Be cool about it.
Want more like this? My subscribers get all the news about new blog posts, printables, and giveaways, and special offers that happen on Page Flutter!
Subscribe below and you'll get all the latest news from Page Flutter. As a bonus, you'll also get access to my community resource library, the Page Flutter Vault!
Tips for Printing Your Cards
I printed my cards on white cardstock with my Canon PIXMA printer. You can also use glossy cardstock if you want a more professional look to your cards. Grab your favorite markers, pens, inks, and nibs to drop your favorite people a little joy.
If you're feeling ambitious, try filling your pen with emerald ink to make it feel even more like a Hogwarts acceptance letter! After I finished my cards, I packaged a few of them up with chocolates and girly goodies for my favorite ladies. I hope these add magic and joy to your February!
Are you indulging in stationery fun this February? Comment below to share your plans for InCoWriMo, Harry Potter Night, or even a friendly Valentine exchange. Let me hear your ideas!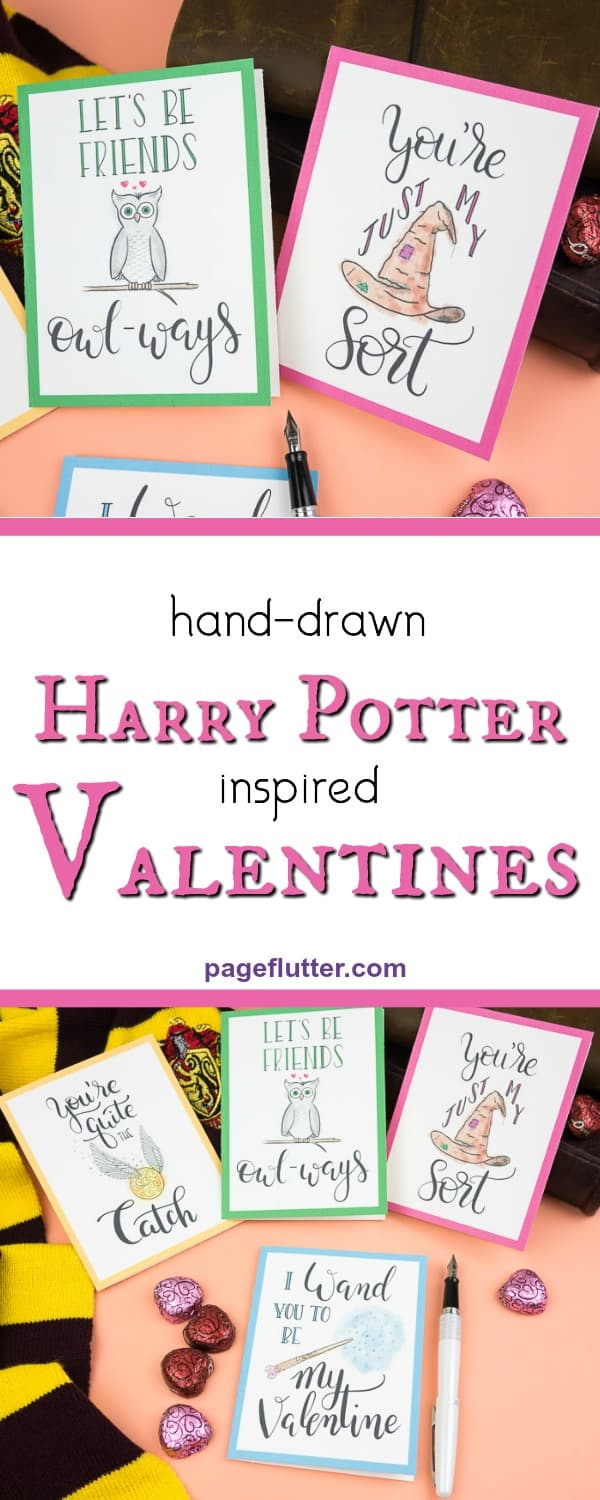 SaveSave
SaveSaveSaveSave
SaveSave
SaveSave
SaveSave
SaveSave
SaveSave
SaveSave
SaveSave