A journal index system is a great way to stay organized. I'm sharing my favorite hack for grouping my journal pages (even with a bound notebook)!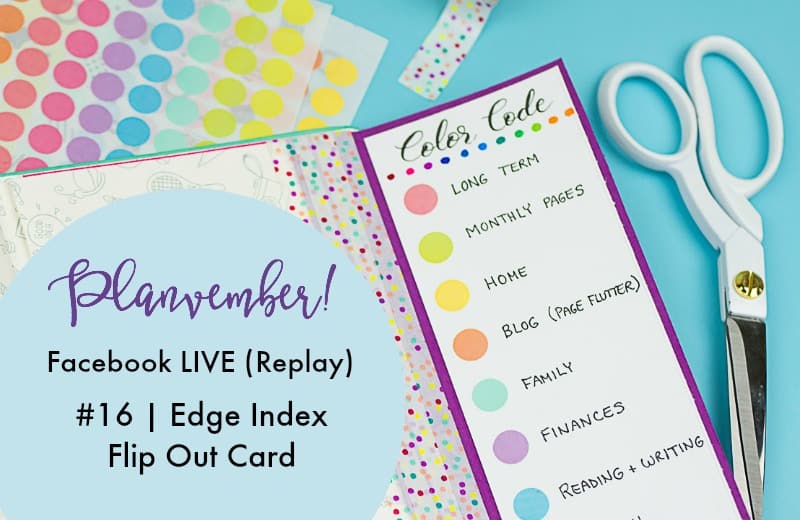 Planvember Day 16 | Journal Index Flip Out Card
If you're new to planning in a notebook, there can be an adjustment period. Before I started using my notebook for planning, I was a ring-bound girl. I was accustomed to removing pages and organizing them in tabs. I could easily group things by category or function.
"But, Megan," you say. "That's impossible in a bound notebook! What will we ever do?" Don't worry, I got your back! I'm sharing my favorite indexing hack, and it will probably become your favorite, too.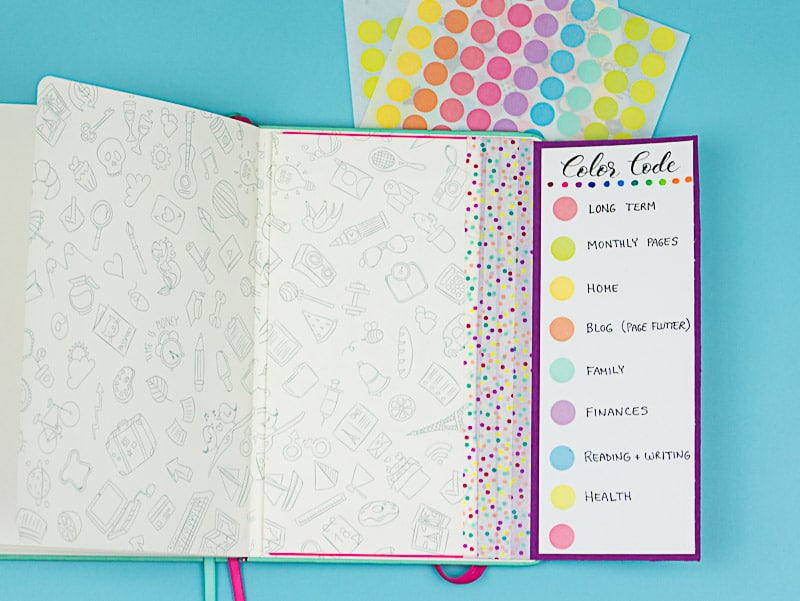 During this morning's live Facebook video, I walked you through the process of making a flip out card to use in your journal index system. It allows you to label the edges of your pages by category. The card is a guide for where to place your stickers on the right spot on the page. You can even assign a page to more than one category.
I had this gorgeous wrapping paper leftover from a JB Welly shipment, so I upcycled it into my flip out card. In fact, I had a huge pile of papers to choose from during the live video (yes, I buy many, many journals), and you all helped me pick out this bright plum and turquoise printed paper. I really love the way it pops against my mint Scribbles That Matter notebook.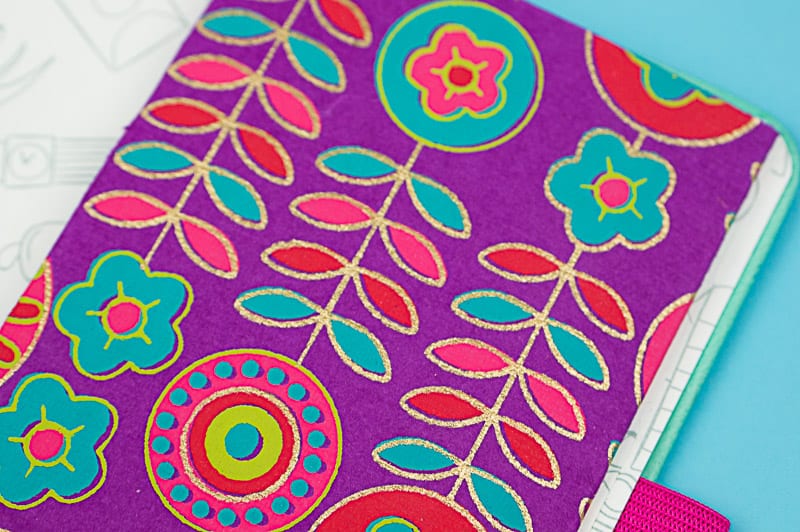 If you're new to this blog series, here's the basic rundown… Every weekday of November at 10:30 central time, I'm bringing you a new journal video LIVE on my Facebook page. I wanted to do this in real-time for a few reasons:
You get a realistic idea of how much time to set aside for journaling. It can be frustrating to watch the "YouTube Magic" happen in 10 minutes, only to find out you may need an hour to recreate the page. You get the real deal with my live videos.
You can ask questions and give suggestions.
It's more fun to interact with you live!
Scroll down to watch the video. As promised, I've included all the links to supplies below for your convenience.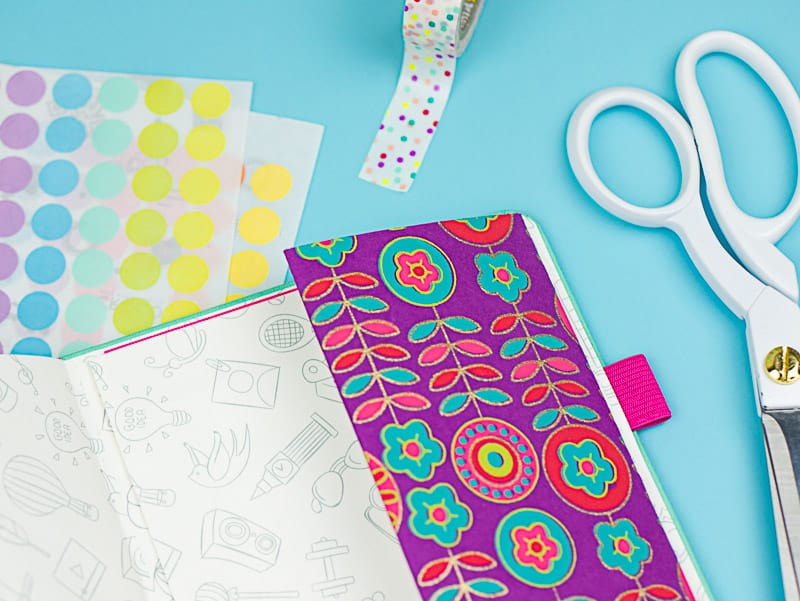 When it comes to supplies, I usually think it's best to start with what you have. Supplies aren't as important as how you use them! I share what I use, but feel free to experiment on your own.
Links to supplies mentioned:
** The Journaling Sisters Virtual Seminar that I mentioned is taking place December 3rd, 2017. I'm taking the course, and I worked out a discounted rate for my readers. I really hope you'll join me. There are only 30 seats available in the class, though, so grab your spot now!
More ways to watch the rest of this series:
Watch LIVE on my Facebook page (10:30 U.S. Central Time)
My YouTube Channel: Planvember Playlist
Go to the Planvember section of the website for a list of all posts. Each post (like the one you're reading) contains the video for the day and any helpful links we talked about.
Do you use a special journal index hack to stay organized? Whether it's in the front, back, or sides of your journal, I want to hear about it! Drop me a comment and let me know your tricks and tips.Â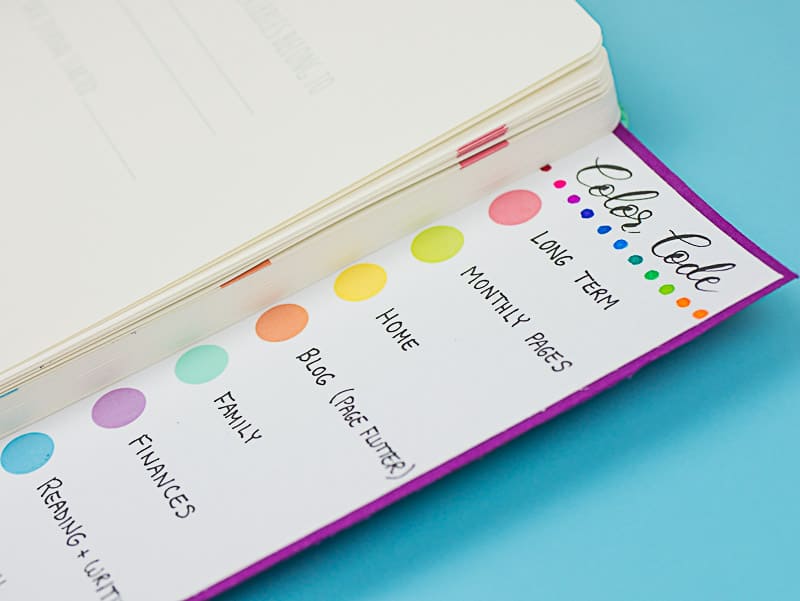 Brainstorm with me!
Subscribe to my newsletter for Page Flutter updates, posts, and announcements,
and FREE access to resources in the Vault!
Don't worry, I only deliver the good stuff. No spam.
Facebook // Twitter// Instagram // Pinterest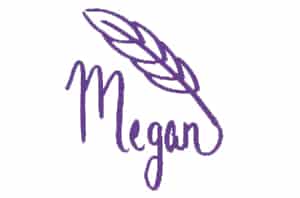 SaveSave
SaveSave
SaveSave
SaveSave
SaveSave
SaveSave
SaveSave
SaveSave
SaveSave