Summer is officially here, and it's time to make the most of the sunshine. Between firework shows, beach trips, cliff jumping and barbecues, summer is a very special time of year.
How do you make the most of the summertime and soak up as much sunshine as you can? By having a plan of attack. If you've already created your summer bucket list spread, the rest will be easy.
If you haven't, don't fret! Here is your guide to using your bullet journal to make the most of your July, plus some fun July Bullet Journal® ideas to inspire!
What is a Monthly Spread?
Just like everything with journaling— there is no right or wrong way to do it.
However, tons of journalers like to make spreads for entire months. These spreads typically have specific themes, goals, and structures that they carry out throughout the entire month.
Think of it as a planner, but with a personal touch.
What Kind of Stuff Do You Put in a Monthly Spread?
There is no limit to what you can put in a monthly spread! Tons of journalers will pick several habit tracker ideas, and draw them out in their specific monthly theme. You can track your mood, how much water you drink, your nutrition and fitness goals, or even if you made your bed everyday.
Habit trackers are a great way to analyze your habits and achieve personal goals. If you want to learn more, check out the ultimate habit tracking guide.
A lot of journalers will also start their spread with a master calendar of sorts. Here you can write important dates, appointments, your work schedule, etc.
Should I Pick a Theme?
That is highly personal, and totally up to you! In my journaling practice, I like to pick a theme or color scheme for just one flat lay of pages. I get bored pretty easily, and I like every page flip to look different.
Plenty of journalers will stick to one theme for an entire month, and that is totally acceptable too. Just do what feels right to you!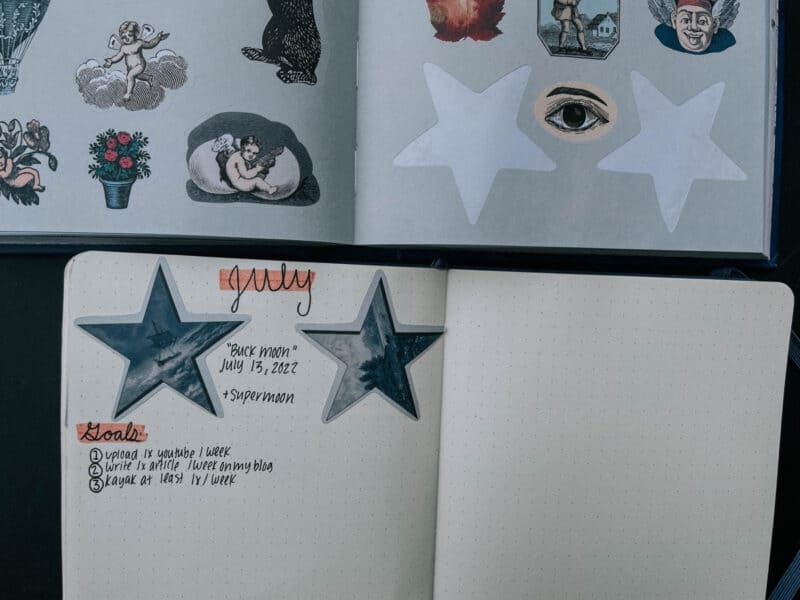 What are Some Good July Journal Themes?
There are endless themes you can pick for July, but here are a few fun ideas:
Red, white, and blue
Fireworks show
National park aesthetic
7/11 free slurpee day
Beach
Wildflower
Palm tree themed
Cactus themed
Camping aesthetic
Hiking aesthetic
Once you pick a theme you can scour the internet or pinterest for different ideas. There are tons of easy drawing tutorials that will give you step by step instructions on how to draw certain things.
Do I Need Any Supplies?
You don't need anything more than a pen and a journal, but there are tons of supplies you can consider picking up to make your journal shine!
My absolute favorite supplies to use are my sticker books and my markers.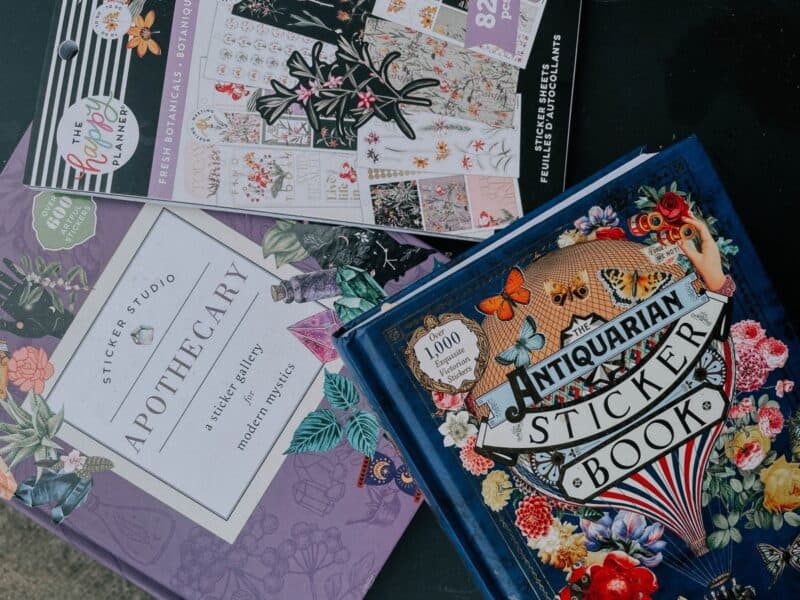 For my sticker books I use Apothecary by Sticker Studio, The Antiquarian sticker book, and The Happy Planner sticker books.
I love the Apothecary book for all things mystical, crystal and astrology related. It is so bright and colorful and all of the stickers look great together. The Antiquarian sticker book is full of Victorian style stickers, and has an old world, vintage vibe to it.
The Happy Planner books are fantastic for staying organized, and they have dozens of different themes and styles.
For my markers, I use both the Zebra Mildliners and the Staedtler markers.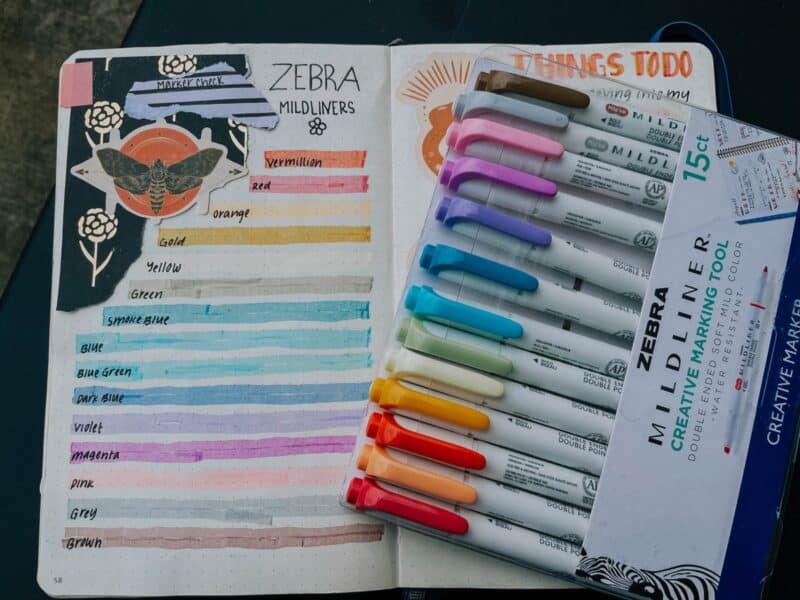 Some other handy supplies are a ruler, double sided tape, colorful magazines, stamps, washi tape, watercolors, polaroid pictures, fineliner markers, and homemade dried flower stickers (they're super easy to make!)
How Can I Make the Most of My July Spread?
July is jam packed with festivities and gatherings that you probably don't want to miss.
First off, check for events that may be happening near you. You can check for facebook events, look for any concerts or festivals, and see if there are any parades in your area you can attend.
One of my favorite summertime activities is visiting local farmers markets and street fairs. Check to see exactly when these are happening and make a calendar so you don't miss them. I always like to pick up local honey to improve my allergies, fresh locally grown produce, free samples and even handmade gifts.
Next, start doing some digging to see what firework shows are happening around you. Some cities have bigger and better firework shows than others— so maybe try going to a different one than usual.
I love kayaking, hiking, camping, backpacking and tubing rivers. Once I figure out my work schedule, I like to start planning these things with my friends. Make a list of all the people interested in going on adventures with you and start planning. Summer passes by quickly, so don't wait too long!
Bonus tip: If you live in Utah or in any of the surrounding states— July 24th is Pioneer Day. It is similar to the 4th of July, but even bigger and the firework shows are impressive. So if you feel like partying a little more, consider a trip to Utah!
Other Things To Consider
It can be overwhelming to have to pick which events to attend, and July is one of the most exciting months. Get an early start on planning your month so you can prioritize the things that are the most important to you.
Also, July is one of the hottest months. Always be prepared before going out. I love to keep my backpack stocked with plenty of summer essentials. You can create a checklist in your journal of all the things you should have before leaving the house. This list should consist of:
Sunscreen- the higher SPF the better. It is often a dermatologist's top suggestion for keeping skin beautiful, so it is good to invest in a good face sunscreen.
Water- Even if you're fully hydrated when you leave the house, the sun can really drain you fast. Always have a water bottle on you.
Hair ties- If your hair is long, it is always worthwhile to bring a hair tie in the summertime. There is nothing more uncomfortable than sweaty hair grazing your back.
Dog supplies- There are tons of dog friendly activities to do in July, so have your furry friends things ready to go too. This can include dog shoes, a water dish, a tick collar, harness, and a light for their collar.
Snacks- It is always a good idea to have snacks, especially ones that won't melt. I like to bring trail mix, granola bars, crackers and nuts.
Sandals- I always like to be sure I have a pair of sandals in my car or bag when I go out. That way I can change out of hot shoes if I need, or take an impromptu dip in a river or lake
Picnic Blanket- There have been so many times I have found a random concert during my walk around the park. Keep a small blanket with you to prevent itchy legs from sitting on the grass. You can even just bring it to sit under a tree and read a book.
Hammock- I own two hammocks and it is always heart wrenching when I find perfect trees to hang in, but don't have either of my hammocks. Save yourself the heartbreak and keep it in your car.
A perfect summer means different things to different people. So whether you are someone who prefers to lounge by the pool every day, or someone who likes to go on 30 mile multi-day backpacking trips— it is always worth it to have a plan.