InCoWriMo 2017 is here! That's short for International Correspondence Writing Month. I had so much fun last year that I'm jumping in again! Join me by sending handwritten letters & postcards in February!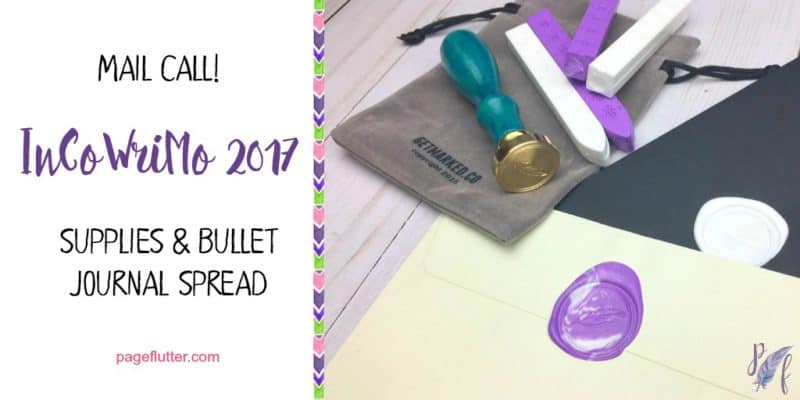 InCoWriMo 2017: My Supplies & Bullet Journal Spread|
Time to send some letters, folks! Time for my mail lady to start giving me sideways looks…Like someone who sends so many letters must be up to something. Well, I am up to something.
I'm jumping into InCoWriMo (International Correspondence Writing Month) for the second year in a row. I learned about the challenge last year from Kara at Boho Berry and enjoyed it so much I couldn't resist this year. My paper is ready, and my pens are inked!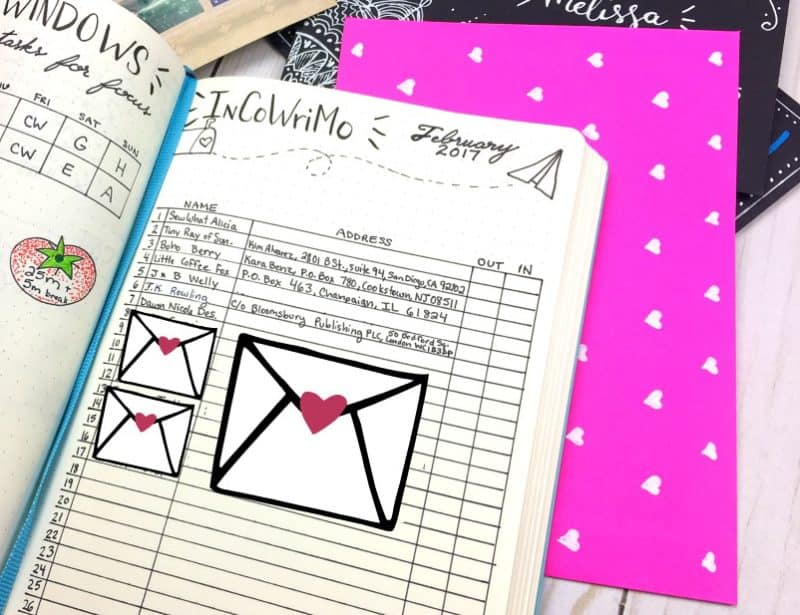 The What & Why of InCoWriMo
What: Simply write a letter, postcard, or note for each day of February (28 total). You can mail them, deliver them, even send them by carrier pigeon. Make sure you letters are handwritten. You can find out more at the InCoWriMo website.  They also have a fantastic list of people to write to (e.g. J.K. Rowling)!
Why: Letters are a special way to communicate. They involve real paper, real penmanship, and a little extra effort. Handwritten correspondence has a level of authenticity our digital communications haven't been able to duplicate.
And it's the perfect excuse to play with paper, fountain pens, and wax seals. I see right through you! I know you needed another excuse –I mean, truly noble reason– to play with pens and stationery, right?
*Hint: February is also the perfect month for writing love letters. Learn how to write a great one HERE.
Glad I could help.
Since you'll need to fill 28 days of letter writing, feel free to send a note my way. I'll write back. I might not be able to answer them all in February, but I will answer them. It's the least I can do for being such an enabler.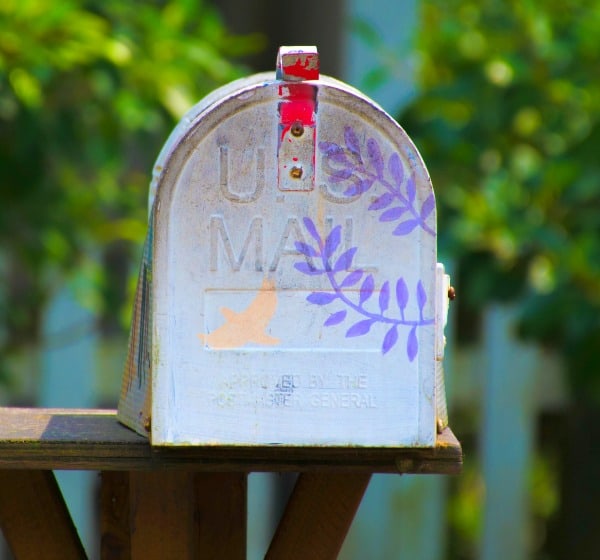 You can write to me at:
Megan Rutell
P.O. Box 8112 
Moore, OK 73153
My Basic Supplies
I stocked up on stationery goodies a few weeks ago, and I can finally play with them! I knew I wanted a good basic set of stationery. Amazon (of  course) has a huge selection of stationery. Everything from the printed notecards of Studio Oh! (so cute) to plain everyday stationery.
I went with a cream and black set from Peter Pauper. It's classic, smooth, and takes a fountain pen beautifully.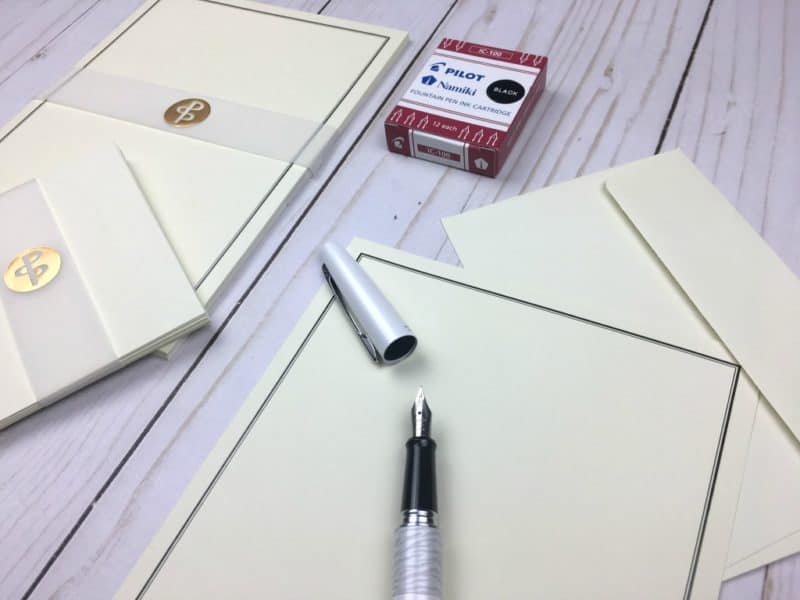 I'm often intrigued by printed designs, but I'm not willing to compromise on quality. With this stationery set, I can keep things simple for more formal letters, or go wild with doodles (like I do for my envelopes below).
Now, for the pen…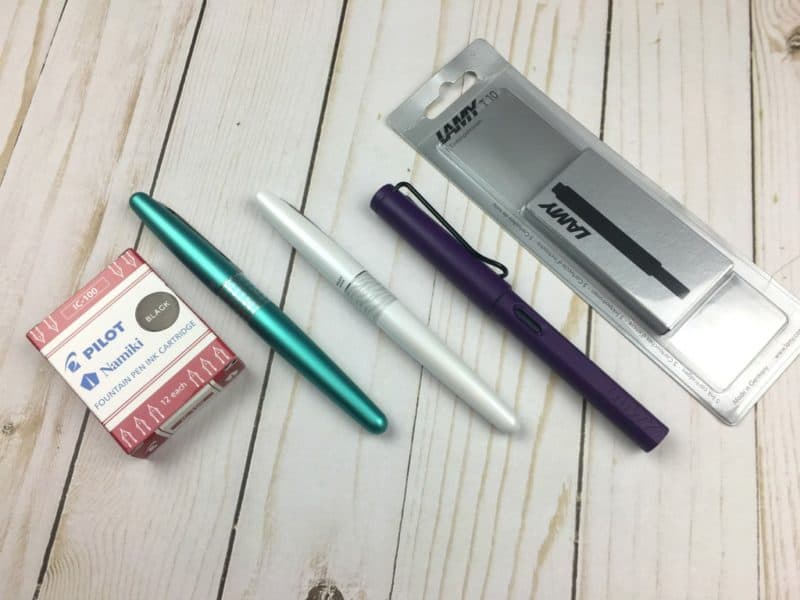 Last year, I bought 3 fountain pens, and they've definitely earned their keep. I can write for much longer periods because they don't require much pressure.
Lamy Safari, Dark Lilac (<–This color was a limited edition, but it's still available from some Amazon sellers)
Fountain pen prices cover a huge range, but you don't have to spend a lot to get a quality pen. These run from $13-30.
Pilot Metropolitans and Lamy Safaris are available at a discount through J*B Welly.
Use coupon code "

pageflutter

" for 10% off your order.
I didn't have to spend a fortune on these pens, and I'll get many years of reliable use from them. How often does an inexpensive purchase become a long-term love? Pretty good deal!
My favorite part: The envelopes
Envelopes are the easiest way to turn your letters into a mailbox celebration. I want the people who get my letters to know they're really something special. If you need some inspiration, take a peek at my Pinterest board dedicated to all things snail mail.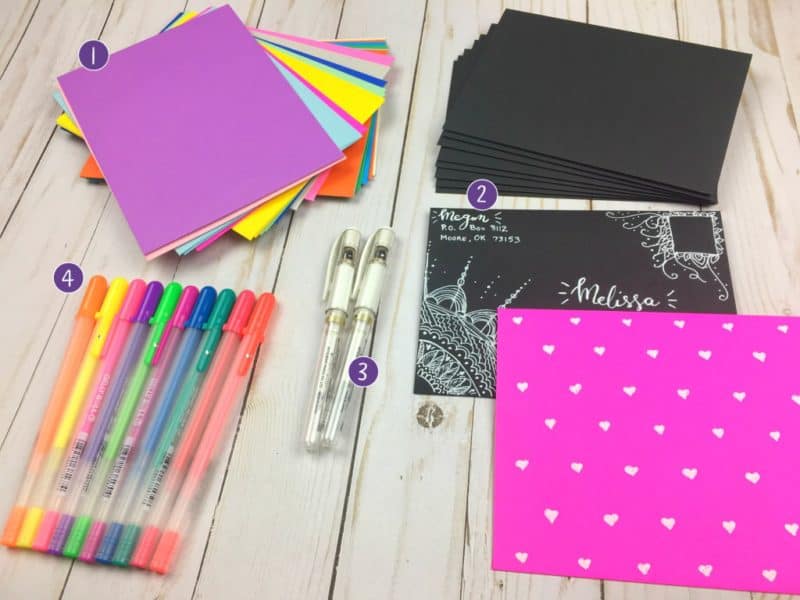 I stocked up on some colorful, creative envelopes to carry my messages where they're going.
For the final touches…
Something about wax seals makes me think of secrets written by candlelight. They can elevate a letter from simple paper to the most important message in the country.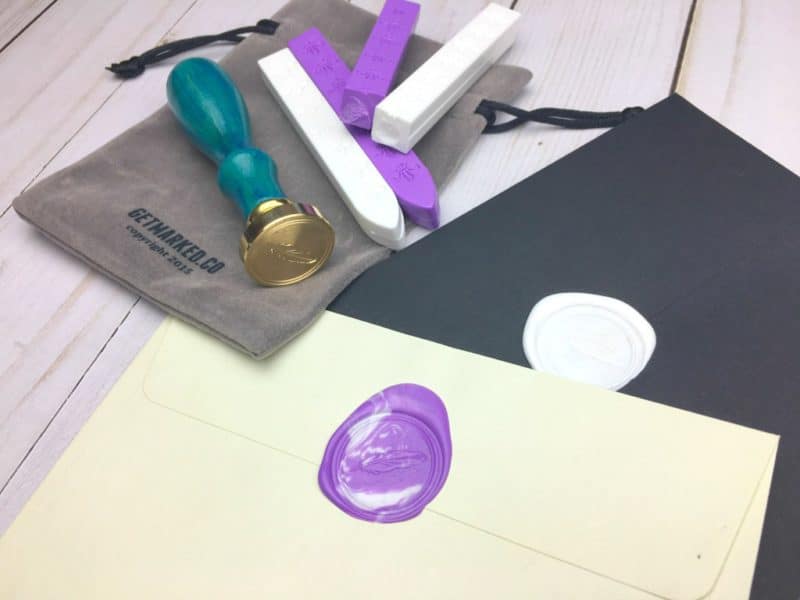 I went in search of a feather seal (to match my Page Flutter logo) and ended up on Etsy. I know I'm an Amazon junkie, but I'm trying to compensate by shopping more small businesses this year. I'm so glad I looked on Etsy! I wandered into Get Marked to find a huge selection of seals, embossing stamps, and sealing wax in every color imaginable. They will even customize a sealing stamp with your design.
I ended up getting:
Note: A melting spoon will also protect your wax from burning. I was able to marble my colors together by adding a little chuck of white wax to the spoon before melting the lavender.
Now, let's get writing!
That's it from me, guys! I'm all set to write some beautiful letters in February. I can't wait to send positive messages flying all across the globe.
As of now, my furthest letter is headed to Croatia, but we'll have to see what wanders into my mailbox. I might get to answer letters from much further than that. Grab your free printable stationery below, and let's get some letters written!
Your turn to comment! Do you keep regular pen pals? How far are you sending letters this February? Share your favorite letter-writing and snail mail tips in the Disqus comment area below. 
Free Printable Cactus Stationery & Envelope
No need to wait for stationery to be delivered. Get started on your February letters now! Head over to the members-only Page Flutter Vault and print this cute cactus stationery with a matching envelope.
If you don't have a key to the Vault yet, you can sign up for my newsletter and the password will magically appear in your inbox. 😉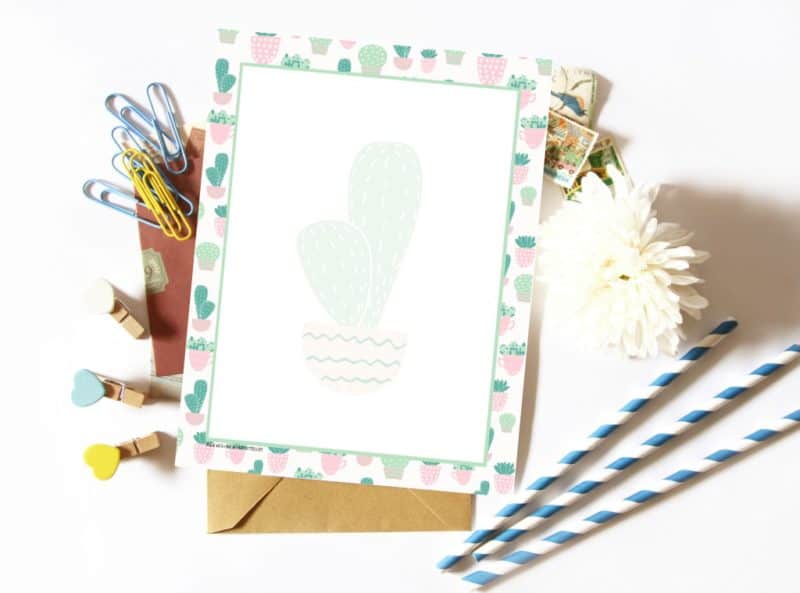 Brainstorm with me!
Subscribe to my newsletter for Page Flutter updates, posts, and announcements,
and FREE access to resources in the Page Flutter Vault!
Don't worry, I only deliver the good stuff. No spam.
Facebook // Twitter// Instagram // Pinterest