Hello, again! Alice here from The Geeky Burrow. Welcome back to my mini-series on Digital Planning for Beginners. Have you ever heard of a Weekly Review? In my previous blog post, I showed you my tips and tricks to start digital planning, if you're a paper lover like me. But how do I remember that these apps exist if they are out of sight inside my phone? The short answer is you have to make it a habit. That's where the Weekly Review comes into play.
**If you missed Part 1 of Digital Planning for Beginners, you can get caught up here.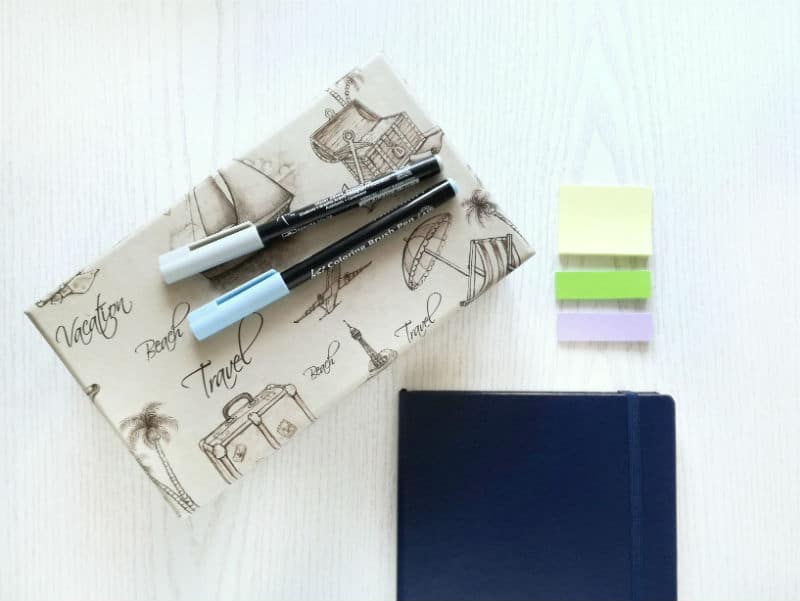 How to Start Digital Planning (Part 2) | The Weekly Review
When I started using digital planning tools to track my long-term tasks, goals and events, I kept using post-it notes or random scrap paper to jot down my to-do list. It didn't matter if my phone was always with me and my laptop was turned on all day long! I just used the Post-it notes because I kept forgetting about my digital apps and calendar. You know, "Out of sight, out of mind."
Thankfully, I have the weird hobby of reading books about time management and productivity. Â My absolute favorite one, Getting Things Done by David Allen, introduced me to the concept of Weekly Review.
What is a Weekly Review?
The Weekly Review is a 3-step process that you should do every single week. Â It allows you to keep your life together and plan your week ahead. Establishing this habit is very important because can train yourself to actually check your calendar and task management apps (at least) once a week. This is a very similar process to the Migration process that Ryder Carroll uses in the Bullet Journal.
RELATED:Â How to Use Trello and a Bullet Journal to Keep Yourself Organized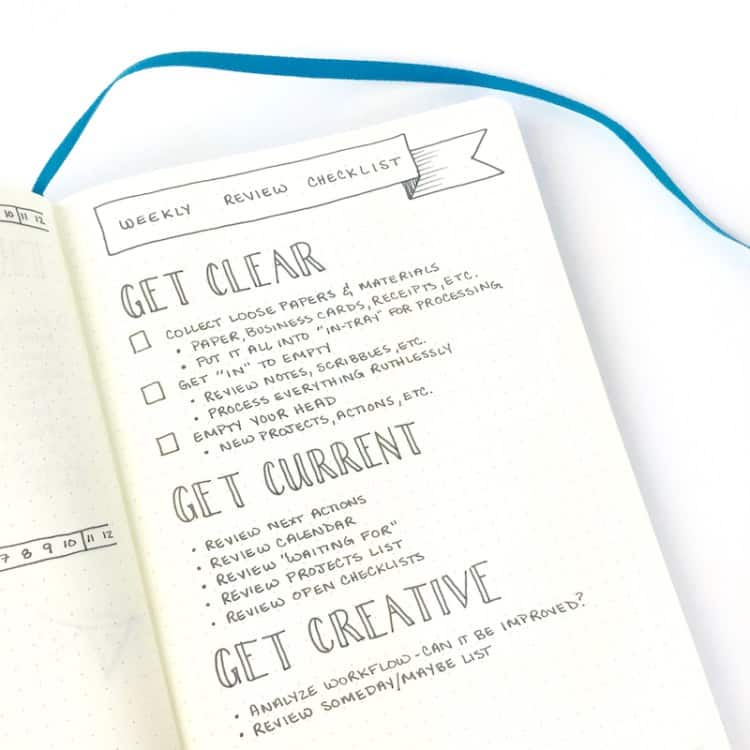 Step 1: Get Clear
During this first step you should collect all your random notes, tasks, appointments and maybe even thoughts (who doesn't like a good brain dump?) and process them. Then you should organize them: Put all the notes in the right folders, your tasks in their own lists, and so on.
Step 2: Get Current
Open your (hopefully not so neglected) apps. Â What have you completed during the last 7 days? You can check off completed tasks and reschedule the ones you haven't done.
This is also the perfect time to schedule your upcoming week: Open your calendar, schedule new appointments, review the ones already planned, Â and make sure none of your commitments overlap. I usually take this opportunity to transfer my digital plans onto paper. I draw my weekly layout in my Bullet Journal and add tasks and events to it, as needed.
Step 3: Get Creative
This is the fun part of your Weekly Review. David Allen encourages you to review your long-term projects (your yearly and monthly goals, for example) and decide if you should move them to your active list of projects. It's also a great time to think ahead and jot down any new idea you may have concerning your work and/or personal life.
For example, a couple of weeks ago, I realized there are tons of movies I'd like to watch in 2018.  I've already missed a couple of them, which seemed like a shame! So, I created a Trello board to list them, add the release date, and made an additional list of movies I'd like to rent! Now, each week, I'll come back to my board and see if any of the movies I'm interested in will be released in the near future. If so, I can add them to my Bullet Journal.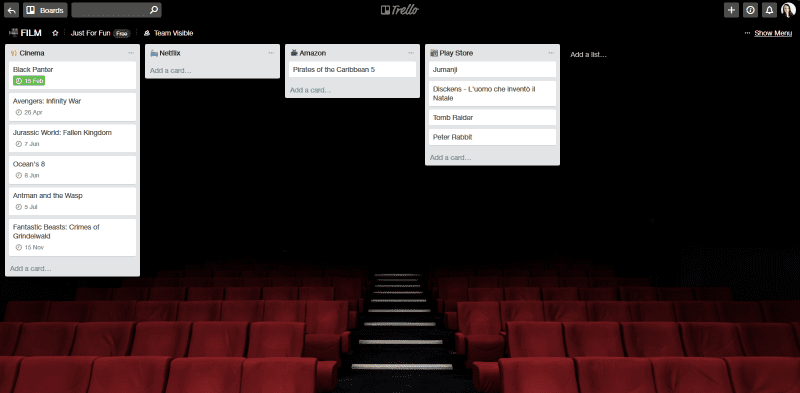 Here you can find the official outline of the Weekly Review and, if you'd like to learn more about it, I highly recommend you the full book, Getting Things Done by David Allen.
But how do I remember to actually do a Weekly Review? Well, you have some options. Just pick the one that suits your lifestyle. You could:
Add the task to your Bullet Journal every week
Create an event on your calendar
Set a repeatable reminder on your phone ( I use this method).
Block off some "me-time" every week (Sunday, or whatever day works for you) to perform your Weekly Review.
Using these methods has helped me find time to consider if it's been a productive week or not.  Plus, I've finally stopped forgetting about my productivity apps. I hope the Weekly Review process help you solidify your own digital planning routine!
We love reading your tips! What do you think of the Weekly Review process? Comment below to share your favorite hacks for combining paper and digital planning.Â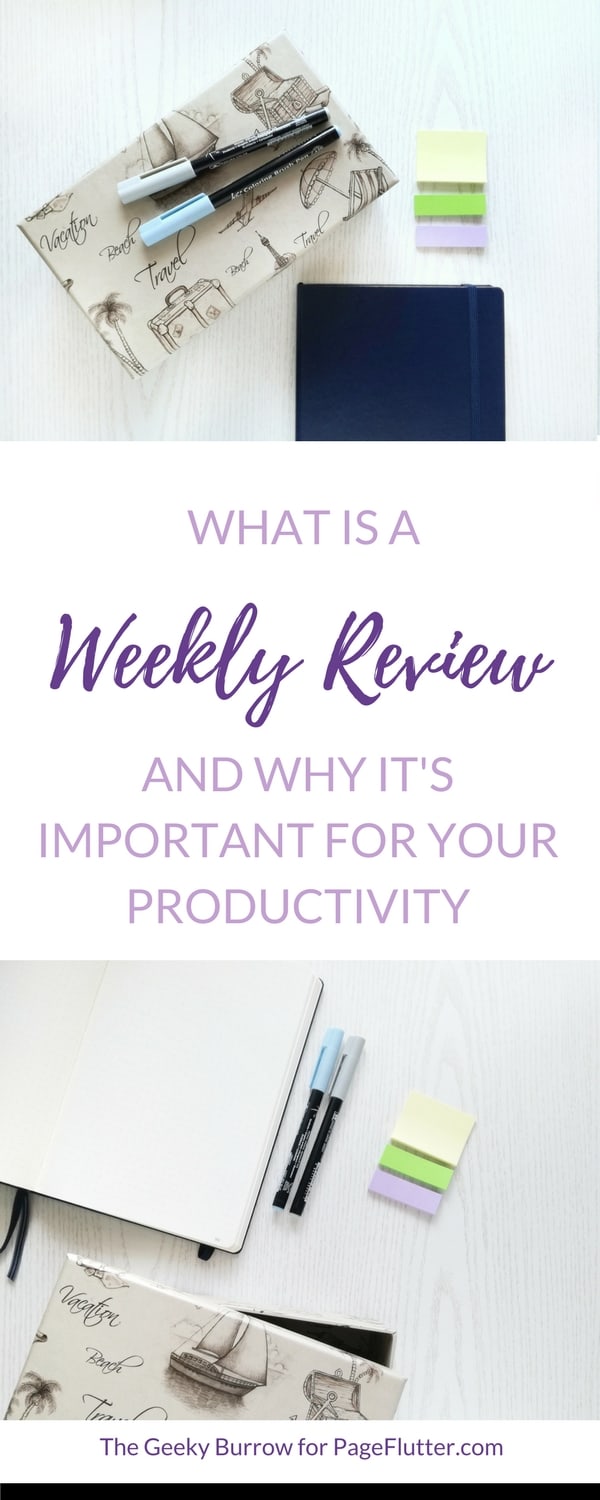 SaveSaveSaveSave
SaveSave
SaveSave
SaveSave
SaveSave
SaveSave
SaveSave
SaveSave
SaveSave
SaveSave
SaveSave
SaveSave