If you're new to bullet journaling, you may be drowning in ideas and tips. But which ones will make your life easier? I've rounded up my favorite bullet journal hacks that actually work!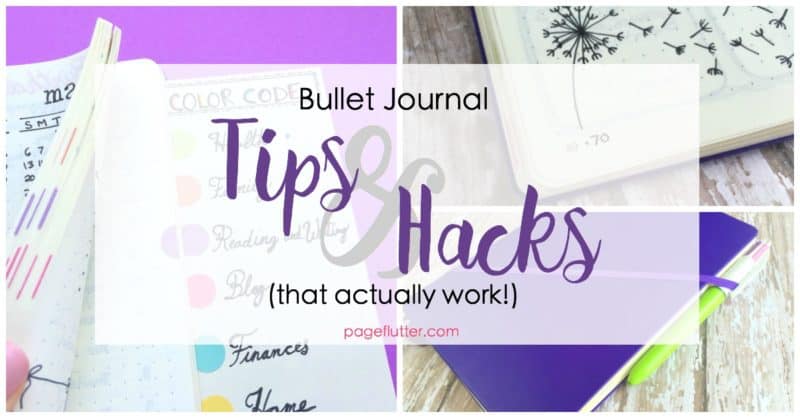 | Bullet Journal Hacks & Tips That Actually Work |
When I started my first bullet journal, I scoured blogs for helpful tips. I wanted to ensure I had a clear vision for my journal before I began. Many of the tips I found had more to do with lettering and decoration than with the practical aspects of bullet journaling.
After a lot of trial and error, I've put together a list of my favorite bullet journal hacks. Let's dive in!
#1: Threading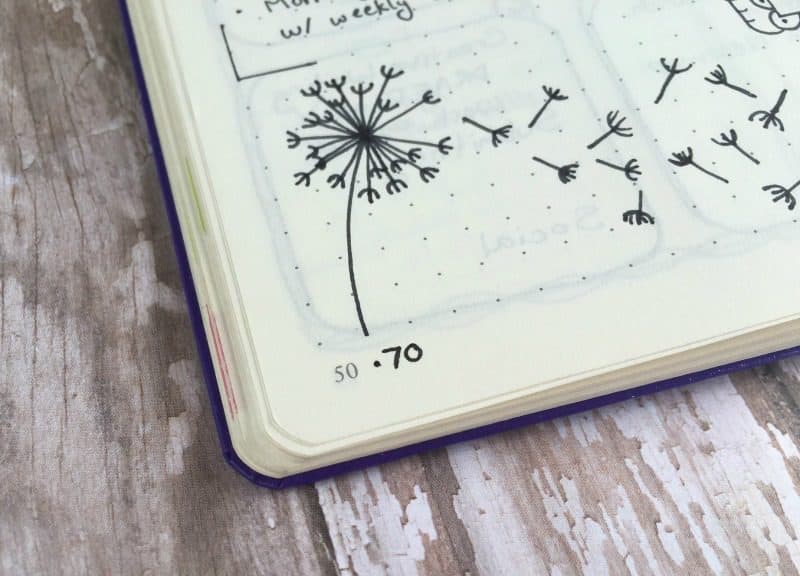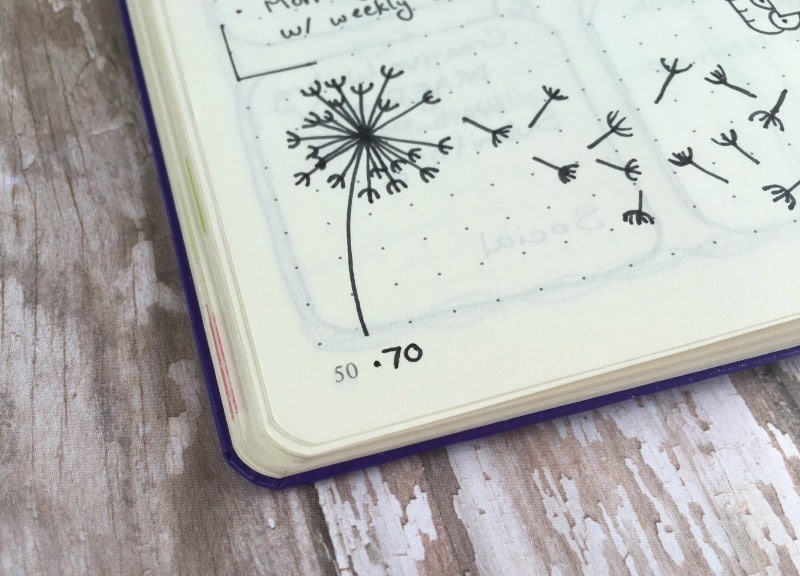 Threading can be intimidating for newbies, but its hella helpful if you intend to keep long collections. The technique allows you to add additional pages to a collection, even if it occurs out of order. For example, let's say you begin a list, "Books to Read", on page 50.
You continue working on your dailies and collections on pages 51, 52, 53 and so on, periodically flipping back to page 50 when you hear an interesting book title. When page 50 is completely full, you may find you want to keep "Books to Read" active. So many books to read!!!
Don't panic; you don't need to start slicing pages out of your journal.  Turn to the next blank page (page 70, for example) and begin "Books to Read: Part 2".
Threading makes it possible to follow this growing collection without constantly flipping back to your index. Simply list the page number for the other segments of the collection at the bottom of the page (next to the page number). The final product would look like this "50 • 70". I also note the pages in my index.
If the collection ends up being important enough to carry over to your next journal, you can consolidate pages when you migrate to a new notebook.
#2: Signifier Magnifier
This is a little technique I picked up from Kim at tinyrayofsunshine.com. Hoooooly moly, does that girl know her bullet journals!
Let's say you have a daily spread in which you used three of your signifiers: "workout", "idea", and "waiting on." You simply copy these three signifiers into the margin of the page. Later, when you want to quickly flip through pages that deal with workouts, you can scan the page edges.
When you're in a hurry, you'll appreciate being able to locate categories of information without having to read through the bullets on each page.
#3: Flip out key
When I was new to bullet journaling, I found it helpful to keep my key visible while I was writing on other pages.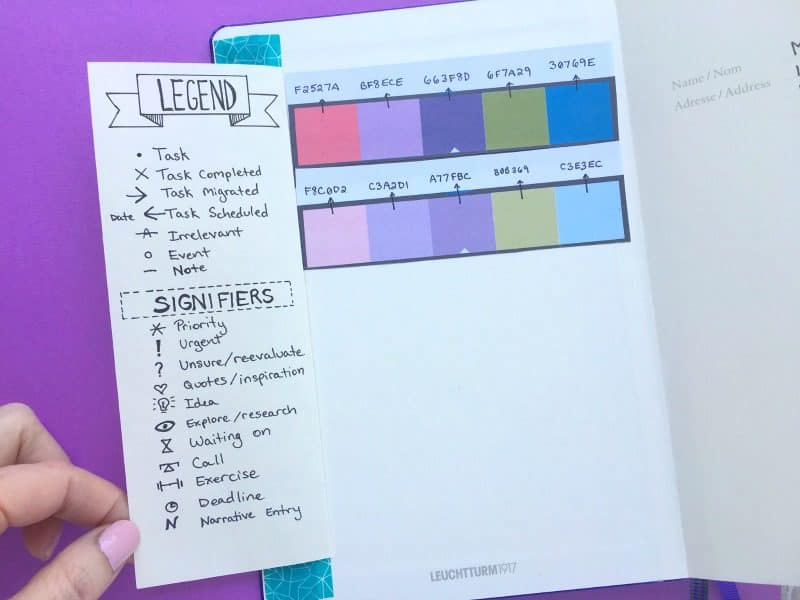 #4: Tabs and Flags
While I don't use a lot of tabs of flags in my own journal, they're one of the simplest ways to keep track of frequently used pages.
Envelope triangles are a neat little version! They let you mark pages without having awkward tabs sticking out from the page. You can reposition it as much as needed, and use as many as you like. Super simple.

#5: Edge labels
I'm a HUGE fan of this trick! Each category is assigned a color, and I simply fold a circular label on the page edge. I don't have to guess at what type of information is on those pages. NOTE: I don't label every page. Only ones worth referencing again (monthly spreads, useful collections, etc.)
Remember my flip out key? I've also added a flip out guide to my back cover for my color coding stickers. Spacing those bad boys can be a real pain, but the guide keeps them in line like good little soldiers.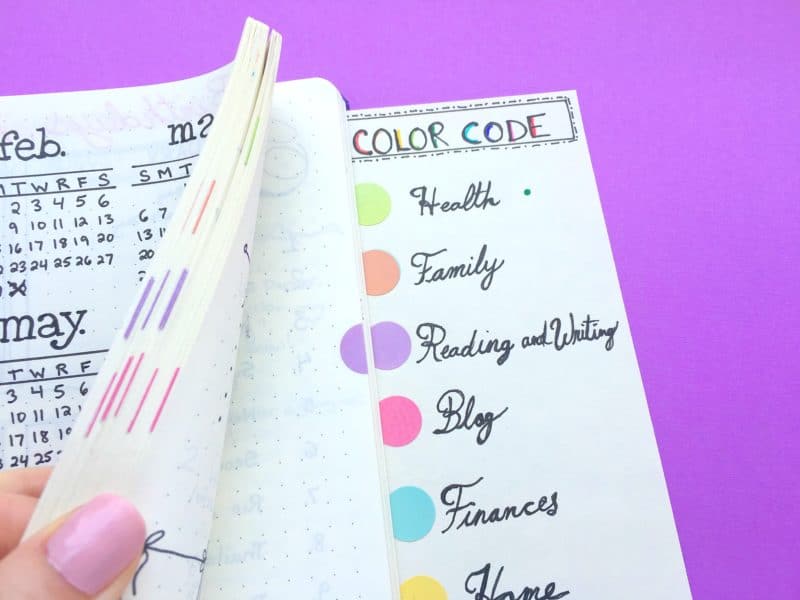 #6: Index Variations
Your index is a no-brainer for keeping track of what goes into your journal. I began with a basic index, and soon discovered there were specific types of entries I wanted to catalogue.
I started a separate index for long narrative entries, which I use to capture a sparkle of inspiration. I've also seen people split their indexes to create more space, or even treat their index items as bullets. Check the bullet journal website for more useful index hacks.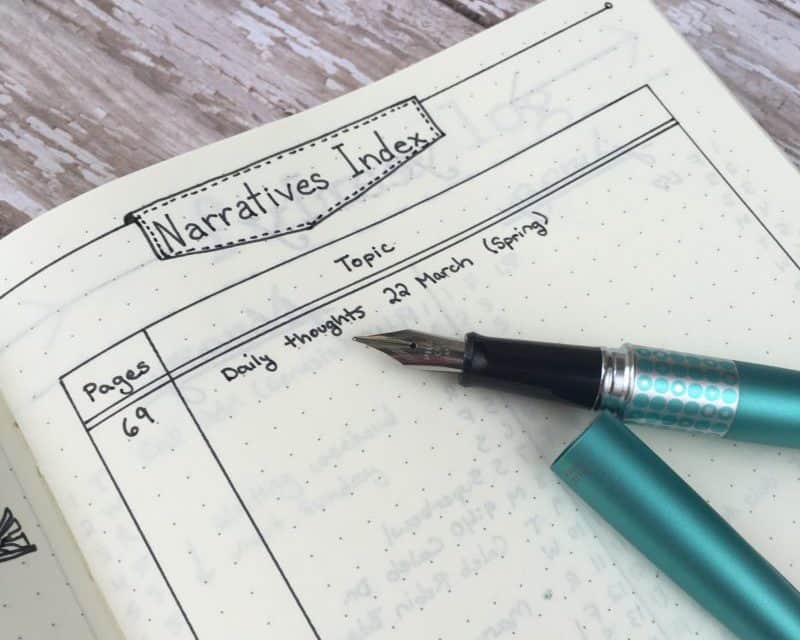 #7: Display (From goingreno.com)
Write note. Close notebook. Forget note. I can practically watch the information leak from my brain as the pages flutter shut!
The easy solution is to leave the notebook open. I bought a display stand from Hobby Lobby for about $1 (yep, just like gold wire stands your grandmother used to prop decorative plates up on the mantel). It keeps my daily visible on my desk as I move from task to task.
If you need more desk space, goingreno.com shared this very handy tip to hang a bullet journal vertically!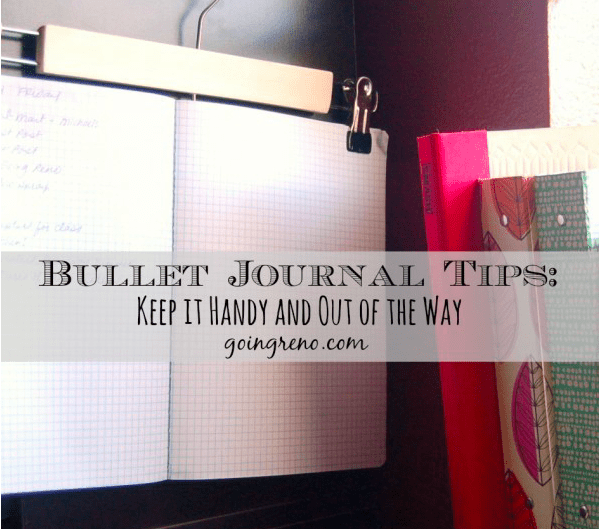 #8: Keep a Pen Handy
This tip is brought to you by the official bullet journal blog. If your journal has an elastic closure (such as Leuchtturm1917, the official bullet journal, Moleskine, and Rhodia, among others), you have everything you need. Slide the elastic off the front of the cover, and pull is across the bottom of the journal. Tuck the elastic behind the bottom left corner of the cover. It should stretch diagonally across the front of the cover. You can slide a pen snugly between the elastic and page edges. Voila!
If you prefer a more structured approach, you can attach a pen loop to your journal, but I find these don't accommodate anything much larger than my Sharpie fine tipped pens.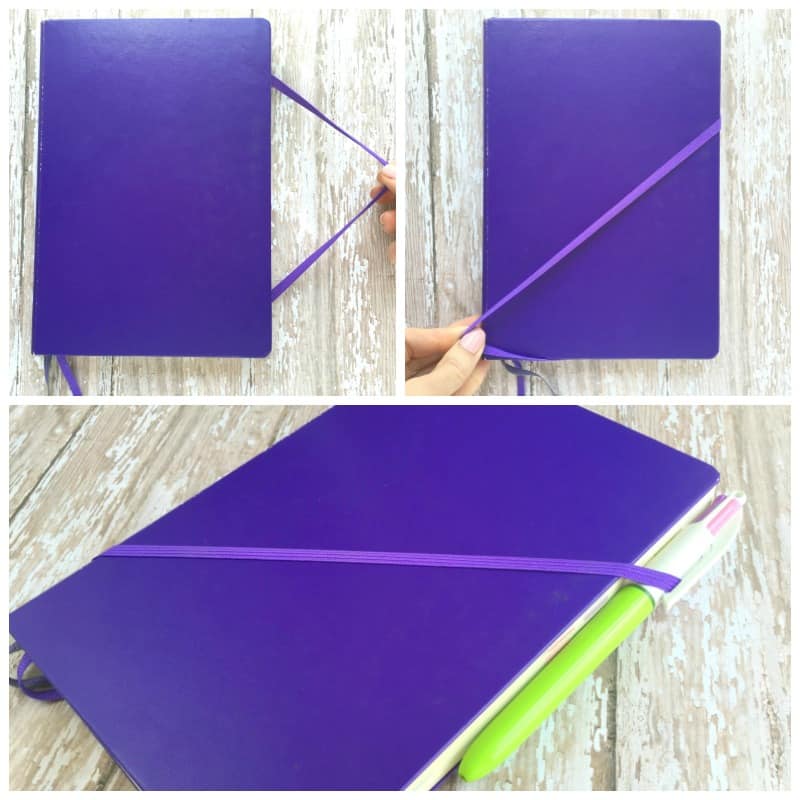 #9: Abbreviated migration
When it comes to migration, I can be a lazy bag-o-bones! My Tuesday list might be "clean up Wednesday bullets." It saves me time, especially if I don't have any new deadlines that outweigh the previous day's bullets.
Kara from BohoBerry.com uses a similar method. She doesn't migrate her daily bullets until it's time to turn the page. Having to copy those bullets to the next page is a great motivator to get as many things done as possible!
Some journaling tips do nothing more than make things look pretty. These hacks will actually boost your efficiency and get your journaling with ease. Pick one or two and give them a try!
I know you have a genius bullet journal hack that could rock the BuJo community! Share it with us in the comment section below. 
Brainstorm with me!
Facebook //  Twitter// Instagram // Pinterest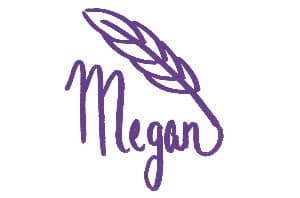 SaveSave