Think you're not a writer? Think again! The Page Flutter six-word story challenge lets you tell your story in six words. Write one story a day for 30 days & unlock your creative vault. Take the challenge!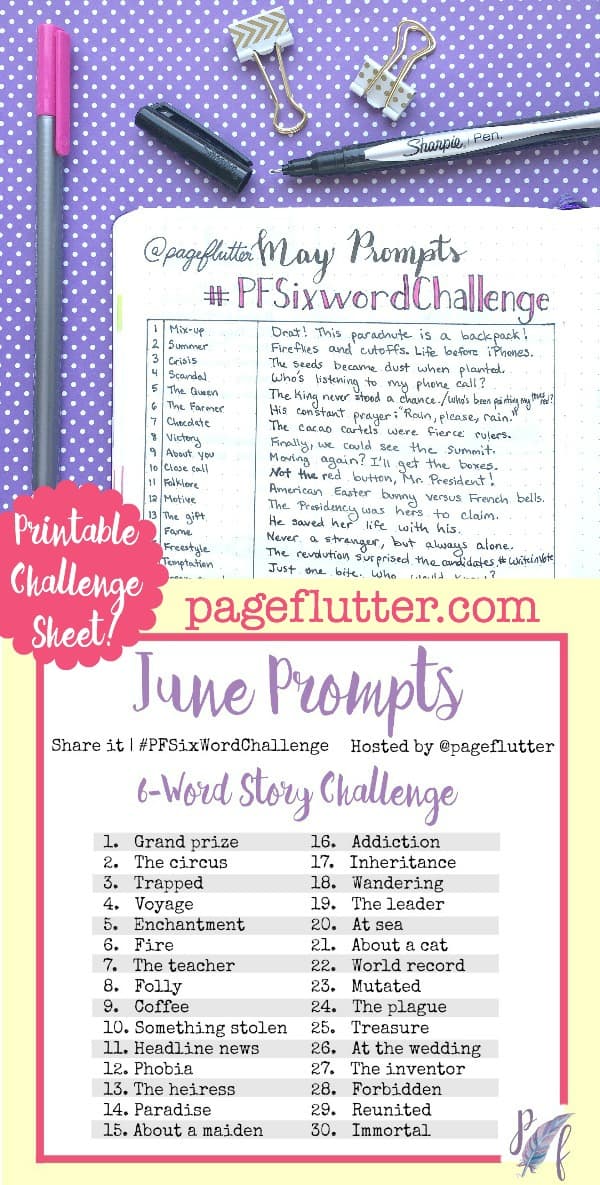 | June Prompts: Six-Word Story Challenge (#PFSixWordChallenge)|
The June Six-Word Story Challenge Prompts (#PFSixWordChallenge) are live on Instagram!
We all struggle to fit our creative joys into our busy lives. That's why this challenge is short, sweet, and requires no special skills or supplies. Just you and your 6 words!
I read all of your stories, and try to comment on as many as I can. Each Friday, I'll pick one featured story to display on my Instagram feed!
Now, on with the challenge!
Printable JUNE Challenge Sheets
Repost my challenge graphic in your Instagram feed for easy reference, then grab the FREE printable (A5 size) and paste it into your journal.
**CLICK IMAGE TO PRINT**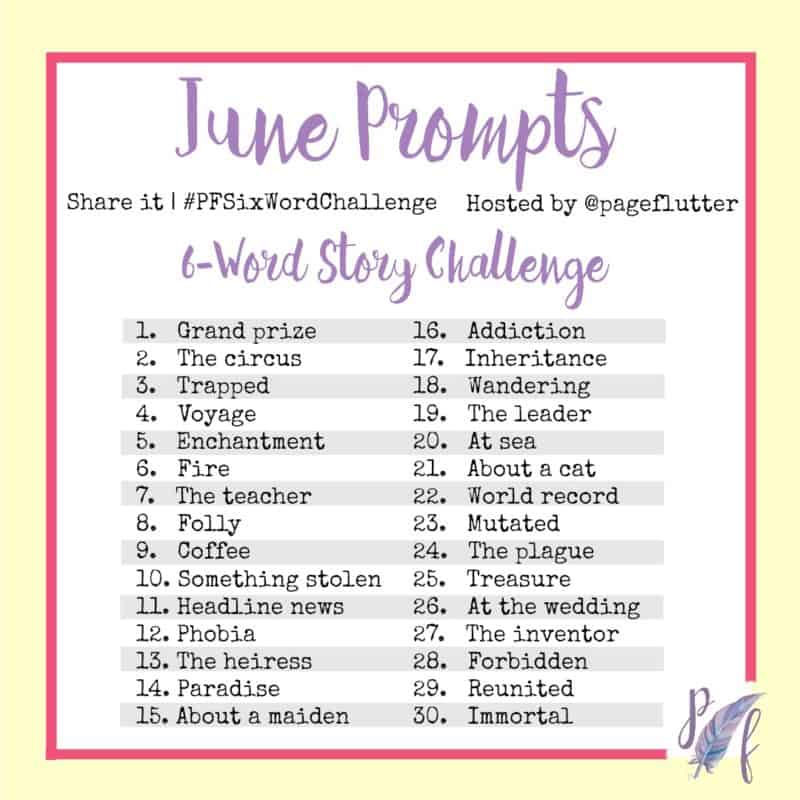 **CLICK IMAGE TO PRINT**
A5 Journal Insert PF Six Word Challenge-June
How to Play…
Six words, that's all you get. Try to put them together in a way that feels like a complete story, but also take the opportunity to experiment. Have fun with it!
You are welcome to use the prompt words in your story, but it's not required at all. Write whatever sparks in your mind.
Be sure to tag your stories on Instagram with #PFSixWordChallenge so we can all see them.
Tag me (@PageFlutter ), so I can give your awesome story a shoutout!
Not on Instagram? No worries; just play along on my Facebook page!
Subscribe to my newsletter to get my latest posts and challenge prompts delivered to you inbox!
Remember: It's not about having the "best" 6-word story.
It's about inspiration.
Have fun & take creative risks!
If you need a little help getting started, check out my 6-Word Story board on Pinterest. For those of you looking to turn your six-word stories into larger projects, you can check out my board devoted to the craft of writing. Happy journaling!
Brainstorm with me!
Subscribe to my newsletter for Page Flutter updates, posts, and announcements,
and FREE access to resources in the Vault!
Don't worry, I only deliver the good stuff. No spam.
Facebook // Twitter// Instagram // Pinterest