Planner and Bullet Journal stickers are a great way to zhuzh up your journaling practice. Here are some of my very favorite stickers to get started, plus a few that are on my wish list.
Journaling and planning on paper is a great way to get organized, sort through your thoughts, and flex your creativity.
But truth be told, I am much more motivated to make lists, keep track of my calendar and jot down my thoughts when I get to also be creative in the process.
Having journal spreads I love keeps me excited to open my journal and dive in.
And using bullet journal stickers and planner stickers is an easy way to make beautiful journal spreads!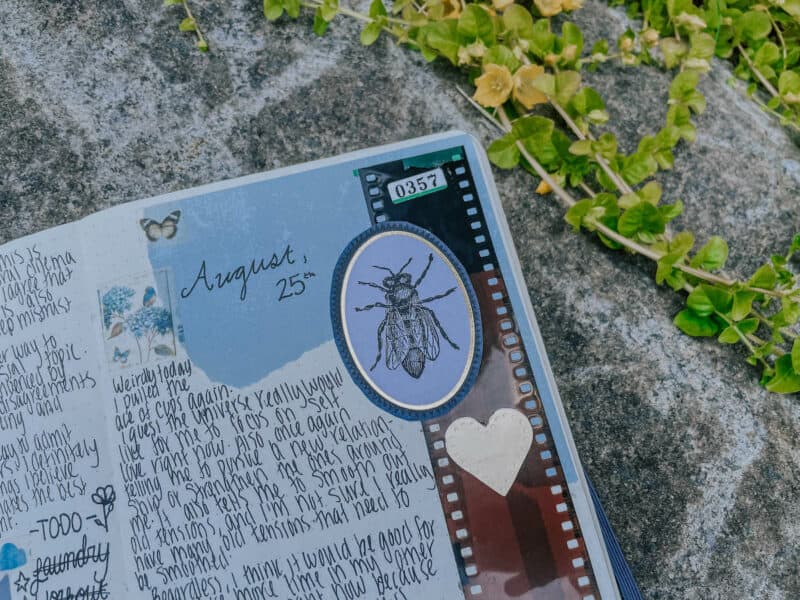 How to Use Stickers in Your Bullet Journal or planner
When I begin planning a spread, I typically find stickers that inspire me and match the theme I want to use for my spread.
I like to draw from the specific colors from the stickers I find, and mix and match my markers based on those.
There are also different kinds of stickers you can utilize, depending on what you want to accomplish. The main categories being decorative journal stickers, journal planning or productivity stickers (functional stickers), and printables.
All of these are great tools to use to organize your page, create headers, banners, and layouts, and generally help you flow between different sections on your page.
My Favorite Stickers for Bullet Journaling
I live on the road full time, so I have had to strip my sticker collection down to a small bite sized pack. I had to be very picky about which ones I wanted to bring with me, and which ones I wanted to give away.
I think this makes me a bit of an expert on the best bullet journal stickers – since I'm limited on space, I don't have room for a sticker pack I don't absolutely love.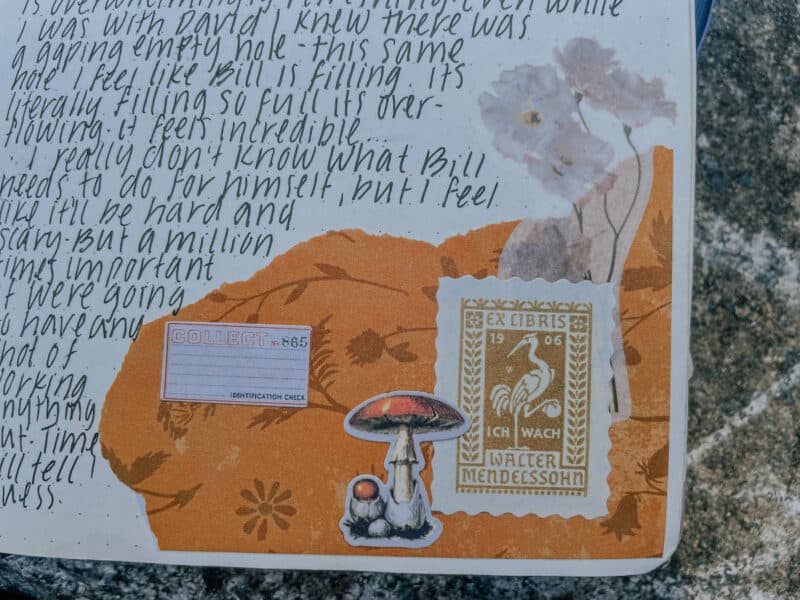 Journal and Planner Stickers I Love
These are the cut stickers that travel with me and are a staple in my personal collection for my own bullet journal.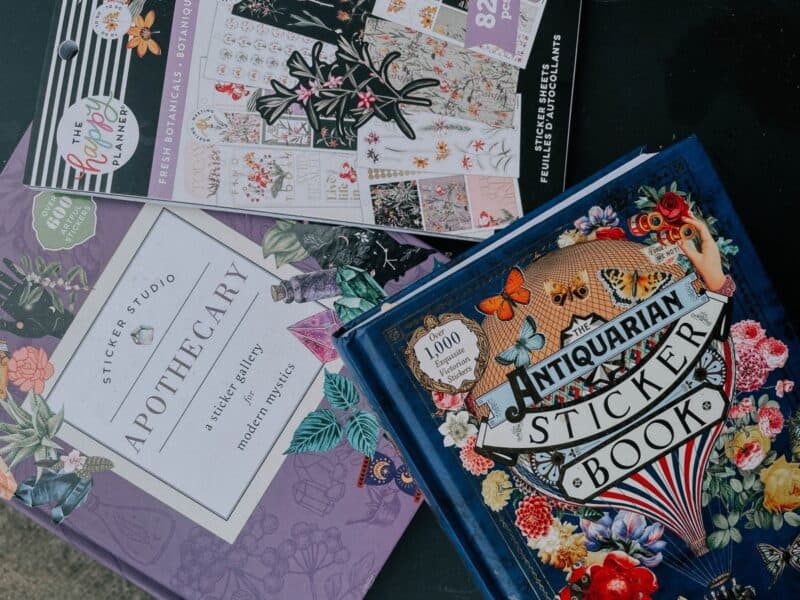 I found the Antiquarian sticker book on a whim at Target in the book section. I never thought Target sold sticker books. I always assumed the stickers would be with the craft and journaling supplies.
This sticker book is filled with over 1,000 victorian styled stickers. I have looked through this sticker book dozens of times and still find myself discovering new stickers I have never seen. It's huge!
I'll admit that some of the stickers in it are a little on the strange side, but if you're a lover or quirky, weird things and artwork — you'll probably love this book.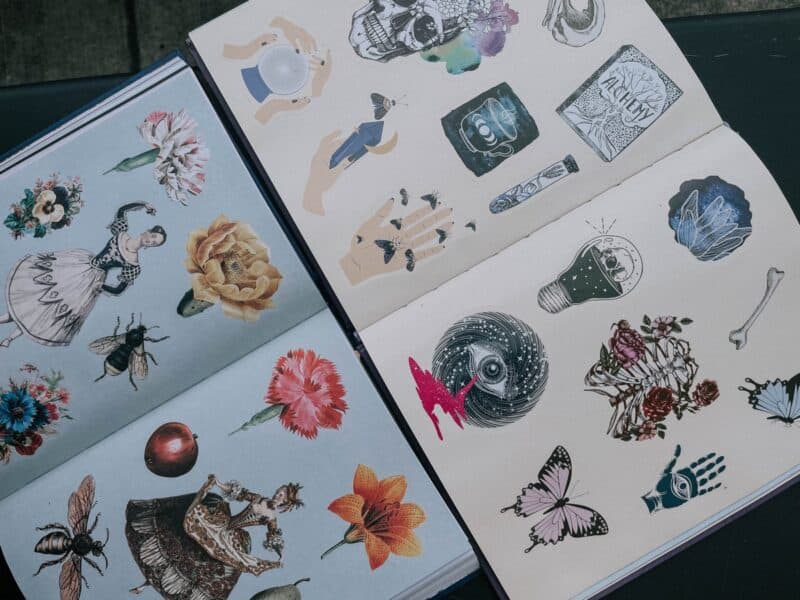 If you're a lover or mystical, witchy, spiritual vibes— you'll love this sticker book. These stickers are glossy and polished and each page tells a different visual story.
The Apothecary sticker book is filled with over 600 stickers of crystals, moths, potion bottles, moons, mushrooms, etc. Perfect for your journal, and also great for scrapbooking.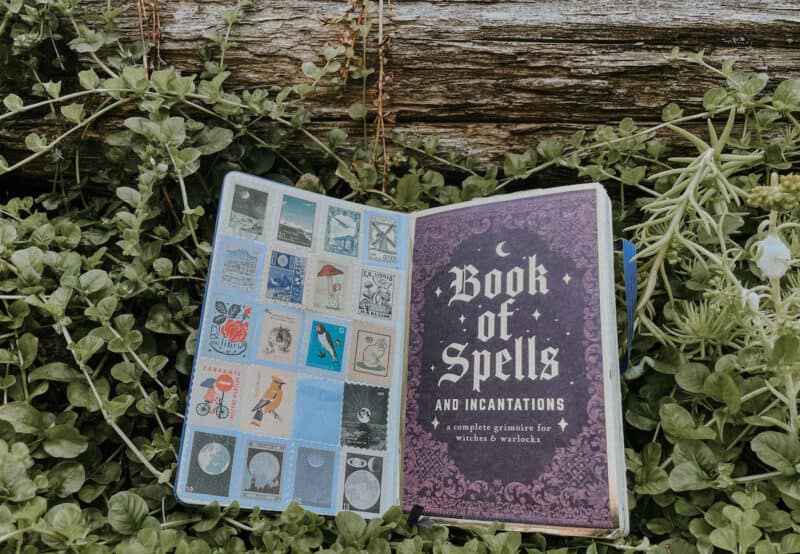 This vintage stamp collection from Amazon has made decorating my journaling pages so much fun. This pack comes with 6 different collections and has a total of 276 stamps.
My favorite collections are the space collection and the mushroom collection. I created a grab and go stamp page for when I am on the road and don't want to lug around all of my journaling supplies.
It's also fun for travelers, as you can find stamps from your favorite places.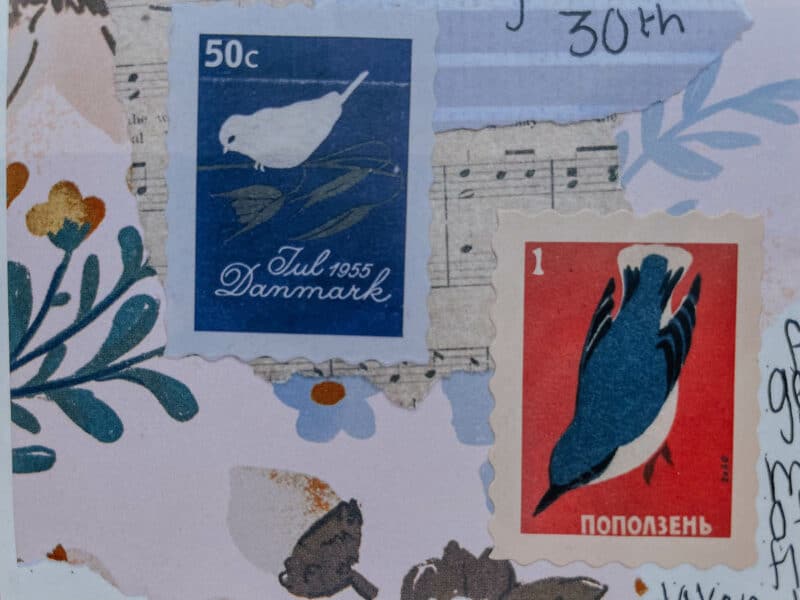 4. The Happy Planner
The happy planner journal stickers have tons of different styles and themes to choose from. They are wonderful for helping you stay organized in your journal while also keeping it cute and themed.
My favorite happy planner themes are the Blooming Botanicals, Pastel Rainbow, and Fresh Botanicals.
Each Happy Planner bullet journal sticker book has a huge range of stickers, which include a nice mix of decorative and cute stickers, and more targeted planner stickers or functional stickers, which you can use with purpose, like to create a habit tracker, track your week with 7-day tracking stickers, build bullet journal layouts, etc.
5. Vintage Collection Decorative Sticker
I love this vintage decorative sticker collection because it is a diverse spread of different things. I love the vintage tags and sketched out designs. This set comes with sticker sheets you can cut yourself. This adds gorgeous small designs and details to any spread. 
Bullet Journaling Stickers I Would Love to Add to My Collection
These are all stickers that are on my radar and would love to add to my collection.
I personally strongly dislike writing out calendars from scratch. It feels tedious and time consuming. I'd love to add small monthly stickers and week stickers, and think they'd be awesome for helping to stay organized with my monthly and weekly spreads.
This aesthetic journal decor kit would be stunning for adding borders, drop shadows and textures to your journal spreads. I love the simple and elegant designs.
This kit will do almost the same thing adding an area rug to a room. It would be a great way to ground it, guide your eye across the page, and create some general inspiration on your page.
3. Emeralds Cove Stickers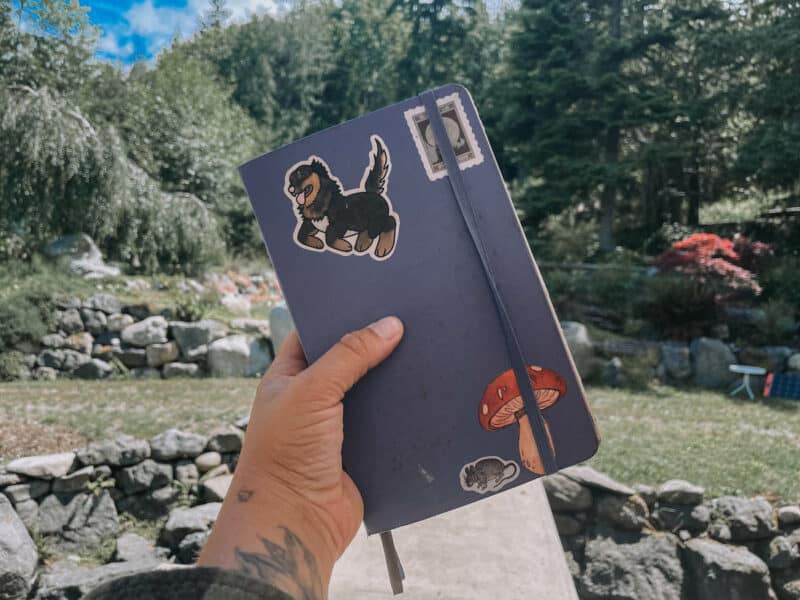 Emeralds Cove does a fantastic job of transforming characters into her unique and cute style.
I have had stickers from her before and even commissioned an adorable sticker of my dog that I have on the front of my journal. Her stickers are all high quality and can be ordered as individuals.
These transparent lace stickers would be a fun addition to a journaling kit. They would be great for framing important info and adding little details to a spread.
I love that they are fully transparent on the backs instead of having thick boarders. This means they would be fantastic at adding details and texture without adding too much negative space.
This Rosy Posy sticker sheet book is unique in that none of the stickers are pre-cut. They all come on a sheet that you can tear or cut. I love that the edges can be left raw and you can size them to perfectly fit any spread.
This book is a scrap book styled book— if that fits your aesthetic this may be a wonderful book for you!
These floral transparent stickers are absolutely stunning and would be a fantastic addition to any journal.
Printable Sticker Sets
Printable sticker sets are a very affordable and fun way to bulk up your sticker collection without needing to head to town or wait for shipping.
You can either print on specific sticker paper or use double sided tape to stick it in your journal.
It would be helpful to pick up some good quality double sided tape, a straightedge and ruler if this is the route you're wanting to go. Just be sure you have access to a high quality printer.
There are plenty of places such as fedex, walmart, and libraries that have printers you can use for a small price.
This printable paper crafting kit is so sleek, colorful and minimal. This set would add such an elegant flair to any spread.
This is a very well thought out set that could be used many different ways.
I personally have a hard time enjoying creating monthly and weekly spreads. Making calendars and straight lines can feel very tedious. This planning printable set takes away all the time consuming work necessary for creating a gorgeous spread.
I love the clean lines and minimal design of this set specifically. The pre-made habit trackers take away all of the careful calculation necessary to get a perfectly spaced spread.
If you haven't done any habit tracking before, there are tons of different things you can start tracking and analyzing.
Just as the name of this set suggests- the ultimate digital planner bundle has just about anything you could ever need to create a stunning bullet journaling spread.
I love that you can print planning pages, icons, stickers, frames, etc. There is so much versatility and plenty of ways to customize this collection.
If you're looking for a one stop shop, this very comprehensive collection just may be perfect for you.
Make Your Own Cute Stickers
If you're wanting to get a little extra creative with your bullet journaling sticker collection, consider making your own!
One thing my sister and I love doing is pressing our own wild flowers and turning them into gorgeous stickers.
Be sure you're following best practices for picking your own wildflowers, and make sure you keep them pressed for at least three weeks to let them fully dry out.
After this you can either laminate them or press them between pieces of clear tape.
You can turn just about anything into a sticker. Print old photos, keep old event tickets and movie tickets, and you can even cut snippets out of magazines.
There are also websites like Stickeryou.com that will let you create your own stickers from scratch and print them. Think about turning old photos, pictures of your pets, or your name into gorgeous high quality stickers.
And if you don't have stickers at the moment, but want to get into the spirit of stickering, try using washi tape in creative ways.
How to Store Your Stickers
I keep all of my journaling supplies in a high quality box to protect it. This keeps my markers from escaping and my books in good condition.
I have made a small index of stickers and stamps at the beginning of my journal so I can have access to them while I'm traveling. This way I don't have to lug around tons of supplies in my carry-on bags.
Get Creative!
There are endless ways of customizing your journal to make it unique. Stickers offer tons of flexibility and creativity and there are thousands of affordable packs online and in stores. Plus they're fun to collect.
When I notice my collection is getting a little bit too full or chaotic, I like to hand craft personalized sticker sets for my friends or family. I will add them to birthday cards, care packages, or just let people know I am thinking of them and drop them off in their mail box.
It is a great way of showing your loved ones you care!