A smashbook is a great way to indulge in creative play with your daily journaling. Check out how elephant erin combines daily journaling with fun art journaling and smashbook techniques!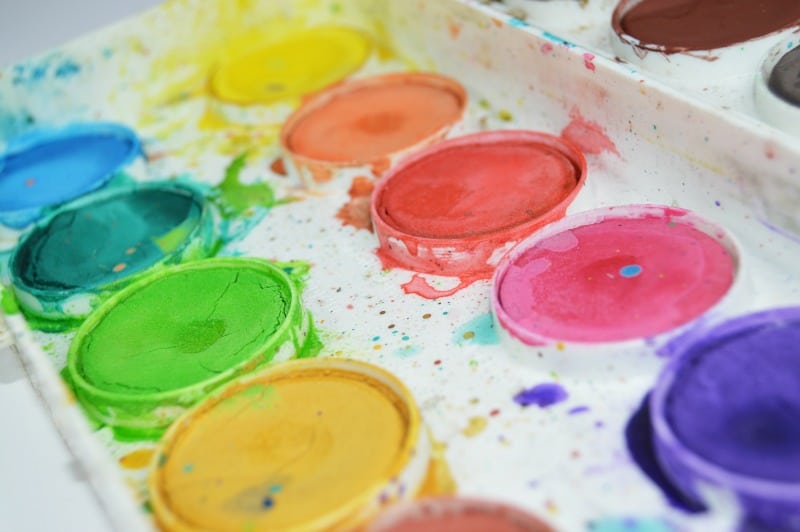 9 Smashbook Pages to Inspire Your Artsy Wild Side
Hi, everyone! Erin here, from elephant erin. When I was in elementary and middle school I had what is called a smashbook. If you haven't ever kept a smashbook, it's basically a scrapbook, but instead of carefully planning out pages and spending a ton of money on themed stickers and supplies, you just paste anything you want in a notebook. Well, I was looking through the many smashbooks I have accumulated over the years, and it inspired me to start again!
Instead of buying the branded smashbook supplies, I decided to utilize what I already had in my craft stash. Lately, I have been inspired by Fox and Hazel and Moonlight Cabin with their art journaling and creative journaling. I wanted to combine creative journaling, art journaling, and smashbook techniques into a neatly tied package.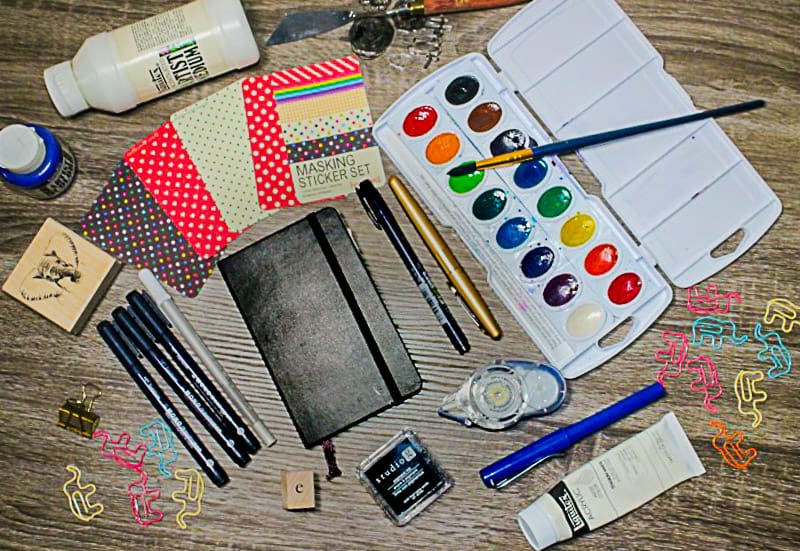 This hybrid journal has been a great addition to my creative life and I have really enjoyed the process. I tend to do whatever I am feeling that day and mixing a lot of different types of media together. I am no artist, but that's why I think it is so fun and inspiring to play around with all of my supplies. I do what works for me, and it has been a great way to destress between classes. Â
To start, you need a notebook. Any notebook will do, but I am using a Moleskine mini sketchbook. The pages are pretty thick, so I tend to load a lot of paint and goodies on top. There are lots of supplies out there, and I know this list seems a tad overwhelming. Just use what you already have, then experiment with something new that seems interesting to you. There is no need to do a craft store haul to get everything I use!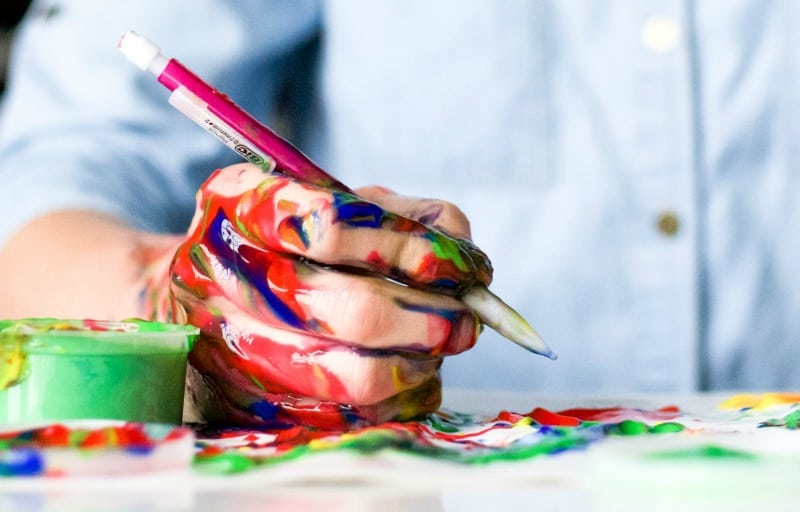 Here's a list of supplies that I use in my hybrid journal
Watercolors:Â I have two palettes. One is

Windsor and Newton

,

and the other is

Prang

.

 Watercolor is a really easy way to add color to your page, and it gives you the opportunity to blot or use different amounts of water. They have been really fun to play around with.

Tombow Fudenosuke:Â

I use these pens/markers for a lot of my hand lettering. They're really bold and have a ton of line variations depending on how you write with them.

Tombow Mono Drawing Pens:

(<<Currently only available on the Tombow site). These are really choice for quick-draw markers that come in a few thicknesses. They're similar to the

Faber-Castell Pitt Artist Pens

,

but I tend to use the Tombow more often.

Tombow Mono Adhesive: T

his is a great tool for pasting paper and pictures into your journal. Glue is too wet and seeps through the page. For me, this adhesive tape is a life saver.

My fountain pen collection: (

See my fountain pen post to learn about fountain pens

) I love fountain pens (if you didn't already know), and I use them for practically any writing task.

My Polaroid Snap Camera:

The pictures print out instantly and have a sticky back. It's so convenient!

My Canon Photo Printer:Â

(A regular printer also works) This is actually my sister's, but it makes it so easy to print photos from your phone.

Scrapbook Paper: Your favorites, or whateverÂ

you have laying around.

Stamp Pad:

They're great to rub directly onto the paper, or to utilize any random stamps you may have laying around.

Letter stamps:Â I got mine at the thrift store (haha, of course!), but these look identical. I love having a variation from my handwriting on different pages.
Gesso:

 Great for putting on the page as a primer. Use gesso prior to applying watercolor and it won't seep through to the next page.

Magazine clippings and any paper scraps you have laying around: They're great for finding inspirational words, and I really like using bits from different holiday advertisements.
Any other fun favorite random supplies:Â This is where you can get really creative. String, concert tickets, fabric swatches…you name it!
9 Pages From My Smashbook-Journal Hybrid Notebook
Ok, that's enough about supplies. Here's what you really want to see…My journal pages!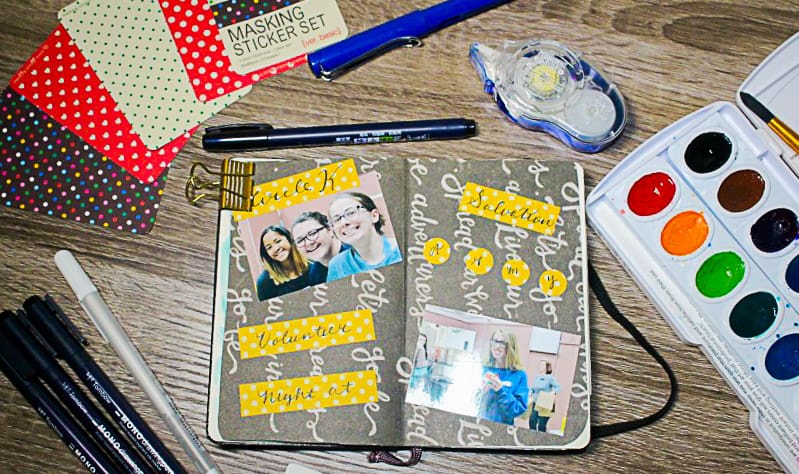 In the photo above, I used some scrapbook paper to create a nice base for my page, some washi tape strips for my little captions, and my polaroid snap photos. My hybrid journal is a great keepsake for everything that is happening in my life.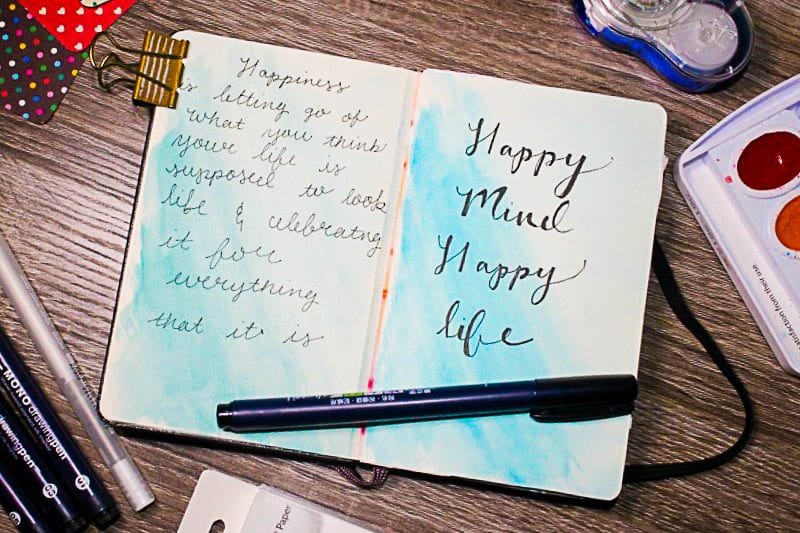 I love motivational quote pages!  They're a fun way to relieve stress throughout the day. Here I used some watercolor and simply spread it all around the page (with no particular technique). Then, I did a little hand lettering practice, and it I like how it turned out. It's all about doing what what you enjoy and being true to yourself.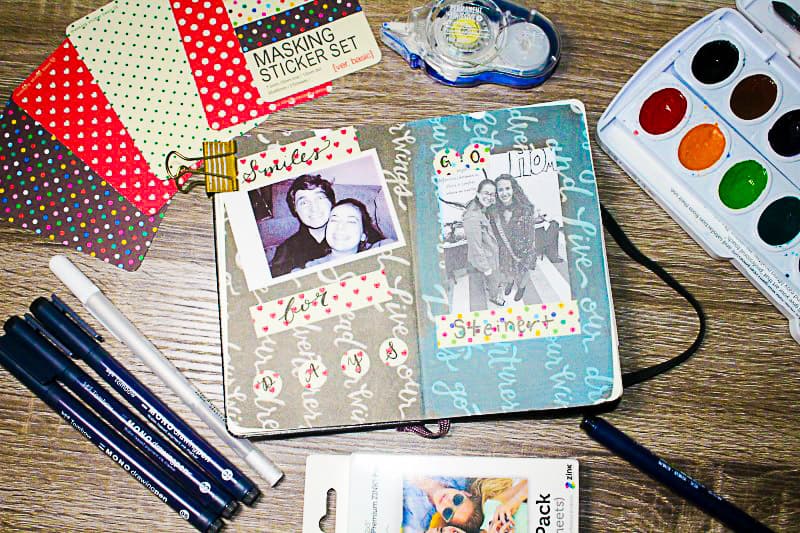 In the spread above, I used the same scrapbook paper as before. I used a Polaroid picture the left, and on the right I just printed a picture with a regular printer. I also rubbed a blue stamp pad on the right side to add a little bit more color.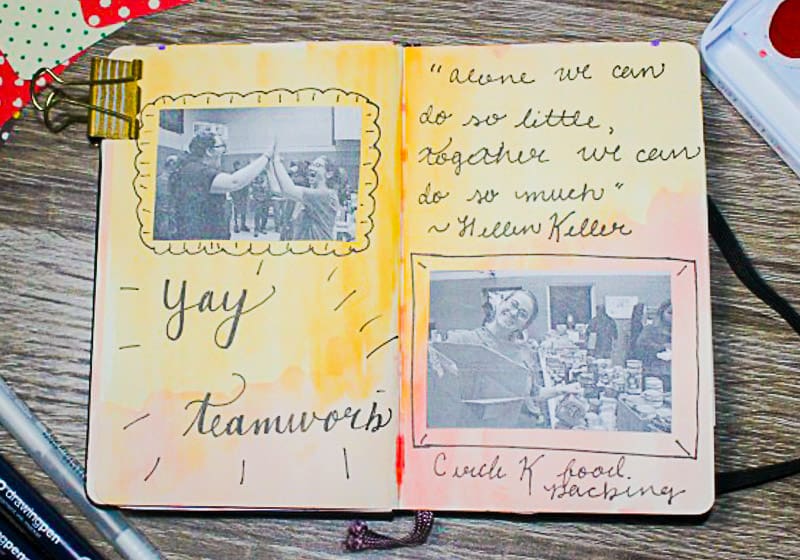 The background color on the pages above is a mix of orange and red watercolor. After the paint dried, I used my tape runner to add pictures I printed from my regular printer. I played around with some frame doodles and used my Tombow Fudenosuke for the hand lettering.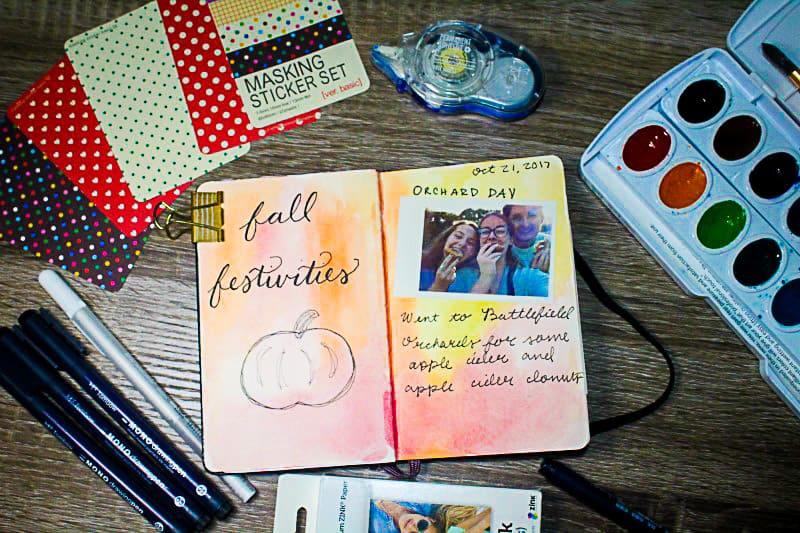 I just love fall. Of course, I had to dedicate some journal space to an orchard trip I took just to get some apple cider donuts (Mmm-mmm!). The background color is watercolor, with a Polaroid picture and various Tombow markers for the lettering. Â Â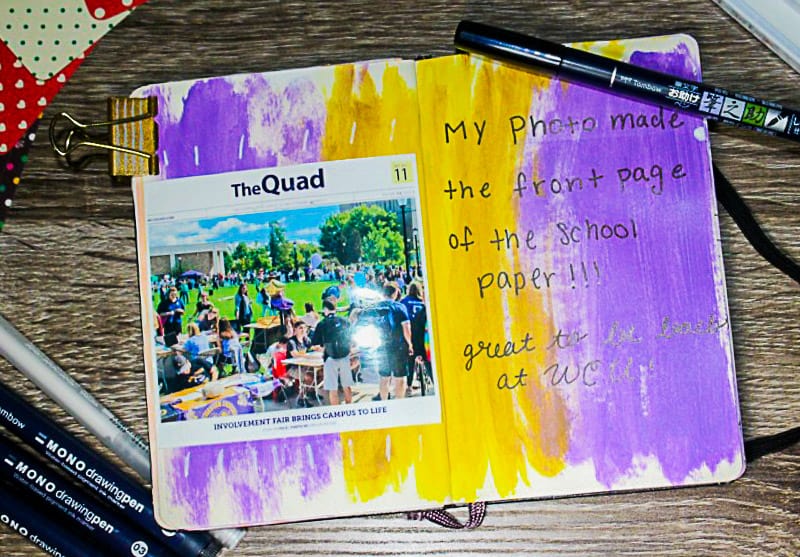 During my first week back at school, I decided to join the photography team for the paper, and they picked my photo for the first issue! I was so excited, I created a special page for it. I used purple and yellow acrylic paint and brushed it on at random. The photo was printed using my Canon photo printer. I used my Tombow markers for the writing.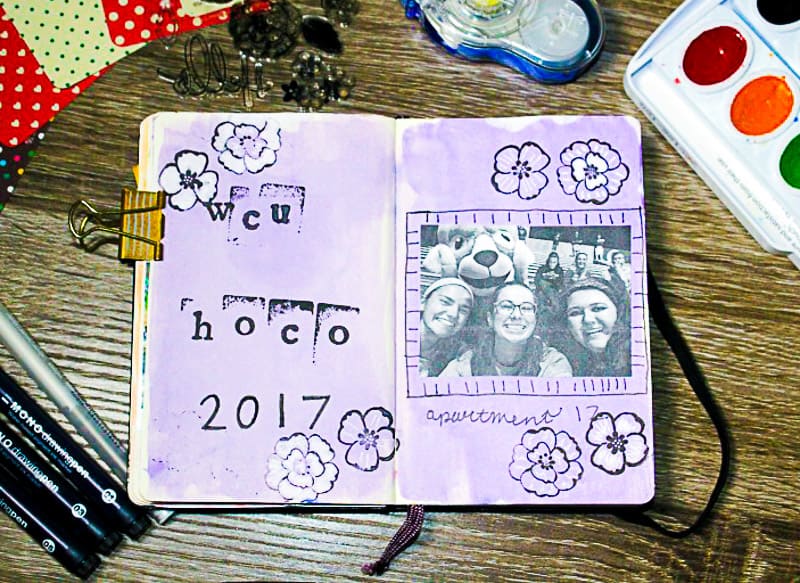 I really love my roommates this year. I knew I had to find a place for them in my journal! I swirled on some lavender craft paint and used my stamps for the type. I also used clear flower stamps (which I found at the dollar store) and colored them in with a white gel pen.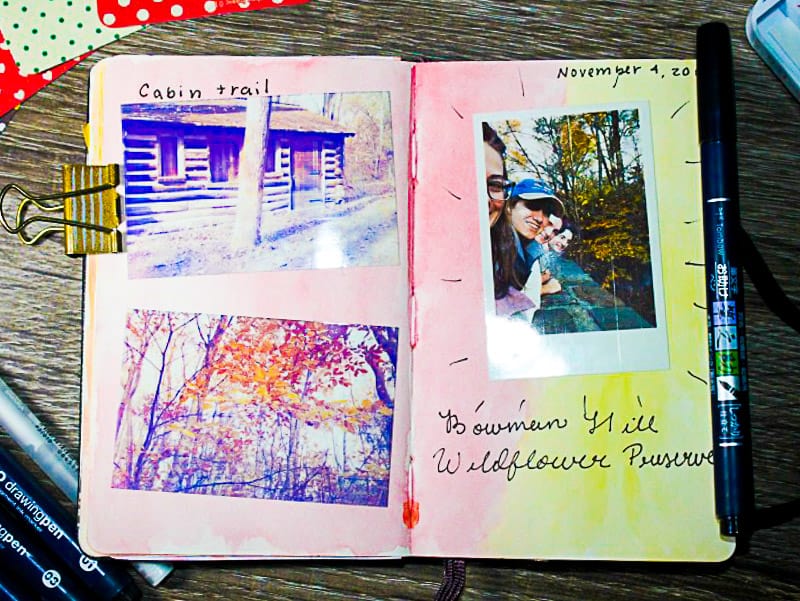 Yay! More fall festivities! For this trip, I took along my Polaroid camera and snapped some shots of the scenery at the Bowman Hill Wildflower Preserve. There were no flowers, but there were some gorgeous fall leaves. I splashed on some color with my watercolors and went to work.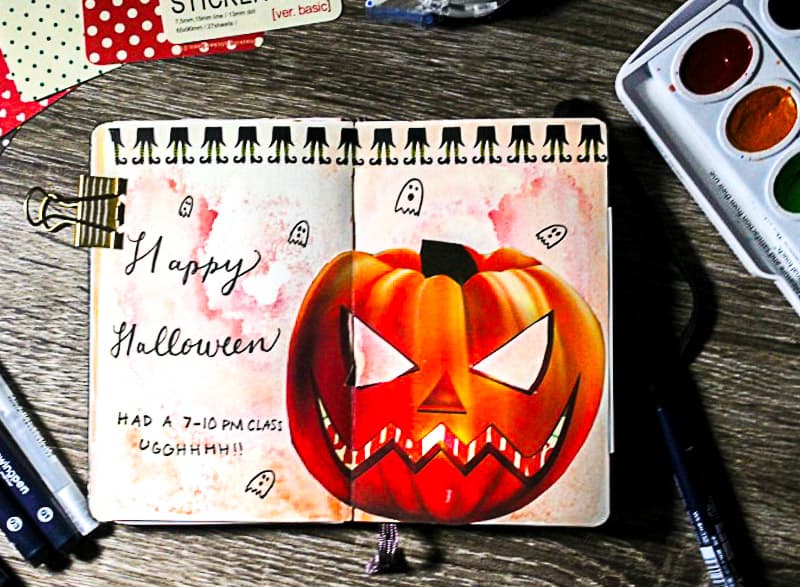 Happy belated Halloween! For this page, I applied watercolor to one page, then shut the book to get a mirroring design on the other side. I think it's pretty cool looking. I found the witch's feet washi tape at Michael's, and I clipped the pumpkin out of a Papa John's ad.  It's boo-tiful don't you think?Â
I have really enjoyed experimenting with my teenie tiny notebook. I am learning so much about myself this year by being more selfish with how I spend my time. I'm making it one of my top priorities to do things I enjoy, and I am living a more creative and inspirational life because of it.
Set aside time each day (even if it's only 10 minutes) for yourself and you won't regret it!
Hybrid Journaling Prompts to Get You Started!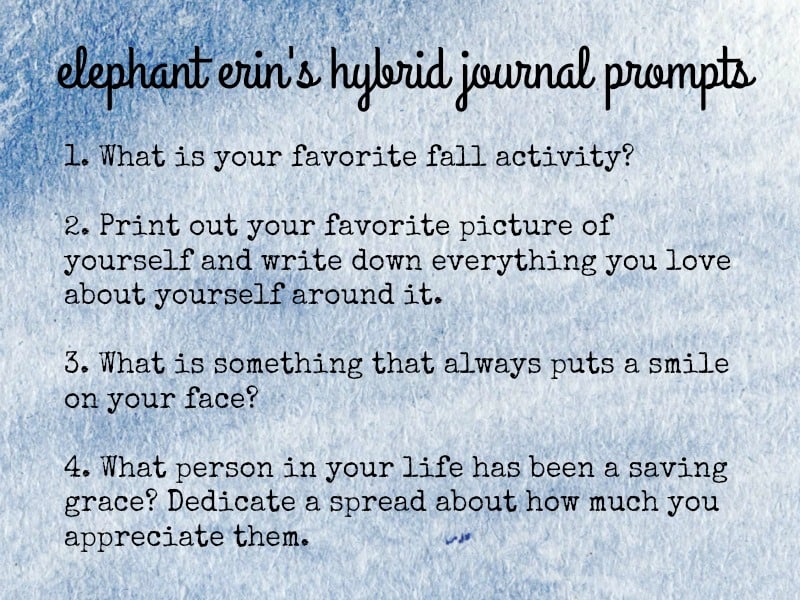 Your turn! Do you incorporate other art into your journaling? Drop me a comment with your favorite ways to bring creativity to your daily journaling.Â
SaveSave
SaveSave
SaveSave
SaveSave
SaveSave
SaveSaveSaveSave
SaveSave
SaveSave
SaveSave
SaveSave
SaveSave
SaveSave