Looking to spruce up your Bullet Journal or other project? If you're ready to dive into the world of hand lettering and modern calligraphy, check out these 5 hand lettering books for beginners!

5 Must-Have Hand Lettering Books for Beginners
Elizabeth here from Jihi Elephant! Let's talk about how overwhelming hand lettering can seem…
When scrolling through social media, it is easy to get bogged down by the skills of others. This is particularly true when looking at hand lettering. So many people are seemingly perfect at it, which can make you feel like you'll never be that skilled! Luckily, there's a plethora of hand-lettering courses and books to get you started! Today, I'll share some of my picks for hand lettering books for beginners. These books are also a great choice for teens and tweens, especially tweens with a stash of art supplies and in need of a creative outlet!
If you want to improve your everyday handwriting, don't miss this Page Flutter post: How to Improve Your Handwriting with the Spencerian Method!
Before I begin, please keep in mind that any skill, including hand lettering, requires work and practice. Simply buying a book will not equate to immediate and perfect hand-lettering ability. Additionally, the following books are not listed in any particular order, and all are geared toward beginners. Let's get started!
*Great for learning hand lettering and brush lettering.
My first pick, Lettering and Modern Calligraphy: A Beginner's Guide, is great for several reasons. First, it's cheap! Hand-lettering can be an expensive hobby, so, it's nice to find a book that doesn't break the bank. Second, this book was made for beginners. That means that it's geared toward someone with no basic techniques or skills. Last, it has amazing review on Amazon! Reviewers love that the book has lots of room to practice in and is very helpful in learning different fonts." Plus, it covers more than just one style, and give tips to put your own twist on things.
This next book, Hand Lettering 101, is a little pricier than the first but is rated just as highly. This book helps a newbie learn the skills and techniques of hand-lettering, plus you end up with six beautifully completed projects by the end! People seem to love the paper quality of the pages, as well. One of the main critiques of the book is a lack of upper-case lettering. So, if you want to also learn upper-case, consider one of the other books listed.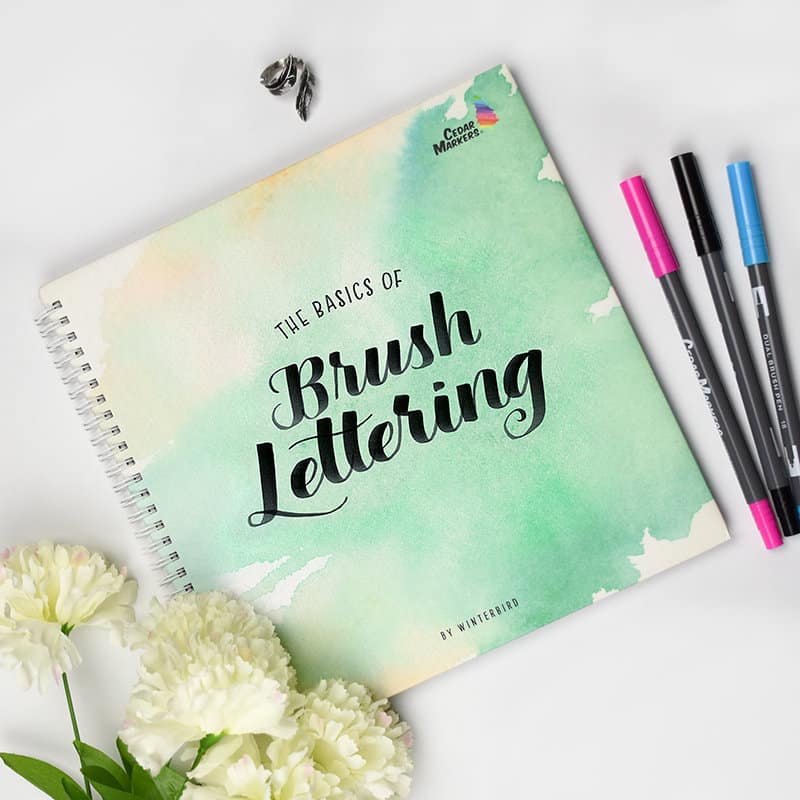 The Basics of Brush Lettering by Winterbird is rated and priced similarly to the previous one, but it's found on Etsy. This one, however, is not a general beginner's guide to hand-lettering. Instead, it is a book of basic brush lettering skills, techniques, and tips. With this book, you even get online guides and printable practice sheets. You'll learn how to hold and use a brush pen, basic strokes, lettering the whole alphabet and connecting letters, adding swirls and flourishes, adding shading, blending techniques, watercolored backgrounds, etc. So, you might not get an intro to the full spectrum of hand lettering, but you'll have brush lettering down pat!
I found the next couple of books via Hand Lettering for Beginners, but you can also grab them on Amazon.
Creative Lettering and Beyond isn't necessarily advertised for a beginner level, but it's perfect for beginners! It is a bit pricier than the first book but still affordable and highly rated. One customer exclaimed, such a great book as an intro to how to hand letter, use fountain pens, and other mediums! This book teaches similar techniques and tips to the previous one.
And finally, Hand Lettering for Everyone is recommended by multiple websites and calligraphers! It's affordable and well-rated on Amazon. Just as the title suggest, the book is meant for everyone, and it's often recommended as such. Reviews seemed mixed regarding the amount of prior knowledge you need before diving into this book. Some people found it difficult at a beginner level, while others express the amount of guidance as useful for a hand-lettering newbie. I highly recommend evaluating your knowledge and skimming the reviews to find out if this book is right for you!
Also check out 10 Handwriting Tutorials for Your Bullet Journal!
If you want to learn hand lettering, now is the time to start! Even if you think you don't have good handwriting or aren't capable of hand-lettering, you won't know for sure until you try! I highly recommend picking up one of these books and giving it a shot!
Didn't see your favorite book on the list? Drop me a comment below with your recommendations!