Are you someone who wants to make incredible meals (and maybe improve your eating habits a little), but you're quickly overwhelmed by grocery shopping, meal prepping, dishes, etc?
Maybe you have been wanting to really dive into becoming a better chef, but you don't quite know where to start.
I get it! Cooking can sometimes feel like a giant ordeal, especially if you have a generally busy lifestyle.
This is why I try to be organized and intentional to prevent frustration, unnecessary food waste, and burnout. 
In my experience, the best way to be organized and intentional about your cooking is a food journal.
Below, I share all the ways I use my journal as a food journal to track meal prepping, menu planning, healthy eating habits, getting creative around meal ideas, mindful eating, and more.
Let me help revolutionize the way you meal plan!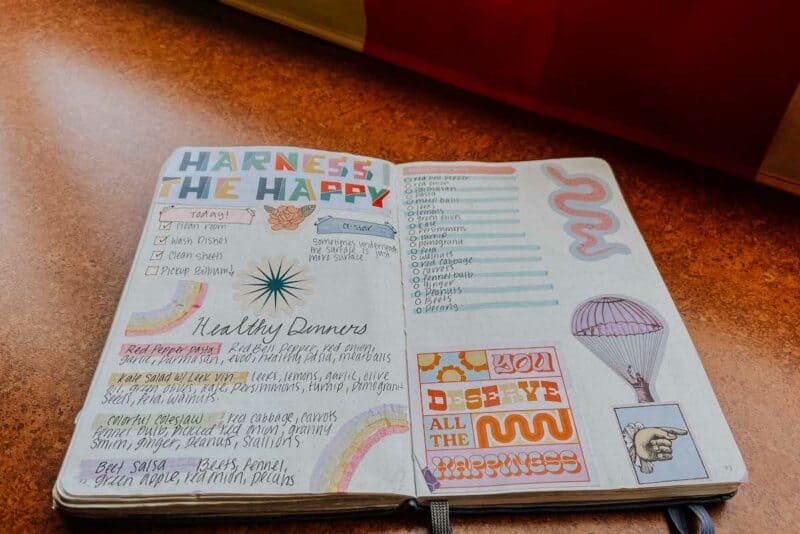 A Little Cooking Pep-Talk
I am fully aware there are tons of people out there who think they can not cook. It can be daunting, I know.
Truly, cooking healthy foods and following through on amazing meal ideas is just getting a handle on a few basics.
If you can learn how to chop ingredients properly and have a general idea of how long certain types of foods need to cook (onions take much longer than spinach for instance) – you're ready to bring your meal plan ideas to life. I promise. 
There are aspects of cooking that are scientific and precise, but I generally don't even use measuring cups and food scales. If a particular meal calls for a tablespoon of oregano or something, you really don't have to measure that out and make more dirty dishes. 
What is a Food Journal?
Like a lot of things in the world of journaling, Bullet Journals, and planners, a food journal is what you make of it. The way I use it (ideas below) may be different to the way you use it, and that's okay.
Some mainstay food journal ideas, however, include:
Meal planning – this is one of the main ways I use my journal as a food journal: as a weekly meal planner.
Track your eating pattern vis-a-vis how you feel – using a food tracker is a great way to narrow down on any patterns related to what you eat, and how it effects you. If you're trying to figure out if certain symptoms are related to your diet, for example, a food tracking journal can help. Trackers are great for spotting patterns in general.
To work through food related habits you want to change, such as emotional eating, too much sugar or junk food, etc. As the saying goes, you mind what you measure, and tracking in a food journal helps some people stay on track.
Fun! This is another way I like to use a food journal – for fun meal ideas and experiences, like my online date night cooking experience described in more detail below.
Using Your Food Journal For Meal PLans
If you're someone who can just show up to the grocery store with no list and vague meal plans for the week and create amazing meals— I am so envious of you!
Chances are though, the people who seem to have their food game on point do a decent amount of planning to ensure they're creating show stopping dishes and a well balanced diet all week long.
I used to show up to the grocery store with a mental list of all my staple items and call it a day. But my meals quickly got boring and I was continuously wasting ingredients that I would purchase without a plan to use.
I find that planning my meals helps me to actually cook the incredible meals I see pop up on my social media feeds. When I see something I know I want to make, I just jot it down in a note to keep track.
The simple act of keeping a food diary helps get me organized before I go to the grocery store, all the way through cooking clean up.
5 Ways Keeping a Food Journal Helps Meal Prep
1. Inspiration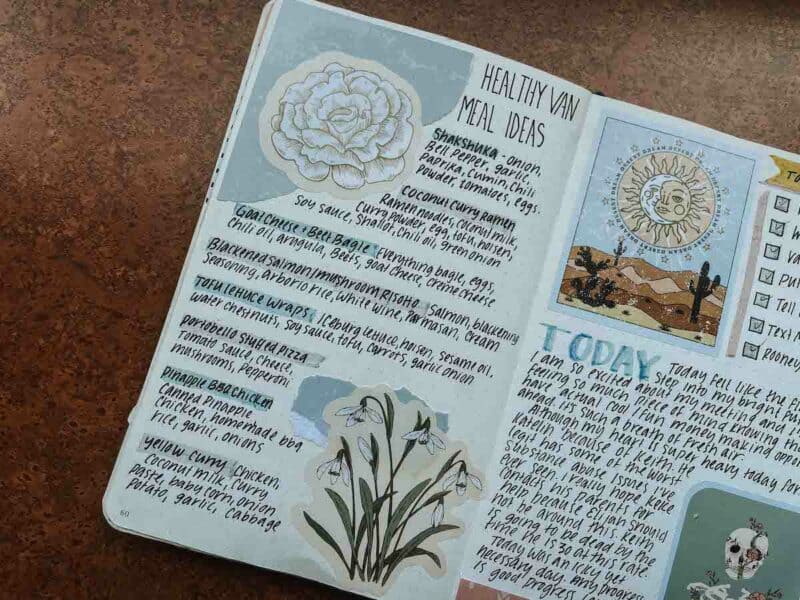 This is one of my absolute favorite parts of my meal planning ritual. This is where I go through my journal and look for any recipes I've previously written down for the week. I also like to dive into Pinterest, Youtube, and Tik Tok to start searching for all the recipes I would love to make for the week.
It's easiest to type in keywords to look for inspiration. If you have any dietary restrictions, overall health goals, or dislike certain foods, be sure to refine your searches.
Some of my absolute favorite foodies I get inspiration for my daily meals include:
Sam The Cooking Guy on Youtube
Sam The Cooking Guy is one of my all time favorite people to follow on Youtube. He is a slightly grumpy chef who can rock the barbecue like no other. The grumpiness is truly a huge part of his charm. You'll understand once you watch him.
Sam walks you through all of the meals he makes and his son Max films dreamy b-roll while his dad yells at him. It's a pretty heartwarming father and son relationship.
I have Sam the Cooking Guys Cookbook as well. He teaches you to make meals with intentional leftovers. 
Not Another Cooking Show on Youtube and TikTok
Not Another Cooking Show is an Italian chef who indulges the deepest part of my foodie soul. He teaches you the not so basic basics, while keeping it scientific.
His recipes are always inspiring and anything but basic.
Food Wishes on Youtube
Food Wishes is like the chef father I never had. Really, if you like dad jokes, you'll love chef John. I love his recipes because he makes really complex things simple. He is often tweaking intensive recipes and making them easy to follow.
Pierzza on Tik Tok
Pierzza inspires me to buy ingredients I frequently skip over in the grocery store, I never would have thought I'd purchase leeks, persimmons, or fennel bulb— but then I discovered Pierzza. If you're looking to step outside of your comfort zone and create gorgeous, healthy and colorful meals, you'll love Pierzza.
Rainbow Plant Life on Youtube
I am always on the mission to create more plant based meals. Rainbow Plant Life creates gorgeous and healthy vegan food. She breaks down recipes in a super easy to follow way and keeps her ingredients simple and concise.
2. Write Your Meals Down in a Meal Plan
Meal planning is one of those core ways you can use a food journal to get organized and ensure you maintain a healthy diet over the week and month.
Once you have found several meals you'd like to make for the week, write them down in your food journal (you can use your normal bullet journal or planner, or create a separate food journal in a different notebook).
I like to make a spread that functions as my meal planner for the week, with the individual ingredients listed for each meal. I don't add quantities at this point – I think makes creating my shopping list super simple.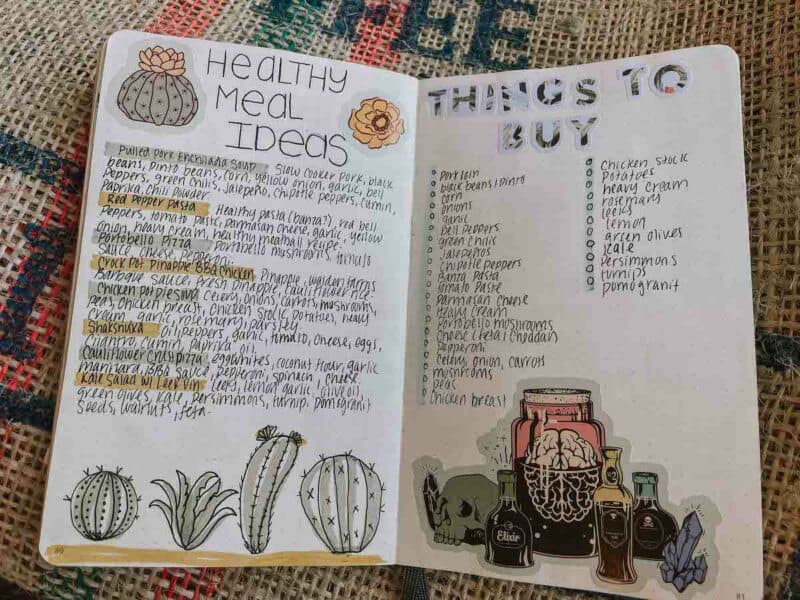 A great meal planning tip is to try to find meals that use some of the same general ingredients. This way you can eliminate as much food waste as possible, and it's cheaper when shopping.
Don't forget to add in breakfast, lunch and snacks for the entire week, too – not just dinner ideas!
3. Refine Your Meal Planning
This step is totally optional, but it is how I keep my grocery bill low and my food waste down.
Once I know exactly what meals I want to make for the week, I start finding substitutions. If there are any ingredients I can omit or substitute to keep my shopping list smaller, or to ensure I have ingredients that overlap between meals for the week, this is the time to do so.
This is not a mandatory step by any means, but I prefer it. If you're trying to add more ingredients from a particular food group (i.e. more seeds and nuts, or low fodmap foods), then you can make substitutions during this step.
4. Shop
Hopefully now that you have a plan, grocery shopping for healthy ingredients should be a breeze. If you're someone who hates grocery shopping or feels directionless when you get there— having your meals already planned out should hopefully feel revolutionary.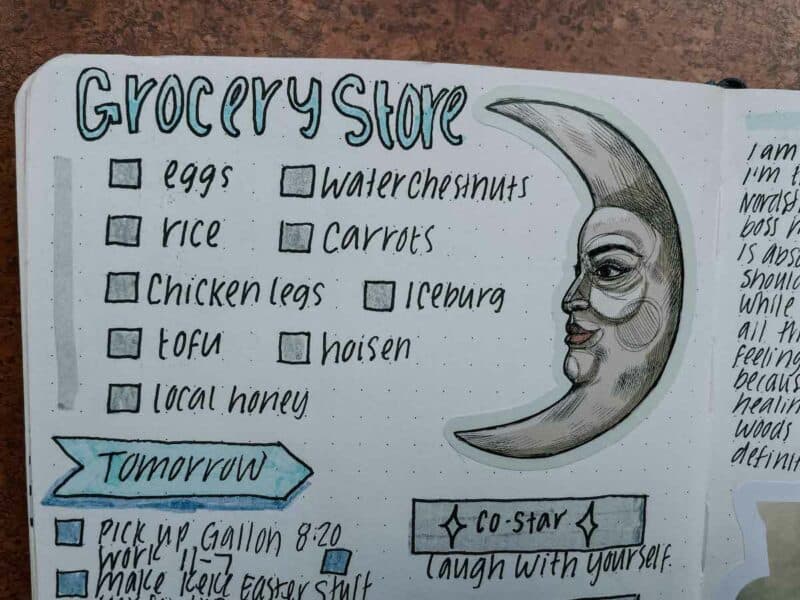 5. Prep and Cook
If you found a recipe online that you're hoping to follow, it is always a good idea to read it thoroughly before you try to make the meal. This way you don't run into any surprises that will potentially get in the way
You can use your food journal when cooking and eating to note down anything you'd change when making the recipe next time, to comment on what your thoughts are on this particular meal, and for any habit tracking you do, like keeping track of whether you're eating enough fruits and veggies, symptom tracking related to a new diet or ingredients, etc.
Bon appetit!
What Are the Benefits of a Food Journal
Besides staying organized, and making it easier to make creative meals, my food journaling habit helps with:
Less food waste overall, which is great for the planet.
Cheaper, which is great for my purse and wallet!
Easier to track and balance nutrients you might want to hit, such as proteins, carbs, macros, calorie intake, etc.
Helps me be creative, such as reminding me to try different condiments, sauces, vegetables, or other ingredients.
It's also a great system if you're cooking for someone with food allergies or sensitivities.
Other Food Journaling Ideas
Using a food diary to plan your meals is a fantastic way of keeping organized, preventing food waste and expanding your creativity in the kitchen.
However, there are lots of other ways to use food diaries in practical and fun ways.
Internet Cooking Date Night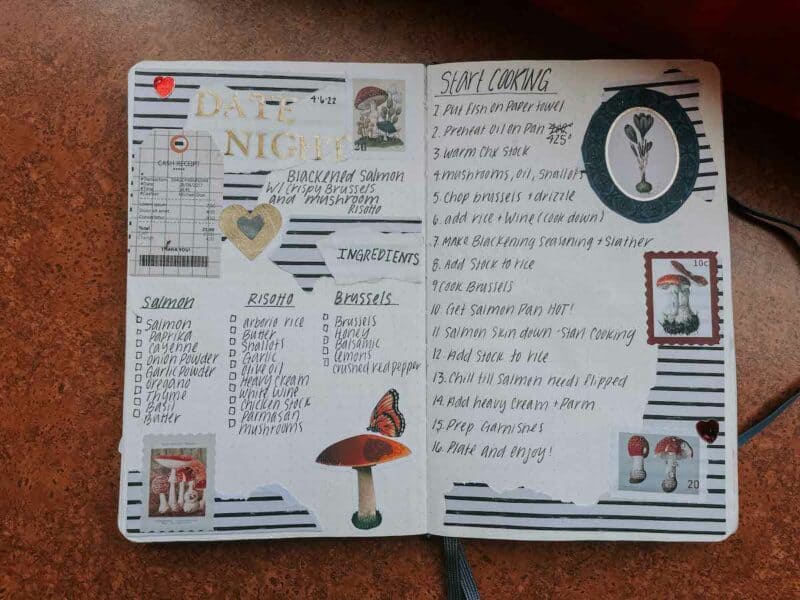 Another fun way I like to use my journal is to have cooking nights with friends!
There are so many times in life where you may find yourself long distance from the people you love. At times in my life, I've had siblings a couple thousand miles away, some of my best friends a couple hours north, and a love interest about 10 hours south of me.
Not to mention the forced separation during the covid-19 lockdowns. During the covid lockdowns, I started doing cooking date nights with my loved ones to keep in contact and have some good laughs.
I have always loved everything about cooking…the artistry of it, trying new things, and sharing it with others. Being able to connect on Zoom, Facetime, or Google Meet and cook a meal together is really special!
I found myself being the one to facilitate a lot of these meetings since I'm typically one of the more passionate chefs in my circles.
This led me to have to get organized and actually plan something that is typically so intuitive.
Teaching something is a much different experience than just doing it!
The first few cooking date nights I found myself getting really frustrated by technology being slow, ovens cooking at different speeds, and trying to balance explaining things. I kept forgetting little steps because I was flustered.
Planning was necessary.
First, figure out who you are wanting to do an internet cooking date night with. Be sure to ask about everyone's dietary restrictions, preferences and allergies. 
Next, find a dinner recipe that everyone is excited about! Stick with simple recipes to start!
Plan your recipe out in your journal, make it look great in a spread, snap some photos, and send out the instructions and grocery list to anyone who will participate.
You're now ready to host your date night! At this point you should be well prepared for a smooth and relaxing date night!
Once you finish cooking— light a candle, pour a delicious drink and enjoy your date night!
What Should I Write in a Food Journal? (Other Ideas)
I mostly use my food journal for fun and meal planning. But there's no limit to what you can use it for.
Hunger levels, and how different foods help satisfy you or keep you full during the day.
Physical activities, and how that effects the foods you eat.
Random symptoms related to food, such as if you feel tired after eating certain food. Food logs in your journal can help you spot this over time!
Nutrition goals
Weight loss goals (or weight gain goals)
Fast food eating and junk food intake habits.
Food group goals, such as adding more raw nuts or seeds, getting diverse veggies and fruits each day, etc.
Goals around eating habits
More Thoughts on Food Journaling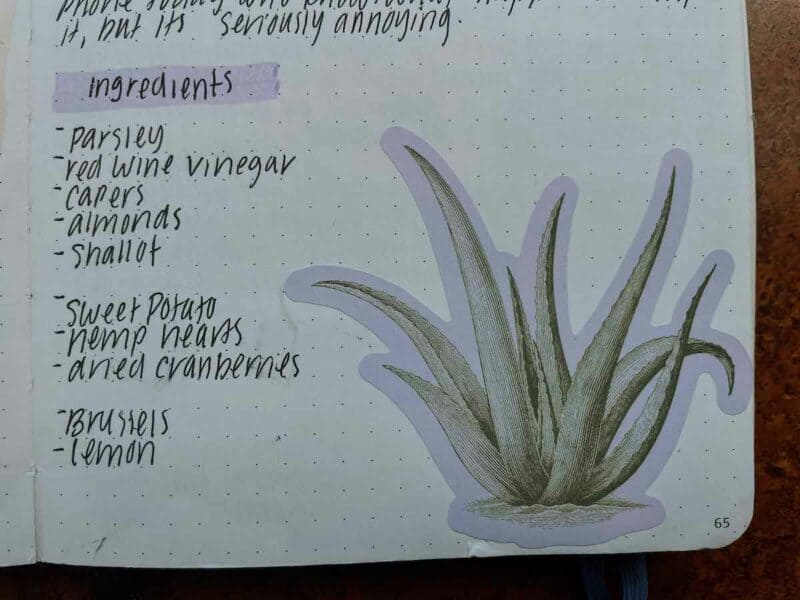 Food journaling can change the way you prepare foods. I never forget my favorite recipes and now I have tons of different recipes I can flip to when I don't know what to make.
This way of prepping has helped me be more inventive and creative in my cooking journey, and has saved me so much money because I don't waste as much food.
Whether you're trying to eat healthier, expand your cooking repertoire or just be more mindful in the kitchen— learning to utilize your bullet journal in the kitchen is the best way I've found to do all three.