Continuous Script Penmanship Practice Worksheets. Develop your BuJo penmanship and brush calligraphy skills with these free practice worksheets!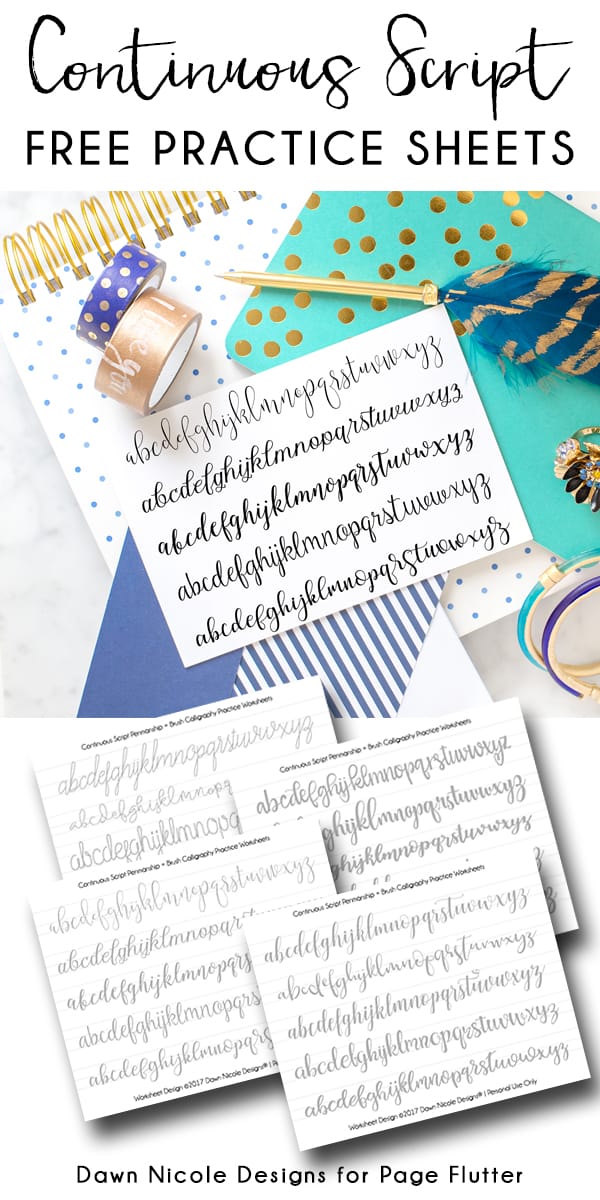 I'm over the moon for today's guest blogger! She needs no introduction, as many of you know her lettering designs, but Dawn is just about the most talented person I know. With that, I'll let her do her thang…
Hello, Page Flutter friends! I'm Dawn, an Art + Lettering Blogger over at Dawn Nicole Designs. Lettering is my jam and I know all of Megan's readers share my love of letters. ?
I'm so happy to be here on Page Flutter hanging out with you today. Fun fact: Megan and I met in real life before we both moved to new places (or in my case, a new country). Typing up this post on her blog makes me extra miss my coffee dates with her.
Continuous Script Penmanship Practice Worksheets
I've created a set of four continuous script penmanship practice worksheets just for you! Continuous alphabets are one of my favorite ways to practice lately. Whether you want to improve your penmanship or hone your brush calligraphy skills to add more style to your bullet journaling (or both!), I hope you enjoy practicing with these worksheets.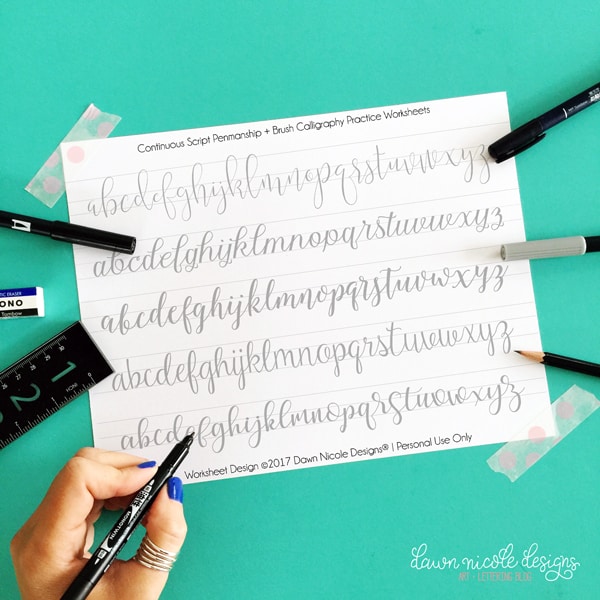 Worksheet Tips
A few tips before you print the worksheets and get to work!
For the brush calligraphy fonts (the ones with thin upstrokes and thick downstrokes), I recommend using a small tipped brush pen such as a Tombow Fudenosuke or a Pentel Sign Fude.
For the monoline fonts (the ones that are all one width), you can use any ultra fine tipped pen (such as Sharpie pens or Staedtler Fineliners.
The recommended printer paper for Brush Pens is HP Premium Choice Laserjet Paper. It's super smooth, so it's gentle on your brush pens but inexpensive enough for practice worksheets.
It's a-okay to pick up your pen between letters, even though it's a continuous alphabet. Don't feel like you have to do the 26-letter lines all in one stroke.
If you're new to brush calligraphy, check out my Brush Calligraphy FAQs post for all kinds of additional tips!
Basic Brush Calligraphy Demo and Tips
This video is a free bonus mini lesson from my Constellation Lettering Online Class.
[youtube https://www.youtube.com/watch?v=zw-0sIxxzoA]
Now, grab the free worksheets and get your practice on!

Thanks so much for hanging out with me today! Before I go, here are few more of my Lettering and "Pen Addiction" posts you might enjoy. ?

Connect With Dawn Nicole
Blog // Facebook // Pinterest // Instagram // Shop
Dawn is the Hand-Lettering Artist, Illustrator, Designer, Tombow Senior Brand Ambassador, and the Creative Blogger behind Dawn Nicole Designs®. She is an Air Force wife and mom of three who has done licensed artwork and hand lettering for companies such as Hobby Lobby, TJ Maxx, Krispy Kreme, Casetify, and the Silhouette Design Store. You can usually find her with a marker in one hand and a dark-roast coffee in the other.

SaveSave
SaveSave
SaveSave
SaveSave
SaveSave