Halloween journal pages are a fun way to celebrate and document the season. Check out my pages and 15 others lists you can make to ghoul up your pages!
Â
Spooky Lists for Your Halloween Journal Pages
The craziness of the holiday season is already kicking in at our house! We're stocking up on candy, sorting party invitations, hauling out the decorations, and picking costumes for the kiddos (My 1st grader has decided to be K-2SO from Rogue One, and his little brother is terrified of K-2SO… So, that's been an adventure). It's seems like everything from Halloween to the new year is just a blur!
The last three months of the year are always busy, but they're also my favorite. Before things get away from me, I wanted to slow down with a couple of fun Halloween journal pages. Here's a peek at two of my pages, plus a list of spooky collections you can use in your own journal.
Halloween Books and Movies
When I started these pages, I decided to set aside my trusty Staedtler Fineliners (they've been my favorite journaling pens for about a year and half). I recently ordered the Tombow TwinTones and Mono Drawing pens, so I was itching to try them out.
It's difficult to compare the TwinTones to Staedtlers because they're completely different. The fine side is (0.3mm), but it seems slightly finer than Staedtler Fineliners (also listed as 0.3mm). But the Tombow TwinTones also have a medium side (o.8mm). I really enjoyed this feature, especially for a creative pages like this. The thicker line is great for borders, coloring larger areas, and lettering. Anyhooo…Halloween!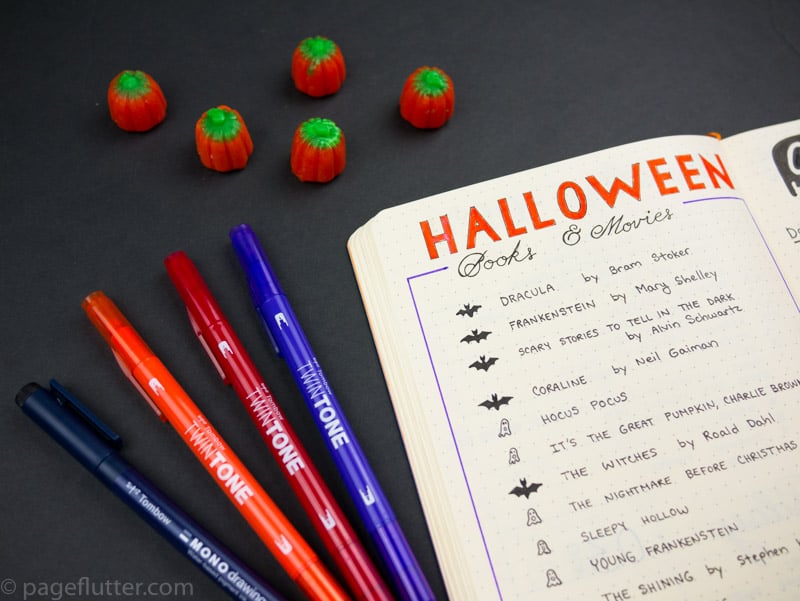 My husband and I love huddling up with a good Halloween movie, but it always takes us hours to agree on what to watch. I thought it might help to have a few options ready this year. Approved by me, of course.
My husband has a much higher tolerance for scary movies than I do. I'm not a huge fan of gore, but I enjoy a good spine-tingler. Yes, I'm a total wimp (on some level, I'm still convinced there are monsters under the bed), so I tend to go for the not-too-scary-but-just-spooky-enough options. Sleepy Hollow and Young Frankenstein always make my movie lineup this time of year. They're not really scary, but they have a spooky appeal that gets me in the mood for popcorn balls and caramel apples.
Since I am more of a book person, I also included my favorite books to read this time of year. To keep them organized, I drew a little bat icon next to books and a ghost for movies.
About a year ago, I ran across a copy of Scary Stories to Tell in the Dark by Alvin Schwartz. As a kid, it was one of my favorite spooky short story collections (my sister and I read it under the blankets with a flashlight…you know, where we were safe from all the creatures). It's even scarier than I remember, so this is not a good pick for little kids. I won't let my boys read it for at least a few more years. The stories are awesome, though, and I still enjoy flipping through these little books!
Creepy Quotes
You know how I love my quotes! I keep countless lists of famous, insightful, or uplifting quotations. Why should Halloween be any different? I rounded up some of the creepiest excerpts I could find (and I realize now that I forgot The Raven by Edgar Allen Poe. Just an excuse to make another list!).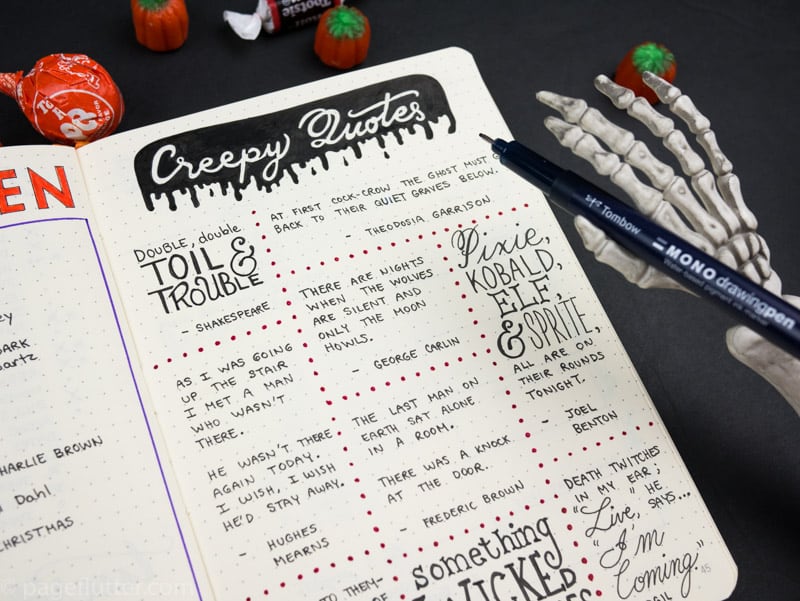 I broke into my new pack of Tombow Mono Drawing pens, and they did not disappoint. They are very similar to other artist pens, like Faber-Castell PITT pens, or Pigma Microns, but they're very smooth.
My Faber-Castells tend to dry as I write with them. It takes some scribbling to get them going again. I haven't noticed that with the Pigma Microns or the Tombow drawing pen. The Tombow is very smooth, darkly pigmented, and produced clean, crips lines.
I really love the way the header turned out on my Creepy Quotes page. To recreate it:
Draw the letters first (you can use pencil for this step if you want). Make sure your letters are nice and thick.
Outline them in black
Draw your oozing outline around your letters and fill the negative space with black ink.
I had fun playing around with lettering on this page. I often use simple lists in my journal, but it's nice to change things up for a different visual effect.
More Lists for Your Halloween Journal Pages
I'm sure you'll come up with even more spirited lists (pun totally intended) to put in your journal. These should get you of to a good start, and they might shake loose an idea or two.
Spooky movies to watch
Top 20 Halloween candies
Places I would never spend the night
Favorite ghost stories
Scary Stories to read
Halloween bucket list
Best costumes I saw this year
Creepy quotes
Things I'm afraid of
Random Halloween trivia
Spooky creatures and monsters
Creepiest travel destinations on Earth
Halloween lore (origins of words, stories)
My Halloween playlist
Things to doodle for Halloween
That's enough from me. It's your turn to share! Do you do anything special in your journal this time of year? What are your favorite Halloween movies or books? Comment below with your favorite traditions.Â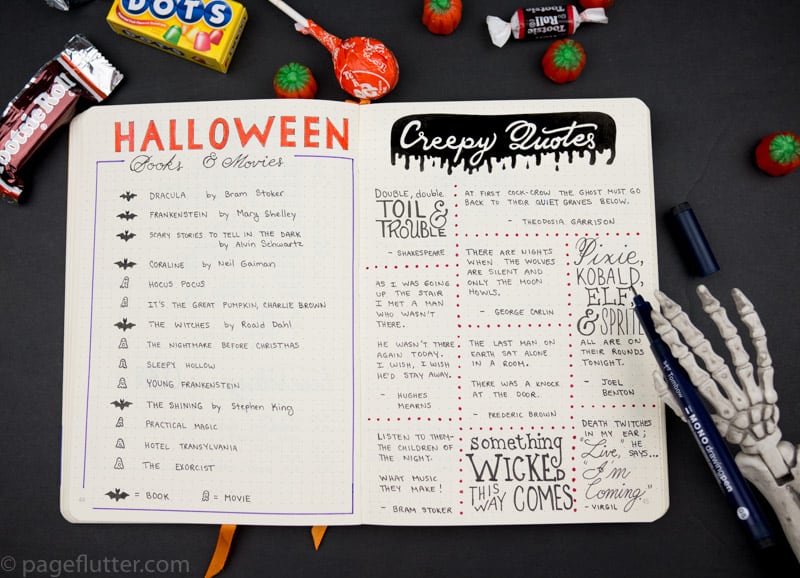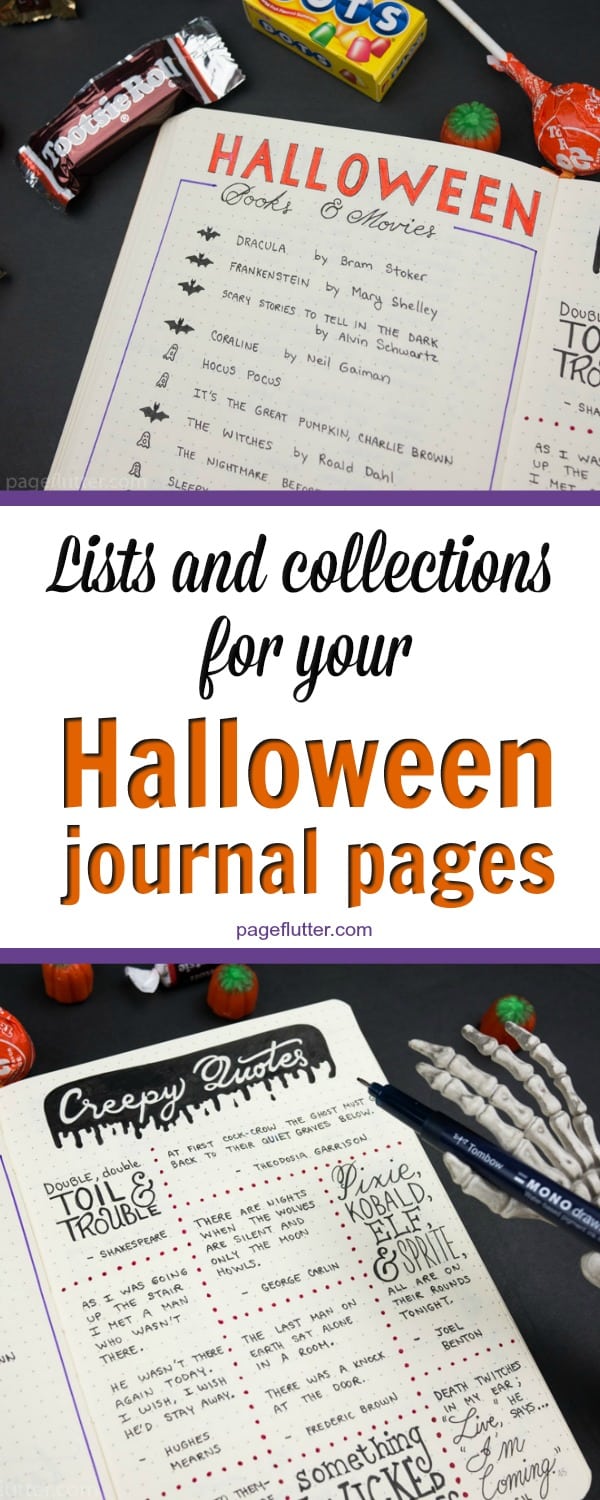 Brainstorm with me!
Subscribe to my newsletter for Page Flutter updates, posts, and announcements,
and FREE access to resources in the Vault!
Don't worry, I only deliver the good stuff. No spam.
Facebook // Twitter// Instagram // Pinterest